The Pacific Coast Bigfoot Crest Rim Trail (PCBCRT) is my made-up name for a roughly 1200 mile hike, stringing together parts or all of 4 distinct long distance trails: the Oregon Coast Trail (OCT), Bigfoot Trail (BFT), Pacific Crest Trail (PCT), and Tahoe Rim Trail (TRT). While I've already hiked the PCT in its entirety, it's a nice means to connect footsteps to 3 shorter trails I've been wanting to hike for awhile…read on for a description of these.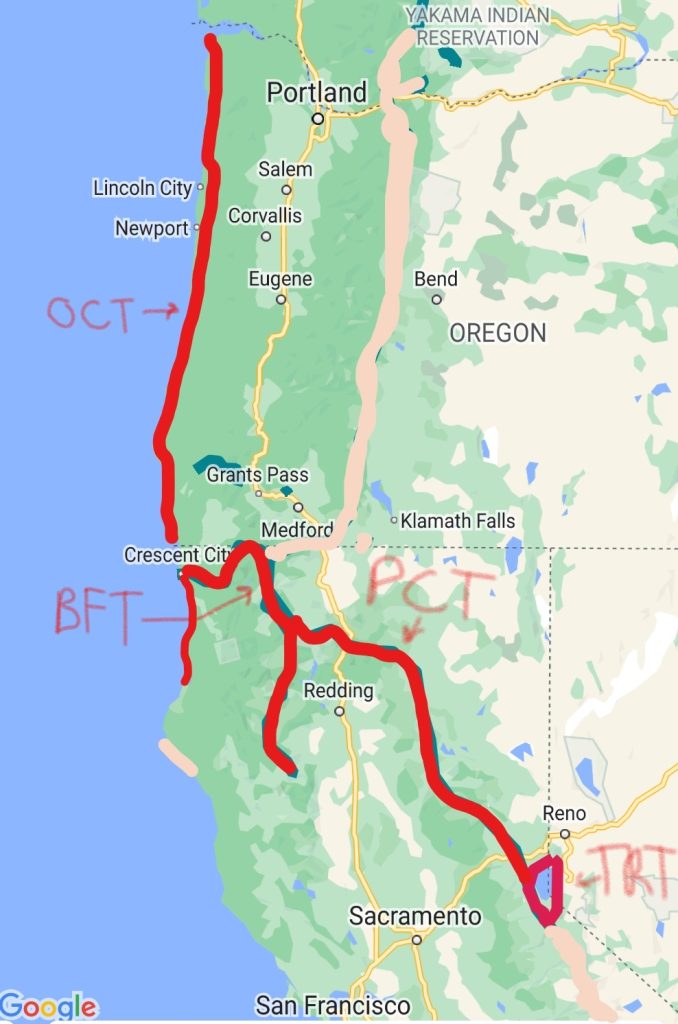 The Oregon Coast Trail is a roughly 400-mile walking route that capitalizes on Oregon's 262 miles of publicly owned and accessible sandy beaches. While about half the route is on the beach, another quarter follows footpaths through state parks, national forests and over lush headlands. The remaining quarter (or less) follows quiet side roads and, where unavoidable, the shoulder of US 101. The OCT is still a work in progress, with new trail sections yet to open, plus many logistical details regarding boat ferries, camping options and other services… see Hiking the Oregon Coast Trail, by Bonnie Henderson.
The route is marked much of the way but still involves making use of a variety of resources, including various maps sets, an excellent guidebook, and several GPS files and apps…in other words, there is no simple FarOut guide (yet!). Tides, prevailing winds, river / bay crossings, and muddy and steep trails all come into focus along this route. Most of the road walking is the result of inlets and bays, but can be significantly alleviated by making use of small boat ferries/shuttles…or just hitching a ride on a boat or along the roads. Towns are frequent, mitigating the need to carry much food or water. Finding legal camping can be the biggest problem…this is not much of a wilderness experience, given the proximity to cities and highways.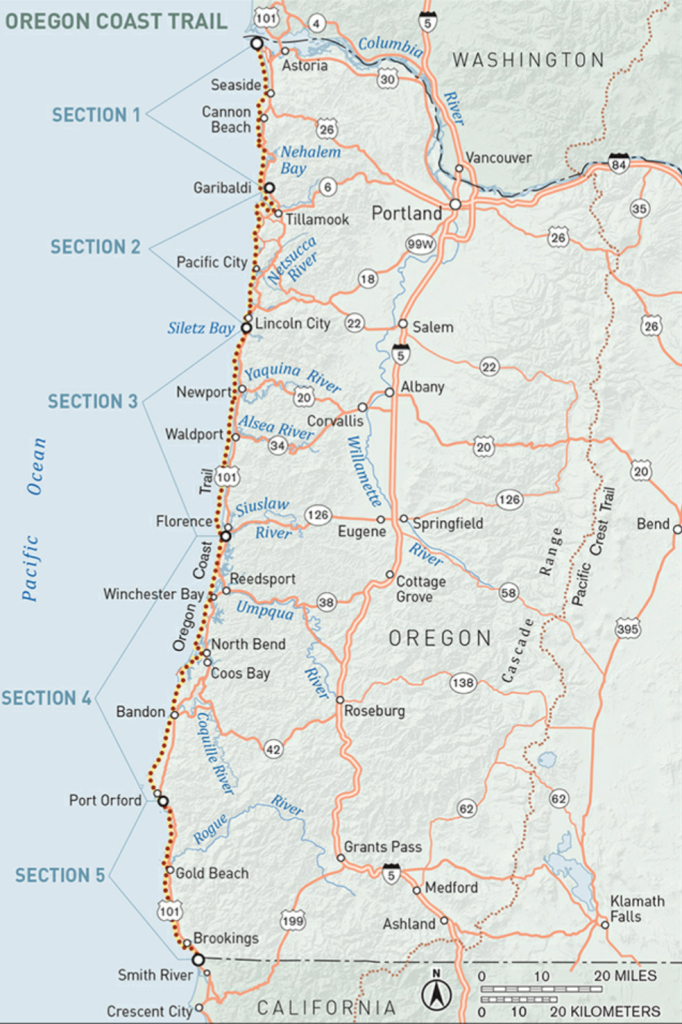 The BigFoot Trail is a roughly 360 mile hiking trail in northern California. The southern terminus begins in the Yolla Bolly wilderness, west of Redding CA, while the northern terminus begins at the Pacific Ocean, in Redwood National Park near Crescent City CA. The trail travels through the Klamath Mountains, briefly crossing into Oregon. It passes through 5 National Forests, 6 Wilderness areas (Yolla Bolly, Trinity Alps, Russian, Marble Mountain, Red Buttes, Siskiyou), 1 National Park (Redwood), and traverses 3 Wild and Scenic rivers. The Bigfoot Trail was conceived in 2009, utilizing existing trails (including 40 miles of the Pacific Crest Trail), dirt and paved roads. Most of the BFT is below 7,000′ elevation, with the highest point at 7,822ft/2384m. A major focus is the diversity of conifer trees, with 32 species to be found along the route. This region is a celebration of biodiversity, so the BFT aims to bring about awareness and conservation to this important area.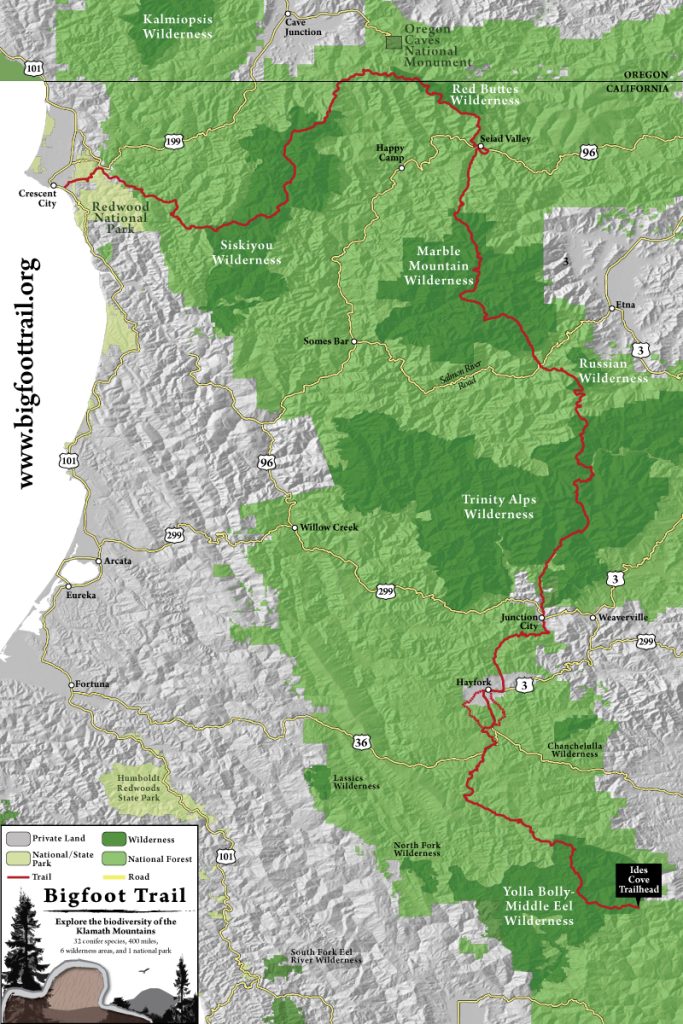 The Tahoe Rim Trail is a 175 mile long-distance hiking trail that forms a loop around the Lake Tahoe Basin in the Sierra Nevada and ranges of Nevada and California. The trail varies in elevation from 6,223 feet at the outlet of Lake Tahoe to 10,338 feet at Relay Peak in Nevada. About 50 miles of trail above the lake's west shore are also part of the Pacific Crest Trail.