Tuesday, July 11th, 2023, 0930-1700
Netarts to Pacific City
18 miles, Gain 800′, Loss 800′, elevation 30
I said goodbye to Skybird early in the morning. She was going to stay at the beach house for another week. I was so grateful to get to see her but also needed to keep somewhat of a hiking pace. Ray was driving back to Portland and was kind to go out of his way to drop me off where we had met 2 days before. I went straight to the boat ramp, hoping to score a ride across the spit. I asked several boats but all were too big and worried about getting stuck in the shoals surrounding the spit. A group of young adults showed up, looking like they were a part of a youth camp. Someone had chartered a small boat for them and they were going out in several groups. The first group was even going to the spit but the boat was very full, so I didn't even bother asking.
By this time I had wasted nearly an hour and needed to start hiking if I was going to make it to the Sand lake crossing at low tide. So very reluctantly, I started walking the 7 mile road detour. Shortly I bumped into my first NOBO OCT hiker, John. He was hiking with his friend Ben, and we stood at the road side chatting for quite awhile. It was really neat getting to know them a bit and John had just started following me on Instagram, thus was hoping to bump into me. It was nice to finally see some hikers after a 5 day dry spell, but this set me back on my schedule with the tide even more.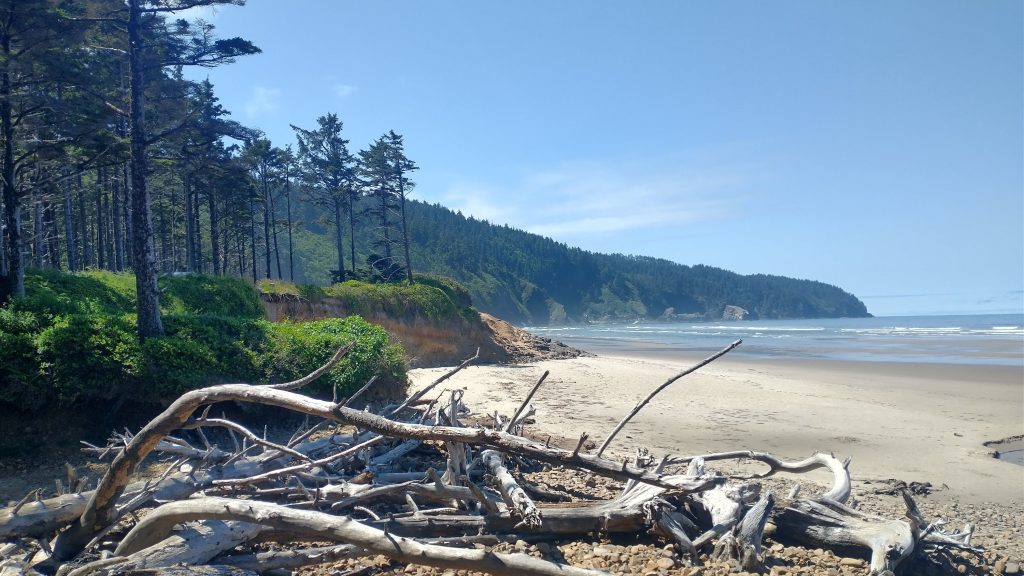 I finished the road walk, after some annoyingly busy sections with little to no shoulder. It was supposed to be a rather quiet road heading towards Cape Lookout but I didn't really find this to be the case. At least I was rewarded with a beautiful trail and beach walk the rest of the day. The Cape Lookout State Park was very lovely and I wished that my schedule would have allowed a stay there…the hiker/biker campsite is reported to be one of the best on the OC. A really well maintained trail headed up from the beach, utilizing many switchbacks to gain the top of the cape and then go right back down to the beach on the other side. There were many wonderful views of the beach along the way. At the top, there was a 5 mile RT trail heading out to the end of the cape, which juts out into the ocean like a finger. I really wanted to take the side trip but alas, didn't have the time with the low tide only hours away.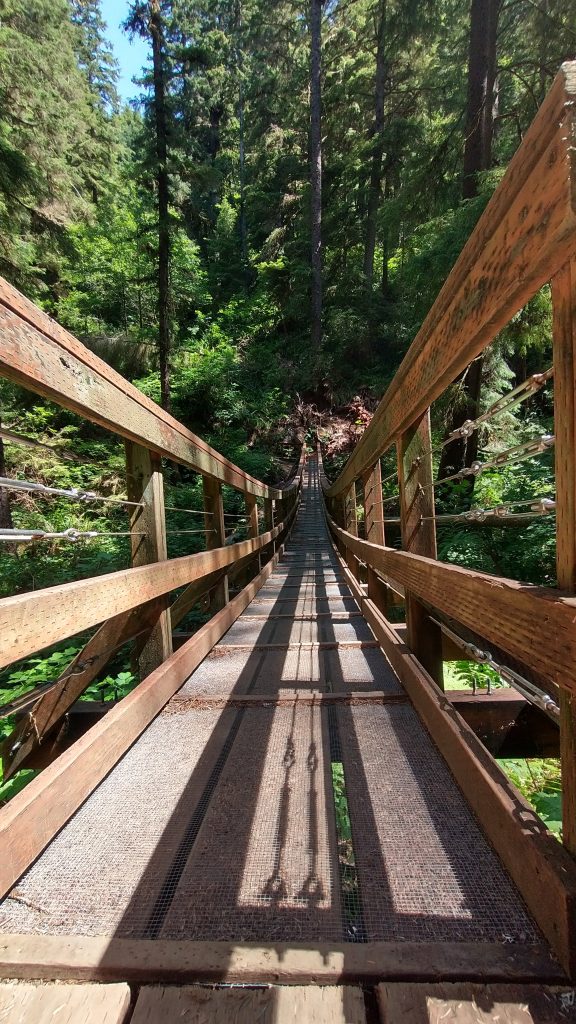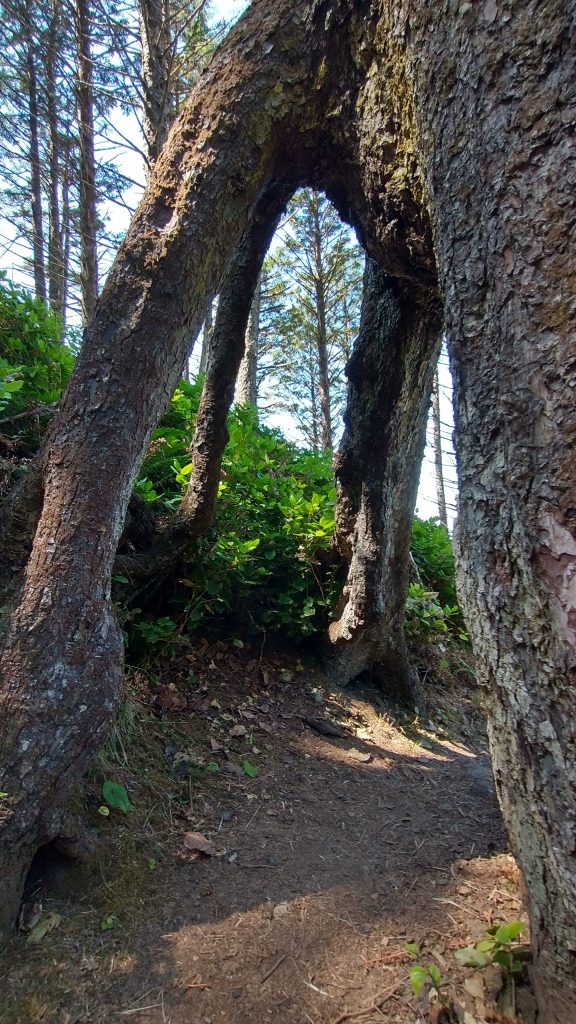 Sand Lake is perhaps the largest water crossing that's feasible to wade on a low tide. Problem was, this day the low tide was still 2′. This was reported to be the maximum tide that one could cross the inlet. I'd hoped to arrive at 1:30 pm to scope out the situation and observe the point at which there was little to no flow. But because of my dallying, it was going to be more like 2:10 pm when I got there. I shuffled my feet as fast as they could go, which is pretty fast on the flat wide sand beach. It seemed like the tide was still going out by the way all the little sand lakes were still flowing towards the ocean, so I had hope. I entered an area where dune buggies and ATV's are allowed on the beach and in the dunes. This was one of the most distasteful parts of beach I'd seen and I felt like I was in a Mad Max movie for a 2 mile spell. Thank goodness I was in such a hurry and got through there quickly.
At the Sand Lake inlet/outlet, I caught up to a SOBO hiker, Swingblade. He had already changed into his water shoes and was ready to cross. I immediately noticed the current coming in, meaning the tide was already rising. No time to waste! I quickly changed into my camp shoes and put my fanny pack inside my pack, that was all the more I did to prepare. In hindsight, I should have made sure some other things were sealed and taken everything out of my shoulder pocket. But this was Swingblade's 4th time hiking this trail and he seemed fairly confident about where best to cross and that it wouldn't be a big deal. So I jumped right in, confident as well.
The first half wasn't so bad but I was quickly up to my hips. Then the water was at my waist, then touching my lower ribs. I leaned forward a bit to try to elevate the bottom of my pack out of the water, all the while trying to plow forward on my tippy toes. The sand was very shifty under my feet, with many dips and ridges. I was certain it would soon get shallow again but it didn't. Swingblade turned around, stating that he was going back to shift his pack to his shoulders and re-evaluate. The other shore was soooo close, I just pressed on. I still operate under a false pretense that if I do things fast enough, they will be ok. In this case I made it, but I was pretty close to swimming. All it would have taken is finding one small hole in the sand.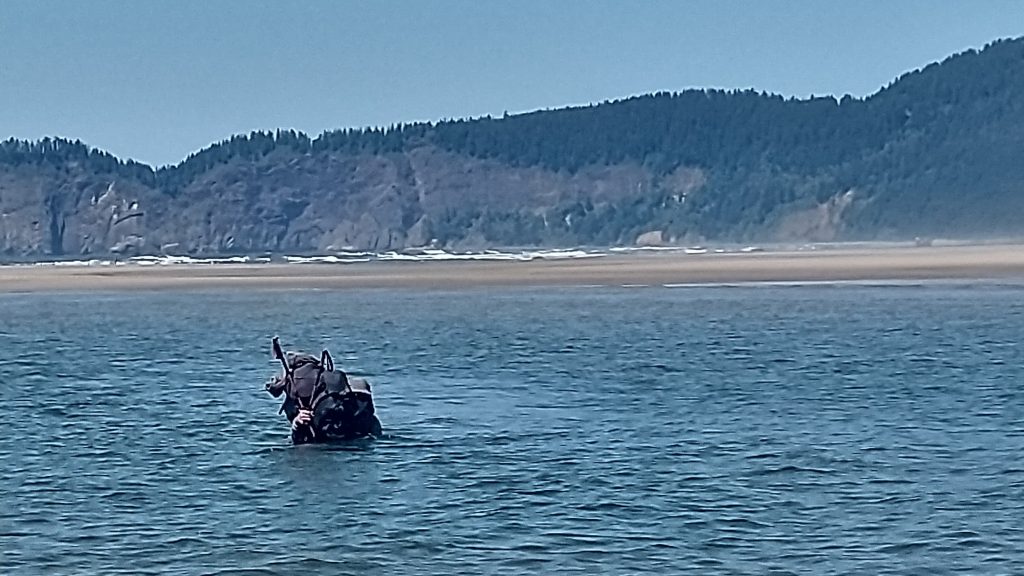 I'd heard similar reports of this being a tricky crossing, namely from Buck30 and Steady. They convinced a kayaker to assist in taking over their packs and then had to swim. So at least I had it somewhat better. Once on the shore, I assessed the damage. My MP3 player had gotten splashed but not completely dunked. It and everything else was ok. Whew, I got lucky. I had a snack break as I watched poor Swingblade struggle across a second time, at this point with the tide even higher. He seriously looked like he was swimming and just managed to keep his shoulders above water. All I could do was sit and take pictures. When he finally made it, he said it was the hardest crossing he'd ever done. His feet had really been sinking in the sand and his pack was pretty soaking. But here we both were, wet but safely across.
We walked the rest of the beach in our water shoes, making it up and over the big sand dune that is Cape Kiwanda. I was using my umbrella this day, enjoying a little sailing action with the wind in my favor. Going over the Cape, it helped pull me up just like all the para-gliders surrounding us. A few were staring at me, so I felt the need to make a funny remark about trying to para-glide with cheap equipment. So then one lady called me Mary Poppins. Mostly I was just loving the umbrella for its sun protection.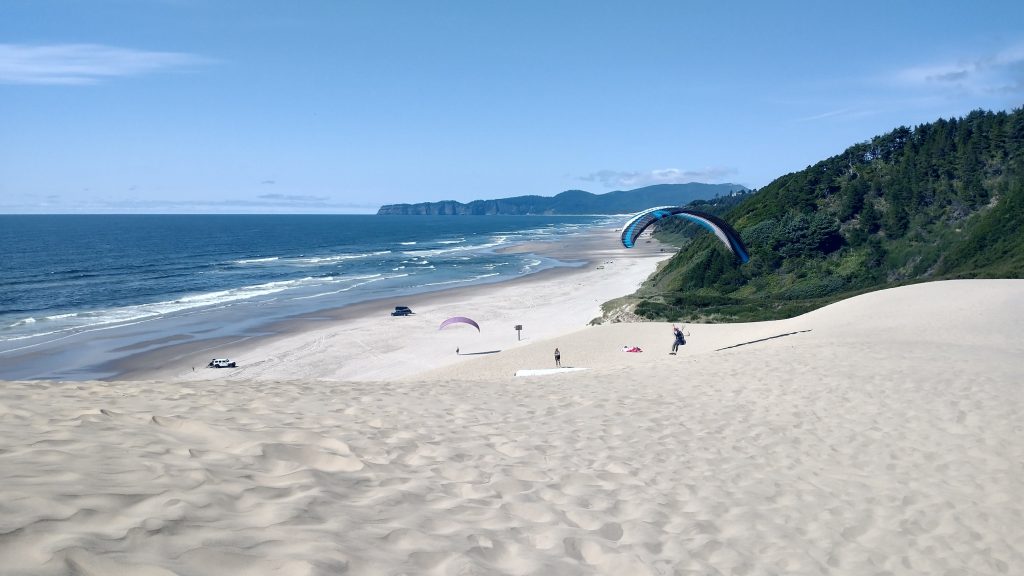 We arrived at Pacific City just in time for dinner at the popular Pelican Pub. But first I went to the nearby county campground to use the coin showers. I wanted to take everything out of my pack to make sure nothing got wet and rinse the bottom, plus my salty clothes. As I was doing all this, we heard some crazy noises coming from a nearby stock trailer. Swingblade guessed a sickly horse or bull but I recognized the noises immediately. Just before hiking the Hayduke, I'd watched the movie Tracks, having to do with Australian camels. The thing that struck me the most was that camels make the most wacky noises. The sound was burned into my brain forever. Sure enough, there were two camels in the trailer, which I learned later were to be the theme in a wedding. I of course had to pet them, adding a new animal to the record books! Fun Fact: camels DO NOT spit, only alpacas and lamas do that. Camels are civilized…except for their grunts and groans. As Swingblade put it well, every noise that comes out of them sounds like a giant fart.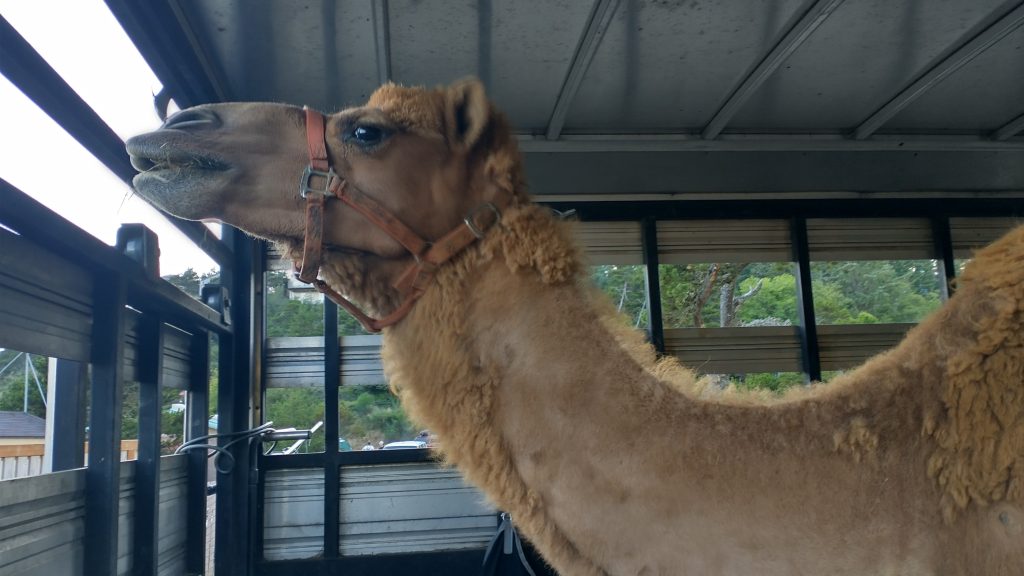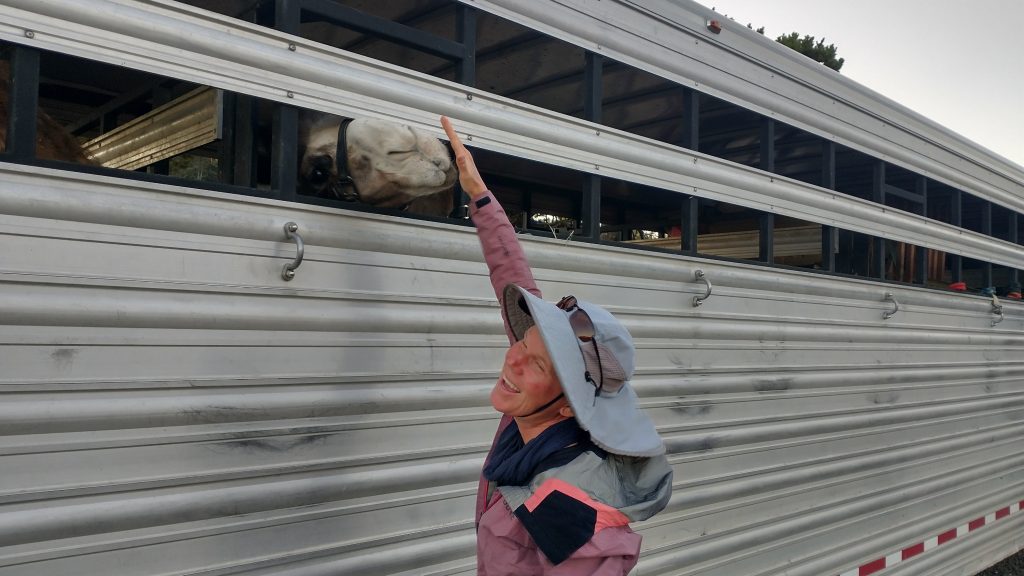 Finally we headed over for dinner…I had fish and chips, of course. We had to wait a bit to be seated, plus took our time stuffing our faces. As such, it was too late for me to enact my bus plan to the next beach, so I settled with staying at the noisy campground. No, the camels went to bed at a reasonable time but there were screaming kids all around. Fortunately I was tired enough to just pass out. Another fun and eventful day on the OC.