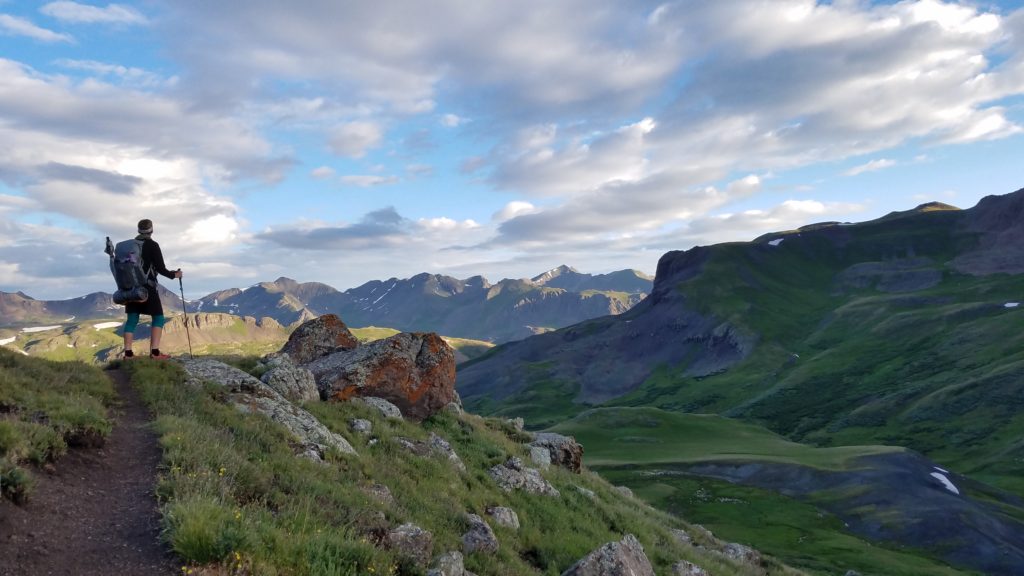 In the summer of 2017, I hiked the Colorado Trail Southbound from Denver to Durango. This was my first thru-hike, a "short" one at only roughly 500 miles. I decided to do this hike a bit spur-of-the-moment, knowing it would be a good trial run before committing to hiking Te Araroa. I'm also originally from Colorado, so this was a good excuse to reunite with family. I got to spend time with my Aunt and 2 cousins in Denver, plus more time with my parents.
I'd been at odds with my parents since some unfortunate events in 2016 and this was the first time we were able to put aside our differences and just focus on the highlights of my hiking. I have since learned that sharing trail experiences almost always unites people…a great way to find common ground. Since loosing my father to cancer in 2020, I look back on this year and am glad we were able to have some more good times together.
I hadn't yet started my blog when I did the CT, so I didn't post daily. I did keep a journal so that I could back-blog my adventures in weekly summaries, see links below. I fudged the posting dates so they occur in sequence before my other hikes. These blogs were actually composed in 2020, during COVID down-times…sorry if folks are confused about when I first hiked the CT. Actually, I have hiked parts of the CT nearly every year since 2017. In 2020, I hiked segments 3-7 again, as well as most of the CT as part of the CDT in 2019.
Here are a few of my stats from the 2017 hike:
Dates: July 13-August 12, 2017
31 days total, 3 Zero Days, 5 Half Days, 7 nights in town, 1 night in a yurt.
Resupply: Breckenridge, Twin Lakes, Parents' house (Salida, midway point), Creede/Lake City, Silverton.
Climbed to the top of Mt Elbert, 2nd highest in Continental US (only 40' shy of Mt Whitney, CA, off the PCT).
Average Trail elevation : 10,000'
Total elevation gained: 89,354'
Highest Elevation on the trail: 13'271'
Lowest Elevation: 5,522' (Denver start)
Baseweight of around 13lbs
Longest food carry: 6 days
28 segments + 5 Collegiate West (didn't hike segments 7 and 21 because of a fire closure and logistical problems)
Averaged 17 miles a day, 22 days over 15 miles, and 9 days over 20 miles
Longest day: 24 miles, 2nd to last day
Earliest Start time: 0530
Completed Collegiate West a week after finishing the whole trail, +80 miles and one of the highlights of the trip
No bears, moose, or elk seen the entire time. But did see Bighorn Sheep!
Weight lost: 10 lbs
Colorado Trail, Week 1, Denver to Breckenridge, Segments 1-6
Colorado Trail, Week 2, Part 1, Breckenridge To Twin Lakes, Segments 8-11
Colorado Trail, Week 2, Part 2, Twin Lakes to HWY 50, Segments 11-14
Colorado Trail, Week 3, HWY 50 to Creede/Lake City, Segments 15-20
Colorado Trail, Week 4, Part 1, Lake City/Spring Creek Pass to Molas Pass/Silverton, Segments 22-24
Colorado Trail, Week 4, Part 2, Molas Pass to Durango, Segments 25-28
Colorado Trail, Week 5, Collegiate West Section, Monarch Pass to Twin Lakes, Segments CW5-1
2020 Colorado Trail Segments 4-7 & Tramily Reunions
#11 of 20: Mt. Yale 14,196′ & Trail Angels on the CT/CDT
CDT/CT Bonus 2022: Grays Peak, Argentine Spine, & Searle and Kokomo Passes to Leadville.