06:00-15:00, Monday, 8-10-20
CO 14ers: 20 & 21 of 53
Distance RT: 15.5 miles
Elevation gain/loss: 6,250′
Starting Elevation: 8,850′
Summits: 14,081′ & 14,165′
Rank: 34 & 23 of 53
Location: Central Sangre De Cristos Range, east of Crestone
Route: Willow Lake Trail to the North Slope of Challenger Point, along the Kit Carson Avenue to Kit Carson Peak, Easy Class 3
Leaving Blanca behind, one thing was sure: I didn't have the energy to do another 14er the very next day. Like the week before, 2 days in a row was fine, but not 3. We headed to the tiny hamlet of Crestone to regroup and get a feel for our next launch point. A greasy dinner of fish and chips was greatly enjoyed at the one and only restaurant in town, Crestone Brewing. While I'd spied it from far above on previous hikes in the Sangres, I'd never been to Crestone. It's decidedly a haven for hippies and adventure seekers but on this night, we found it sorely lacking in available and/or affordable accommodation. Such is the dilemma of fly-by-the-seat-of-your-pants planners. Luckily we found a cheap tentsite at San Luis Valley Campground. It was nice to get a shower after a few days roughing it.
We took it easy the next morning, heading to the nearby town of Saguache for breakfast and a walking tour of the deserted streets. We safety-tested the playground equipment at the brand new and equally deserted school.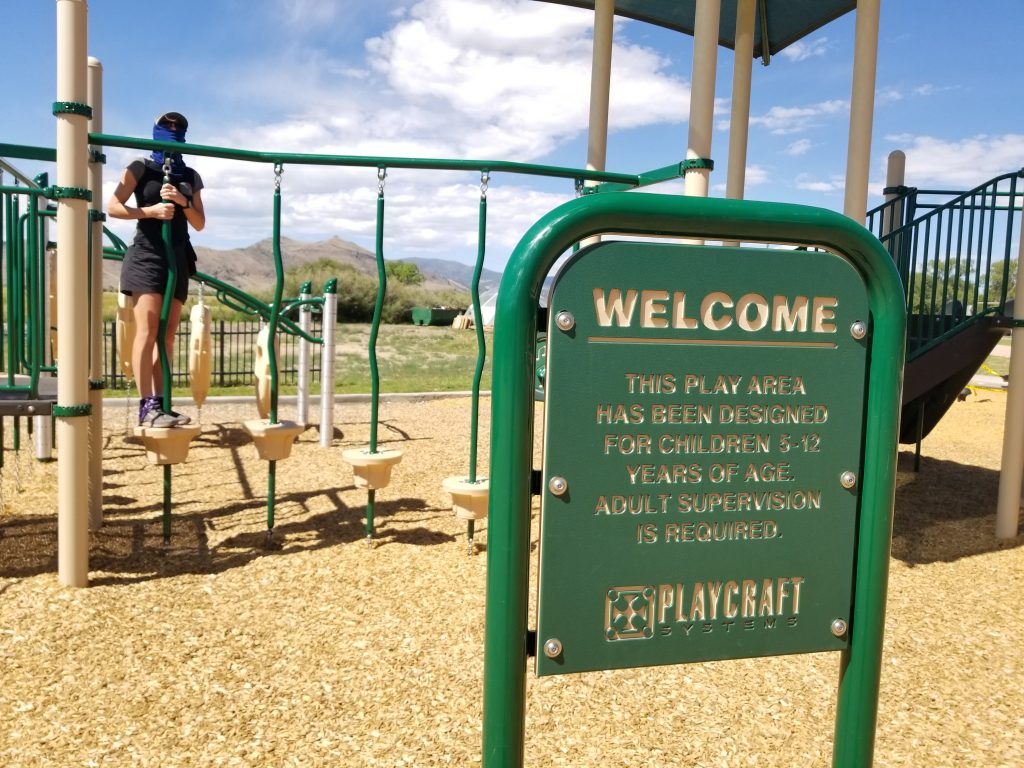 I don't know who that person is in the picture…it's definitely not me…
We'd been able to secure reservations at the Joyful Journey Hot Springs but for only 2 hours beginning at noon. The resort was operating at limited capacity, allowing about 20 people at a time and in 'shifts' throughout the day. It felt a little weird to be visiting a hotsprings at peak hour in the summer and in the midst of the pandemic, but it was really nice to soak our sore muscles in the mineral water. Thankfully the pools had shade tarps.
Afterwards, we ate our lunches in the outside courtyard while we watched a large bull (also gopher) snake explore a cottonwood tree, looking for its own lunch. Dozens of nighthawks were roosting in the trees and we mistakenly thought they must have eggs or chicks in a nearby nest. Later I read that they nest on the ground. The snake found out the hard way that there was no free lunch but it was entertaining for us…I'd never seen such a big snake climbing such a big a tree before.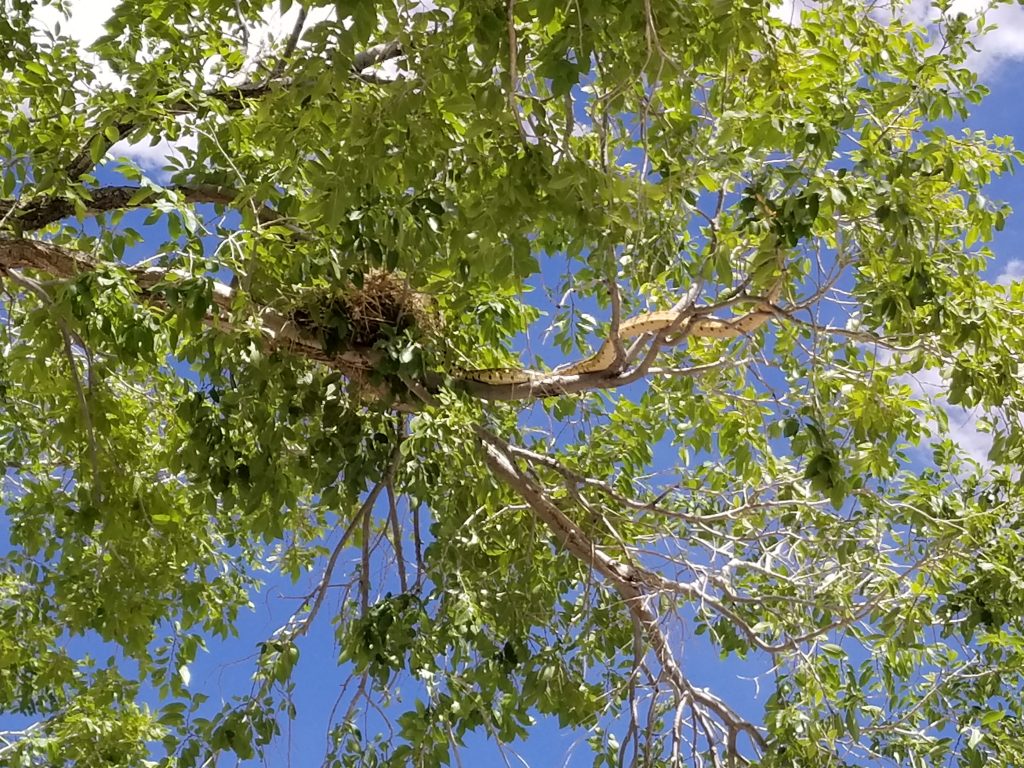 Finally we headed for the trailhead, with the same plan as the previous 2 trips: backpack up the trail to camp and stage for a summit hike the next morning. At least we felt refreshed after our spa treatment and partial day off.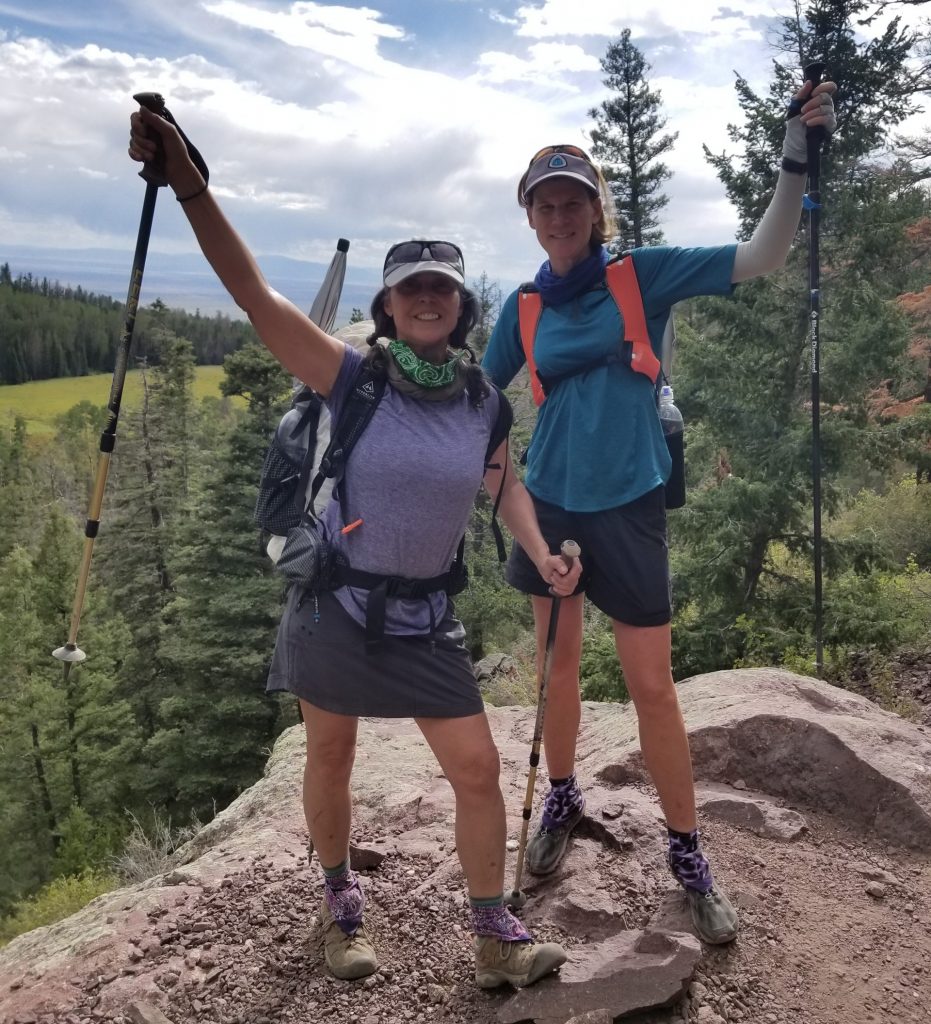 We were surprised to find the trailhead parking lot pretty packed but, being that it was late Sunday afternoon, everyone was leaving. We must have passed about 30 people heading down as we were heading up. I didn't know much about the trails on this side of the Sangres, since I've always hiked from the Westcliffe side. Well, I'd been missing out! This trail was well built, with excellent views nearly the entire way. We hiked about 4 miles to the lake, than another mile looking for a campsite above the lake. We didn't really find any good options but at least the setting sun made for some nice pictures. It's one of the most scenic lakes I've found in all of Colorado, with a striking wall and waterfall at the head of the lake.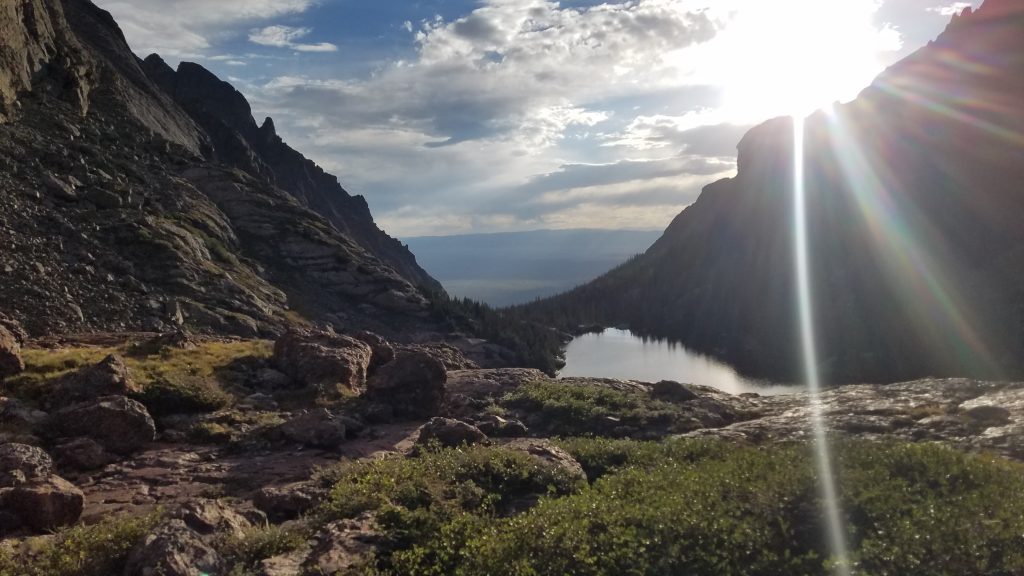 We went back to some campsites below to spend the night. For some reason, I had bad dreams about bears disturbing our campsite, a paranoia I hadn't experienced in a long time. Perhaps it was because we unknowingly set up next to a trail crew's food stores. In reality, all was quiet overnight. We stashed our excess stuff in the morning, being sure to discretely hang it in the tress. Not for bears but rather the mice and marmots. The Prius had unfortunately acquired a nest of mice, which took several traps and weeks to eliminate. Little bears: the real hazards of camping.
We hiked past the lake again and began a steady steep climb to the ridge of Challenger Point. The trail was good with graded switchbacks at first. There were even several trail crews working diligently to improve the steep conditions, which we were most grateful for. Then the switchbacks petered out and it was time to just go straight up, weaving through all the boulders and loose scree. We followed a gully along the right side most of the way, gaining about 1000′ in less than a mile. This was the most taxing part of the whole day. A couple we talked to the day before said it was somewhat dangerous because of all the people kicking loose rocks. We were so glad that we took a day off in between, otherwise we would have been a part of the crowd. On this weekday morning, we were the only ones heading up the gully.
Coming out of the gully, with views north to Mt Adams, a peak that's just shy of being a 14er by about 70′.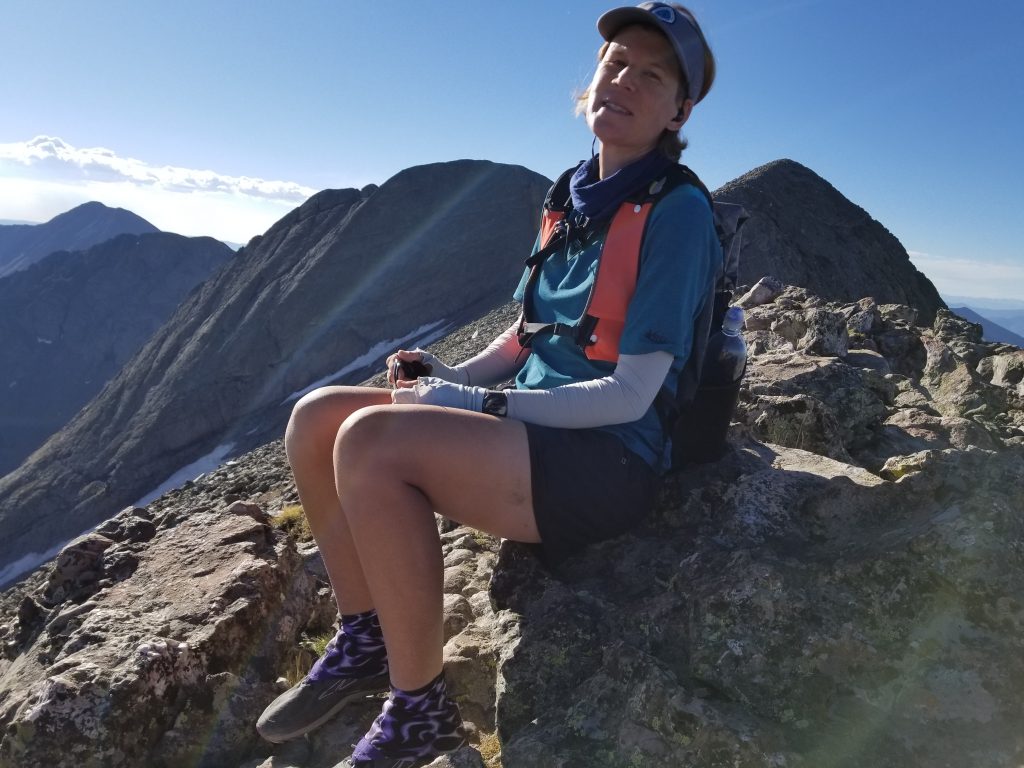 Challenger Point is to the right of my head, Kit Carson Peak to the left, and Humboldt Peak to the far left in the distance.
At the ridge crest, I stopped for a short rest to take in the views. From here it was an easy ridge walk to the summit of Challenger Point…so named in honor of the 7 astronauts who died on the namesake shuttle.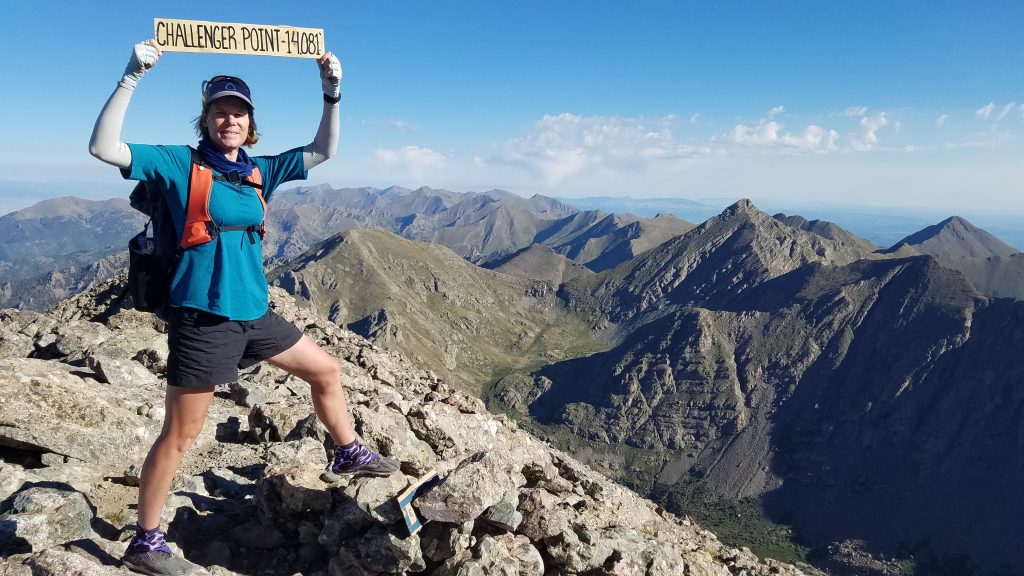 On both peaks we found these nice wood signs that somebody had spent some time engraving…talk about an organized hiker!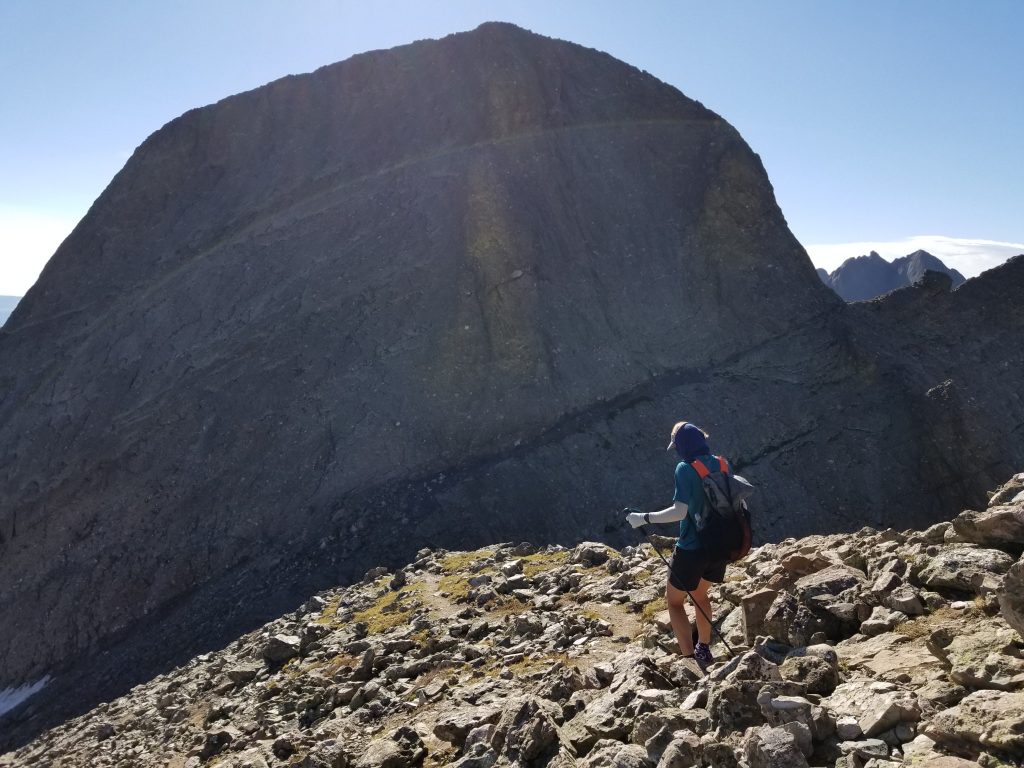 As we headed towards the saddle between the 2 peaks, I could see the ledge we would follow to get around the backside of Kit Carson (the dark streak just above my head in the picture above). From afar, it made me uneasy. Once we got closer, it became apparent that the ledge was comfortably wide. This is known as the Kit Carson Avenue, which wraps around the west and south facing slopes of the peak. With a lot of snow and/or inclement weather, I'm sure it could be scary. I think several people have even died attempting it. But on this glorious late summer day, we had it all to ourselves and it was really, really enjoyable.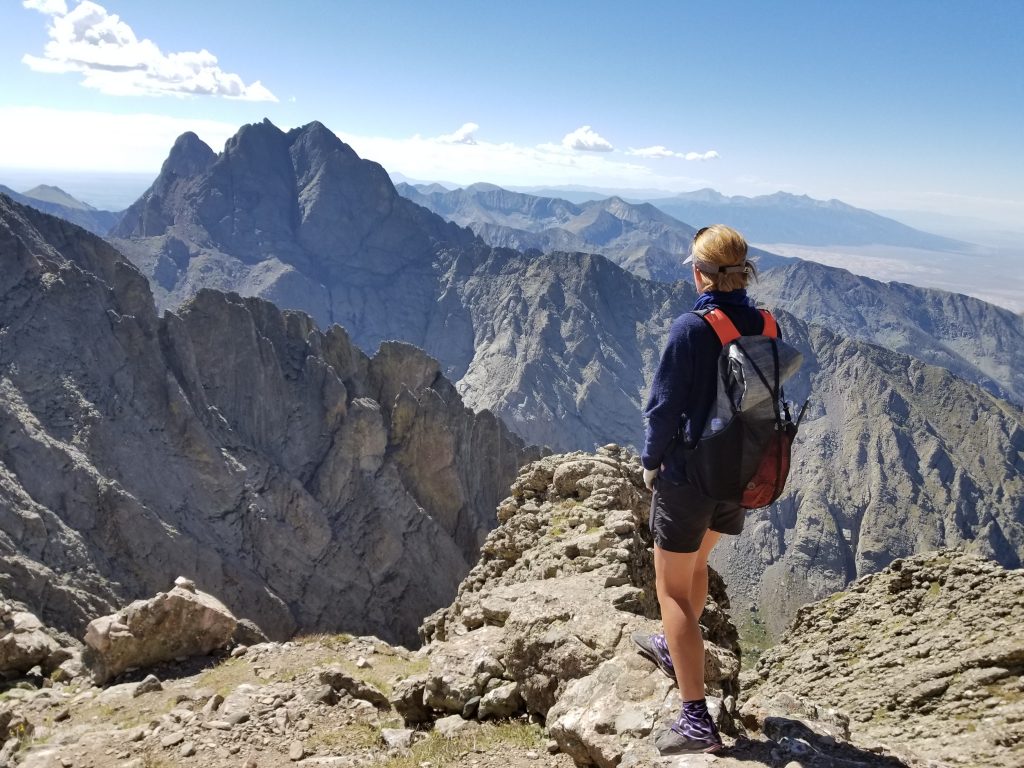 Stopping to admire the Crestones at a juncture called the 'Prow', a rock rib jutting out like the prow of a ship.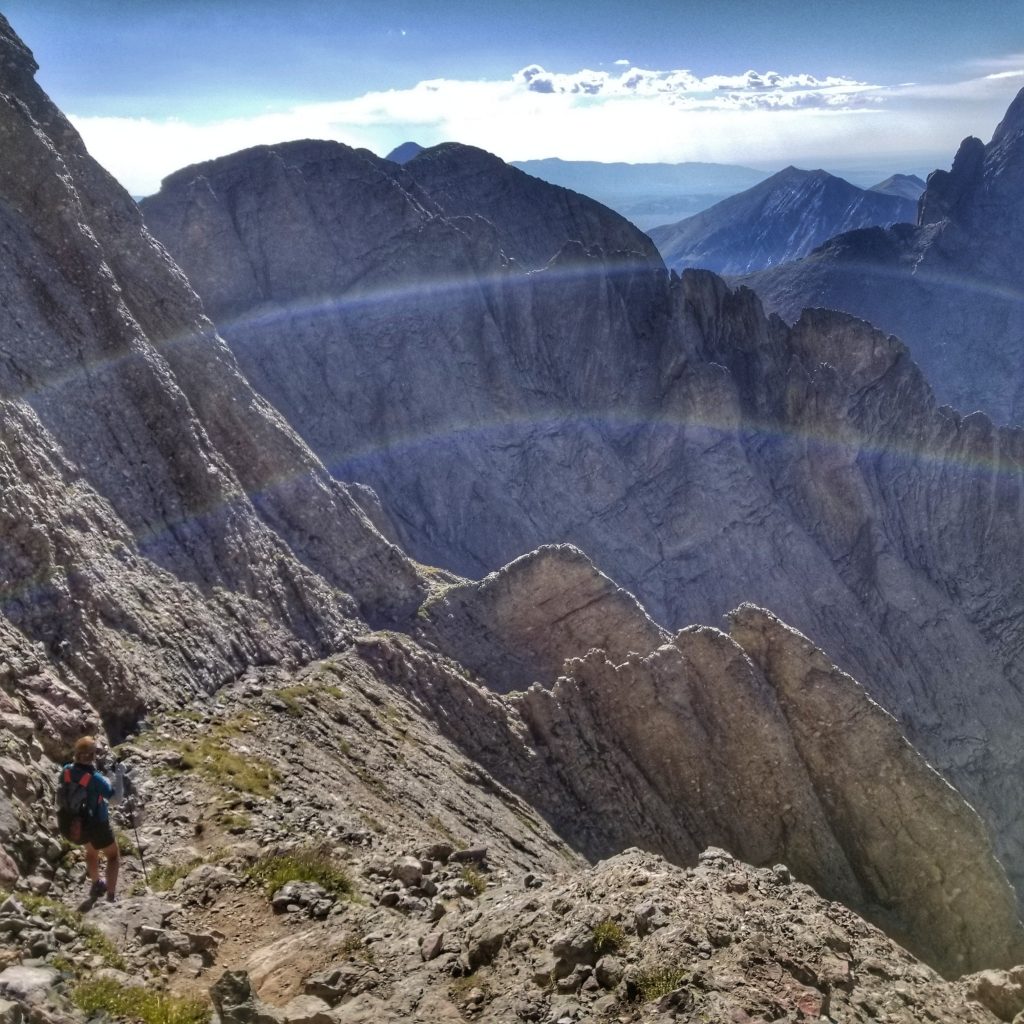 Here's the rest of the avenue on the south side. The ledges aren't level, so there's some elevation gain and loss working around the peak.
As far as I know, the Avenue's a natural feature. Some improvements may have been made but it felt like a gift, enabling us to climb this very intimidating peak. Eventually we came to our turnoff on the southeast facing slope, just before the saddle with Columbia Point (named for the other tragic shuttle crew). We were to turn left and head up a gully that was described as an easy Class 3. I guess after all the climbing we'd been doing, I found the gully to be very easy. In no time at all, we were at the summit.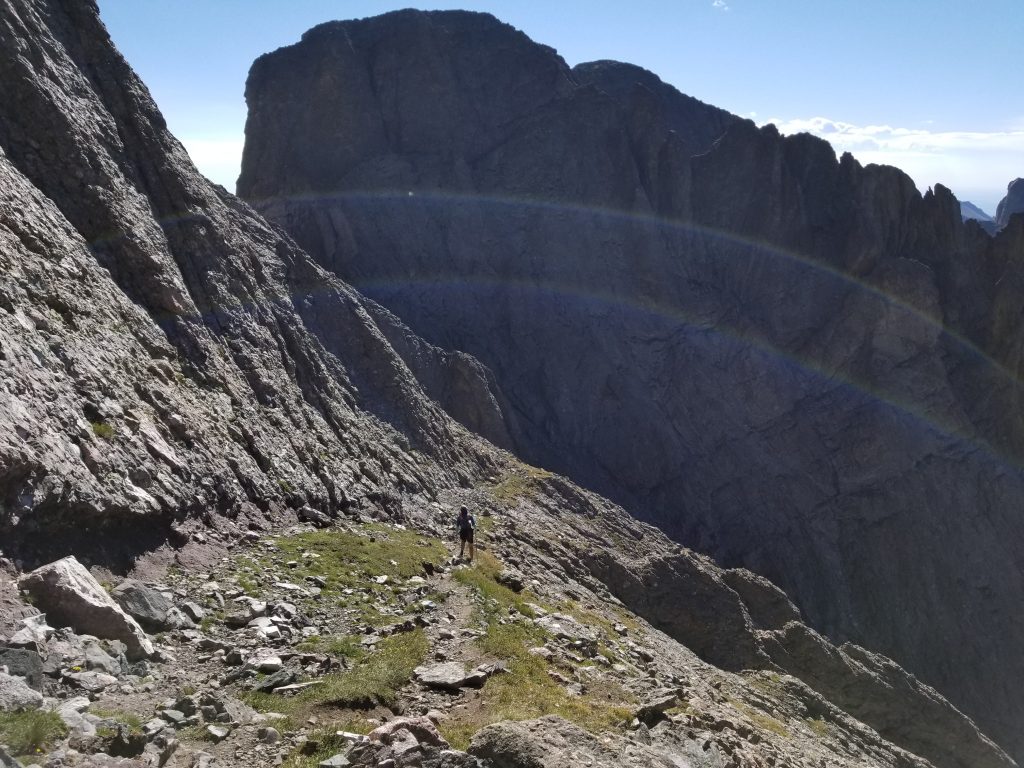 Believe it or not, the gully is to the left just before the rock rib that juts down ahead of Columbia Point. Always full of surprises, it takes patience and trust to climb a mountain. A route that seems impossible suddenly becomes apparent and accessible after just moving 100 meters forward.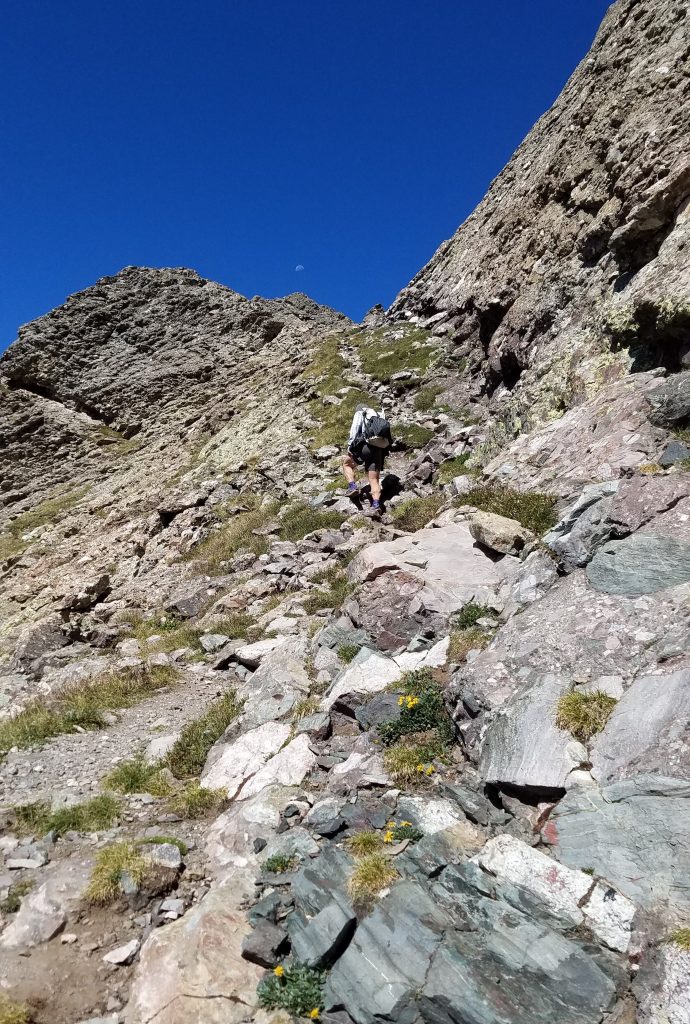 This gully looks daunting but I've learned that grass and flowers = good footholds and not terribly steep.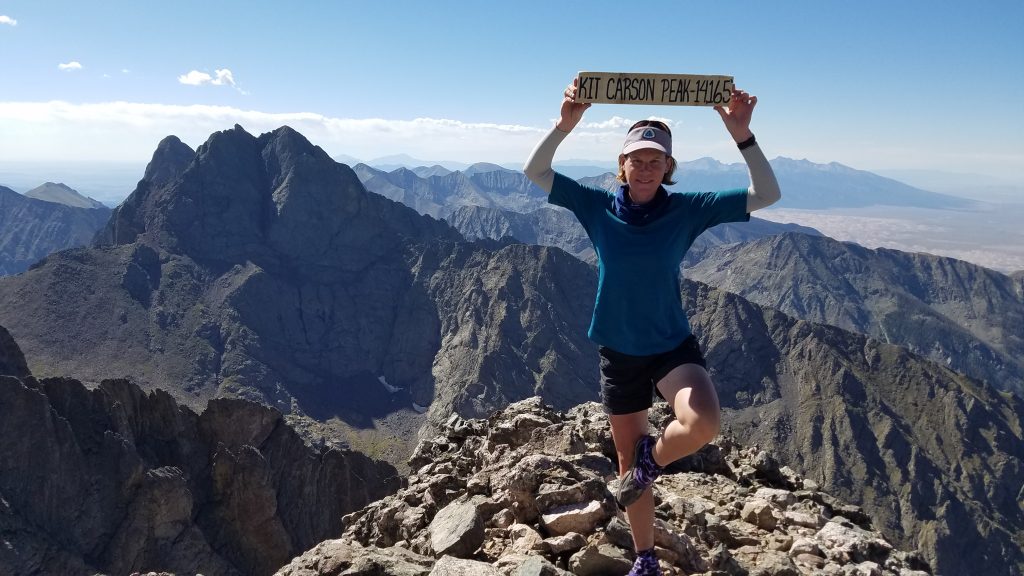 The Crestones to the left, Lindsey, Blanca & Great Sand Dunes to the right.
We had a great time on the summit, chatting with a father and daughter team that had come up a more challenging Class 4/5 route. The woman was a real mountaineer and climber, already having done all the 14ers in the state. I could tell her dad was so proud and it just filled my heart with joy to see. We could also see people standing on Challenger point, across the chasm.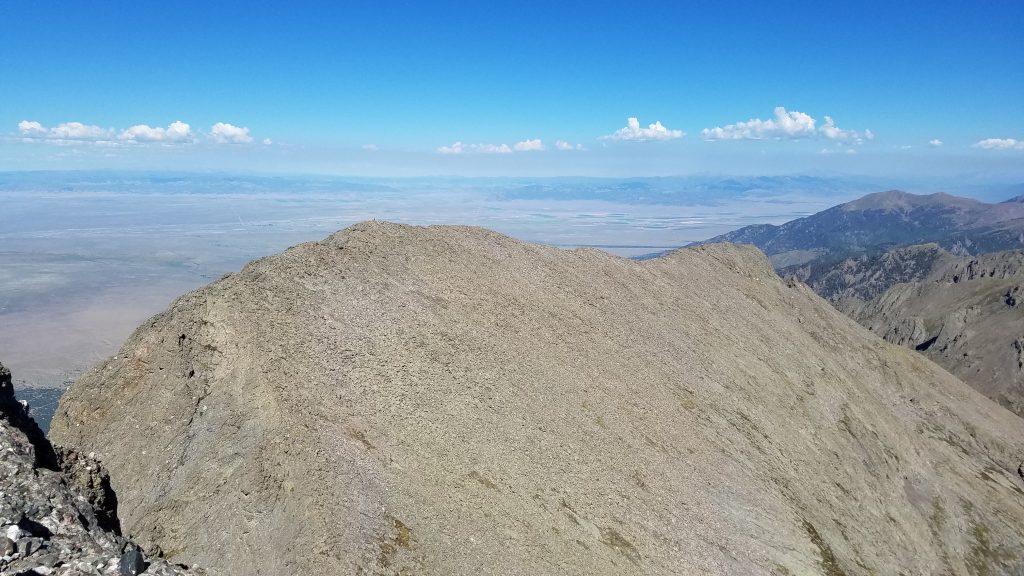 We quickly retraced our steps all the way down Kit Carson and back up Challenger Point. We only saw a few other hikers on Challenger Point and none on the Avenue. We managed to catch the father/daughter team, and I hiked with them most of the way down the gully, excited to glean any knowledge and insights they might have. I was enamored with the woman, aspiring to be in her league as a mountaineer. At one point, she slipped a little and it dawned on me, she was human too. I've found that I'm pretty good at descending, even steep and slippery slopes, so eventually I passed everyone and enjoyed some solo time at the lake.
This was one of my favorite hikes this summer. The peaks were challenging but fun and the views epic all around. This string of peak-bagging really boosted my confidence, helping me understand that I'm a fledgling mountaineer but still a gifted hiker. What I may lack in technical ability and experience, I can make up for with fitness and general athletic ability. Years of thru-hiking have given me this edge.
We regrouped at the lake, gathering our things and enjoying a social hike back to the carpark. Here are a few parting shots: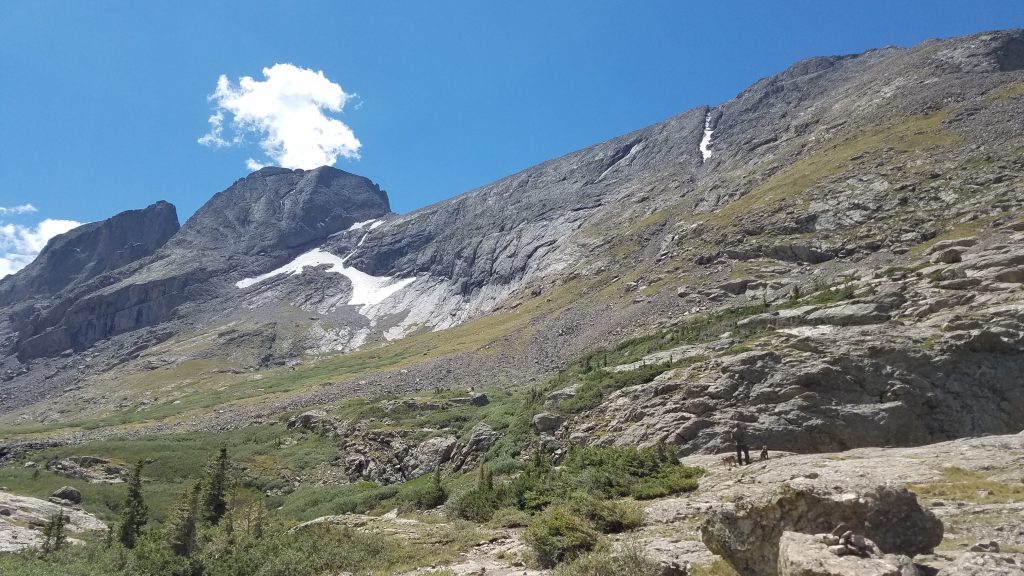 Kit Carson looks like a smoking volcano. Challenger Point isn't visible from this steep angle.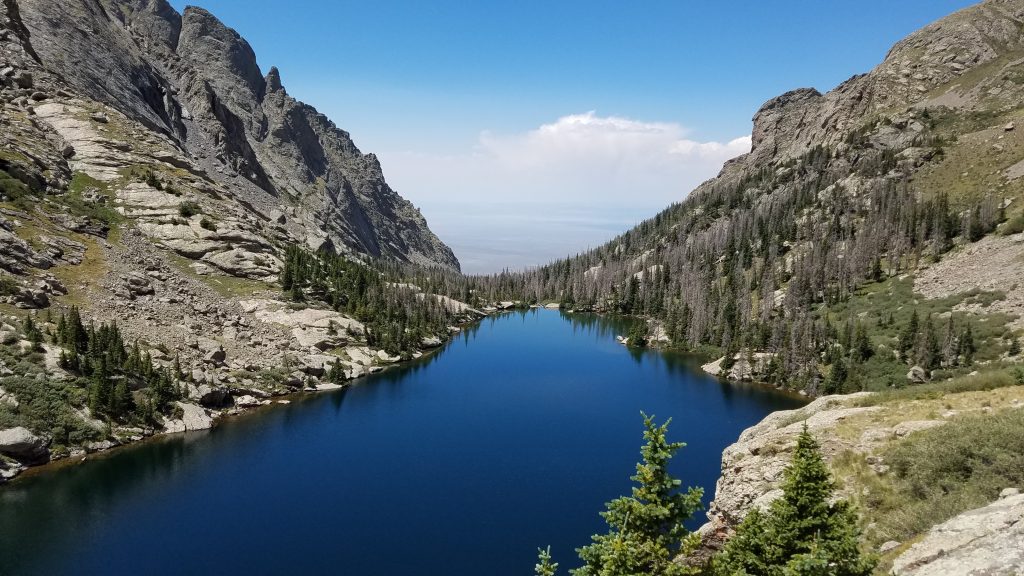 A classic hanging lake.