(Scroll to the bottom for a links listing of all my daily blogs)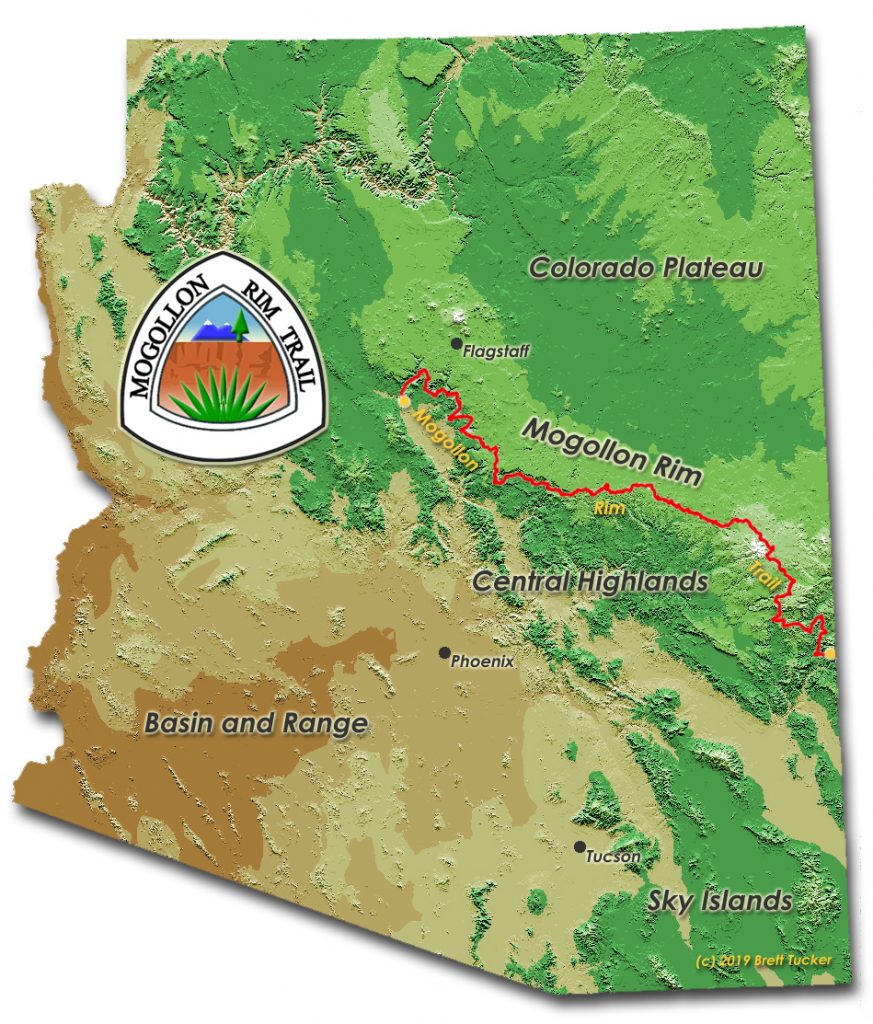 I hiked the 500 mile Mogollon Rim Trail in April 2022. This was the logical follow-up to my 2021 Grand Enchantment Trail (GET) thru-hike. Both routes were created and developed by Brett Tucker of Hike Invention and are not purpose-built, agency-sanctioned trails like the National Scenic Trails System. As such, these routes are pieced together using a system of pre-existing trails, forest service roads, and some cross-country travel. The MRT is sometimes referred to as the GET northern alternate, as it takes a northerly approach in bypassing reservation lands through Arizona, while the official GET takes a more southerly "sky island" route. Both meet at the Arizona/New Mexico border, at which point the MRT officially concludes.
I was pretty excited and confident about this hike, building on my knowledge of desert environments, route-finding, bushwhacking, canyoning, and travel through remote areas sparse of people and services. Between the AZT, GET & MRT, I've acquired over 1,700 miles of hiking in the great state of Arizona. I've come to love the diversity and challenge of its environments, as well as the quirkiness and friendliness of the small towns these hikes have led me to.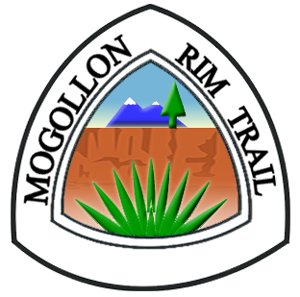 Thru-Hiking Q & A (courtesy of Brett Tucker and Melissa Spencer)
How long is the MRT? About 500 miles from end to end, from outside the bustling tourist town of Cottonwood, Arizona to the small ranching communities of Alma and Glenwood, New Mexico.
When is the recommended season of travel? Spring and Fall, typically April-May before the landscape gets too dry and fire-prone and while snow is melting off the highest elevations, and then again in September-October after the bulk of monsoon season ends and before winter returns to the high country.
What is the suggested direction of travel? Eastbound, both in Spring and Autumn, as the route dries out sooner on the west end during both seasons. You could probably hike it westbound in Autumn, too, although the trail information is written in the eastbound direction.
What is the distance between resupply points? Typically 60 to 80 miles, occasionally up to 90. We offer a town guide with information on post office maildrop locations and other town services.
What trail resources exist or are planned for the MRT? We now have a comprehensive, trail-tested mapset that will be available to a limited number of hikers each season. The mapset essentially comes in several versions: one for viewing on devices, one that can be printed to make your own paper maps, and a third that works with the Avenza app for GPS-based navigation, and as well the mapset supports the popular Gaia GPS app. The mapset also includes an extensive, guidebook-like databook with information on POI's along the route, detailed information on water sources, as well as offering navigational assistance. We also provide a town guide with information on post office maildrop locations and other town services. In the future we may provide a water chart, which would essentially be a subset of the databook entries.
How do I get ahold of maps for the MRT? The downloadable mapset is available for purchase on our website. This mapset will be available (in stock) seasonally and in limited quantity. Our intent is to maintain a sustainable volume of foot traffic on this nascent route, to avoid unnecessary growing pains and to provide a sense of individualism and pioneering, which are important qualities of any hiking route (vs an established long trail). We also greatly appreciate feedback from those hikers who do go, particularly water notes and any corrections or additions to the maps, databook, and town guide. Doing so will help the MRT grow and evolve in a positive and productive way. Thank you!
Description of the route by Brett Tucker (a man better gifted with words and passion for his trails than I could ever do right by!):
The Mogollon Rim is a broad and iconic feature on the landscape of the American Southwest, a continuous escarpment extending several hundred miles in length from the vicinity of Seligman, Arizona to the New Mexico border. The Rim defines the southwestern edge of the Colorado Plateau and, as such, serves as a geographic and biological dividing line between this high, uplifted region to the north and subtropical desert basins and ranges to the south. Often referred to affectionately as "Rim Country," the vast swath of land along and adjacent to the Mogollon Rim (pronounced Muggy-Own) is well-known for its outstanding scenery, extensive forest cover, and ample opportunities for outdoor recreation. Several national forests – the Prescott, Coconino, Tonto, and Apache-Sitgreaves – play host to the Mogollon Rim, together offering a seamless expanse of public land where one may revel in such diverse highlights as Sedona's famed Redrock Country, the historic Highline National Recreation Trail, the high cool respite of the White Mountains, and the largest expanse of ponderosa pine forest in the world.
It's upon this alluring and complementary backdrop of forests, canyons, mesas, and summits that the idea for a Mogollon Rim Trail (MRT) was born. The region has much to offer the long-distance backpacker, yet with limited exception no trails of any significant length wander this ample west-to-east expanse of varied territory. In addition, The Rim, while very much present as a continuous geological entity, over the course of its length reveals itself more prominently in certain places, less so elsewhere, such that at times it feels almost conceptual in nature – or perhaps a part of something broader entirely. Indeed, only by taking a step back is the big picture ultimately revealed, and herein lies the foundation for a 500 mile hike across Rim Country. For truly it is Rim Country – its soul and sense of place, writ large – that stirs the imagination.
There are trails, both above and below The Rim, that may be strung together, linked in such a way as to offer a continuous, linear journey, a long-distance hike highlighting the great diversity and many standout attractions of Rim Country. Where trails cease to continue, dirt roads take over. And where there is neither trail nor road, an opportunity arises to move freely across the land, like the region's omnipresent wildlife – as the elk, like the mule deer. Recreation trails, quiet forest roads, and cross-country travel – these three represent the standard currency of the invented hiking route, and the Mogollon Rim Trail avails itself of each in order to make continuous passage from here to there.
There are trail towns: Familiar names like Sedona, Show Low, and Greer, and those less known – Forest Lakes, Pinedale, Blue – offering provisions for the long journey on foot, spread out at useful intervals along the way, and which the Mogollon Rim Trail reaches directly or runs near. There are documented water sources, campsites, spots to linger, places to explore. The Mogollon Rim Trail seeks out a natural corridor intended to both accommodate the hiking necessities as well as to offer adventure and challenge. Such is the fitting character of a hiking route developed with the community of experienced long-distance hikers in mind.
A logical starting point for the MRT, the western edge of Redrock Country is also a natural boundary for recreation. Much farther west and one begins to argue semantics, over exactly where the Mogollon Rim is or is not, and why it might matter. No such question comes to mind at incredible Sedona. Indeed, there is a certain essential quality to beginning a long-distance hike among the sculpted, 1500 foot-high sandstone walls and deep, layered canyons here. This theme, of highlighting the best that Rim Country has to offer, while simultaneously making efficient travel along it, informs the journey the entire way to its eastern terminus, from the Sedona redrocks, to the White Mountains, and finally on to the Blue Range, where it ends at the New Mexico border and joins the route of the Grand Enchantment Trail. These connections, premised upon offering the best possible adventure this landscape can provide, define the very essence of the Mogollon Rim Trail. All the route demands in return is an open mind, a lightweight pack, and the right set of skills.
My partner and I explored a route for the MRT over the course of several years, involving numerous long scouting hikes and countless hours poised longingly in front of a computer screen. What we now present as the Mogollon Rim Trail is exhaustively researched and in very large part vetted in the field. As of this writing, a number of other hikers have also explored the route at length, including a dozen or so who have completed thru-hikes (see hiker journals here) The route remains young in the grand scheme, in the evolution of routes, as these things go. It is prone to change, likely again and again, as we and others complete additional hikes. Let there be no doubt, the MRT is and will remain a hike for very experienced walkers, for those with many miles under their belts and who've had their mettle tested away from the beaten paths, regardless of length. Such are the ways of the hiking route.
Follow these links for all posts related to my MRT thru-hike:
My next adventure: The Mogollon Rim Trail
MRT Day 1: Into the Heat
MRT Day 2: Red Canyons
MRT Day 3: Sedona meets Hikertrash
MRT Day 4: Brutal Beauty
MRT Day 5: Wet Beaver Canyon
MRT Day 6: West Clear Creek
MRT Day 7: Pine
MRT Day 8: Along the Rim \ Highline Trail
MRT Day 9: On Top
MRT Day 10: Wildlife
MRT Day 11: Halfway, in the Burn
MRT Day 12 & 13: Show Low Shower & Zero
MRT Day 14: That cold wind that blows
MRT Day 15: White Volcanoes
MRT Day 16: Railway to Greer
MRT Day 17: Everyday is a Winding Road
MRT Day 18: Everyday is a Winding River
MRT Day 19: Bear Wallow is Where We Whack
MRT Day 20: Back to the Land of the Cows
MRT Day 21: Blue Mountain Primitive Area
MRT Day 22: A Signature Day
MRT Day 23: Mineral Creek Repeat
MRT (Bonus) Day 24: Mogollon For the End
MRT (Bonus) Day 25: Gila River
MRT (Bonus) Day 26: Gila Hot Springs
MRT (Bonus) Day 27: Rollin Down the River
MRT (Bonus) Days 28 & 29: Silver City Fin
MRT Summary & Stats