Wednesday May 4th, 2022, 0640-1000
West Fork Gila to Gila Hot springs.
11 miles.
We had about 6 miles to go until the cliff dwellings, then another 5 miles of road walking to Doc Campbells and the hot springs in the morning. The trail went by fast, especially since I was running to keep warm. The relentless river crossings turned my feet into blocks of ice, so I had to do something to generate heat. We passed a camp where the occupants were dry, sitting in chairs, and sipping coffee. Ahhh, the regular backpacking life. We also passed our camp from the year before, where I spied toilet paper right where I'd cowboy camped…good thing I hadn't counted on a repeat of that site. Near this was a set of caves and cliff dwellings, separate from the more notorious ones at the NPS location. There are actually quite a few archaeological sites throughout the river system, free to be explored by hikers.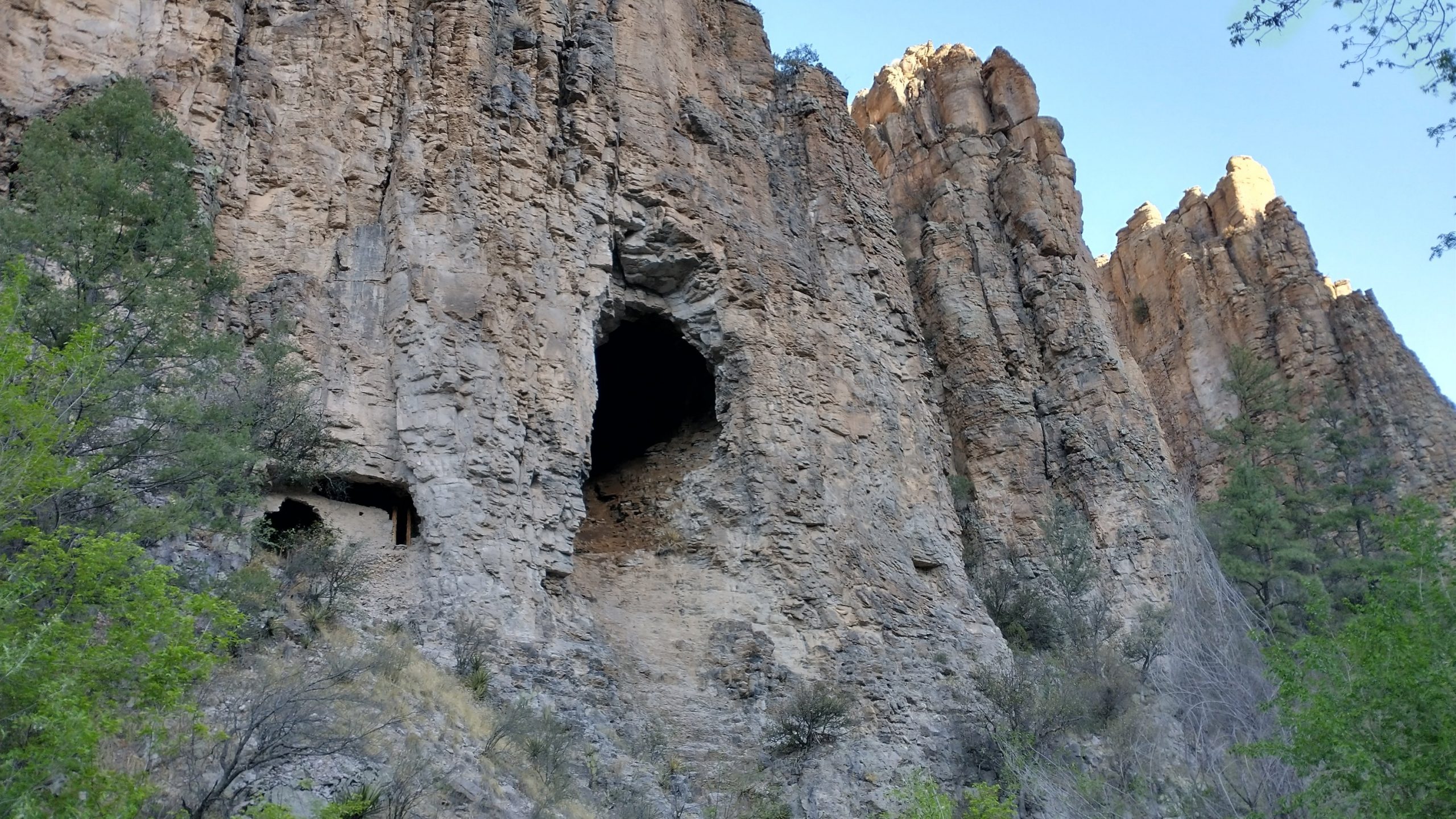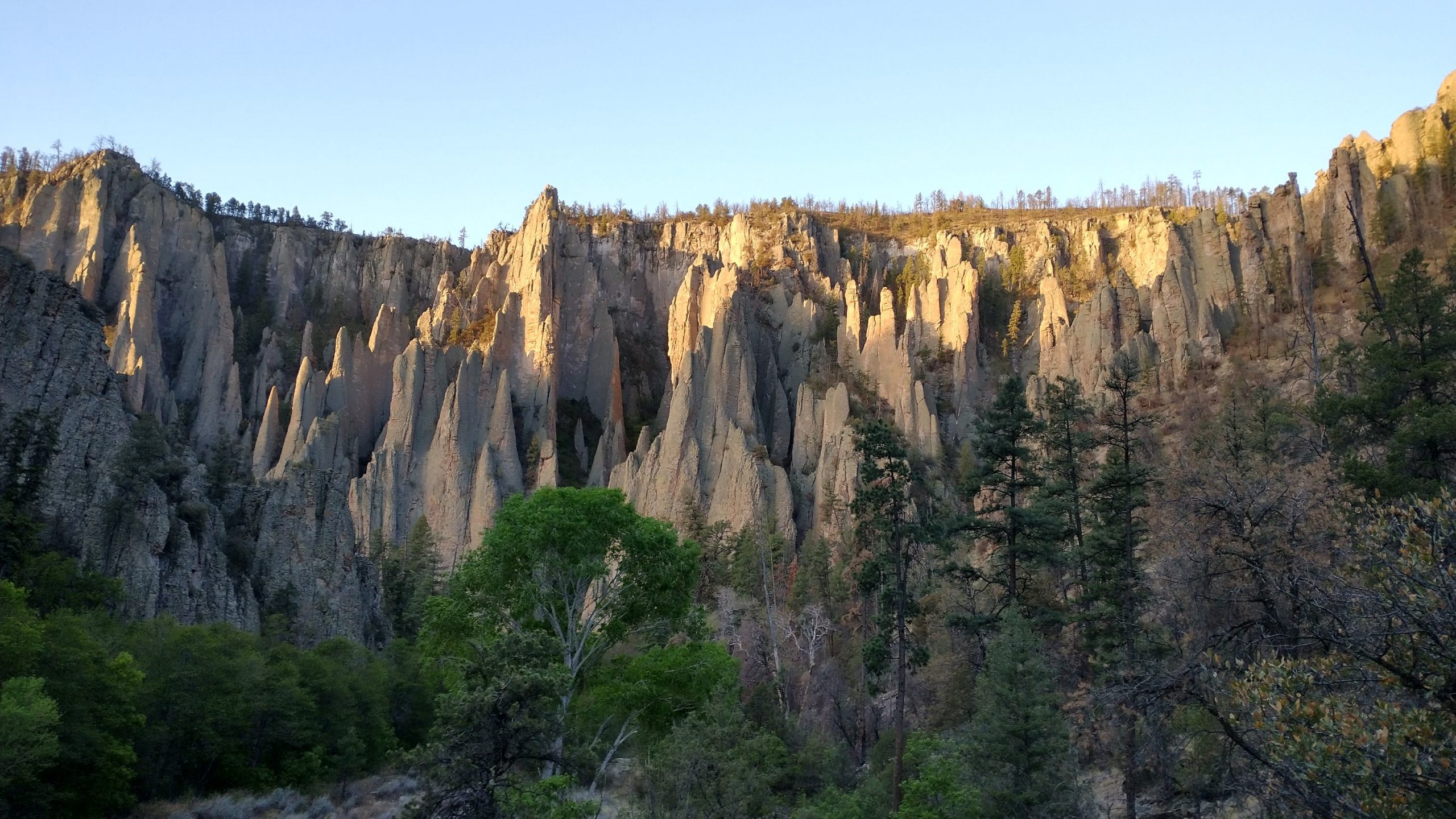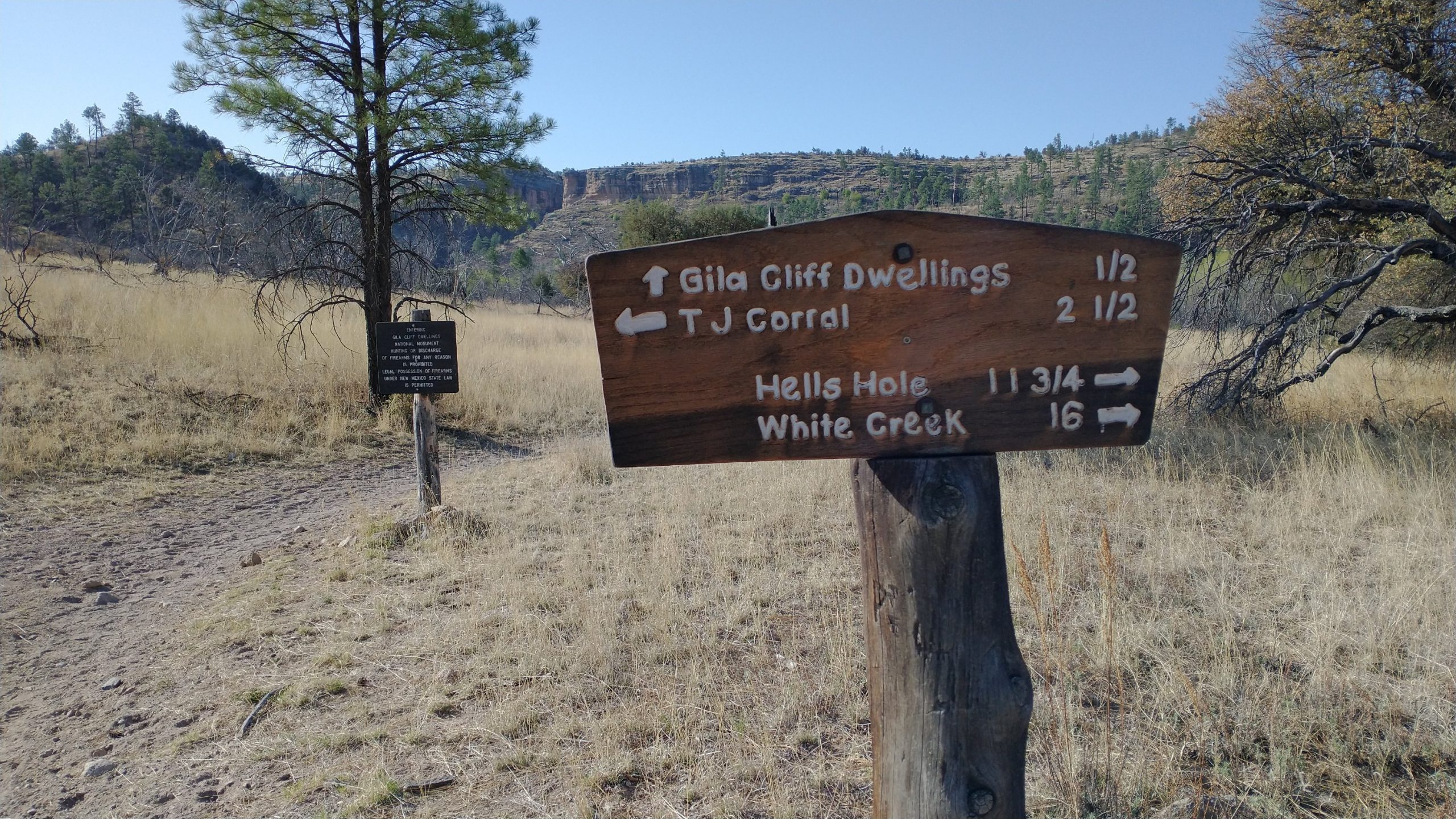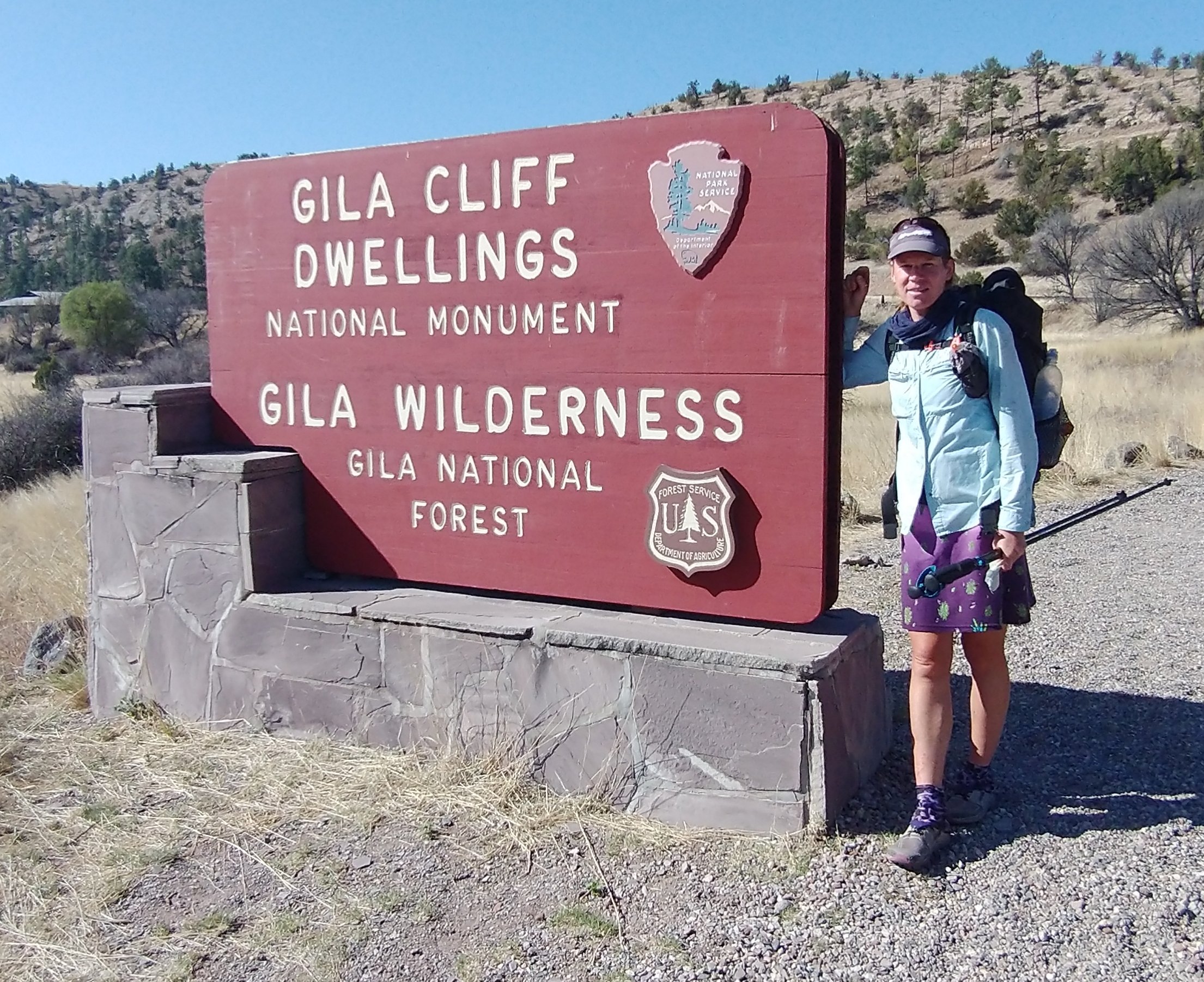 We reached the main cliff dwellings (the ones with ranger led tours and a paved path) just as they were opening for the day. I'd visited them twice before, so I didn't stop. I would've liked to hitch the road to the general store but unfortunately every car was going towards the dwellings, the opposite of our way. So we walked the road. During this time, we passed 12 NOBO CDT hikers. It was quite a change from only meeting one other thru hiker on the MRT\GET in 24 days prior to this. Just as we came to the store, over an hour later, a car drove by. I recognized it as one that had been parked at the dwellings, mentioning to Stellar: there was our ride! The car even pulled into Doc Campbells just ahead of us. But there was no guarantee that this driver would've given 2 smelly strangers a ride. Except that he was no stranger, to thru hikers or to me. He was my friend Flowers from the PCT!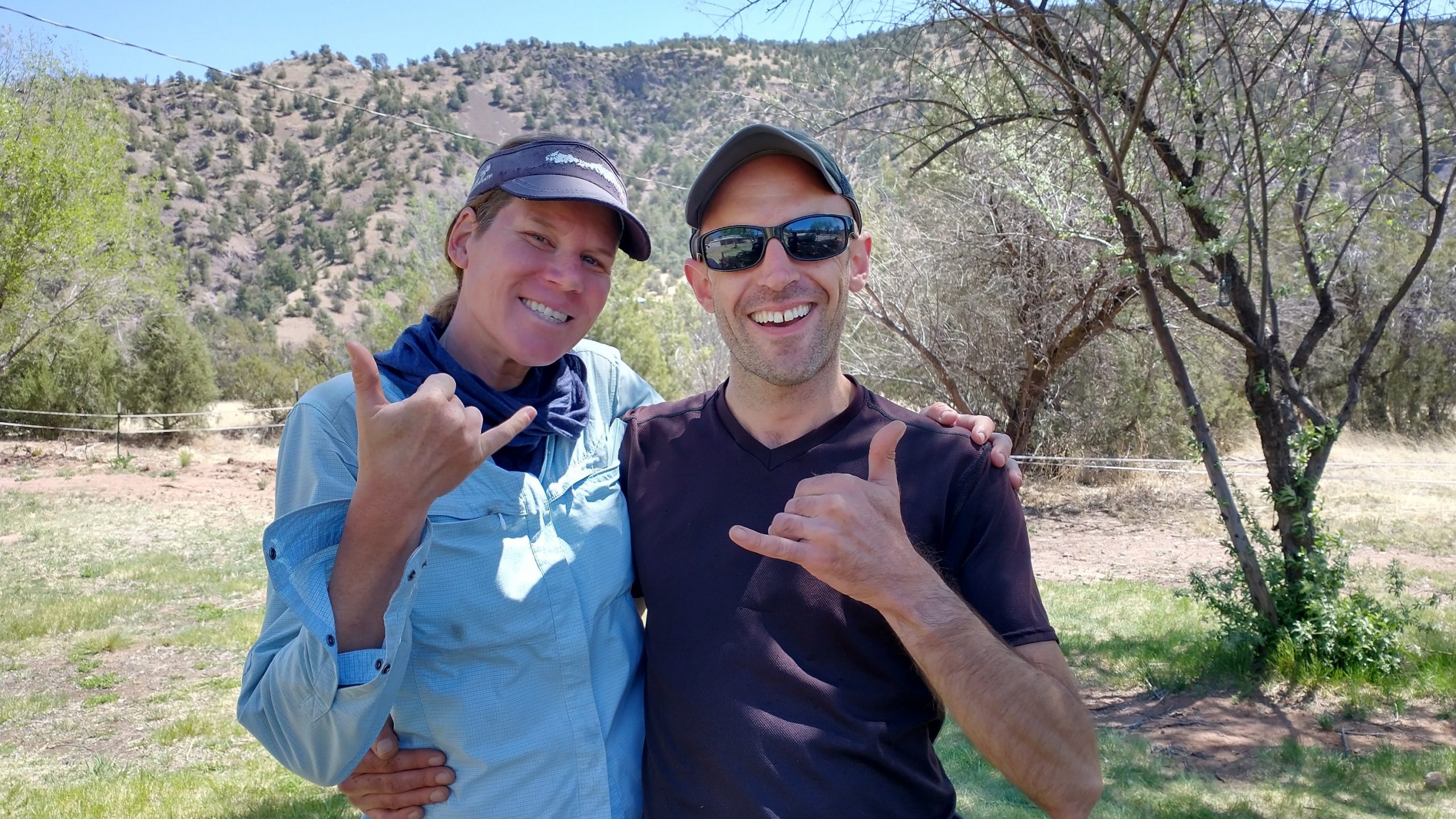 I'd met him near Ashland OR and we'd hiked together for a lot of northern California. I'd appreciated his company because he's also a biologist and lives in my favorite place: Hawaii. The last time I'd seen him was in Quincy, shortly after which he'd had to get off trail because of a severe stress fracture, a devastating blow. But here he was, just finishing a backpacking trip in the Gila and several more weeks to go exploring the southwest. He was the first person I'd ever met that had hiked the Arizona Trail, inspiring me to do the same. Now I'd hiked 3 long trails and over 1,600 miles in Arizona alone. Arizona had become my default stomping grounds.
Flowers had seen me walk by the cliff dwellings and knew I was doing a hike out west, but wasn't sure it was me. After a second glance, he was sure. Who else would be wearing such a skirt? We caught up at the store for awhile. It was great for all 3 of us to reminisce about the PCT while also sitting at a spot that had twice been in my thru-hiking history (CDT & GET). I reflected on how many hiker reunions I'd enjoyed over the past year. Flowers was the 5th PCT friend I'd met. Stellar, of course, was one and we'd both met up with Cuba while hiking the AT. Then Suvi had visited me twice in Miami over the winter (all the way from Finland) and I'd had a long video chat with Skybird from her homebase in Portland OR. I'd prepped both of them on hiking the CDT southbound for the upcoming summer. I'd met 6 CDT alumni on the AT (Jetpack, Smackdown, Doubledown, Pinestick, Open, and Picky) and 2 CT friends, Yoyo and Sofie. Lastly, Picky and Mud Lantern, my AT buddies, had visited Miami over the winter and we'd gone hiking and kayaking, respectively.
So as you can see, it's not that uncommon to run into people I've met on trail… especially as many trails as I've done and continue to hike. But such reunions never cease to be surprising, fun or exciting. Flowers took off for a day hike but promised to return bearing beer. Besides running into him, our timing was kind of terrible. The store was closed on Wednesdays and we needed a couple days of food to get to Silver City. Fortunately they opened for an hour in the afternoon, just for us thru-hikers…so very accommodating. So we patiently waited for several hours, appeasing our appetites from what could be scrounged from the hiker box. We also chatted with about 10 CDT hikers. I was amazed by how many were hiking through.
As promised, the store opened and met all our needs. It's been under new management since 2018 and just keeps getting better every time I visit. This year they'd added laundry and shower services for hikers, plus limited tenting on their lawn. But I was dead-set on staying at the hot springs campground down by the river… a place I'd loved since my first visit in 2019. We'd take care of all the other chores once we got to town. We also booked a return flight from Silver City to Phoenix. I'd never have guessed that such an option existed. I'd posted a message on the CDT FB page, looking for a ride to Lordsburg in order to catch a Greyhound, and a follower had suggested this small puddle jumper. A 1 hr direct flight beats the hell out of many hours of misery on a bus, especially for $91! We were stoked. The only catch was that the flight was full on Sunday, so we'd fly out Monday. This gave us plenty of extra time to take full advantage of the hot springs.
Alan, the son of Doc Campbell, has been managing the hot springs for many years. His 4 siblings all still live in the valley, owning much of the surrounding land. He referred to the area jokingly as a fiefdom but it's kind of the truth. We me his wife, Karla, and daughter, Kyle, as well. To get to the hot springs, we walked past his family's working farm, which has tons of adorable baby goats. He reserves a site just for thru-hikers. At $10 per person, you get a tent spot, composting toilet, wifi, a place to charge electronics, river access, and 3 minimally developed pools of lovely hot water. I think it's a great deal and prefer that it's been kept so basic. We had a great collection of 8 CDT hikers as our companions, plus Flowers returned with beer, as promised. It was the perfect night on the trail with our peers….the only time we'd camped with a bunch of other hikers this whole trip.