(Scroll to the bottom for a list of links to all my daily blogs.)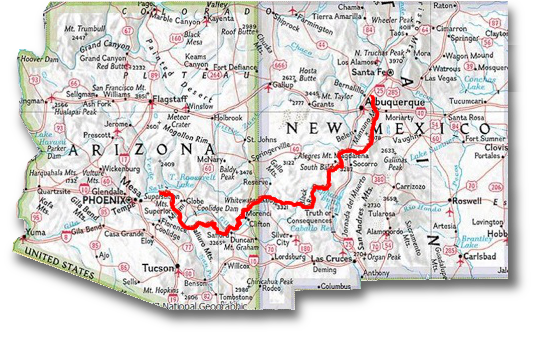 The Grand Enchantment Trail (GET) is a roughly 800 mile wilderness tramping route across the Southwest U.S., connecting mountains, deserts, canyons, and cultural/historic places of interest. Beginning in the Sonoran desert near Phoenix Arizona, the route meanders eastward, crossing unique and diverse Sky Island mountain ranges, the Gila watersheds, the pine-studded Continental Divide, and the southernmost Rocky Mountains, where it descends dramatically to the outskirts of Albuquerque, New Mexico at its eastern terminus. The route incorporates about 70 miles of the Arizona Trail (AZT) and 45 miles of the Continental Divide Trail (CDT). (Description by Brett Tucker)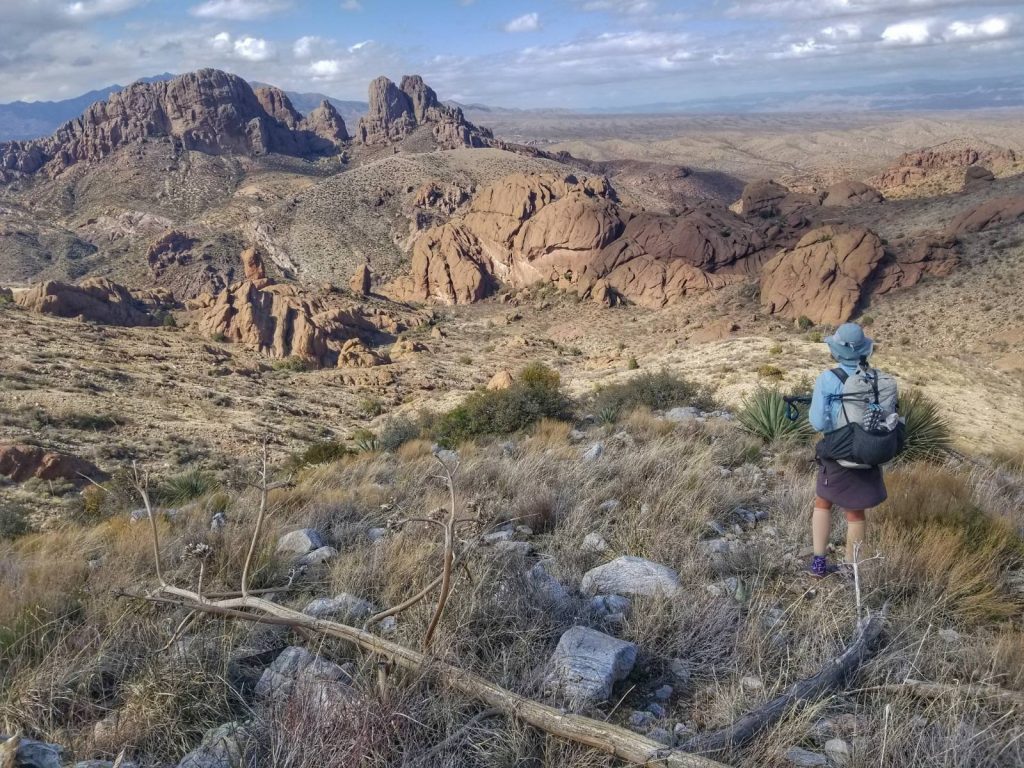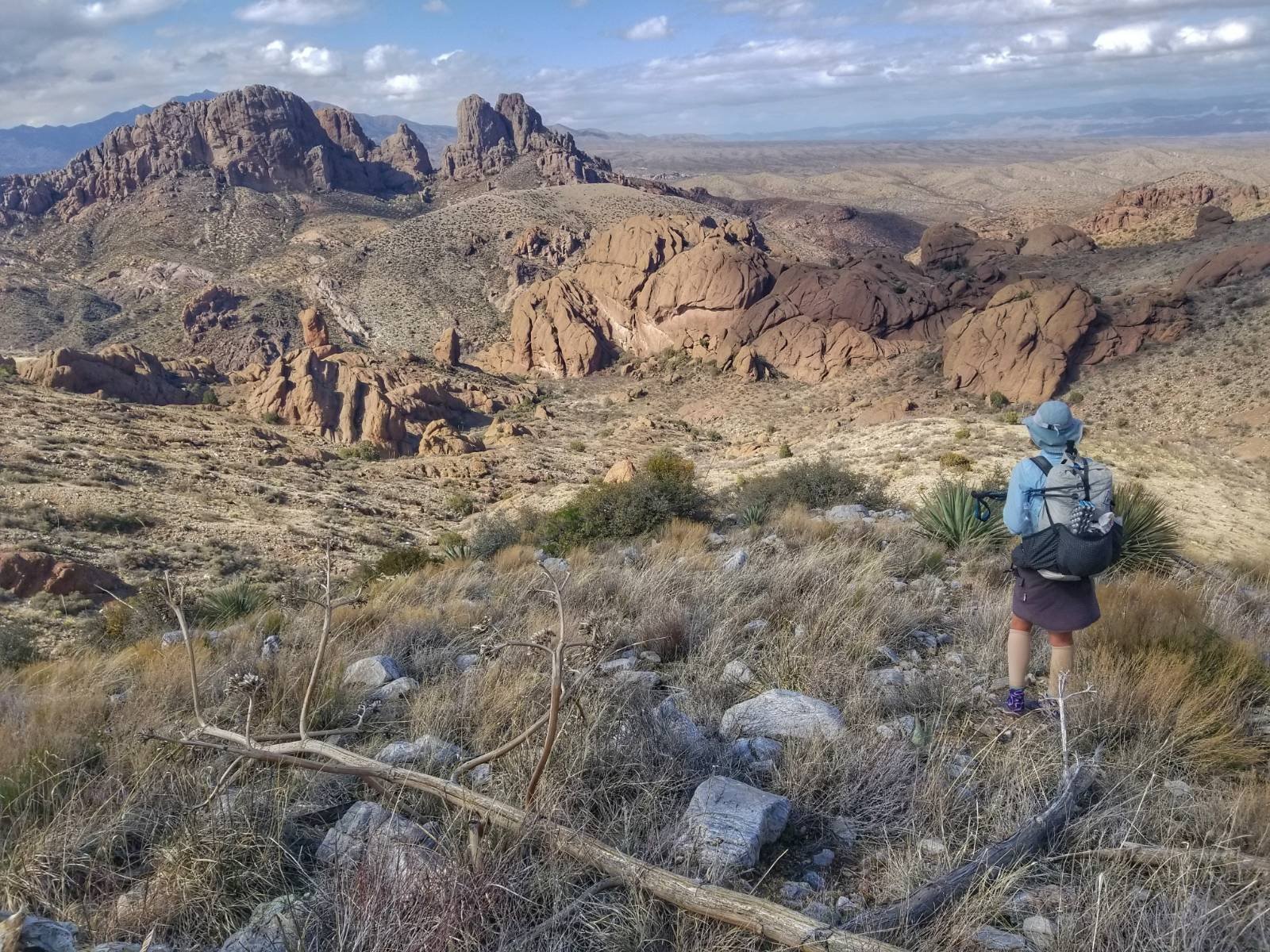 The GET was conceived of almost entirely by one man, a hiker by the name of Blisterfree.  He has spent countless hours researching the best trails and routes to piece together, carefully taking into consideration water sources and resupply options. He created all the maps, guides, and GPS info for distribution to fellow hikers at little to no cost…it's definitely a labor of love for him! It's also so inspiring that one passionate person can 'make their own trail,' so to speak. Given the vastness of the United States, there's room for a whole lot more or this ingenuity. In fact, Blisterfree has already 'created' several more long-distance routes. It reminds me a lot of New Zealand's Te Araroa, which was largely conceived of and pieced together by a local kiwi man, Geoff Chapple.
Learn more at the GET's website: www.simblissity.net/get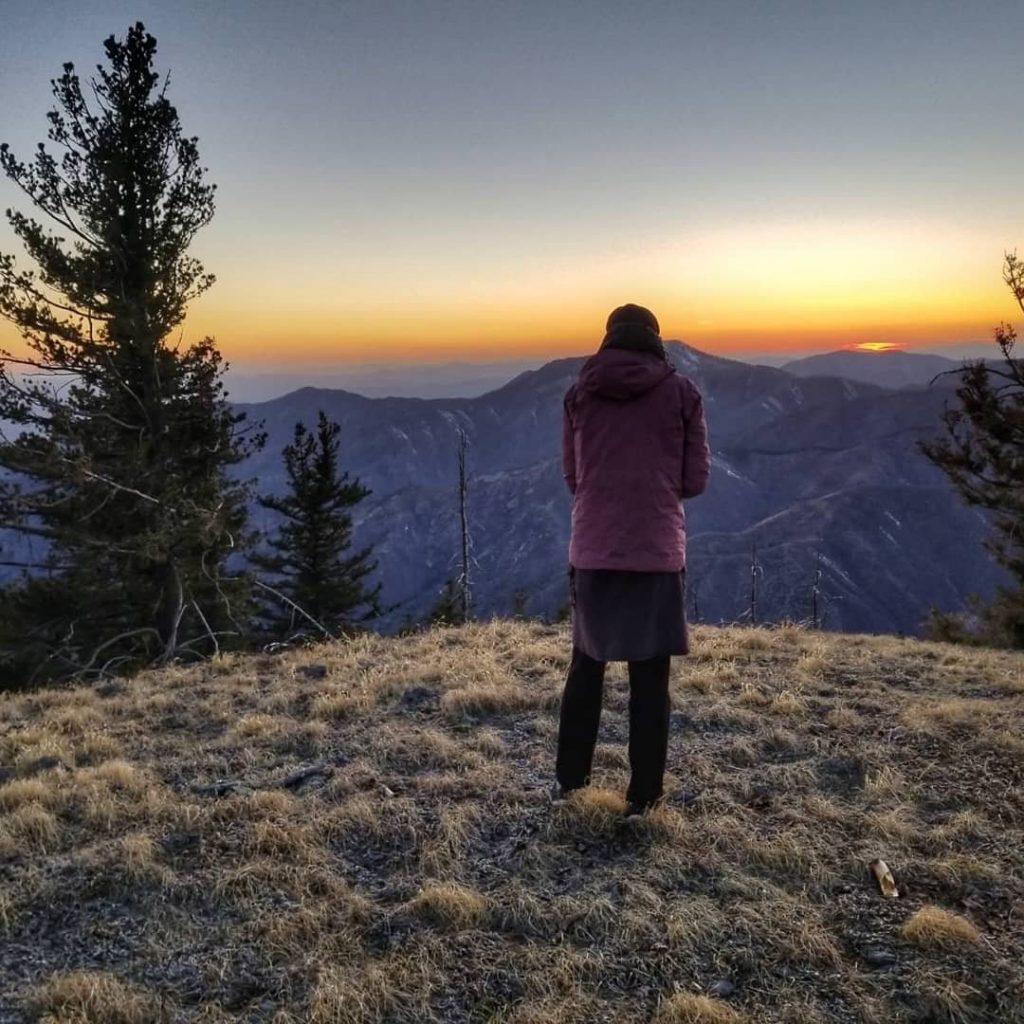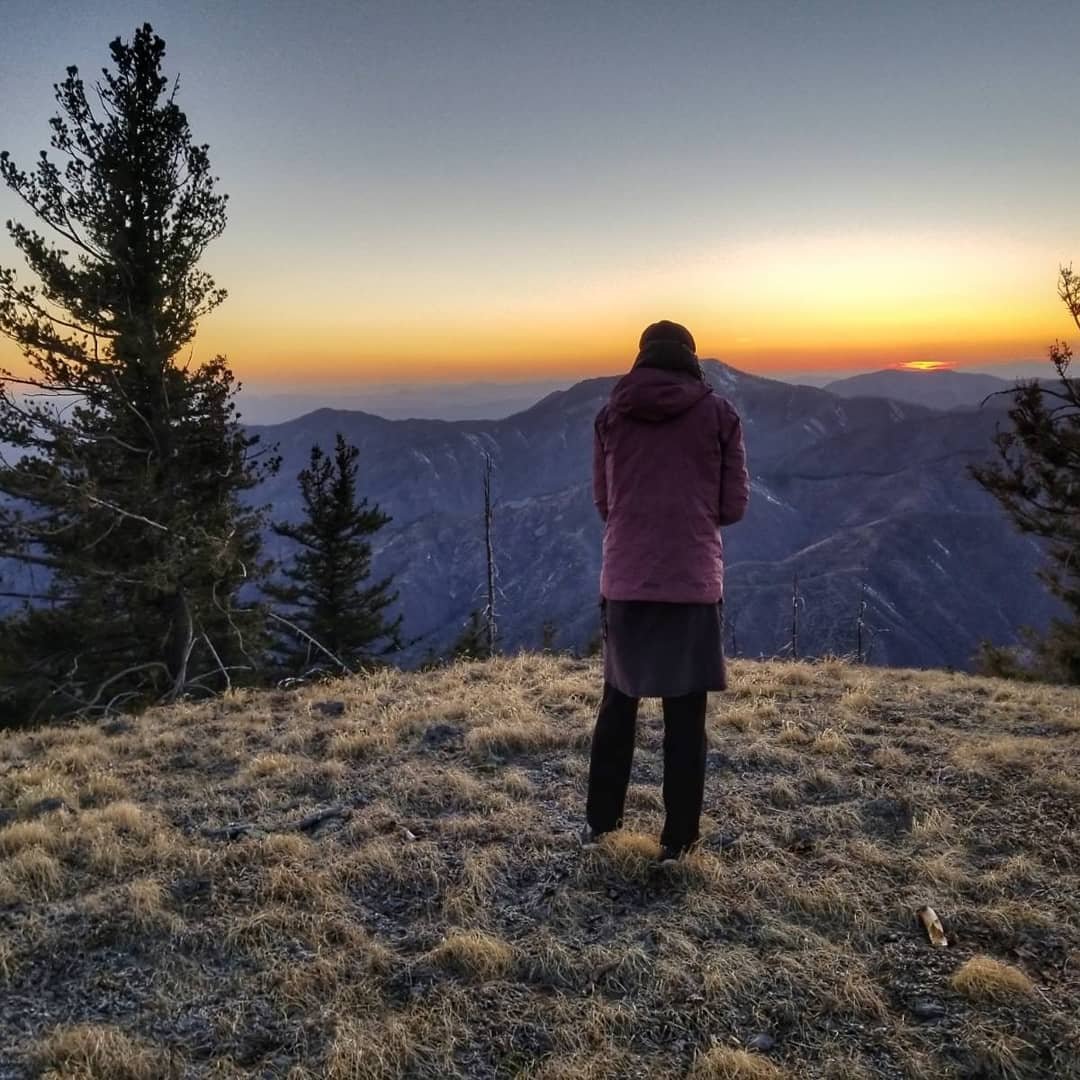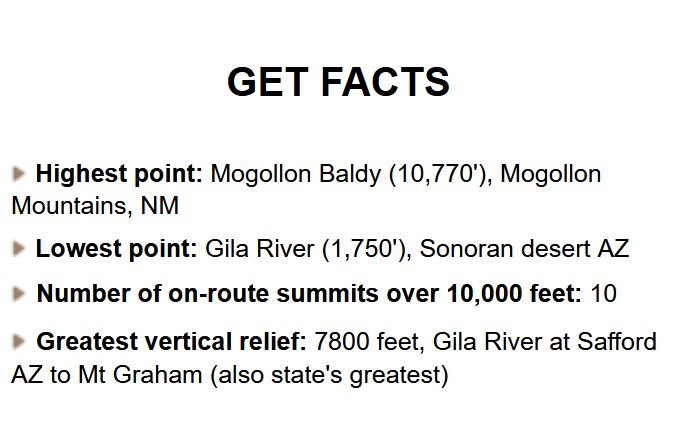 I had to prepare a lot in advance of this hike…more so than any other trail since Te Araroa. Given there's no easy navigation or crowdsourcing app (i.e. Guthooks/Far Out), we pieced together information from a variety of sources (GET website, FB page, maps, water reports, weather and climate pages). This route differs greatly from trails like the PCT and AT, as not one single mile of tread is built specifically for its purpose nor is it marked with cohesive/consistent trail signs (like white blazes). Some sections incorporate forest service trails, others forest service roads, while other parts simply involve following a canyon or wash or just meandering 'cross-country'. The route started along familiar stomping grounds on the Arizona Trail. The section along the CDT in the Black Range of New Mexico was new to me, as I bypassed it in 2019 in favor of the Gila Canyon alternate. So it was nice to complete more miles of the CDT.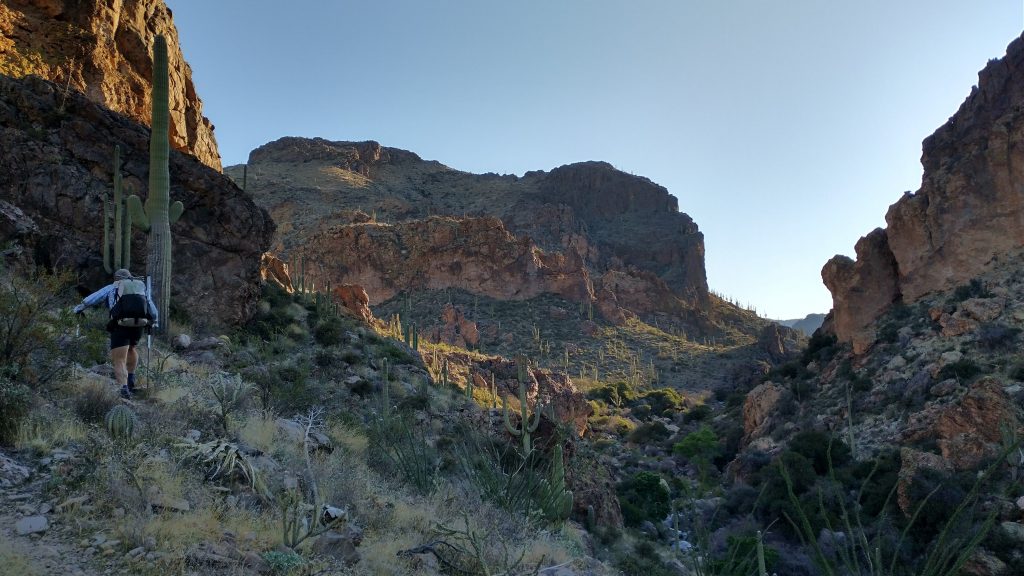 Because such travel requires a fair amount of prior knowledge, we spent weeks studying the maps and guides. We printed the maps to carry along but mostly utilized the GPS trackline and waypoints on an apps several (Backcountry Navigator and Locus)…such apps display your position on a map, just like the Far Out app, but with a lot more initial work to download the maps and upload the gpx files. Water sources also required a lot of scrutiny. We got some updates from hikers ahead of us but there were some big gaps where we had no recent info at all. Even with updated info, we came across a few sources that had completely dried up in just a matter of days.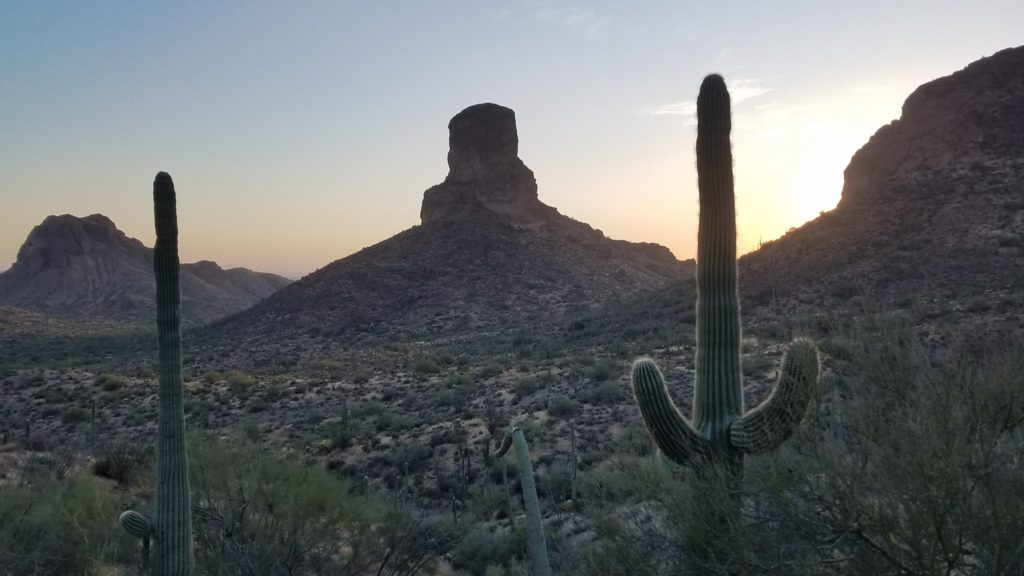 After thousands of miles spent on the southern sections of the PCT and CDT, as well as the entire AZT, I discovered quite a love for the Desert SW. The GET provided all the desert things you might expect in spades: serenity, solitude, ruggedness, extremes, exposure, fatigue, dehydration, and fantastic scenery. We shared spaces with mountain lions, bobcats, bears, foxes, coyotes, rabbits, snakes, scorpions, tarantulas, gila monsters, horned lizards, bats, owls, hawks, eagles, canyon wrens, cactus wrens, wild horses, and a whole slew of other critters that make the desert so unique and wonderful. As well as lots and lots of cows. So many cows. And we were constantly trying to avoid and outwit the thorny vegetation that sought to rip us apart as we made our way through the untamed landscape. The route passes through over 200 miles of designated wilderness and much of the rest feels just as wild and desolate.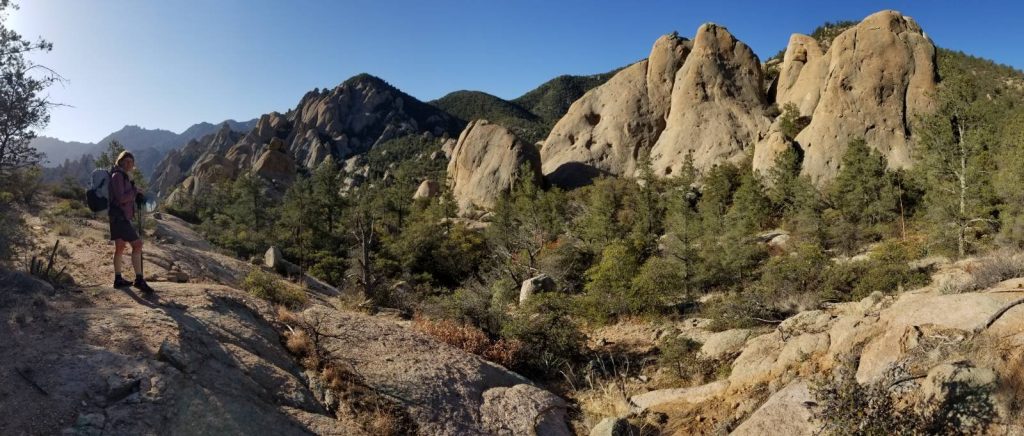 We had hoped to hike the Hayduke route through Utah and northern AZ in spring 2021, but considering that it crosses through many National Parks that could have been affected by pandemic restrictions, we thought it wiser to shift our focus to the GET. The only permit required for the GET is through Aravaipa Canyon, where there are several bypasses.  I credit my long-time hiking buddy Stellar T of the PCT as the inspiration for this hike…it was his idea (which turned into a frequent accusation whenever the going got really tough). Ha! But I'm so glad I did it.

Here's a list of all my posts related to the the GET:
Introducing the Grand Enchantment Trail
GET Day 0: Phoenix
GET Day 1: Weavers Needle
GET Day 2: Montana Mountain
GET Day 3: Picketpost & The Purple Angel of Superior
GET Day 4: White Canyon & the Gila
GET Day 5: The Big Hill
GET Day 6: Angels Day
GET Day 7: The Galiuros
GET Day 8: Klondyke
GET Day 9: Santa Teresas
GET Days 10-11: Cottonwood Peak & The Purple C Ranch
GET Day 12: West Peak of the Pinaleños
GET Day 13: East Pinaleños
GET Day 14: Safford
GET Day 15: Bonita Creek
GET Day 16: Eagle Creek
GET Day 17: Painted Bluffs & The Secret Knowledge
GET Day 18: Maple Peak and into New Mexico
GET Day 19: Alma & Glenwood
GET Day 20: Mineral Creek & Ghost Town
GET Day 21:The Mogollons and the Future of Hiking
GET Day 22: Ponderosa Parks & The West Fork Gila
GET Day 23: Doc Campbells & Gila Hot Springs
GET Day 24: Me Own
GET Day 25: South Diamond Creek & the CDT
GET Day 26: Triple Segments
GET Day 27: Winston
GET Day 28: Breaking Bad
GET Day 29: Blue Mountain & Water Blues
GET Day 30: Mount Withington
GET Days 31 & 32: Magdalena
GET Day 33: Magical Magdalena Mountains
GET Day 34: Socorro & the Malaise
GET Day 35: Sevilleta
GET Day 36: UFO's or weather balloons?
GET Day 37: Manzano Mountains
GET Day 38: Disjointed Wonderings
GET Day 39: Killing Time
GET Day 40: The Finish on top the Sandias
2021 GET Summary and Stats