Saturday Apr 17th, 2021, 0630-0930
Monica Tank to HWY 60, then ride to Magdalena
10 miles
It was so terribly cold overnight. I woke to pee around 3 am and found that all my water bottles were frozen. I made several cups of coffee in the morning to warm up, having to break ice to do so. It was hard to pack with my hands so cold and not functioning. At least I had less to pack, since I was wearing every piece of clothing I had. Even my teeth aligners froze when I took them out to eat breakfast. This was probably the coldest night I'd yet experienced while thru-hiking, well into the low 20's.
Walking didn't help a lot. We continued down the road into a fully exposed plains area. The sun hit us as soon as it came up but seemed to have little effect. The colors were beautiful though. I stopped to take a photo of an abandoned skeleton of a truck. Mad Max movies came to mind.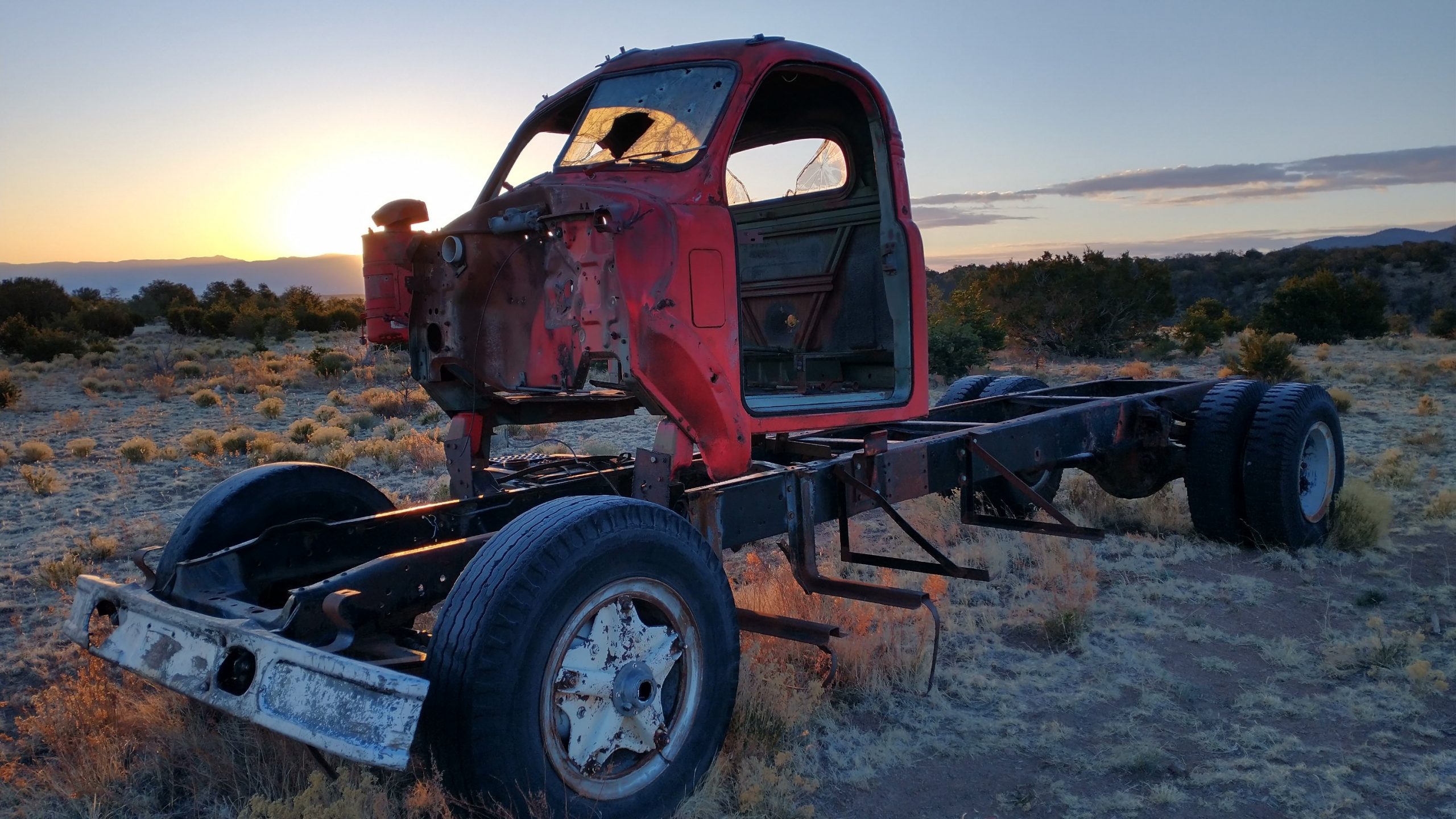 The road was one of those ram-rod straight deals that New Mexico is so famous for. The hills in the far distance were our objective but never seemed to get closer. We saw about 30 antelope in a herd. They did a weird thing of running across the road in front of us instead of just running off to the same side they were already on. I don't know why these big herds cross from one side to the other in order to get away. It just seems to bring them closer…or in line with a gun sight. We could also see the VLA–very large antenna array in the distance. They collect radio data from space, in search of sounds of extraterrestrial life, like in the movie Contact.
The wind started blowing in our faces just as it was starting to warm up. It was cold and steady, making the walk quite unpleasant. I just put my head down and pressed on. A few trucks passed, heading for the mountains. We wanted to walk all the way to the highway but with the cold, I would have taken a ride if offered.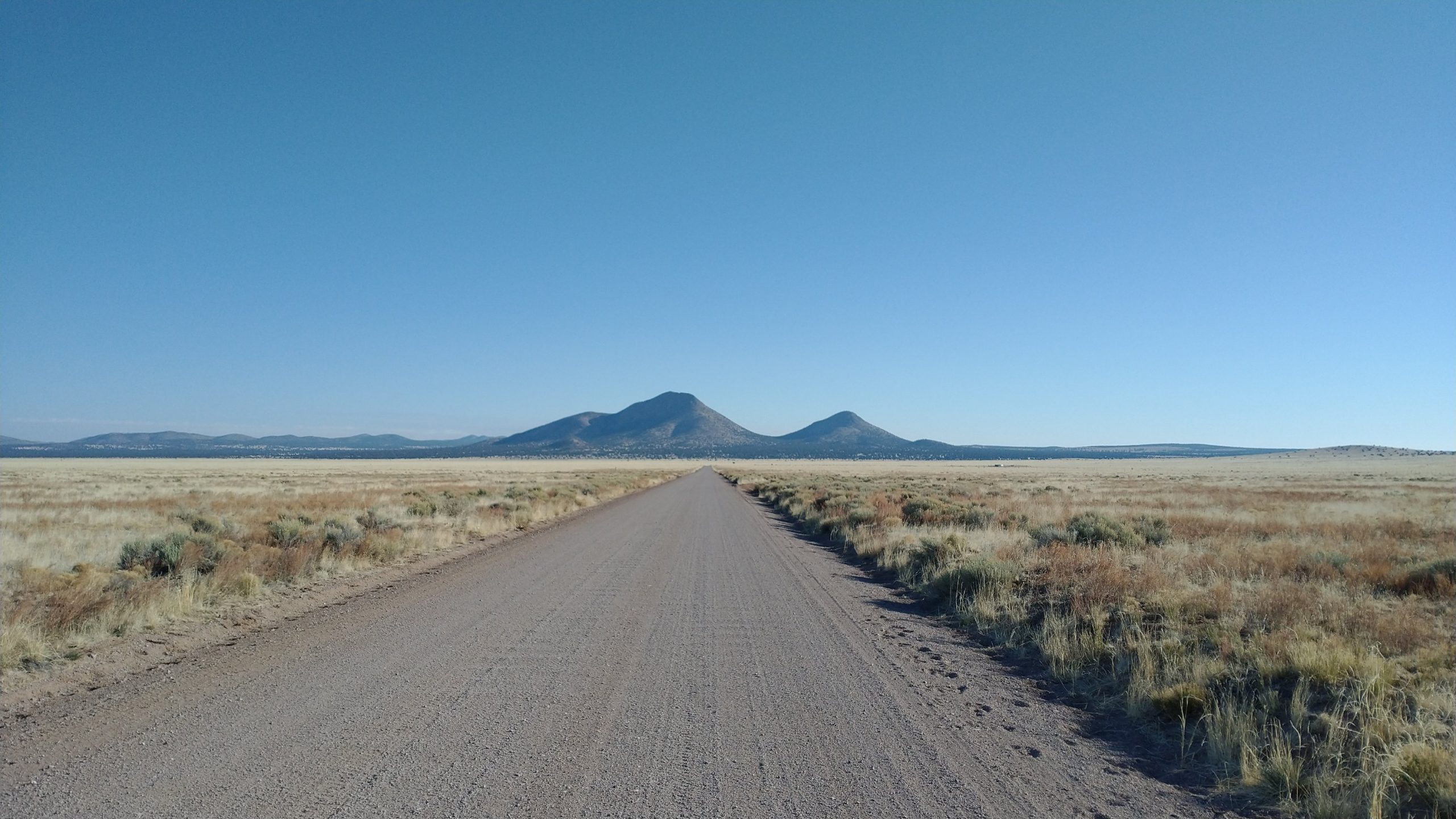 At the highway, I noted that my water was still partly frozen…a slushy. It was already 0930 am and we'd been walking in the direct sun for hours. We tried for about 15 minutes to get a ride but the traffic was going by so fast. I certainly didn't want to walk the highway with vehicles whipping by at deadly speed, so we called in a Skeeter favor. One of the guys at the fire tower had offered to pick us up, Skeeter was his trail name. It was 10 miles to town, so not too far. He showed up about 15 minutes later. We'd had some awesome luck with rides.
We went to the Magdalena Cafe for breakfast, which was hopping since it was the only place open in town. We tried to buy breakfast for Skeeter, but he needed to get ready to go to Pietown for a chili cook-off. That sounded like fun but there was stuff we needed to do in this town before gallivanting off to another over an hour away. Like eat…a lot. We got the standard of some eggs and ham, all smothered in green chili…do you like green eggs and ham? Yes I do, especially when I'm starving.
We picked up a free area tourist publication, perusing it as we ate. It was mostly about Socorro but also had some local history pieces about the small towns. A couple walked up to our table as they were leaving and asked if we found the magazine useful. It turns out they were the publisher and editor. Both worked as journalists for the local paper in Socorro. We got their contact info so that maybe later they could run a story about GET hikers coming through town. We were also approached by one of the ranchers whose property we would bypass on the way out of town. He'd been aware of hikers going by for some time and found them a curiosity. I got the sense that the locals were actually excited to see us show up, if only as something to break the monotony of small town life.
We checked into the High Country Inn, one of several motels along the highway. It was a bit rustic but the room was large, good for spreading out our gear to dry. There was no place in town to do laundry, so we hand-washed our clothes. This was maybe a good thing since we could visibly see the dirt coming out. It was appalling how dirty every piece was…even the stuff that I usually only wore to bed. Even though we always pre-cleaned nasty stuff like socks and gaiters, I wondered that our hiking shirts and bottoms also had tons of dirt that just got mixed into the rest of the clothes in the laundry machine.
The big advantage of a machine was the spin cycle…without it, it took a long time for our clothes to dry. While we were inside doing all our chores, the weather finally turned. I looked outside to see it raining. There wasn't a cloud in the sky when we set out in the morning, so that was fast. With all wet clothes and it being so yuck outside, I felt pretty inclined to stay inside. So I settled down to watch some TV.
Eventually it became decent enough to make the 1 mile trek to the far outskirts for the one restaurant in town that everyone was recommending: Tumbleweeds. It had just opened a little over a month prior and was all the rage. It was an adorable place, nicely decorated with local artist's works and the cutest young couple running it. Osiris and Michael just moved from the hustle and bustle of Seattle, where they formerly ran a successful catering service. COVID put a smashing end to that. They had traveled through the area on vacation a year before, up and deciding to change everything and give the restaurant business in a small town a go. What bravery and fortitude! At least their location along the highway should ensnare some of the traffic going to other locales. People were already coming from as far as Pietown just to eat there. All the Forest service peeps said they loved the place too.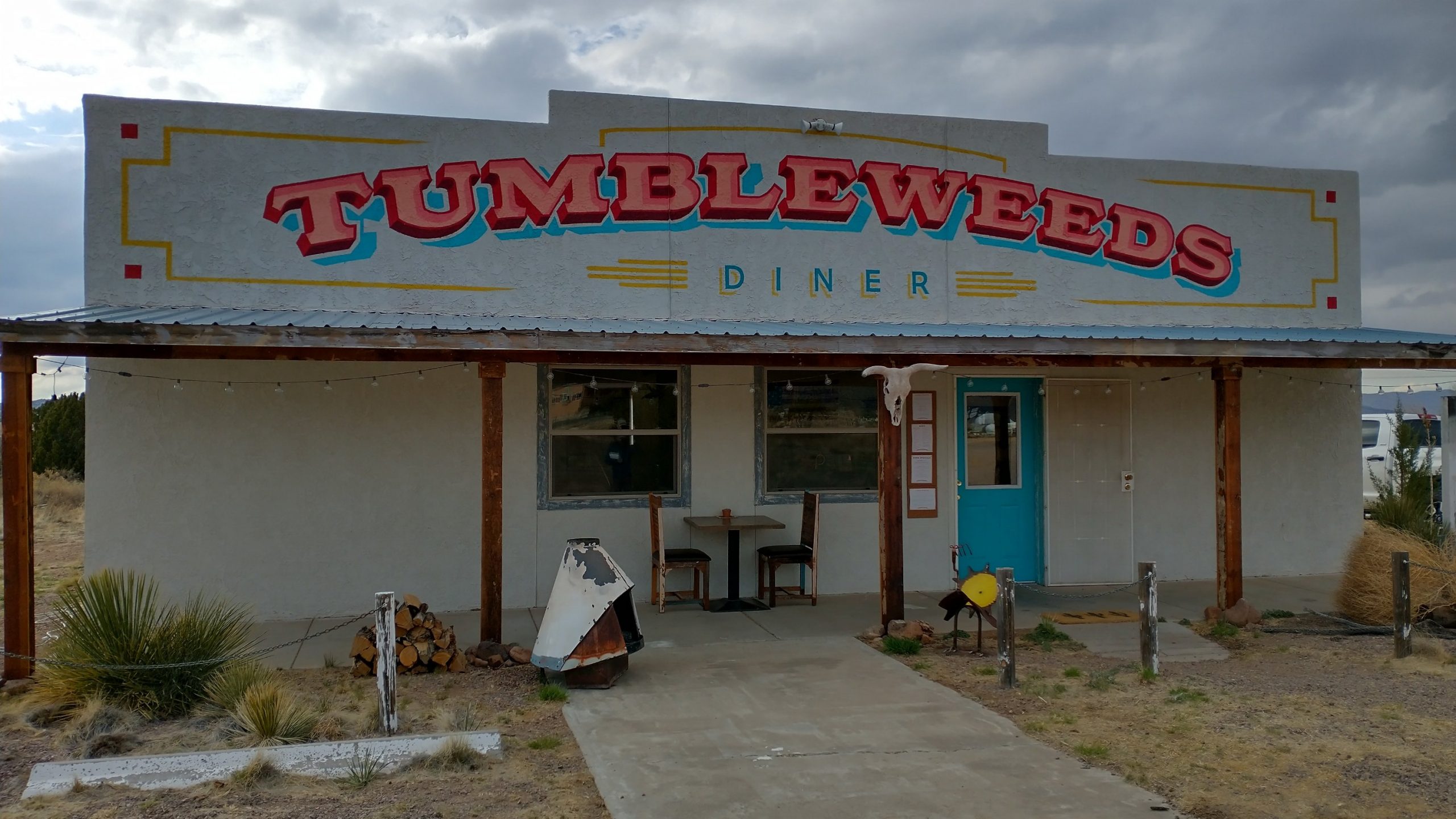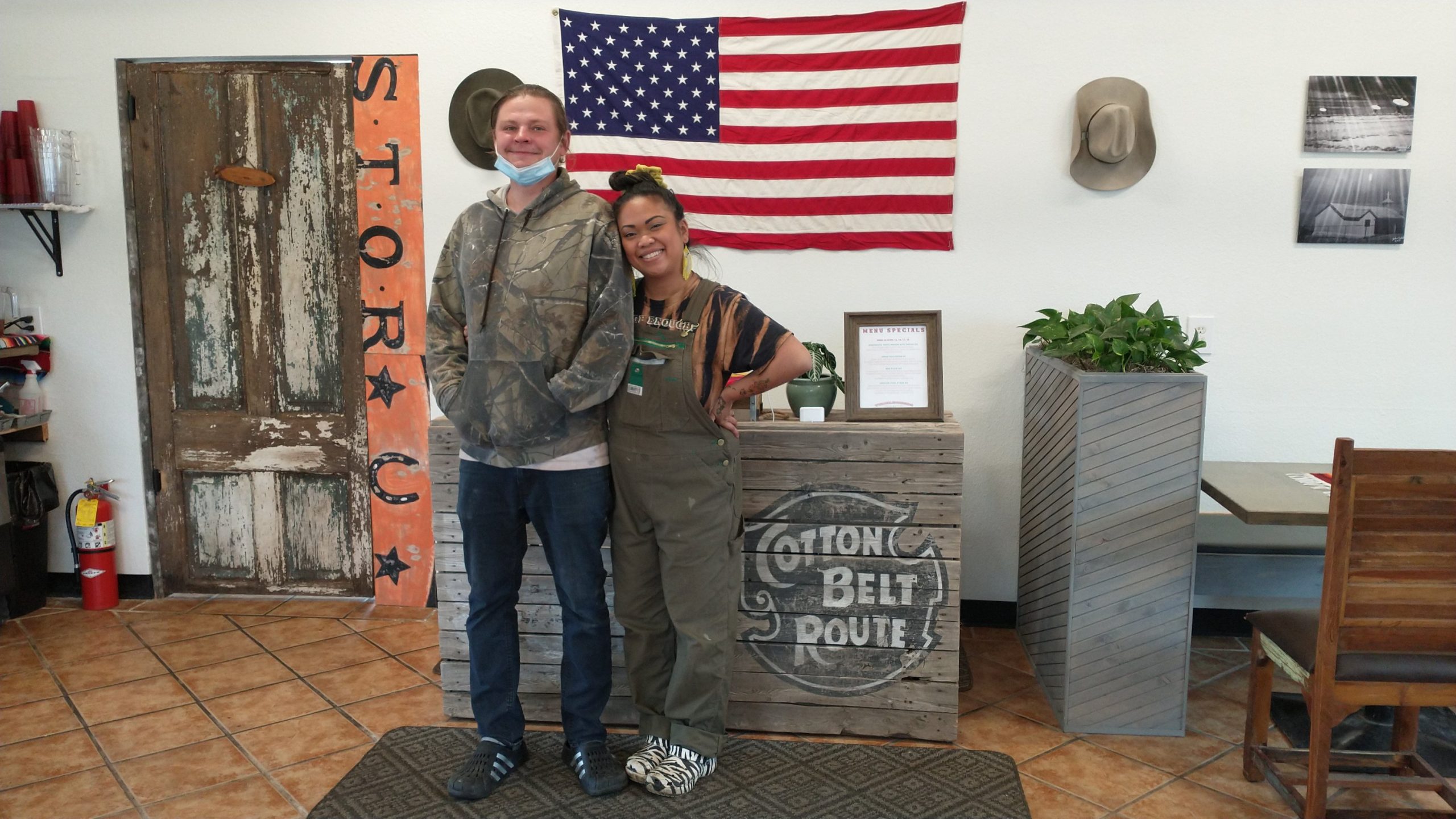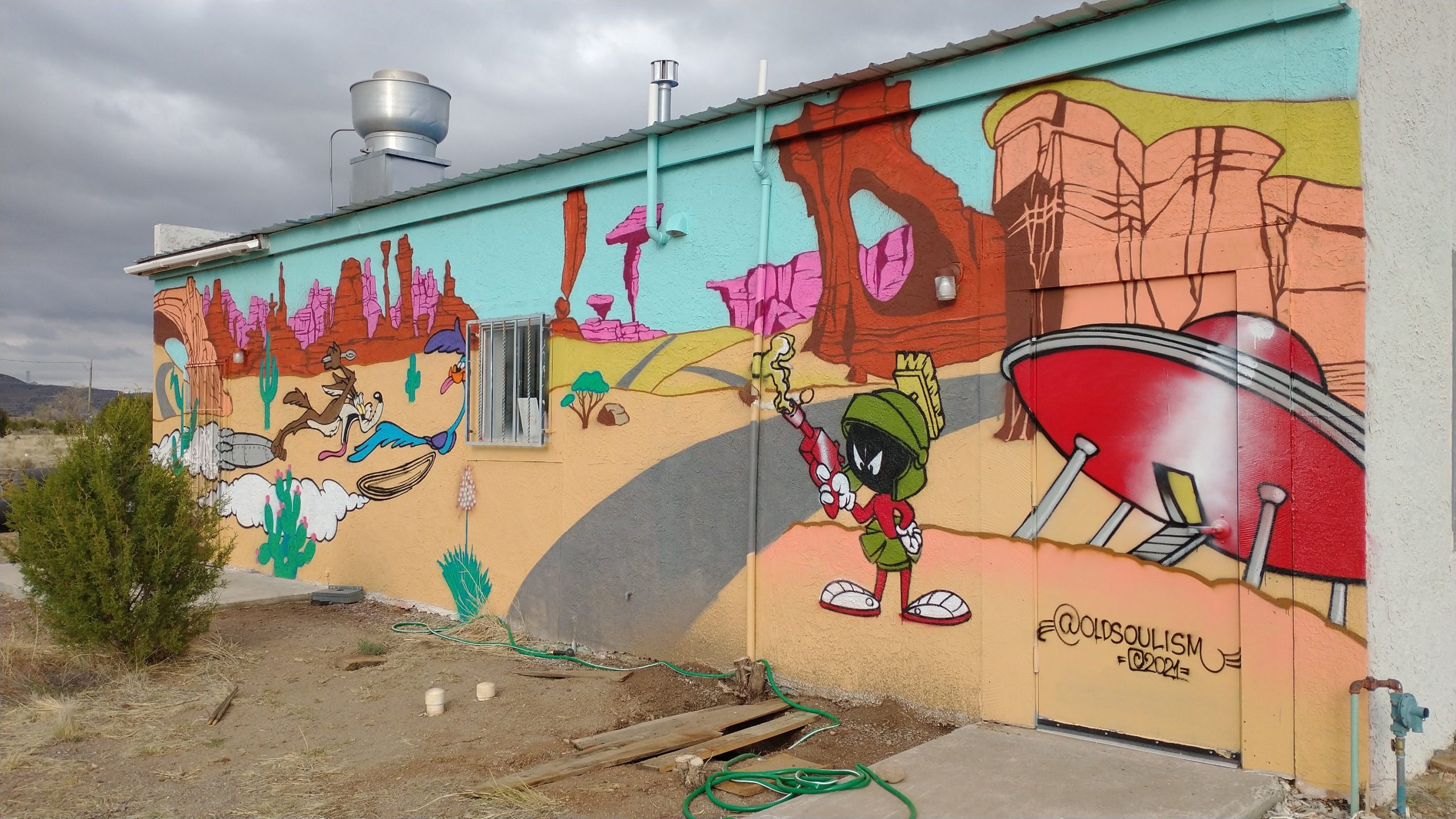 If I'm spending a lot of time talking up this place, it's because it was the best restaurant I'd been to on this trail…perhaps all trails. True, I'd hardly been to any restaurants this trail, being so remote and because things were still kind of shut down for COVID. Superior, Mammoth, and Alma were the only other towns where we'd gone out to eat. I'm also not counting the wonderful meals we had at Purple and Carnivore's and Dan and Deb's places. Tumbleweeds really hit the spot, though. I had the pulled pork special and I'd say it was the best pulled pork I ever had. Their homemade pickled vegetables were also very good. We went back for dinner the next day and everything was just as delicious. I highly recommend the chicken sandwich!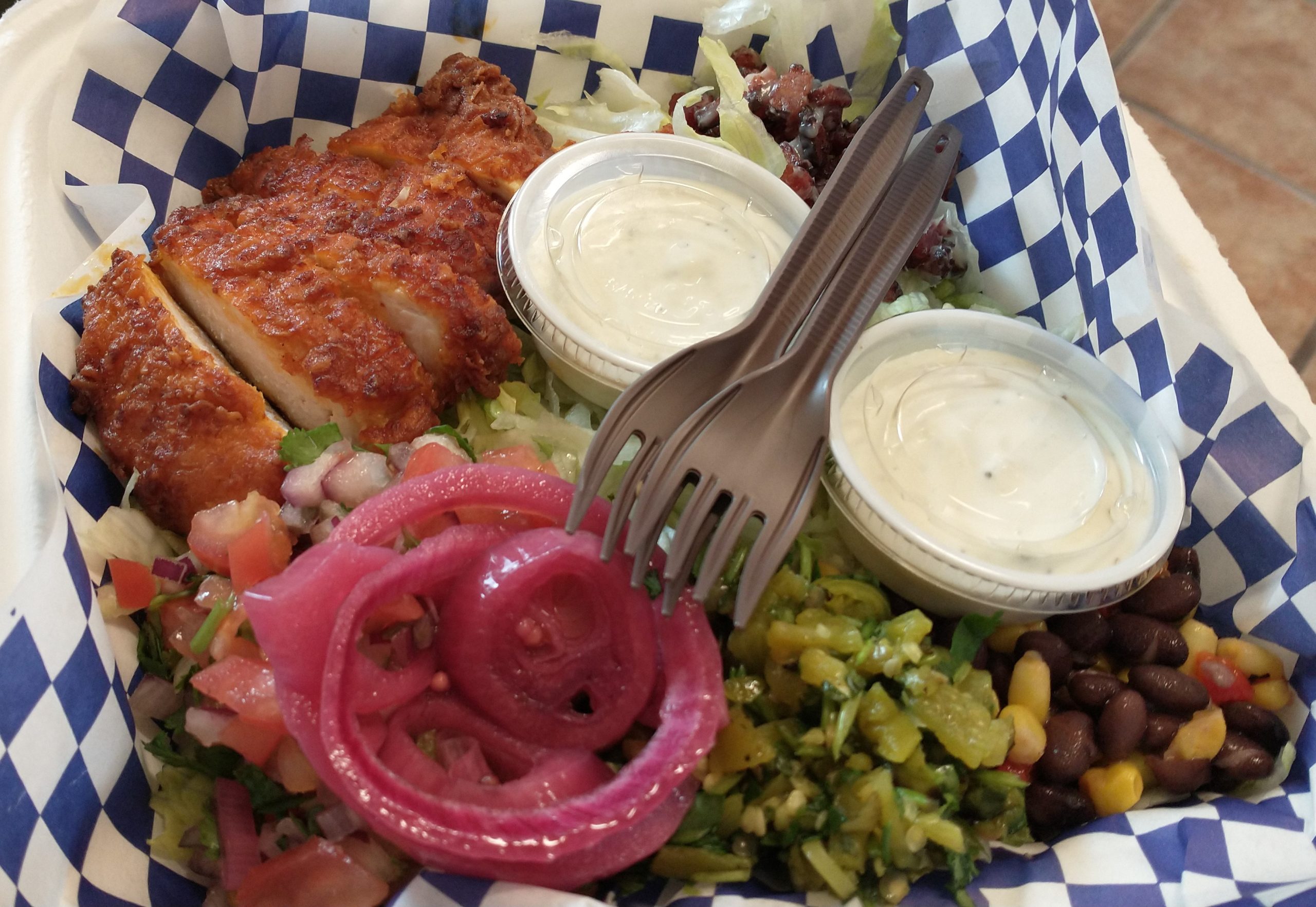 Sunday Apr 18th, 2021 Zero
We woke to find a little snow outside, which pretty quickly melted. The bigger surprise was when I got a message from Cashmere saying she and Tictoc were going to be in Magdalena to pick up a car. They came to our hotel room to chat for a bit and it was so great to finally meet them. They were all Triple Crowners and had been planning this hike for a long time. We had so many questions and comparisons, but unfortunately they couldn't talk all day since they were actually trying to get back to Albuquerque to day-hike Sandia peak and finish the GET. They left us some water cached along the last stretch, so we were excited and grateful about that. Hopefully I'd see them on another trail someday… (indeed, I did trail magic for them in 2022 on the Florida Trail/ECT!).
We went to the Steer Stop to get breakfast burritos, a gas station that also had a decent offering of some produce and other real foods. They were ok but pretty bland. We ate them in the room and then I managed to fall back asleep for a noon nap. Obviously we'd decided on a zero…or rather the weather had decided for us. It was starting to clear a little but looked like it could still rain in the mountains, plus was really cold. We rallied late afternoon to go back to Tumbleweeds, but first I went to the motel office to pay for the second night. Lori was nice to give us a discount for staying 2 nights and her partner Lee offered us a ride to the restaurant that we couldn't refuse. Along the way, he gave us a little tour of the town.
Magdalena was a typical New Mexico town: pretty rough around edges but with the friendliest locals and some really endearing treasures. It grew on me while I was there. It's an eclectic place that's starting to become popular with artists. A Navajo reservation was nearby, so there were several merchants dealing in Native American art and jewelry. It's history dated back to the Pueblo peoples and Spanish conquistadors. It was the end of the line for a major cattle drive route coming all the way from AZ. They loaded the cattle onto the railroad cars here to ship east. The old stockyards still laid dormant on the outskirts.
After another great dinner, we stopped for a few drinks at the Golden Spur Saloon…about the only other place in town open on a Sunday. We met some interesting locals, like Donnie Chavez, Senior Pro Bull Riding champion. He was a character, to say the least. Osiris and Michael from Tumbleweeds were also there and ordered a frozen pizza for their dinner. This amused me very much because they made such good food, but somehow would rather eat junk food than eat the leftovers from their restaurant…chefs grow tired of their own creations, I guess. Instead, they gave us a plate of leftovers to take with us, which we greatly appreciated. The bar was relatively quiet, in following with social distancing. I hadn't been to a bar in over a year, so it was nice to immerse myself in a little bit of the flavor of the town. It was a fun zero.