First, let the record show, I am an unabashed gear-head! I love outdoors equipment. I seem to have multiples of everything and am constantly seeking to upgrade to the newest, lightest stuff. I've had the honor and benefit of being a Trailspace.com Review Corps member for years, which has only fueled my addiction. I have tested and written reviews for close to 30 products through this program alone. Some of the gear I have gotten to keep indefinitely, some of which even traveled to New Zealand with me. I tested a pair of Fjällräven trekking tights while hiking the TA. You can see my reviews and latest Reviewer of the Month feature at Trailspace.com
Believe me when I tell you, a whole lot of thought, research, and testing went into my TA gear list. Yes, I am an ounce/gram counter and my focus is on Ultralight (UL) gear. I have gone with the best on some of the bigger ticket items, commonly referred to as the "big 3" (shelter, pack, sleep system). But what I also love about UL theory is the 'less is more' concept. You can save a whole lot of money by just not buying/bringing many items. And sometimes the lightest stuff is also pretty cheap. Take for example the 1 oz BRS3000 canister stove. It can be had for just $13 on Amazon. There is a whole lot of online information about moving to UL gear, so I won't elaborate much more on this.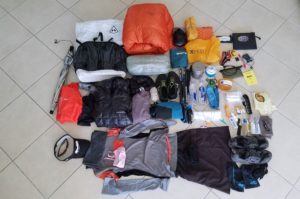 All the stuff I will be carrying or wearing for 4 months
Without further ado, here is my TA gear list, courtesy of Lighterpack.com
My gear represents around 30 different prominent outdoors companies (links included in the list). In no order of preference or prominence, they are: Black Diamond, Exped, Therm-a-rest, Klymit, Sawyer, Evernew, Marmot, Patagonia, Montbell, Mountain Hardwear, Fjällräven, Icebreaker, Ibex, Smartwool, Buff, Outdoor Research, Altra, Toaks, Zpacks, Hyperlite Mountain Gear, Enlightened Equipment, Katabatic Gear, Dutchwaregear, Vargo, Suntactics, Black Rock Gear, Purple Rain Adventure Skirts, Trew, The Tentlab (Deuce of Spades trowel), and Litesmith.
I listed what are known as 'cottage manufacturers' at the end, starting with Zpacks. These are smaller American start-up companies which produce high-quality products right here in the USA. We are lucky to have some of the best and lightest backpacking equipment in the world and I am very proud to support these companies.  Of the ones listed, I have the most individual articles from Zpacks. This is a local (for me!) company, based in Melbourne, FL (Space Coast). Joe Valesco, the founder, is a thru-hiker that began making his own lightweight equipment for his hikes, specializing in DCF (cuben fiber). From working out of his garage, he created a whole business, with tens to hundreds of employees. I have even visited the Zpacks factory. It is also worth mentioning that I first learned of the TA from the Zpacks website. Joe and his wife hiked it in 2012/13 and I have them to thank for first sparking my interest. In total, I have 6 items from Zpacks, the main one being my Solplex tent, which is definitely one of my favorite pieces of equipment.
I do like to spread the love, so my other "big 3" items (pack and sleep system) are made by Hyperlite Mountain Gear and Katabatic Gear/Enlightened Equipment, respectively. I went with the pack after trying on a friend's on the Colorado Trail. I like the fit and build of the suspension and harness. But the key feature for me is the pack's waterproofness. I don't use a pack cover (pack liner, instead) and I don't like when packs absorb a lot of water. Granted, I wouldn't count on the pack staying dry if submerged but the rugged DCF material should shed most rain water.  I will be starting with my 30 degree EE quilt because it is lighter and I don't expect the temps to be too cold on the North Island. I may switch to my 22 degree Katabatic quilt on the South Island. I used this one on the Colorado Trail and it was awesome. I do think that Katabatic quilts are the best but am maybe a little biased because the company is based out of Colorado. EE quilts are more cost-effective and have a lot of customization options. Both are great lightweight quilts.
I do expect that some of the other items on my list might change, be eliminated, or be added to. A long hike is a lesson in adaptability and improvisation. I'd be surprised if there's ever been a thru-hiker that didn't change something about their gear during a long hike. NZ is also a very dynamic country, with changing geography, seasons and weather, so it will be a challenge to maintain the proper gear for the circumstances. But I look forward to this challenge and feel I'm prepared as best I can be.