(scroll to the bottom to find my LighterPack gear list)
The AT will be my 8th thru-hike (4th over 2,000 miles) in 4 years. Starting in my early 20's, I did a fair amount of backpacking leading up to this period, going through quite an evolution towards lightweight/ultralight gear in 20 years. Fortunately, I'd pretty much nailed-down my current style and a lot of my gear by the time I started thru-hiking.
I did my first section hike of the AT in June 2017, from Fontana Dam to Hot Springs, North Carolina, a distance of about 100 miles. My base weight for that hike was under 9 lbs, about the lightest I've ever gone. I managed this by bringing just a tarp and a 12 oz frameless backpack. We stayed in the shelters every night (the Smokies require section hikers do so), so I didn't need much for a shelter. This was the hike where I started using the website LighterPack to track my gear lists, so here's a link to that list if interested.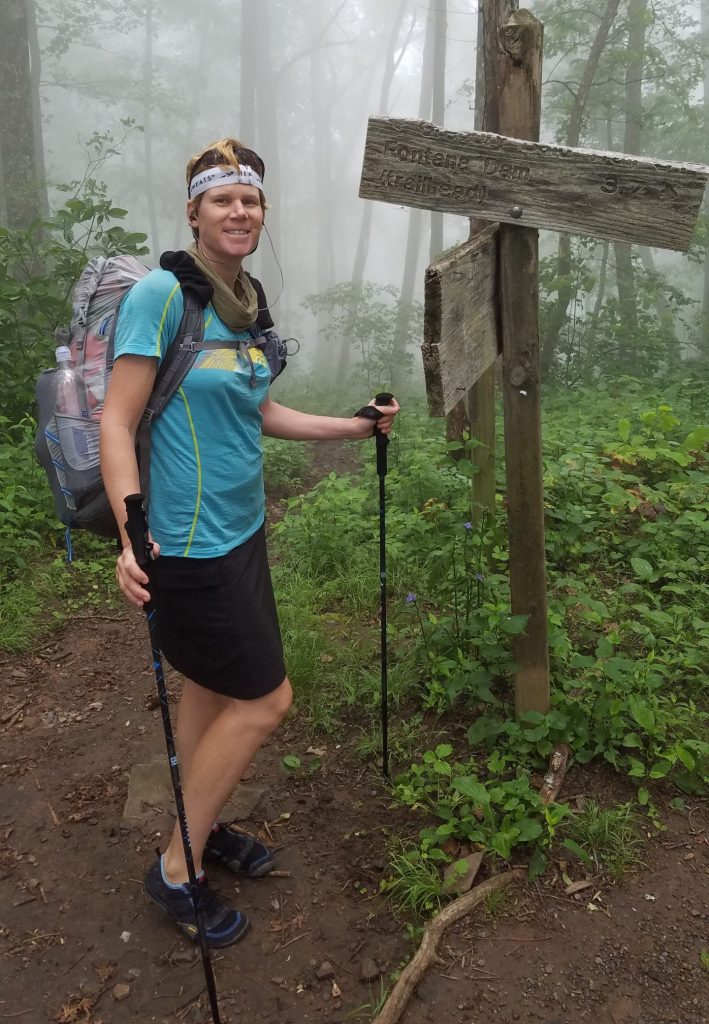 June 2017 Thru-hiker beta version 1…l loved this ultralight kit but some things like the pack, shelter, and shoes were a little too minimalist.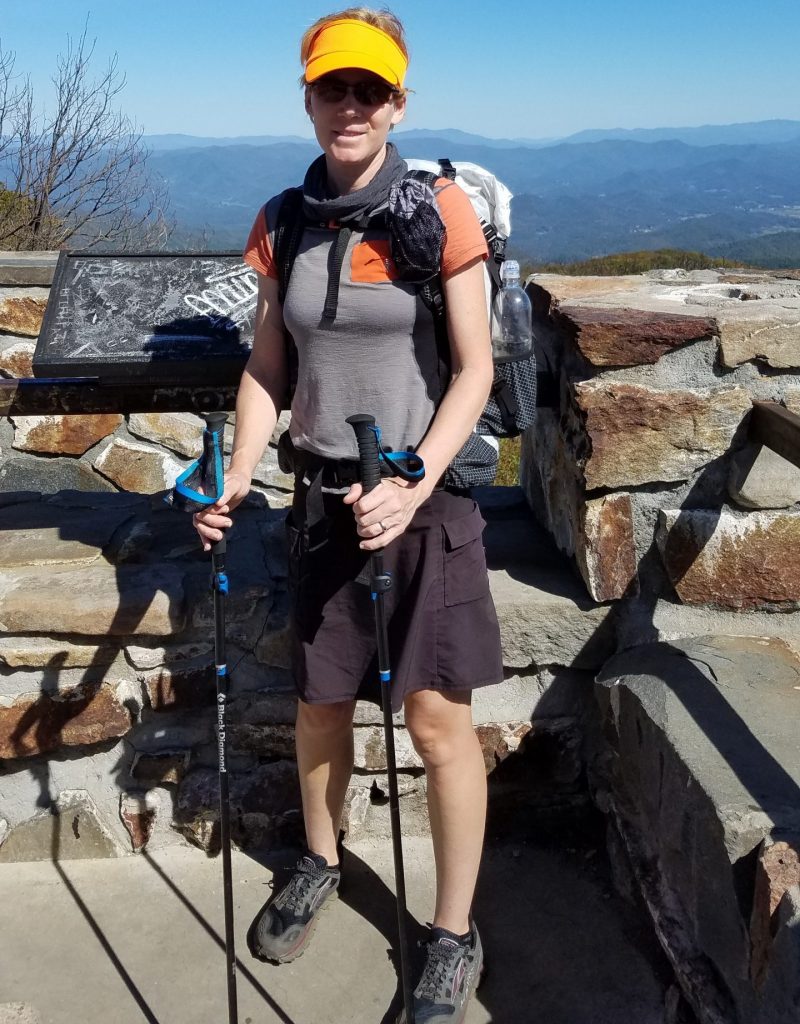 October 2017 Thru-hiker beta version 2…by the time I returned to the AT in the fall, I had the Colorado Trail under my belt and had switched to Altra shoes and a sturdier and more weather-proof Hyperlite pack.
I've since completed another 2 sections of the AT (Southern Terminus to Fontana Dam, 167 miles, and Killington, VT to Mt Greylock, MA as part of the Long Trail, 115 miles), for a total of 384 AT miles (nearly 1/5 of the trail). This combined with all my other thru-hiking has given me a pretty good idea about gear strategy for the AT. For me this means FAST and LIGHT with a mindset towards WET & HUMID. I'm starting the trail in Maine with a summer-weight quilt (30 degrees), a frameless pack, and a lighter sleeping pad. Changing these few items along with some lighter-weight clothing has reduced my base weight by a couple pounds, when compared to my most recent thru-hikes on the CDT, AZT, and GET. The environmental conditions on the AT will be drastically different from those western hikes: significantly less exposed, shorter food/water carries, warmer, shaded, and wet wet wet! I'm shooting for a base weight around 10 lbs.
Yet still, a lot remains unchanged. I've been on a roll with many of the same items since 2017. Some, like my tent, titanium pot, titanium spoon, trekking poles, rain kilt, MP3 player, and down beanie have been/will be on all 8 hikes. This is incredible considering the amount of time and exposure these items have experienced, especially the tent, poles and electronics (less so for stuff made out of titanium). Other items on my AT list have at least been along on a few previous thru-hikes. Things like quilts, sleeping pads, and rain jackets have been swapped mid-hike as seasons changed and trail conditions dictated, but the basic themes have remained much the same. I anticipate having to switch out my quilt and some clothes on the AT as well, as I'll be hiking into the late fall as I move south.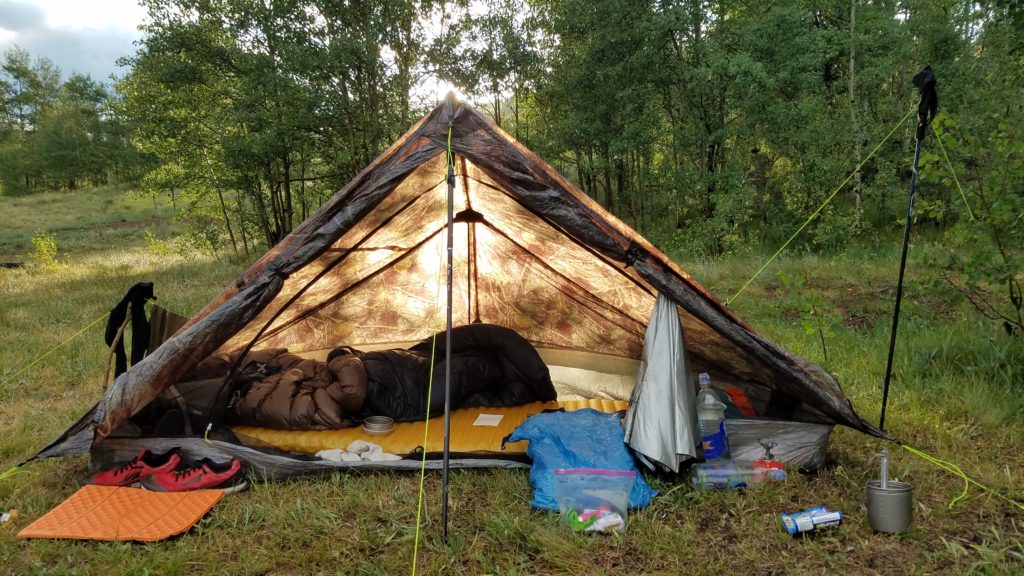 All my gear on my first thru-hike, the Colorado Trail, in summer 2017. I still have and am regularly using more than half the items you see here.
As would be expected, I've been through a lot of expendable items such as shoes, water filters, stuff sacks, water bladders/bottles, gaiters, socks, shirts, etc. But I've replaced many with an exact replica or at least as close to the original that I could find. These items include the Sawyer Squeeze water filter, Darn Tough socks, Dirty Girl gaiters, Smartwater bottles, Evernew 2L water bladder, and Altra Superior shoes. I'm somewhat brand-loyal but these are also items pretty highly regarded and used consistently by a majority of thru-hikers. People tend to stick with what they know works.
Here's a run down of what is notably different about my 2021 AT gear:
A new pack! With the exception of the Colorado Trail, my Hyperlite Mountain Gear 2400 Southwest has been on every thru-hike. I wanted to be able to say that it also accompanied me on the entirety of my Triple Crown but alas, 6 thru-hikes and 10,000 miles of sun, dirt, wind and rain proved to be the limit. The harsh conditions on the GET really put the nail in the coffin. Not surprisingly, a backpack receives as much wear-and-tear as a thru-hikers' clothes and I've met some that had to replace their pack mid-hike, meaning they didn't even last through 1 full thru-hike. So it's actually really incredible that mine endured as long as it did…see my GET Summary and Stats post.
Since I wanted to go with a lighter pack on the AT anyway, I will be debuting a frameless and hip-belt-less Waymark Thru 40. This is a much smaller and more streamlined pack, with an internal volume of just 29 liters (my Hyperlite was 40 liters, NOT including the pockets). I've slowly gotten used to a smaller volume as my Hyperlite actually shrunk from UV damage over the years. I also haven't been bothering with a hip belt for quite some time, simply leaving my Hyperlite belt un-clipped while I hike. The Waymark Thru comes with loops for a 1″ webbing belt, with which I plan to incorporate a LiteAF Fanny pack. I really like the hip belt pockets on my Hyperlite, so a fanny pack is my compromise…we'll see if I like this combination. Weight savings for all this: about 8 oz.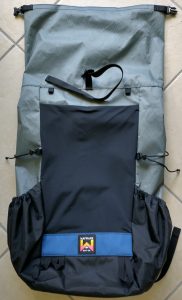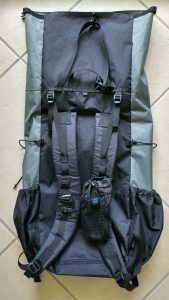 I have a new quilt for this hike…sort of. I spent some of my pandemic stimulus money on a 30F Katabatic Palisade, a sister quilt to my 22F Katabatic Alsek. For most people, there's probably not enough of a difference between the 2 quilts to justify having both. But I needed a quilt while I was 'stuck' in Colorado last year and the local (Salida) Katabatic Gear store happened to have a discounted cosmetic second. I also sold my 30F EE Revelation quilt (the one I used on the TA and half the PCT), so there was room for another. I've used the Palisade on a number of overnights in Colorado but this will be its first thru-hike. It packs smaller and saves me about 4 oz over my Alsek. I'm hoping it's just warm enough to get me through the entire AT, all the way into November. We'll see.
Along with the quilt, I'll be pairing a Therm-a-Rest Neoair Uberlite sleeping mattress. I used this pad for my CDT New Mexico segment but found it was a little too cold. I think it will be just right for the AT and it saves me 4 oz over my other pads. Durability remains a question but as I have yet to get a hole in any of my other Neoair pads after close to 5,000 miles of use for each, I'm hoping this one lasts as long, too.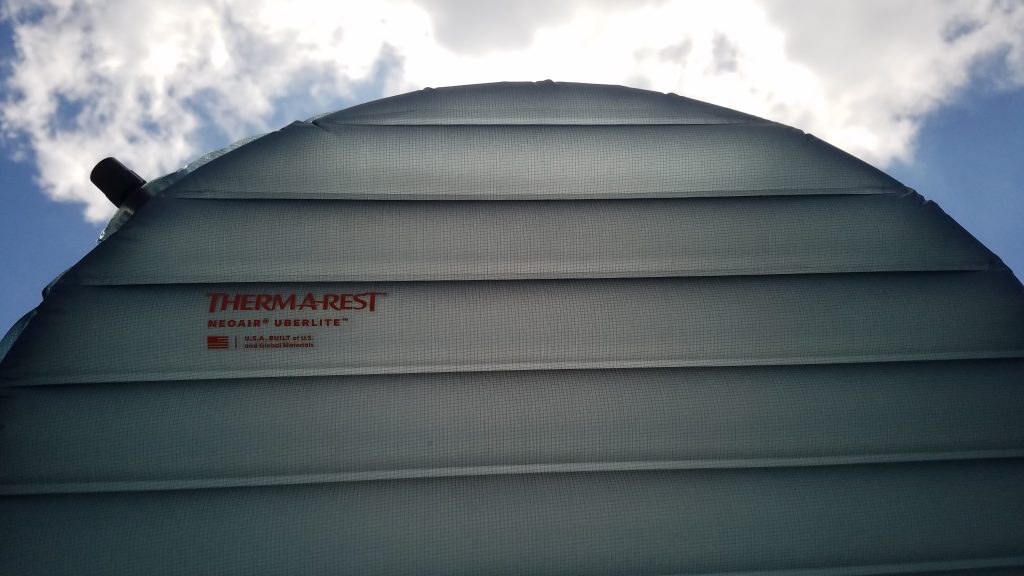 This sucker is so light and thin, it floats in the air!
I've worn a Purple Rain Adventure Skirt for all my long-distance and section hikes…until now. What could possibly make me give up my skirt? A Purple Rain Adventure Dress, that's what! Mandy, the awesome woman behind the brand, reached out to me earlier this year to ask if I'd be interested in trialing her new design. Hell YES! I've worn the dress for a few day hikes and one overnight so far, finding that I really like it. My only concern is that it's sleeveless…not good for my sun-adverse skin. But the AT is known as the Green Tunnel, so I think I'll be ok. I'll have arm sleeves for the sunny exposed parts, plus a long-sleeve highly-breathable Alpaca fleece for when it's a bit colder.
Speaking of which, I tested the Appalachian Gear All-Paca Crew on the Long Trail and really liked it for it's warmth, breath-ability, comfort, and odor-resistance. I purposely didn't wash it during the whole trip (2.5 weeks), just to see if it remained odor-free…and it did! I think it will do well in the damp conditions on the AT. It weighs about the same as my Patagonia R1 crew but is more comfortable…perhaps not as durable but we'll see. I received it as part of Review Corps testing and reviewing on Trailspace.com.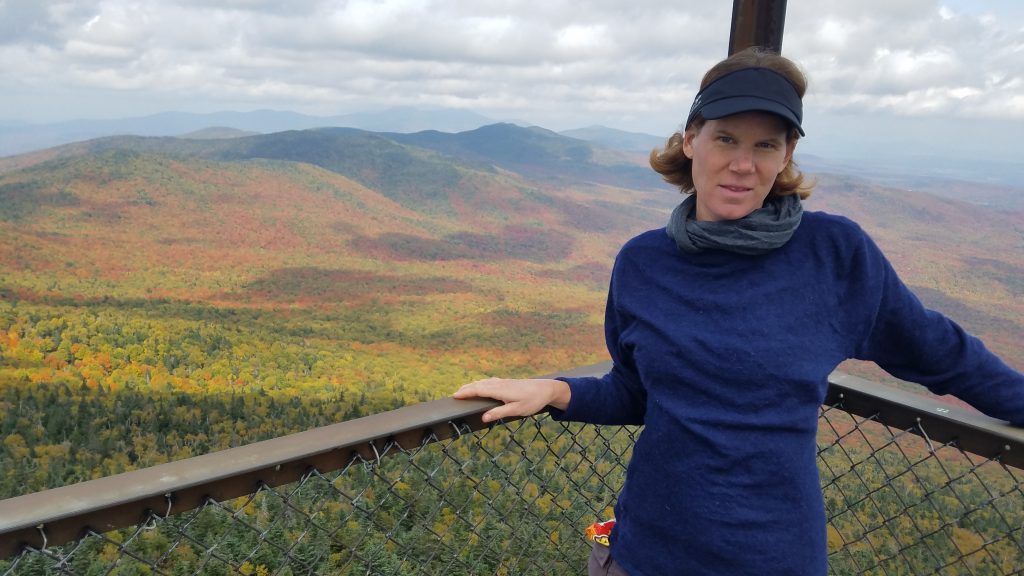 On the Long Trail Fall 2020, wearing my Alpaca fleece and enjoying the views and colors.
I also started using a new stove on the Long Trail and GET, the Soto Amicus, which I received as a Trailspace.com 2019 Top 10 reviewer. I found that I really like the convenience of the built-in igniter. It's also machined much better than my cheaper BRS stove, making it easier to screw on & off a canister and less likely to leak or fail. It's almost 2 ounces heavier than the BRS, a difference I'm okay with given the quality and ease of use. This is one of the few examples where I've switched to a heavier replacement. The biggest downside is that it burns through quite a bit more fuel than the BRS.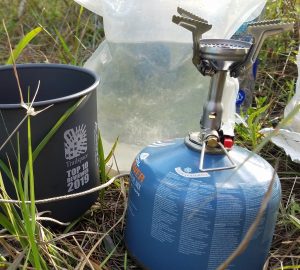 I have a new food bag from Hilltop Packs. This is a switch from the Zpacks food bags I've always used in the past. I like it mainly because it has a flat bottom, which improves the shape of it inside a pack (less wasted space) and also allows the bag to stand upright. As an added bonus, it's a different color than the ubiquitous blue bag, which should go a long ways in helping it stand apart from all the others in shelters and bear storage containers.
Lastly, I'm bringing an assortment of new electronics to aid with quicker charging times and a switch to USB C. I got a new phone just before the GET, finally upgrading from my Samsung S7 Active, which I began using summer 2017 on the AT section hike. That phone made it through years of thru-hiking, even after being dunked a few times and rained on and dropped a whole lot. My new phone is only water-resistant, so I'm going to have to be much more careful with it.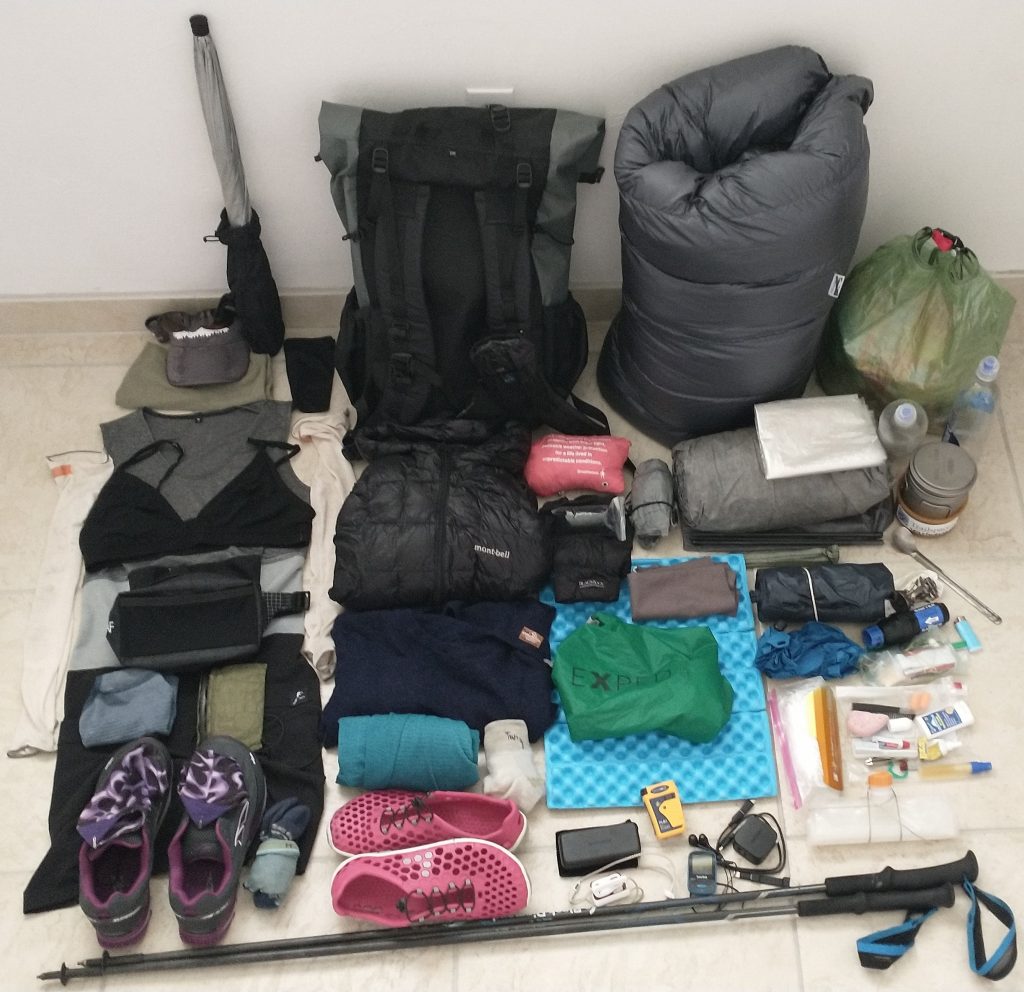 Here's a view of all my stuff…looks like a lot doesn't it? There are definitely some luxury items here but my base weight (not including items worn or food/water) is under 10 lbs. Not bad for having a full tent, sleeping pad, pillow, camp shoes, and stove.
Here is my AT gear list, courtesy of Lighterpack.com: