Friday Mar 19th, 2021, 0615-1900
La Barge spring to Montana Mountain mm 33
23 miles
We got an early start to enjoy the cool morning hours of hiking. It was a bit too cool as my toes stared to go numb from the condensation on the grass. We left trail 104 Lost Dutchman for Red Tanks Canyon trail. The going got a bit rougher as we headed up a steep, narrow canyon chocked with vegetation and boulders. We really had to look for the cairns and got off track a bit as the scant trail climbed high above the wash. Thorny plants grabbed at our legs and arms. This trail was not equestrian-ready but it sure was beautiful!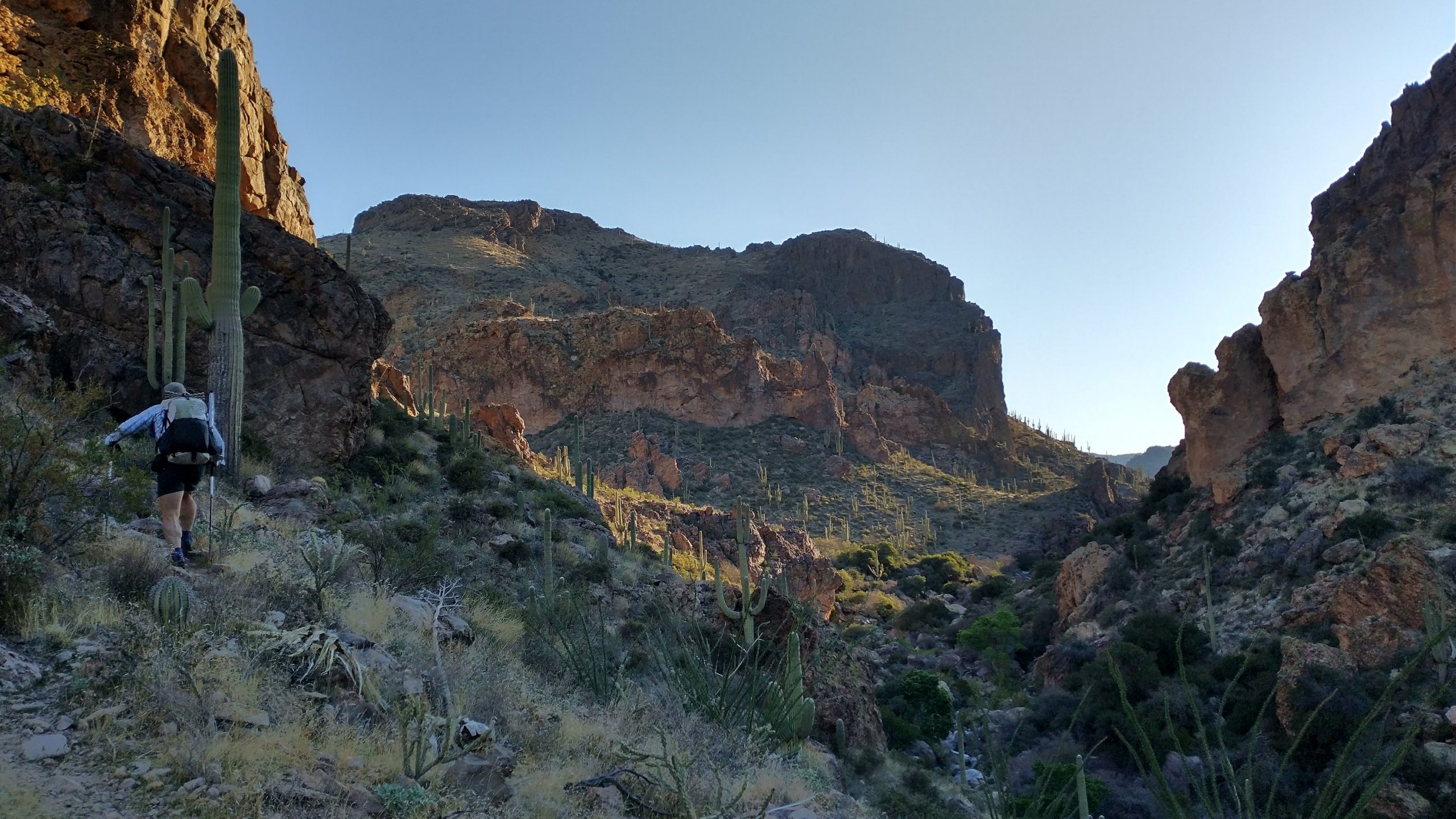 We came to a spot thick with saguaro. I've climbed over a lot of downed trees but here we had to negotiate a fallen saguaro across the trail…no climbing over!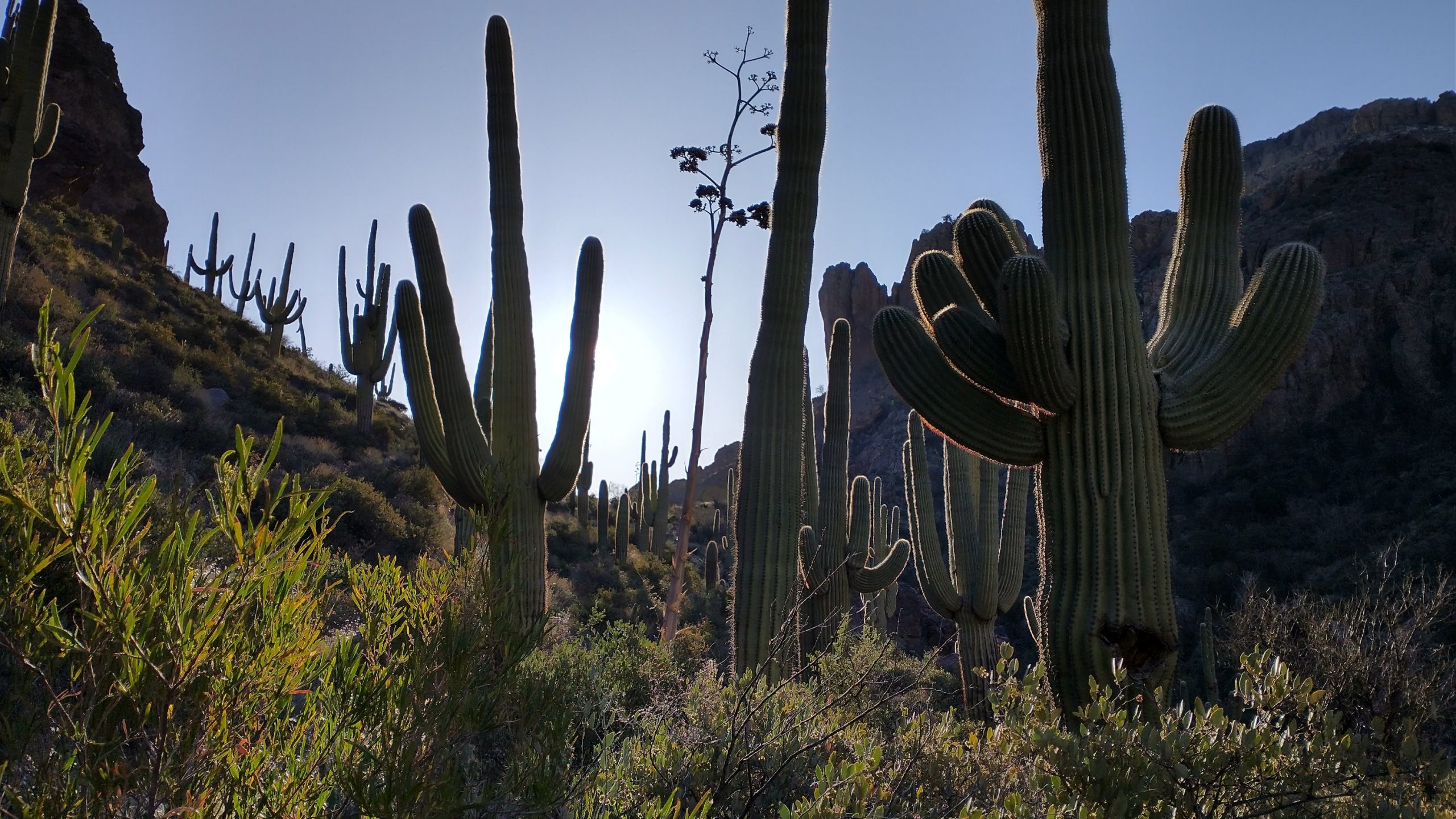 We entered a much higher elevation ecosystem where most of the diverse cactus species like cholla disappeared and instead prickly pear reigned supreme. There was also still plenty of cats claw to grab at our legs. We spooked 5 deer and a number of rabbits. I forgot to mention that I saw a cute little ring necked snake the first day….the only snake so far.
We picked up a trail called the Hoolie Bacon…I'd like to know the history behind that name. Then we got to a high pass where I could see Four Peaks, so just for fun I turned my phone airplane mode off. I was amazed to see that I had service! So we stopped to order water filters. I was frustrated by having to enter passwords, credit card numbers and do 2 step verification since I hadn't accessed my account from my new phone yet. But really, the convenience of ordering stuff from the internet in the middle of a wilderness cannot be overstated. From where I stood, I couldn't see a single sign of civilization.
We came to another junction with a trail that appeared to lead down towards the Salt River canyon. I correctly guessed that it connected to a dirt road that goes past Tortilla Flats, which I drove with Jon years ago. This was verified by the presence of 2 day hikers that we meet, both very surprised to see us. This part of the Supes is very remote after all.
We found a few small puddles of water for lunch, making due with some algae and insect thick water. It's the only water in about 20 miles along this route so we were glad to have it. We climbed for what seemed like hours after this, following small cairns along an extensive ridgeline. The trail was rather indiscernible and overgrown. But I'm great with cairns after all the tramping I've done in New Zealand and on the Divide.
Finally we headed down into a canyon, crossed a big wash and flats area, and immediately started heading up Rodgers Canyon. There were boulders to negotiate around washed out trail, but the tread got better as we went up, ever approaching the junction with the AZT. I was thankful that the canyon was tight and therefore shaded in the late afternoon. Lush trees like sycamores grew thick. It had started to get a bit too hot on the exposed ridge earlier.
We finally came to the AZT junction, where we knew we'd have great tread for the next 70 miles, plus familiarity with the trail. One thing that's very different this time is the abundance of natural water sources. When we last hiked in the fall, nothing was running and there weren't even hardly any pools in the creek beds. If there were, they were very gross. We relied heavily on random water caches back then but I much prefer finding my own water and not depending on others.
We hiked to the top of the canyon and took a side trail towards Rodgers trough. We didn't have to go far to find a nice spring flowing with clear, cold, sweet water. We collected water for the night and talked to 2 AZT hikers, the first we had met. We met 2 more on the way up to Montana Mountain. There we followed a side trail to the very top, surprised to find a broad field of flat, grassy camp spots. We lucked out as it was just getting dark. I worried about the usual factors of such a high exposed perch… wind, cold, condensation but none of these transpired all night. Instead we enjoyed beautiful views of sunset, sunrise, and all the city lights in the Phoenix valley. It was an amazing site to culminate our tour through the Superstitions.