Saturday Mar 20th, 2021, 0630-1220
Montana Mountain to Picketpost trailhead, then ride to Superior, mm 48
16 miles
I was excited for this day, as it was to be a reunion with one of my favorite Trail Angels, MJ, the maternal saint of Superior. I stayed with her in 2019, later appearing in a picture I took with her that made the final cut in the documentary Through The Great Southwest. This was a film produced by Darwin, a popular youtuber and thru-hiker, in support of the Arizona Trail Association. My friends and trail angels Anthony and Fiona, all the way from New Zealand, contacted me to say they had seen me in it…which was a surprise, since I didn't know and hadn't watched the film yet. What a small world. It's a really a great film, available online through various channels… proceeds support the AZT association.
Back to the hike, first we had to travel 16 miles down Montana Mountain and through Reavis canyon. Sunrise on the mountain top was superb.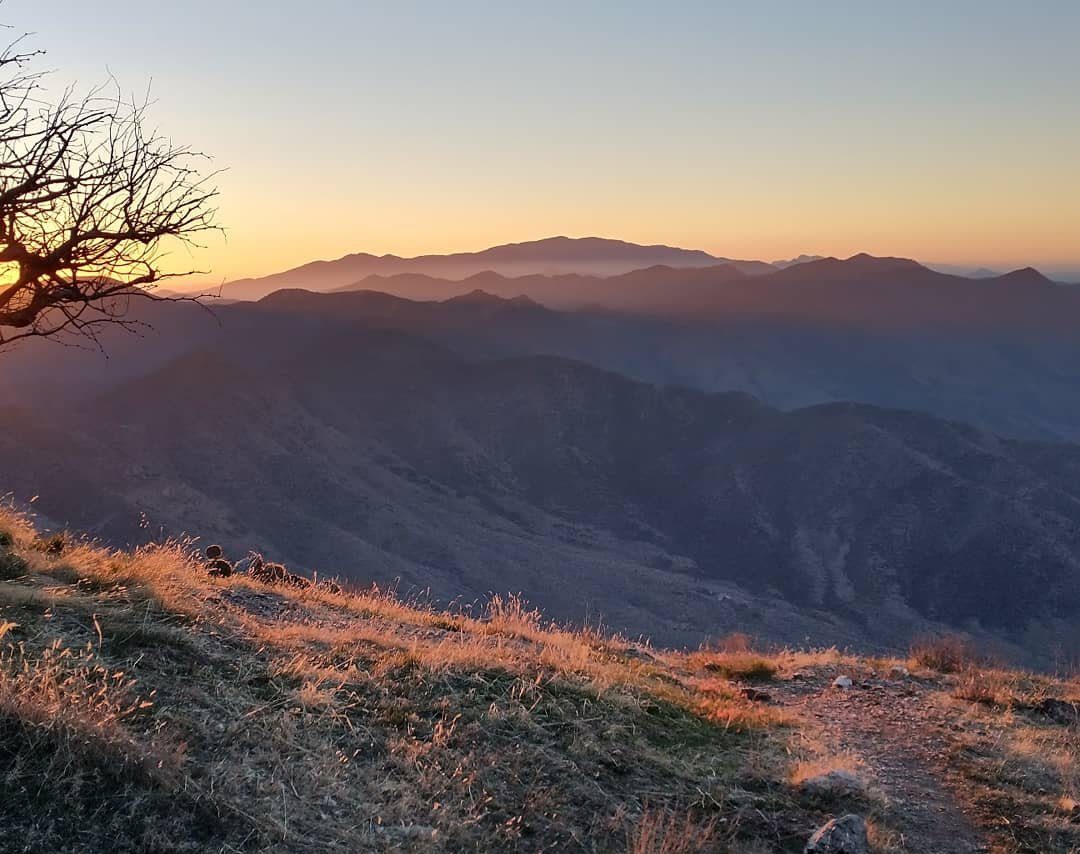 We could see our destination from a long ways off…the monolithic prominence of Picketpost. The giant rock butte is a standout from many vantage points. One of these days, I'll climb it, but not this trip. The hiking was nice in the cool morning but it was already warming to uncomfortable levels by around 11 am. The umbrella proved to be clutch once again. We also ran into tons of AZT NOBO hikers…about 25 altogether. There were so many that we started taking bets on how many we would see in the last 2 miles. I guessed 7 and lost the bet. There were only 4. Regardless, it seemed to be a very popular trail this year.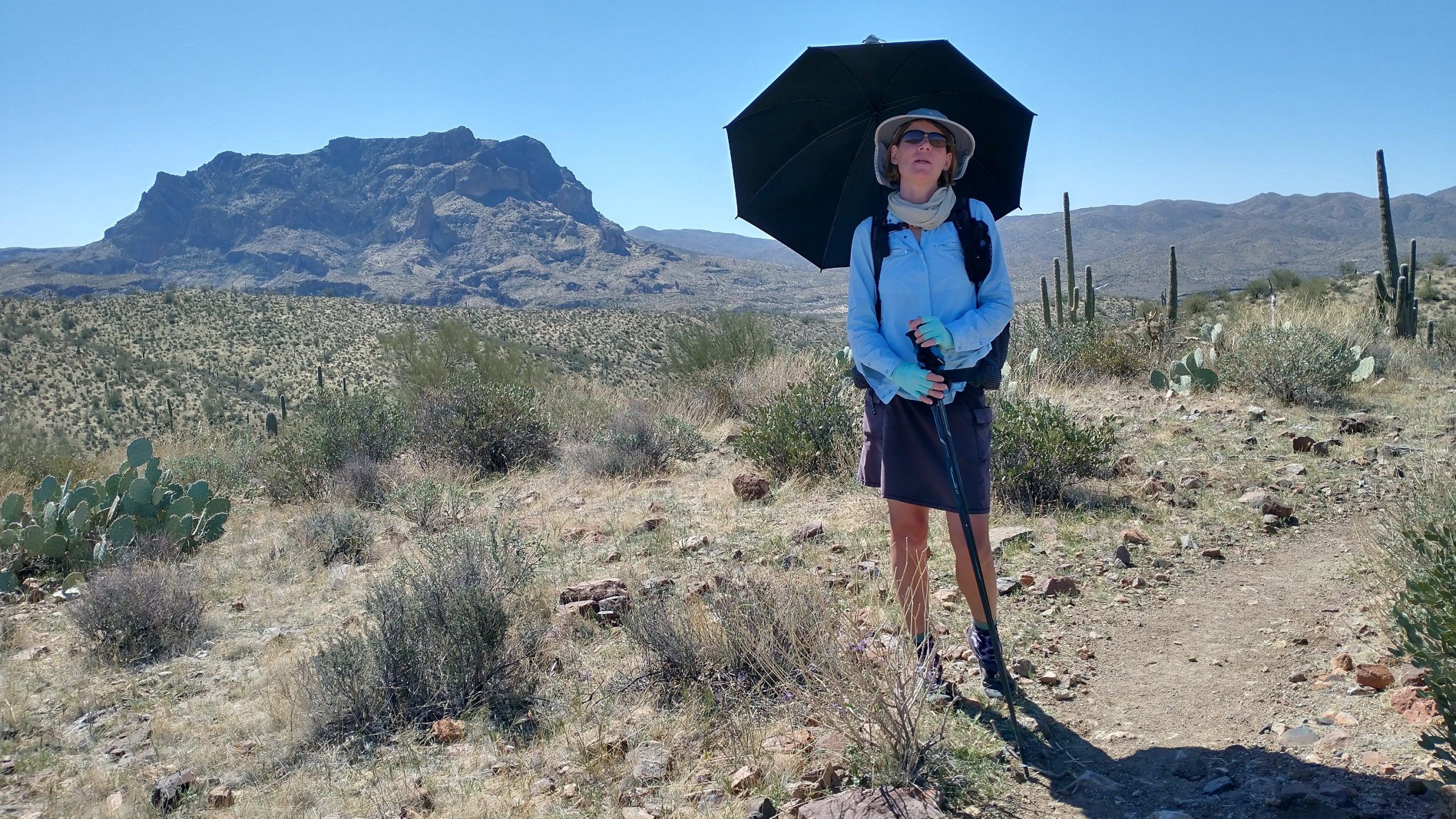 We got to the trailhead just after noon and were shortly met by MJ. What a service, to be picked up at the trailhead! It's not something a hiker should just expect from Trail Angels, so I just want to be clear that we were most grateful and appreciative of her generosity. MJ was making multiple trips to the trailhead a day, especially in the peak season of the AZT. We of course made donations and also took her out to lunch at her favorite restaurant, the Jade Cafe. In fact, we timed our arrival for when the restaurant would be open. Trail Angels give a lot but it's ok for hikers to treat them once in awhile…it should be more of a give and receive relationship. We really hoped that MJ didn't get burned out with the overabundance of hikers, but so far she seemed to really be loving it.
I was happy to see her home looking very cheery and bright, with new paint and decorations. She had angel wings painted on her wall, where she took pictures of all her guests. Two hikers, the Noodleheads, immediately stepped up to show us the ropes around the place, alleviating MJ from having to explain all the house rules multiple times a day. It's nice to see other hikers doing what they can to help. This couple, Rigatoni and Angelhair, were from Colorado and super awesome to talk to. I was the only one staying with MJ in 2019, but this time she had about 8 hikers this one night. Her journal was full of signatures…someone was making an effort to count how many but I forgot the number already.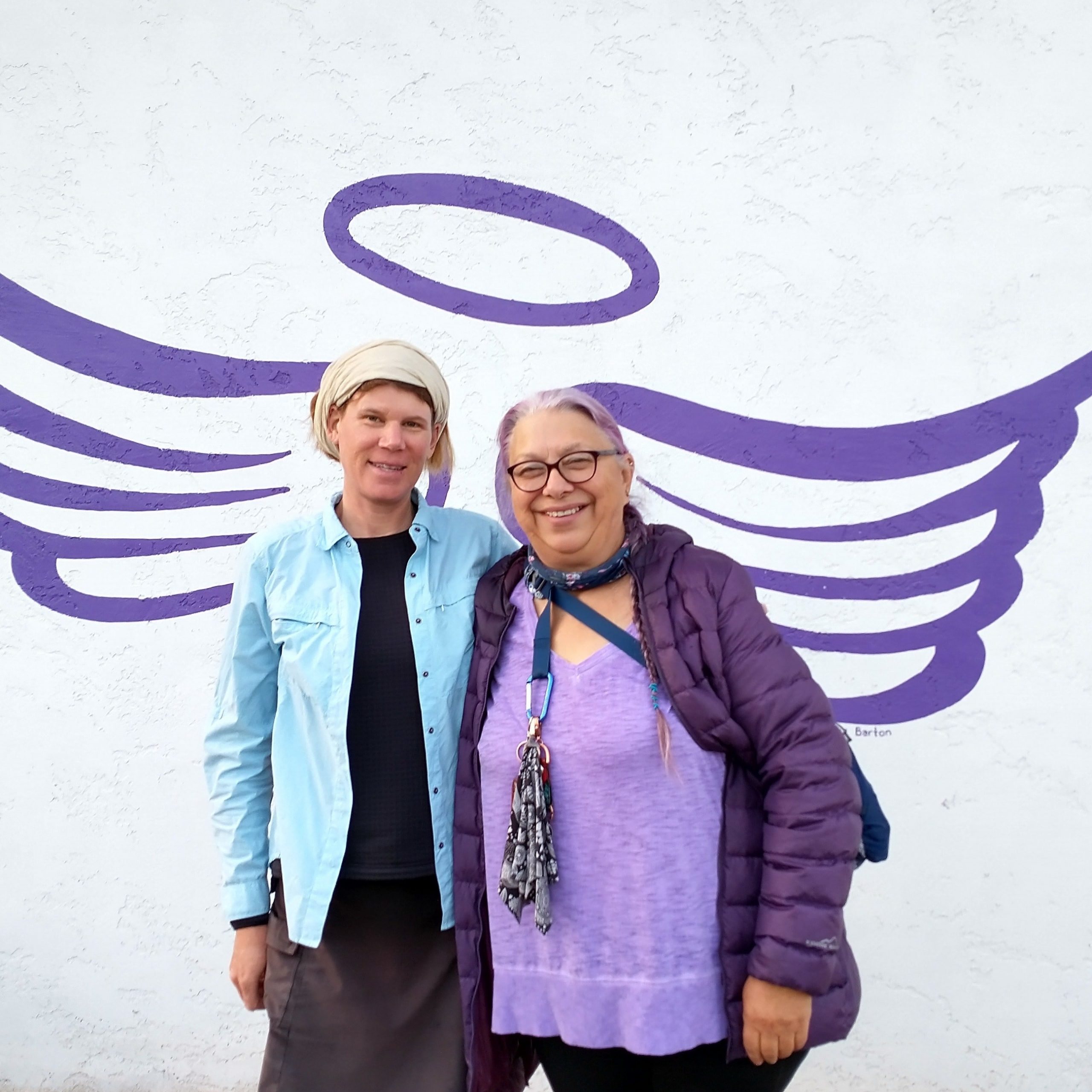 The Purple Angel of Superior…
With all the commotion at the house, I was unable to get much done. My blog writing was really suffering this trip. Our water filters were supposed to arrive the next day but lo, Amazon Prime delivered them in 1 day. Incredible. With filters in hand, we didn't really have an excuse to delay hiking, so we resolved to head out early the next day. We would have liked to have spent more time with MJ, but we had her to ourselves for a nice lunch and felt the need to share her with all the other hikers. She even reserved a whole room just for us and we didn't want to hog it for more than one night. I hoped I'd get to see her again when she wasn't as busy.
We had a lovely communal dinner that night. MJ bought pizza dough from the local bakery and even had all the toppings pre-cut and ready to go for easy construction. The pizza turned out delicious. After that, I was completely spent. Interacting with all the other hikers wore me out and I crashed hard. Overnight, I could hear another hiker snoring but also a great horned owl, so it was a wash of noises. Neither kept me from a good night's sleep. Thanks so much again MJ! It was another lovely visit.