Thu Mar 18th, 2021, 1230-1800
First Water Trailhead, Superstition Mountains (Tonto National Forest) mile 0 to La Barge spring mm 10
10 miles
A half day of hiking was on order after a late and stressful night. We were all so sad for Laurel's loss of her beloved Ceniso.  Stellar and I took adorable Tumas the dog for a walk and checked on Rusty the horse early in the morning. He was still pacing and calling for his stablemate. We had breakfast and did some last minute checks of gear. By 11 am everyone was in sync and ready for a car ride. The drive through the Tonto National Forrest was very scenic. We could see where the big fires of 2020 had scorched the earth but the desert life seemed to be springing back quickly.
At the First Water Trailhead parking lot, we took our obligatory photos and said our goodbyes to our gracious hosts and friends. There is no GET terminus marker so the best we could do was take photos in front of the trail kiosk…which was very nice.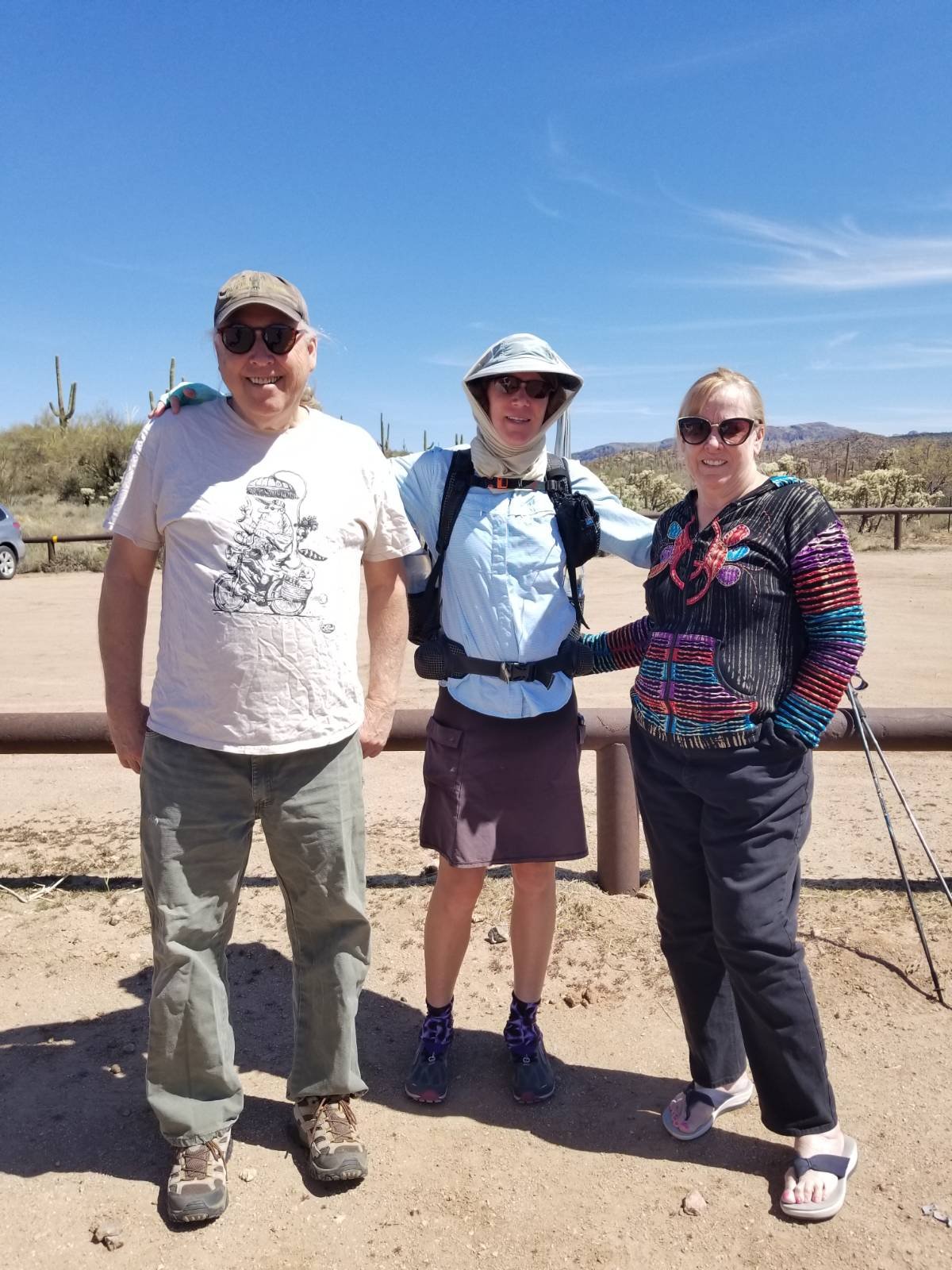 My number 1 trail angels Jon and Laurel

Starting the trail was wonderful as always. It was a little warm in the direct sunlight but such a perfect day. Since I'd just been hiking in 80 degree weather plus humidity in FL, the dry heat of the desert didn't feel as bad. I worked up a little bit of a sweat under my long-sleeve shirt but it dried oh so quickly.

I'm wearing some different clothing for this hike. I have a sun hat instead of a visor and a long sleeve vented shirt, both for better combating the sun. The long sleeves also protect from attacks from cats claw and other evil thorny plants. Already I noticed a big difference in feeling more safe from the UV. My sleeves snagged a few times but I can tell that the material is pretty durable and will fight back. Better that than my bare arms. I'm still wearing my hiking skirt but have added knee-high compression socks. These are also for the sun and overgrown trails. They look silly but I could care less.

All day we had gorgeous views of Weavers Needle, a prominent spire that stands out from multiple vantage points. And the surrounding canyons, creeks and cactus were astounding. Too bad this trail isn't part of the AZT because it's hands down one of the most scenic parts of AZ. Or maybe I was just really happy to be out hiking. The trail itself was also top notch…equestrian-ready which means wide and graded, with no overgrowth. We saw several groups of riders, which were nice to meet but also made me sad thinking of horse troubles.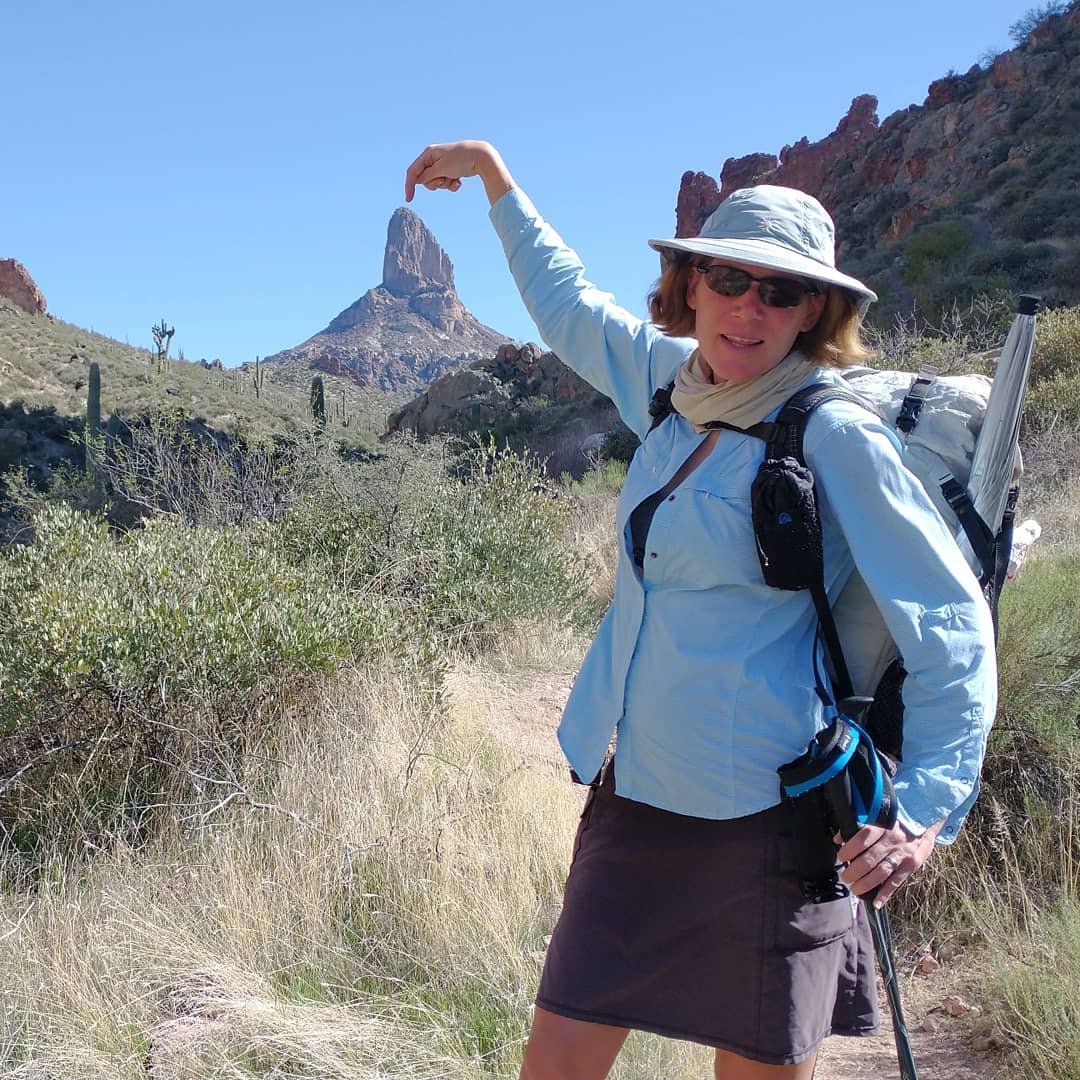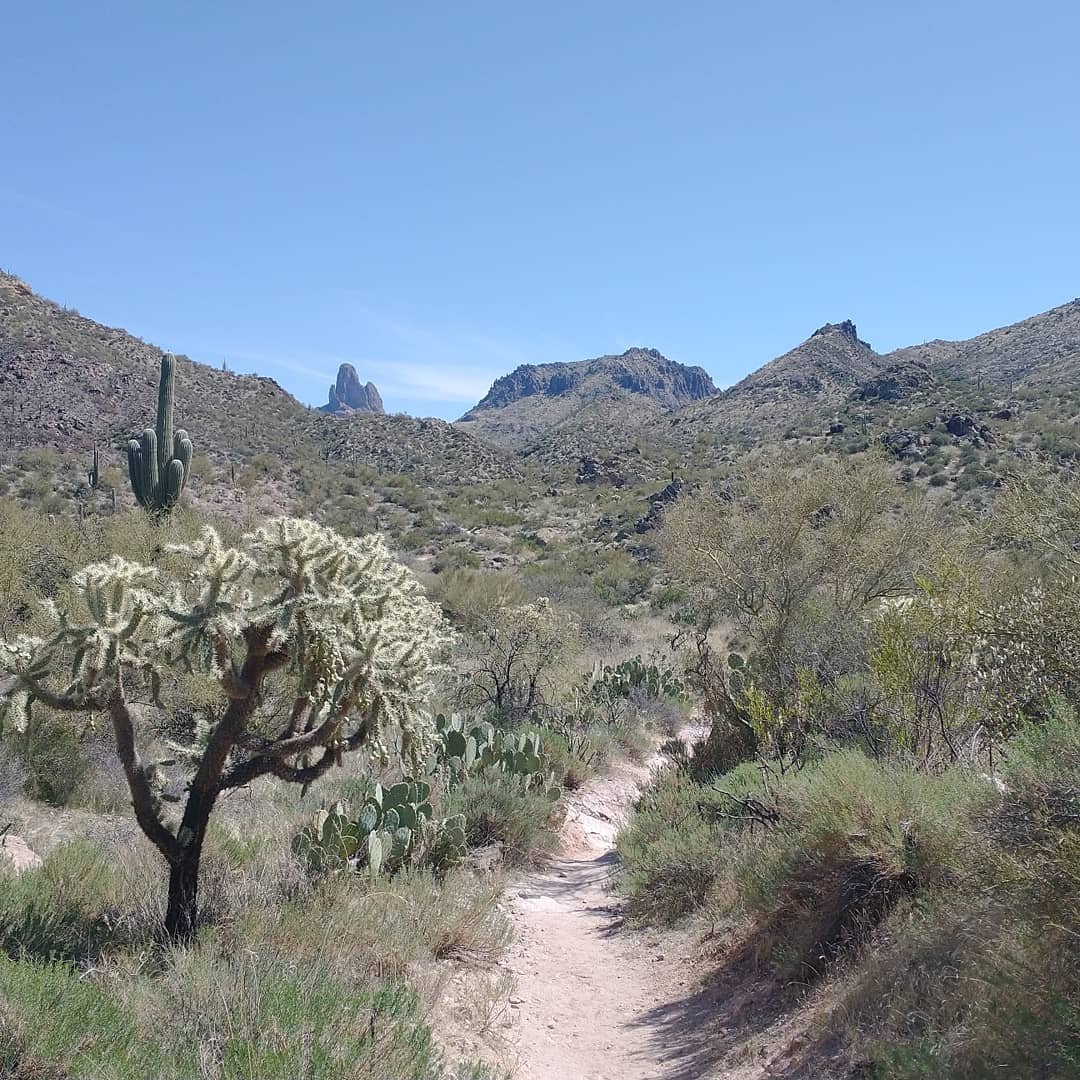 We made it to several springs at days end, perfect for a comfortable camp. We found a large open space under lush trees, a far cry from the dry and exposed campsites I expected for most of this trip. Enjoy it when we can! The only downside of the day was finding that both our filters were down to a slow drip. I used mine for just 300 miles on the Long Trail, then stored it well for the winter. I even ran distilled water through it. But it still clogged as it dried, apparently. What a waste. They were dripping enough to get us by for a few days but we would need to get news one first thing.

I was most disappointed that I didn't test the filter before setting out. This same scenario happened to me on the PCT and I swore it would never happen again. It was on my list of things to do but alas, good intentions. Oh well.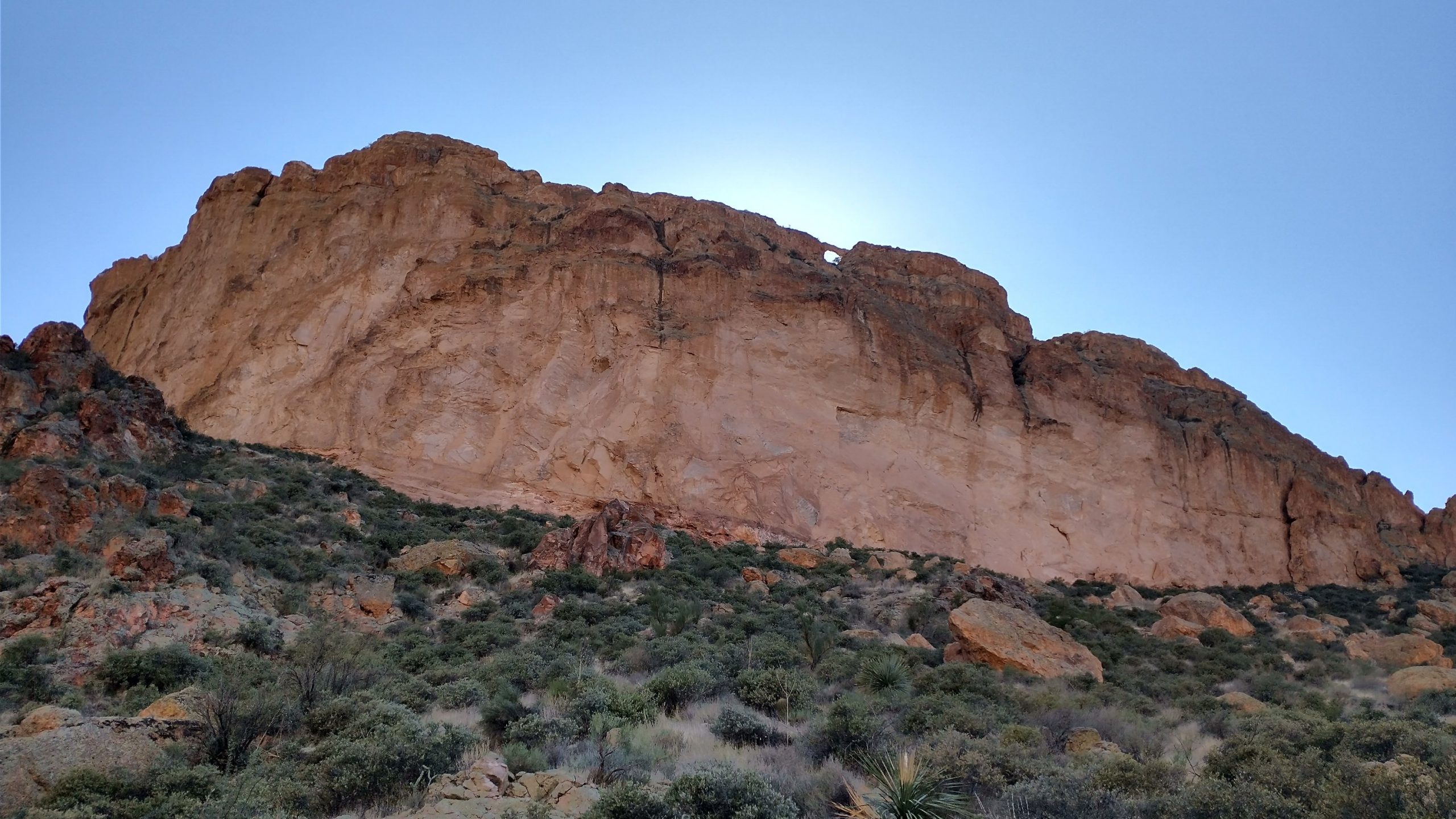 At dinner, a western screech owl began its cries. Knowing it was one of about 4 species of owl in AZ, it was pretty easy to ID based on the call. At first I was excited to positively identity the owl but when it became apparent that it was going to be on auto replay all night, I considered earplugs. In the end it was nice to drift off to the distant night sounds which were at least consistent, a part of the ecosystem.