Wednesday Mar 24rd, 2021, 1045-1800
Aravaipa Canyon Ranger Station West Entrance to North Bypass Alternate to cement tank East Branch Horse Camp Canyon.
17 miles
We were hoping that due to the inclement weather, there might be some last minute cancellations for permits the night before. No such luck. Permit fees are nonrefundable less than a few days in advance so it seems that nobody bothers to go online to cancel their permits, they just don't show up. In a last ditch effort, we decided to take Violet up on her offer to drive us to the ranger station, to see if we could talk to a live person the day of.
It was still very cloudy in the morning and so we decided on a late start to let the skies clear a little. We went to the restaurant for breakfast, where I ended up with a giant breakfast burrito…much more than I bargained for. We both gnawed on it and I still ended up taking the rest to have as a late lunch. We hit the road with Violet, enjoying the misty views of the surrounding mountains. The drive up the valley to the canyon was nice…everything very green. There were many houses and farms along the way. One field yielded lines of grapes…a vineyard in Arizona.
The ranger station was under construction and there was no ranger to be found (we learned the next day that the long-standing ranger had departed weeks before for another post, hence the reason we never could get a hold of anyone.) Well, we tried. Reluctantly we turned around and picked up the alternate route a short ways from the station. We'd need to hike an additional 12 miles on top of the 12 through the canyon but since we'd gotten a ride to the station, we'd already skipped about 6 miles of the road walk. It didn't make much sense to have Violet give us a ride back to the highway just to connect our steps plus all the extra miles, so we called it a wash. I was in a bad mood about the bureaucracy of the permit system but I decided just to put it behind me. A nice wash walk, then fun trail to the top of a ridge helped to improve my mindset. There were no notes for this alternate but we had a GPS trackline to follow and recent water reports from other hikers. It seemed to be a pretty straight-forward route along old farm tracks.
We wound through the hills, climbing very high over a saddle and then to the top of a mesa. Dramatic views south to Flattop mountain, encased by clouds and fresh snow entertained us. The sun had come out intermittently and we'd also had to put up our umbrellas for a few rain showers. It was cold and blustery but not too bad. We followed along the jeep track, which took us past many stock ponds, most dry.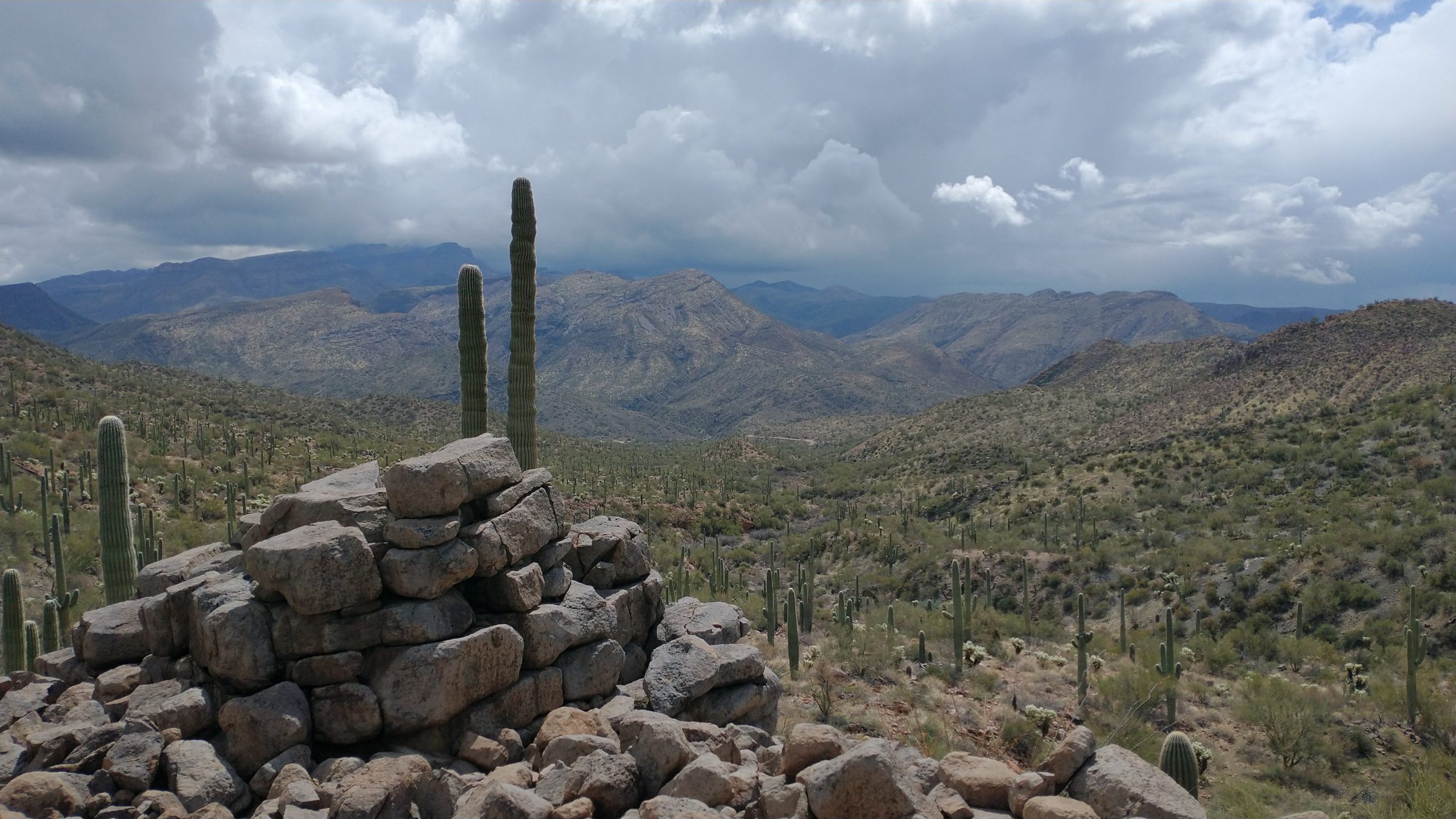 The track went down into a few side canyons, which brought us very close to the main canyon. It was tempting to just take a side canyon down all the way but warnings of steep pour-offs kept us from the temptation. We stopped to have a late lunch under a boulder, which provided shelter from yet another rain shower. The forecast called for clearing skies by late afternoon but the rain had persisted longer than we'd anticipated. I was certain that the majority of permit holders for this day must have cancelled their plans due to the rain, and here we were walking in this round-about way. Nature made a perfectly good tunnel though this mountain range but society determined we couldn't go that route. What I love about thru-hiking is the freedom, and this felt very opposed to that.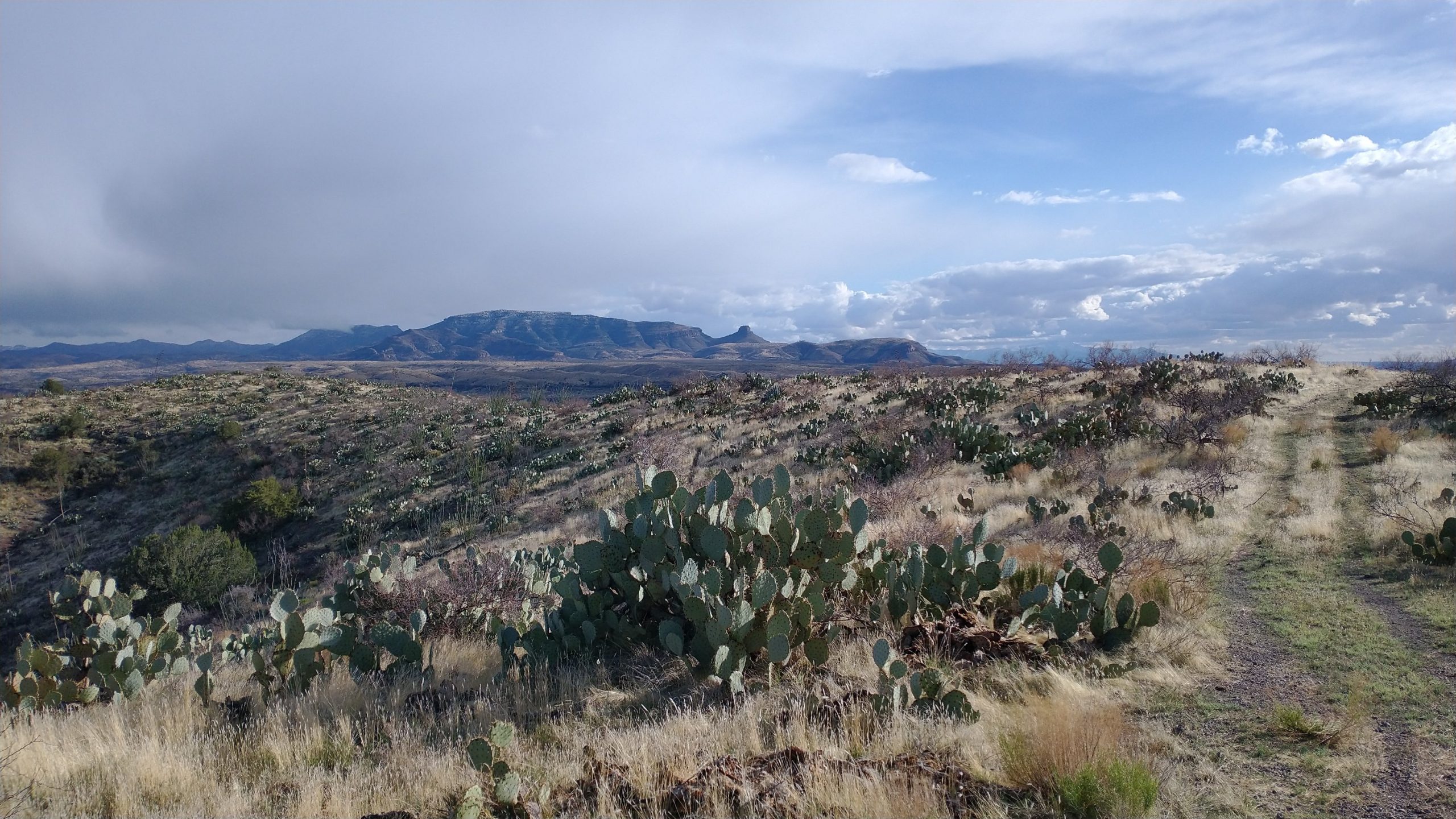 Late in the day we headed north far away from the main canyon. We got to a short section of a about a mile where the jeep track ended and we had to orient our way over several hills cross-country style. I got into a thick patch of prickly pear and steep rocky slide but managed to get out without injury. We collected water from some pools tainted by lots of cow dung, then hiked on over a few more hills to where a cement dam had been constructed. Earth had filled in the dam, making for a nice flat field…a perfect tent site despite a dead cow below the dam. I suspect it accidentally wondered off the precipice into the now-tainted pools below. Good thing we'd already collected water and fortunately it didn't smell above the dam. I tried my best to fit under a tree but knew there would be a lot of condensation the next morning, given the saturated ground. Still, it was a good ending to the day.