Tuesday Apr 13th, 2021, 0630-1030
Duck Canyon solar water tank to HWY 52, then road walk/hitch to Winston, segment 27, mm 494
12 miles
All was quiet overnight, save for some coyotes. We got an early start, eager to get to the road to maximize our hitching luck. Perhaps we could hit rush hour into town. The sunrise over the San Mateos, our next mountain range, was fantastic.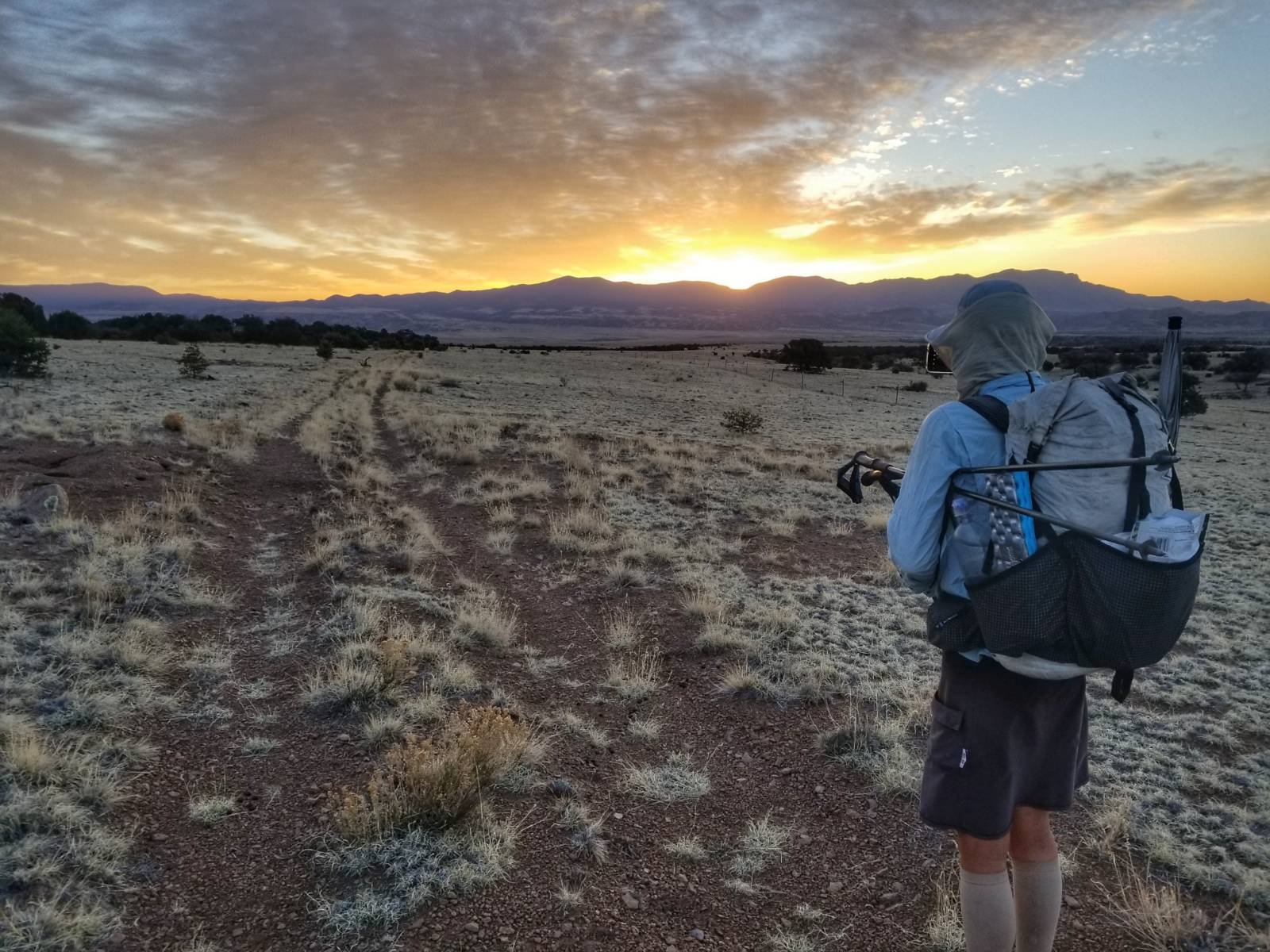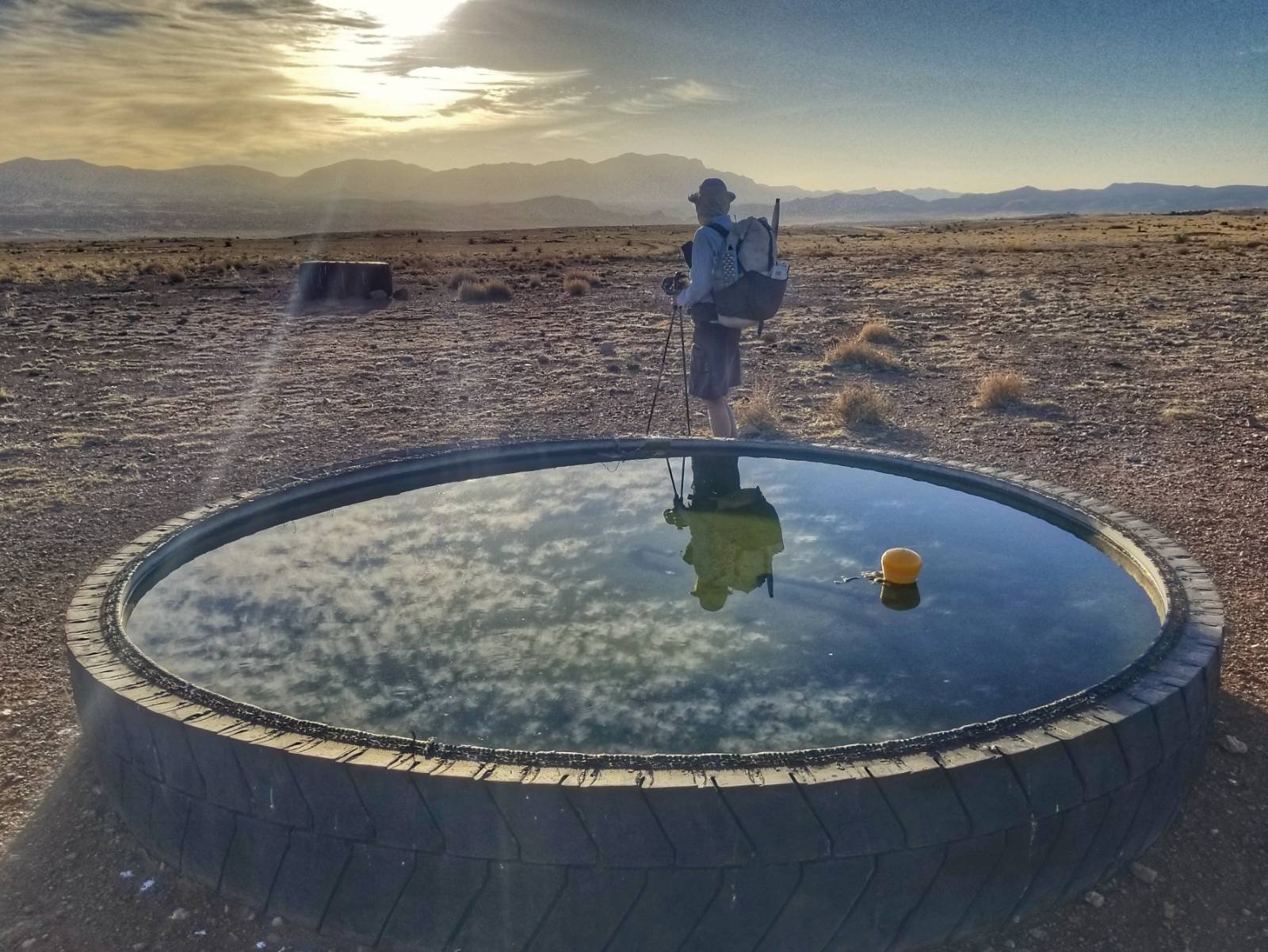 We walked a series of farm tracks and some cross country to get to the road. The landscape was open prairie, with views for miles. We saw a herd of about 40 elk along the way. They ran all over the hills, in and out of sight. We could follow their movements behind the hills by the dust cloud they kicked up.
We made it to the road by 9:10 am, just in time to see a truck drive by minutes before. We had seen a few other vehicles from far off by their dust clouds. Not sure when the next vehicle would come by, we started walking the road south. It was 18 miles to town but about 8 miles to where it joins HWY 59. We could at least increase our chances by making it that far. All was quiet for some time. Two trucks passed going the opposite way and we saw a vehicle leave a farm heading for town, but we were still a mile away from the farm. It was frustrating that we just missed these chances. By 1030 am, a truck towing a bobcat came up behind us and stopped. It's perplexing to see anyone walking a road so far from nowhere and even more perplexing when you explain that you're doing it on purpose.
The driver and his wife were the owners of the ranch that we had just walked past, borrowing some water as we went. Now he was unexpectedly helping us out again. We jumped in the back of the truck and after a few minutes, he stopped to ask if we'd rather ride in the bobcat. Heck yeah! We climbed in and even fastened the seatbelts. It was a smooth ride with elevated wide views, like we were on an amusement park ride. Best hitch ever!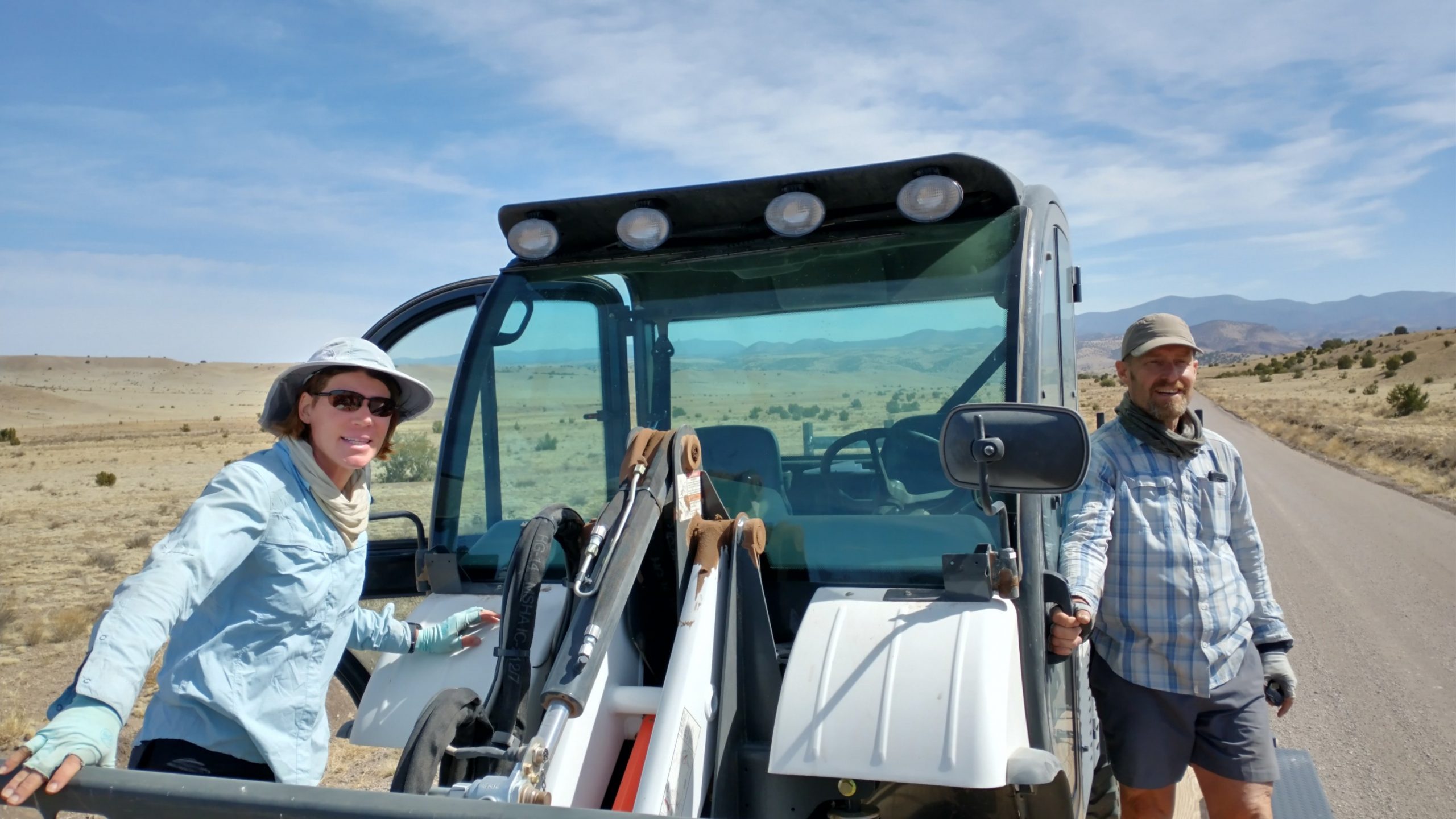 As we got dropped off in town, we saw another hiker standing at the corner, trying to hitch a ride out. We got so excited that we dropped our packs and ran to chat with him. His name was Sky and he was hiking the CDT. He was the only hiker we had seen doing the Black Range section. We talked for awhile but were concerned that we'd mess up his hitching chances…only one vehicle passed during that time. He'd been waiting for a bit already.
We went straight for the general store, as it's the only game in town. It has a big bathroom with a shower and a coin laundry facility in the back. Plus, we had shipped our resupply boxes there. It had everything we needed for this pit stop…we were even contemplating trying to get back on the trail the same day. As we rummaged for our wallets, I looked up to read a sign on the door "closed on Tuesdays." It suddenly dawned on me, the one day of the week they're closed, and we had hit it. By this time, Sky had walked back, realizing that we didn't know the store was closed. He'd come back to at least give us the wifi password for the church across the street. There's no cell service in Winston and the church is the only place with public wifi. I returned his favor by chatting up some hunters that stopped at the store, on their way to the divide. I asked if they could give Sky a ride and they agreed… I'm what other hikers call a ride bride, a sure bet to getting an otherwise difficult hitch.
Dejected by our only option in town being closed, we tried to call the store owners but had no luck reaching them. I saw a man at the fire station and figured he'd know what all's going on in town. My hunch was spot on. Jim's one of those guys that wears about every hat in a small town: citizen, volunteer firefighter, and pastor at the church. He jumped on his ATV (like how people in Florida get around small communities on golf carts), and rolled up the hill to see if the store owners were at their home. Still no luck. I had explained to him the short version of what we were doing and needed, so he invited us to come to his house to take showers and do laundry. And just like that, a new trail angel was born.
We walked a few blocks down the street to Pastor Jim's house, past the post office and community center. The town allows free camping at the community center but the ambiance isn't that great. A cold wind was blowing and it was a very open, dusty lot. It seemed clear at this point that we would have to spend the night in Winston (since we had no food for the next 5-day trail section), but we didn't want to spend it in the dusty lot. The general store rents a cabin for a reasonable price and we were hoping to stay in it. Fortunately word got around and the guy that helps clean the cabin got in touch with the store owners, getting their permission to let us stay. One problem solved.
As they got the cabin ready, we were able to hang out and do a load of laundry at Jim's house. His wife, Diane, even made us burgers for lunch. So we sat around in our strange 'doing laundry' attire, having lunch and getting to know our new friends. Yep, our ways are sometimes awkward and unorthodox but what a way to meet the locals! Living such a humble lifestyle, on the trail and road, a traveler in distant lands, open to whatever acts of kindness and generosity come your way.
After thanking our hosts profusely, we moved over to the cabin. We were so happy when we walked in. It was beautiful, with a cute kitchenette area and lovely bathroom. It was pretty new and well appointed…except for having a tiny hot water tank. I was so glad we stayed there. The only downside was that we had to eat trail food for dinner…but thank goodness we had a day of extra food!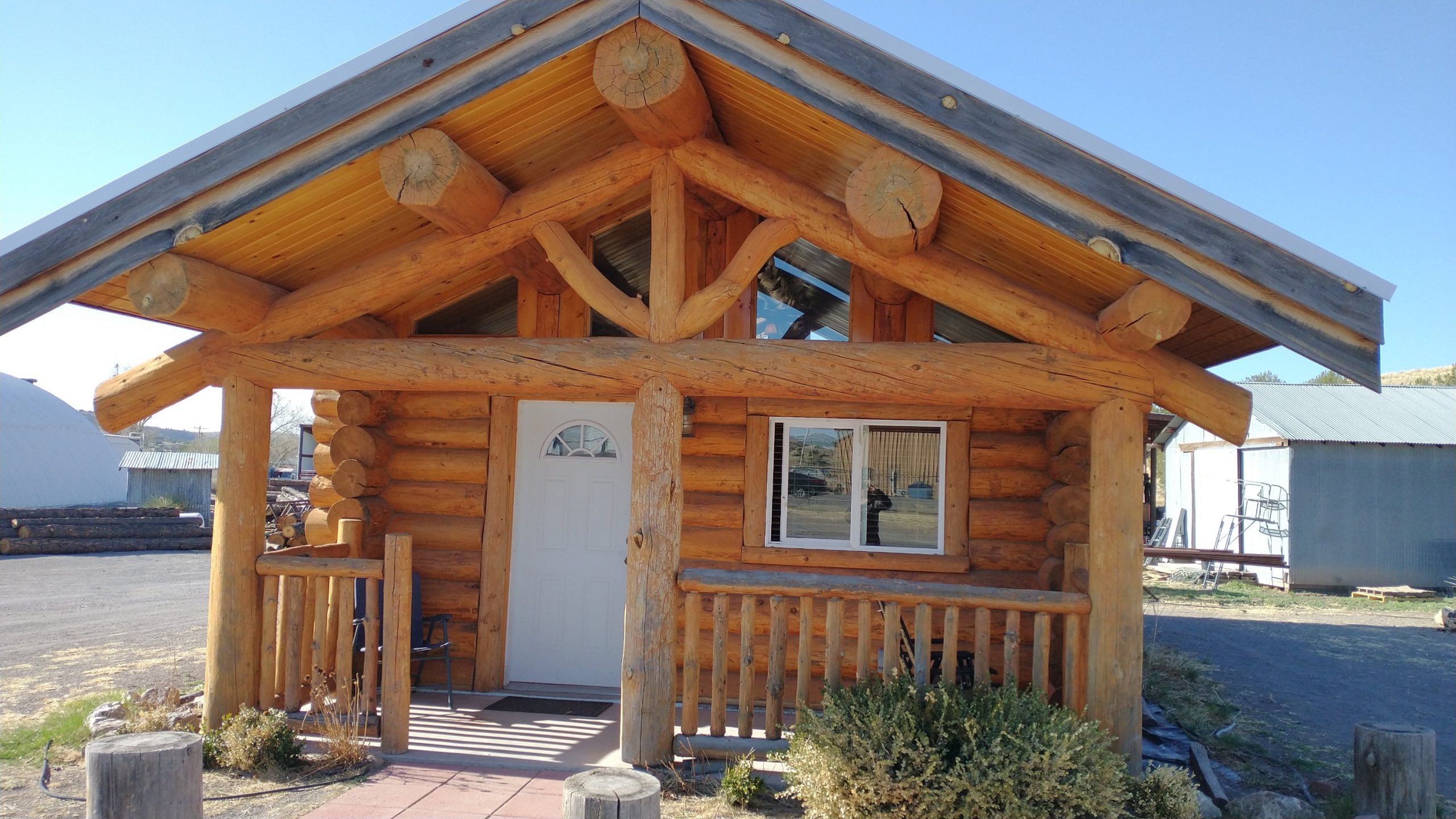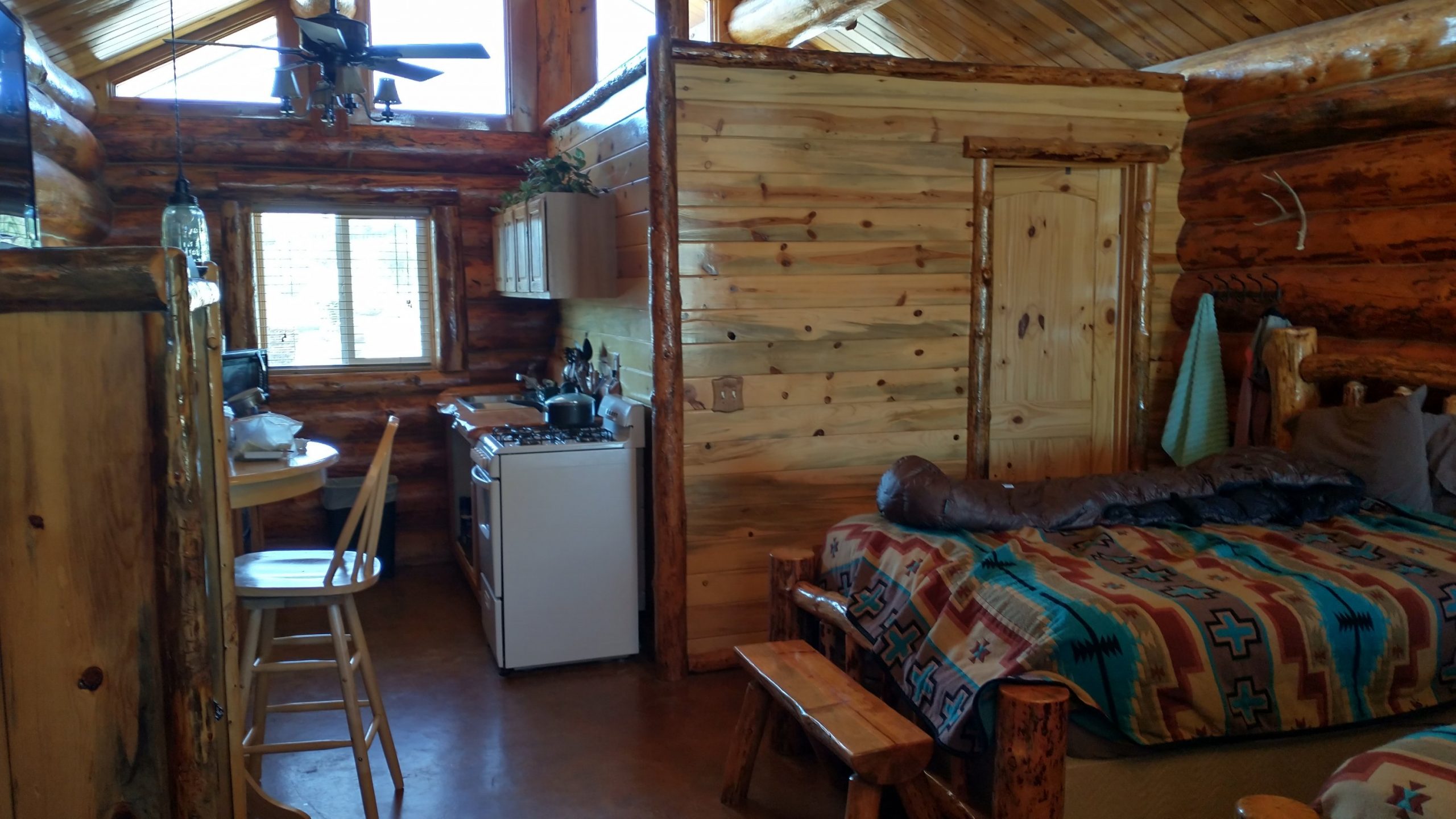 The trail is full of unexpected twists and turns. We had so many lucky breaks today…a great ride into town after not even that long of a wait, meeting a fellow thru-hiker, a nice family that took us in, and a nice place to stay. Even the unlucky breaks, like the general store being closed, led to good things.