Thursday Apr 29th, 2021, 1000-1600
I 40/Tijeras to Sandia Peak Tram, Segment 38, mm 757
15 miles
I'd stuck this one out to the end and it was finally time to call it that…THE END. The past few weeks had certainly dragged on, first because of our illness and then so we could align our plans with good weather and our return ride. John, trail angel extraordinaire, was on his way from Phoenix to pick us up but wouldn't be getting in until late afternoon. We had all day to walk the last 15 miles, which is a good thing since we had stayed up late with Blue and Twerk. We slept in a little, ate a small breakfast at Blue's, then headed straight for the Roots Cafe when Blue dropped us off in Tijeras. Second breakfast was called for, plus we felt like we needed to support the cafe some more for letting us hang out and escape the rain for hours the day before. A lady that worked there told us her sister was currently hiking the AT, so she was very understanding and supportive of thru-hikers. The cafe had a really nice menu of healthy choices, plus excellent coffee. Pro-tip for any future GET hikers…spend your money and reward yourself here, not at the overly-expensive tram restaurant at the top.
By 10 am, we were finally ready to resume our hiking. The day was beautiful, with clear skies and perfect temperatures. A fresh layer of snow dusted the high peaks…right where we'd shortly be walking. We knew the trail involved several more thousand feet of climbing, back to an elevation over 10,000′, but we weren't worried. This close to a major city, the trails in the Sandia Mountains receive a lot of attention and were well maintained. Plus, we were feeling good from all the rest and food we'd had over the past 2 days. Going up over 10,000′ peaks had become a pretty standard thing on this hike…I think this was our 9th mountain range of such stature.
We started up the Crest Trail, enjoying easy switchbacks and nice views. We quickly met several trail runners, hikers, birders, and even a group that were "exercising" their remote controlled ORV's. In all my time hiking, I've never met anyone out for a drive of their toy car on the trail, let alone a group of them. Technically we were in a wilderness area where such mechanical things are not allowed but the guys were all very polite and didn't seem to be doing any harm. I guess as long as they have a passion for something that gets them outside and enjoying nature, that's what counts.
It didn't take long for us to gain the ridge, where we then had about 7 miles of excellent scenic ridge walking. The trail and habitat was a lot like the crest trail in the Manzanos, only in better shape and less overgrown. We'd left all the day hikers and runners behind…we didn't see a single person on the ridge until we got to the tram. I guess it was still early in the season and with the fresh snow the night before, no one was up for getting wet feet and sliding around in the mud/snow. We enjoyed views south to the Manzanos, west to Mt. Taylor, and northeast to the southern Sangre De Cristo's. My Peak Finder app even claimed that Mt. Blanca, 4th highest peak in Colorado, was visible but I couldn't make it out. I was very happy to look around and see all these mountains that I had traveled through. On my flight from Miami to Phoenix, I'd even taken a picture of the Sandia mountains…a sneak preview of the finish line before I'd even started.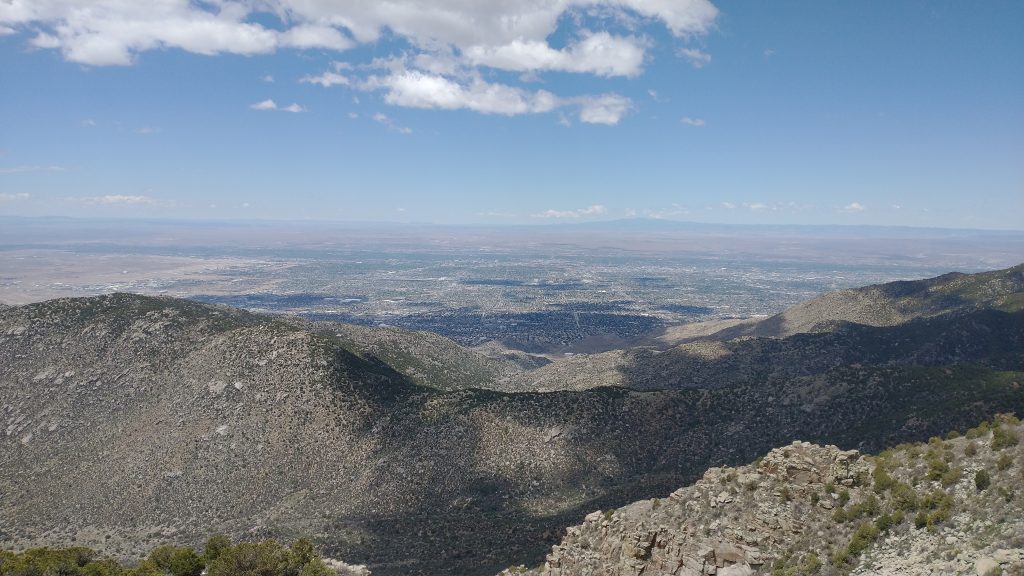 Looking west over Albuquerque and towards Mt. Taylor and the CDT.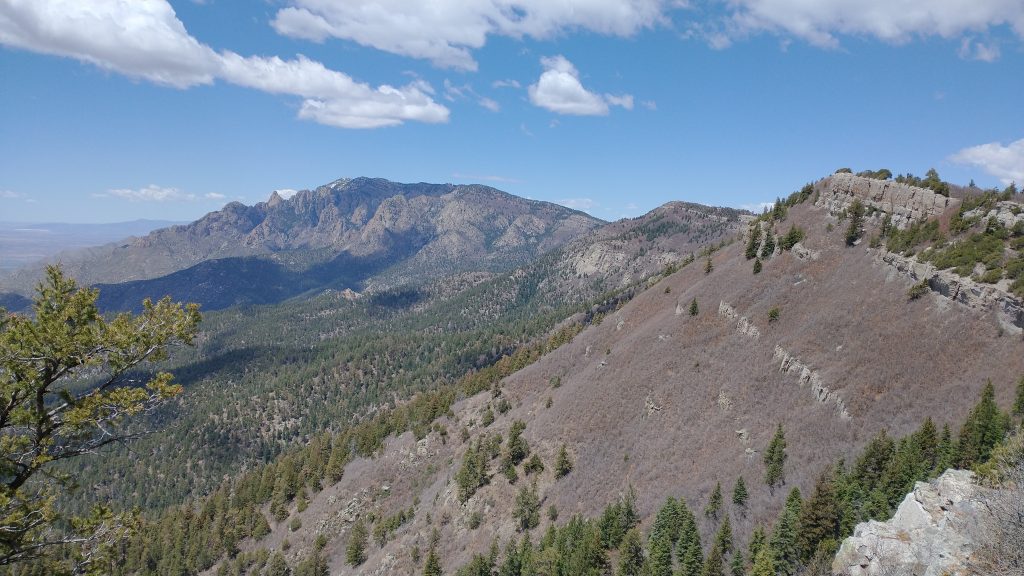 A view north towards Sandia Peak, where we'd finish the day and the GET.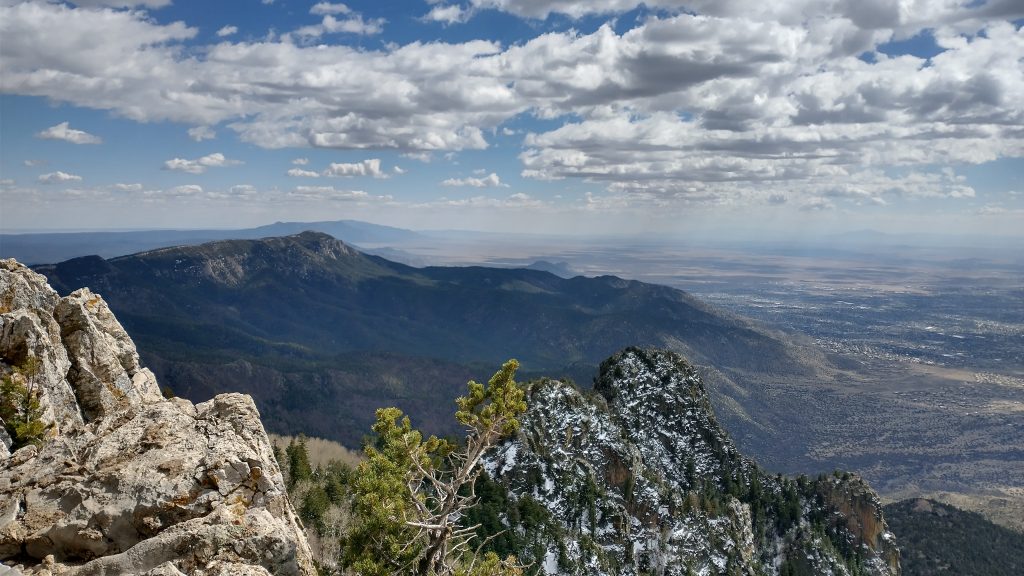 Back south towards the Manzanos and even the Magdalenas in the very far distance to the right.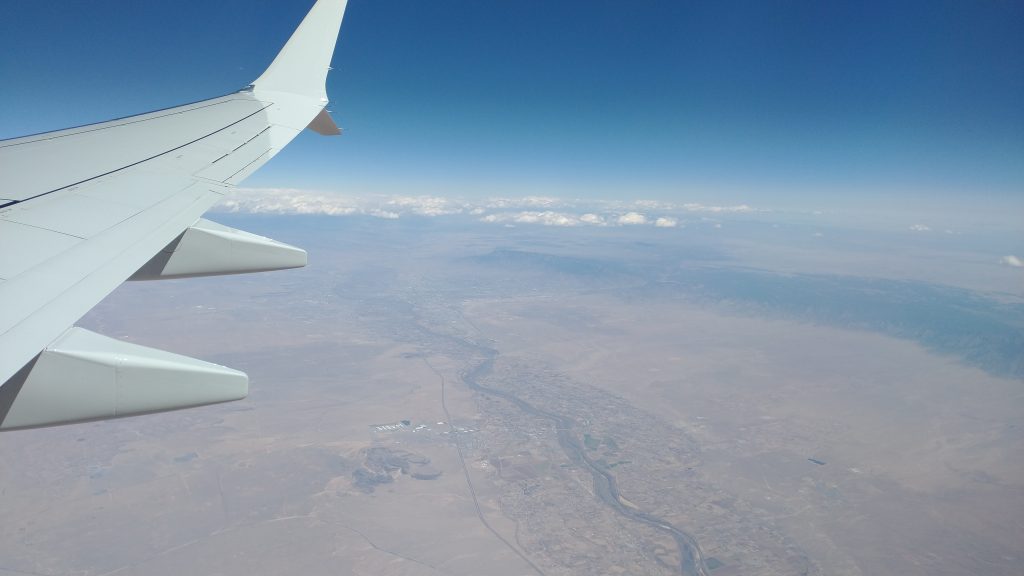 From the air, a look down on the Rio Grande and Sandia Mountains.
We took a nice lunch break, pretty much consuming all the food we had left. We were basically carrying no food or water weight at this point, so our packs felt great. This was good because for the last few miles, we encountered quite a bit of snow. The new snow on top of the old made for very slippery conditions and I actually fell pretty hard, tweaking my shoulder as I landed in an awkward position. For a second I thought I might have dislocated it. Just great, to have come this far intact and get injured on the last day. I struggled on, working through some pretty severe pain in my shoulder, radiating down into my arm. But my legs were fine and I was thankful for that at least. It was certainly a much harder last few miles than what I'd bargained for, though.
Postholing in several feet of snow slowed Stellar enough so that I caught up to him at the very end and we finished the trail together. He'd gotten ahead when I stopped to make a phone call, and then I had a hell of a time catching up to him. Which might explain why I fell, being in a hurry and not as careful as I should have been in the treacherous footing. It seemed like he was a bit anxious to be done, even though we still had plenty of time left in the day. I think he was worried that we wouldn't be able to get tickets for a one-way trip down the mountain on the tram, in which case, we'd have to walk 9 more miles to get to the bottom. We tried to buy the tickets online the day before but only round-trip tickets were for sale. So he was wise to be budgeting the time.  But we need not have worried. There was plenty of space on the trams going down.
Technically the GET continues on with Segment 39, a steep trail leading down the mountain. But I say that if you've managed to survive the difficulty of the whole route, you've earned an easy ride down. What other thru-hike ends on top of a mountain with tram service? Heck yeah! It's $15 for a one-way ticket and it's the longest tram in the US, in fact, in the whole world until China beat it a few years ago. It's kind of a no-brainer to ride the tram down. Congrats, you just walked close to 800 miles through some seriously rugged, hot, dry, and desolate terrain. Enjoy a tram ride.
Having gotten our tickets, which entitled us to any tram before the last at 8 pm, we hung out at top for awhile. John was still a few hours away, the views were awesome, and the weather was perfect. The only downside is that drinks and food are very expensive at the restaurant. So we lived up to some proper hiker trash customs by making our own tea and coffee on our stoves, right on the common balcony overlooking the city. We should have carried some celebratory drinks to the top but no big deal. I could wait until we got down.
This finish was without much fanfare. I didn't feel a lot of emotion. I was happy, relaxed, and already thinking about the next hike. Later in the summer I planned to be walking another couple thousand more miles on the Appalachian Trail to finish my Triple Crown. I guess since this was the 7th thru-hike, it gets less emotional each time.  It's the act of walking that's become so important to my life, not the destination(s).
We took our finisher photo (kind of in a rush and with little planning) just before boarding the tram. Since the GET is not a purposely-built official trail, there are no "GET" signs or memorials at either terminus. You make your finisher photos to be whatever you like. This is pretty in-following with the a-la-carte, do what you like nature of the whole route. Our picture seemed fitting.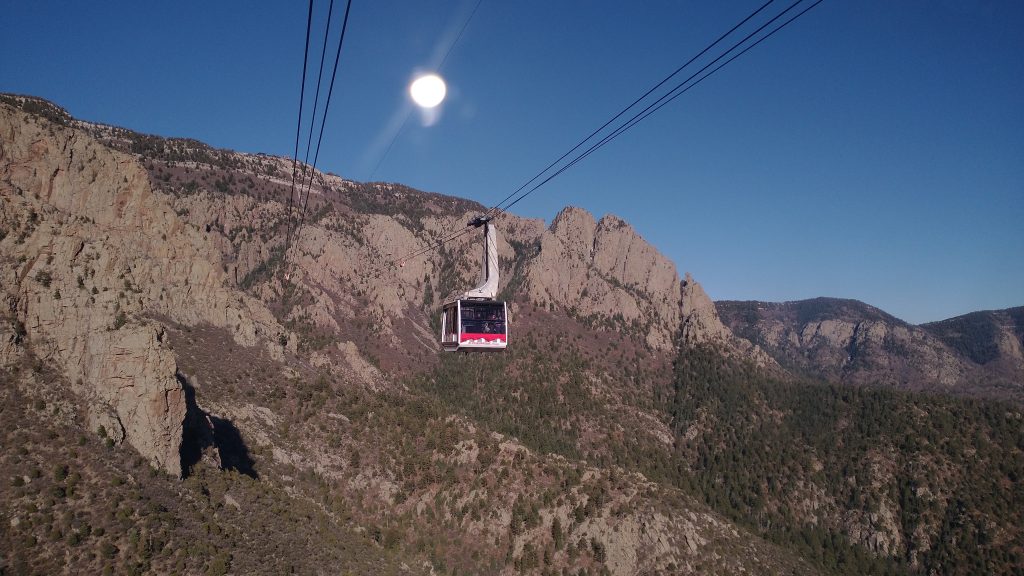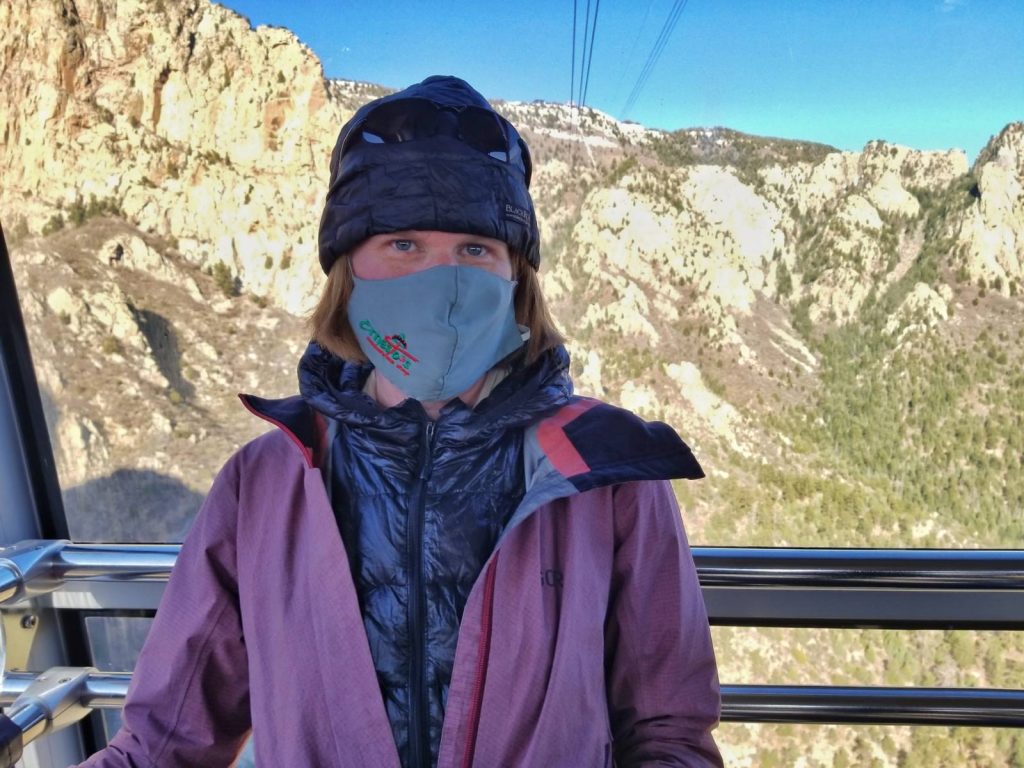 The tram ride down was fantastic. The operator was very enthusiastic and had excellent eyesight…he pointed out a black BEAR far below! This was the only bear we saw the whole route, after a month and half of walking through the wilderness and despite seeing tons of bear poop all along. Pretty cool! The ride was also very cool…unless you're afraid of heights! So much fun. I highly recommend a tram ride, either to start or finish the GET.
We made friends with a nice couple on the tram, who offered to deliver us to the nearest brewery so that we could have celebratory drinks. Jon met us shortly after and we spent the night in Albuquerque, celebrating over pizza and beers. The next day we drove back to Phoenix via Socorro, Magdalena, and Pie Town, where we stopped to visit the Toaster House and drop off some beer for the CDT'ers. I got to finally meet Nita, who's an amazing Trail Angel and owns the Toaster House. She was on vacation when I stayed at the Toaster House in 2019 while hiking the CDT. It was great to meet Nita and see a fresh new batch of CDT hikers…close to 20 at the house in all! It was a good reminder that just as our hike was coming to an end, thousands more were just beginning. And so too will we be again…stay tuned for my final installment (I hope) of the Triple Crown of thru-hiking…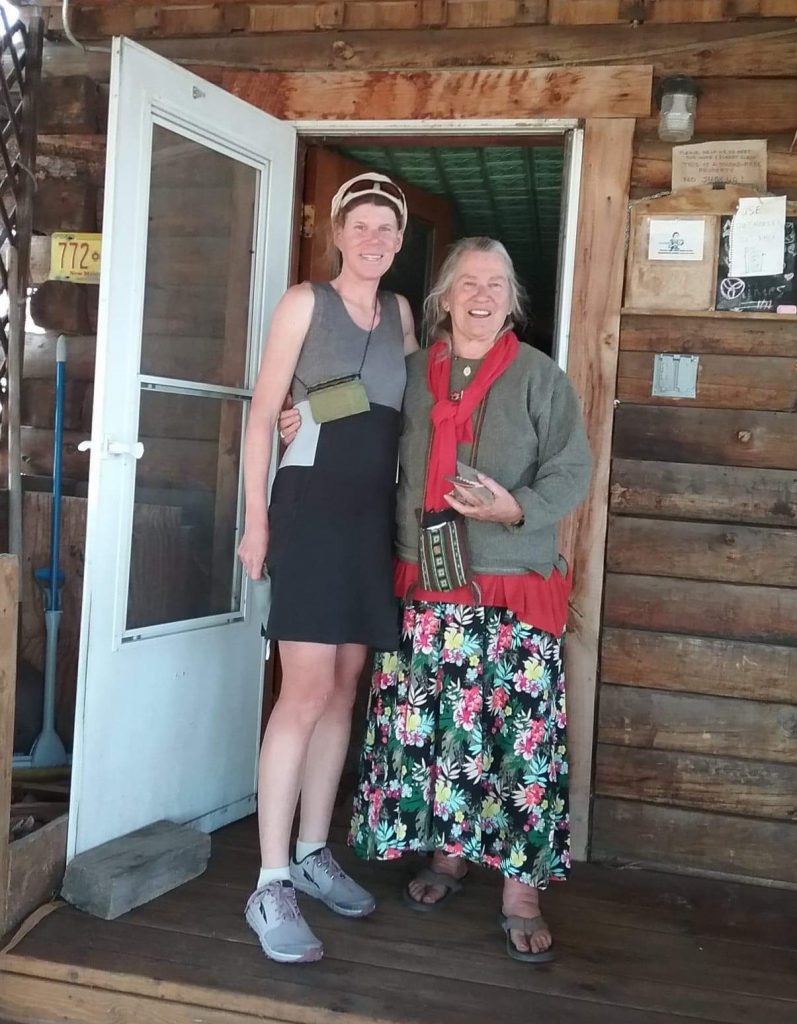 A flash-back to the CDT '19. Nita of the Toaster House in Pie Town, New Mexico.