Sunday Apr 17th 2022, 0600-1900
La Cianega to Rim Top, EABO mm 198, Segment 3 mm 59.
31 miles.
There wasn't too much to say about this day, other than it was more iconic Rim travel. I hiked the rest of the Highline Trail, then ascended Military Sinkhole trail for the final few miles to make it to the top of the Rim just in time for sunset.
The day started off a little iffy for me in that I wasn't feeling great. I felt a little congested, like I was getting a mild cold, and my back was hurting. I quickly snapped out of it, feeling much better after an hour of walking. A beautiful morning, with nothing but 360 views of rim country, put me in a good mood. Looking back towards Pine, it was amazing how far the Rim stretched towards the west. It really is the prominent feature in this region, looming large over the landscape.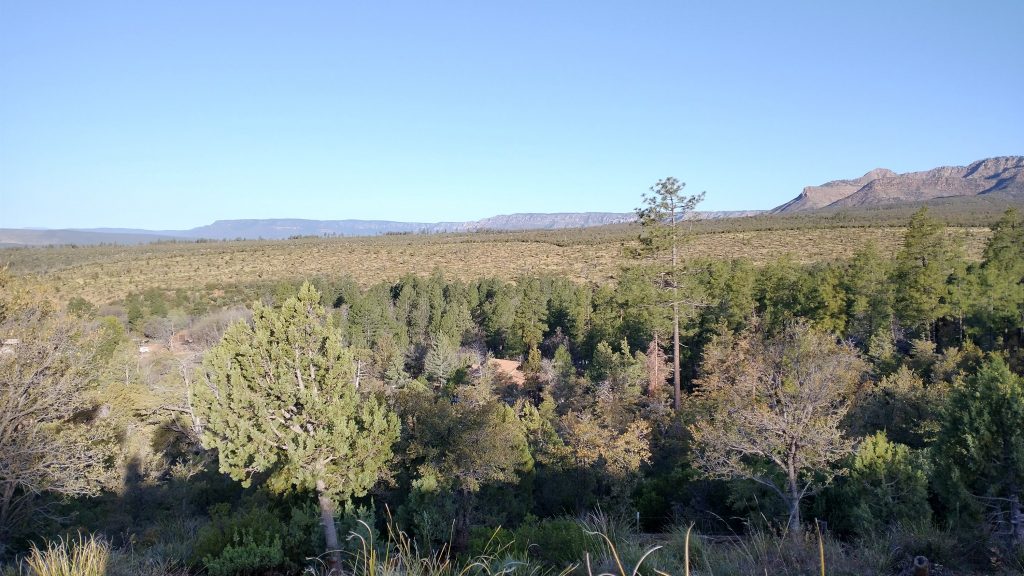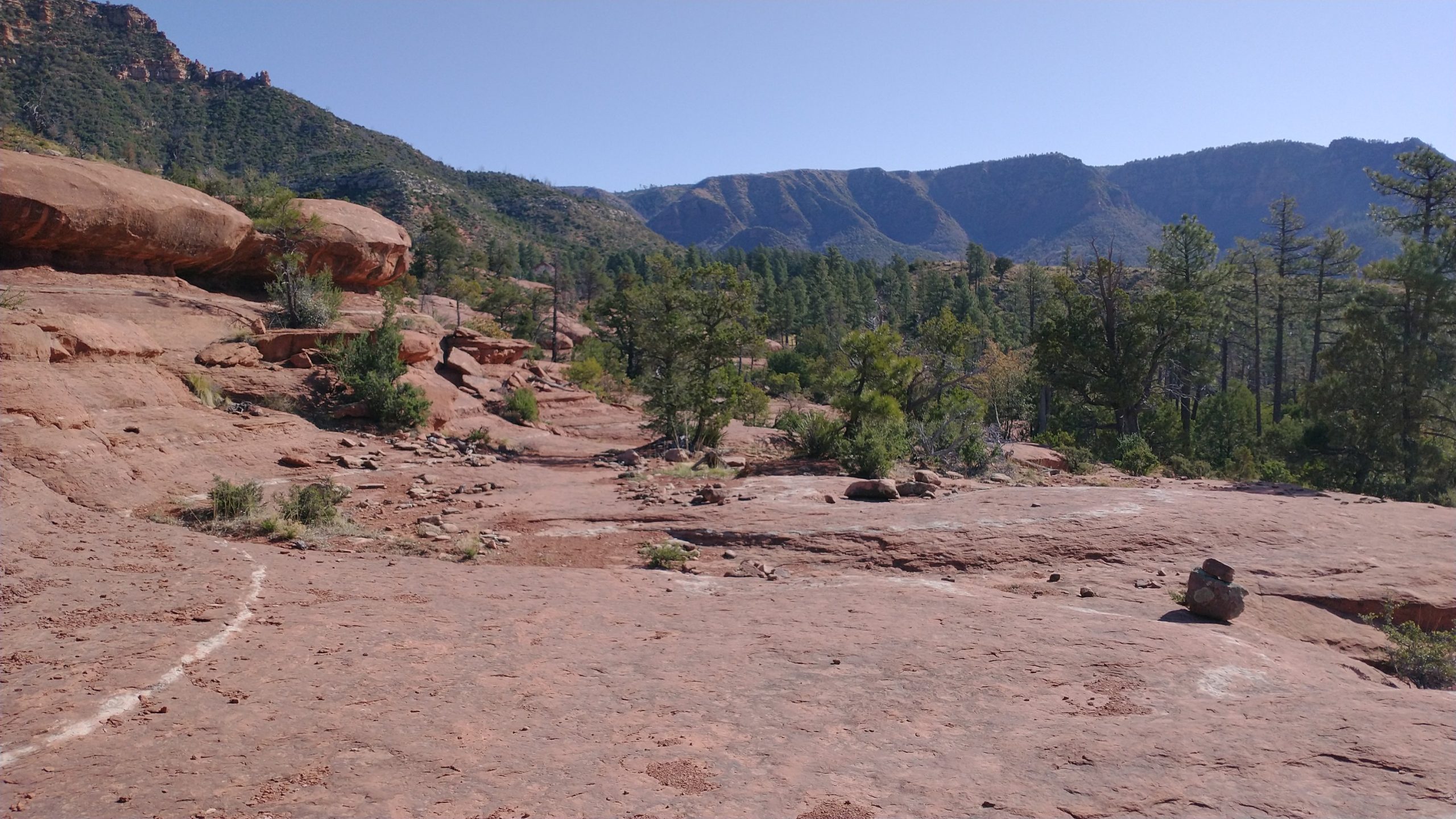 We passed several ranches throughout the morning, each situated near flowing streams. And the was a lot of red rock slab hiking…just walking along the surface, with cairns marking the way. Around noon, we came to Tonto and Horton creeks. This was a popular area, with a car park and around 20 people hiking the trails in-between. We stopped at the latter creek to fill up, as it was going to be our last reliable water source for the rest of the day. There we met 2 nice couples that had a lot of good questions about backpacking and thru-hiking. They wanted to get a photo with us…even after we told them we hadn't showered in 9 days. Well, I took a dip in the creek, so that sort of counts. It was very, very cold. I did not enjoy it much but my wet clothes sure felt good later in the day.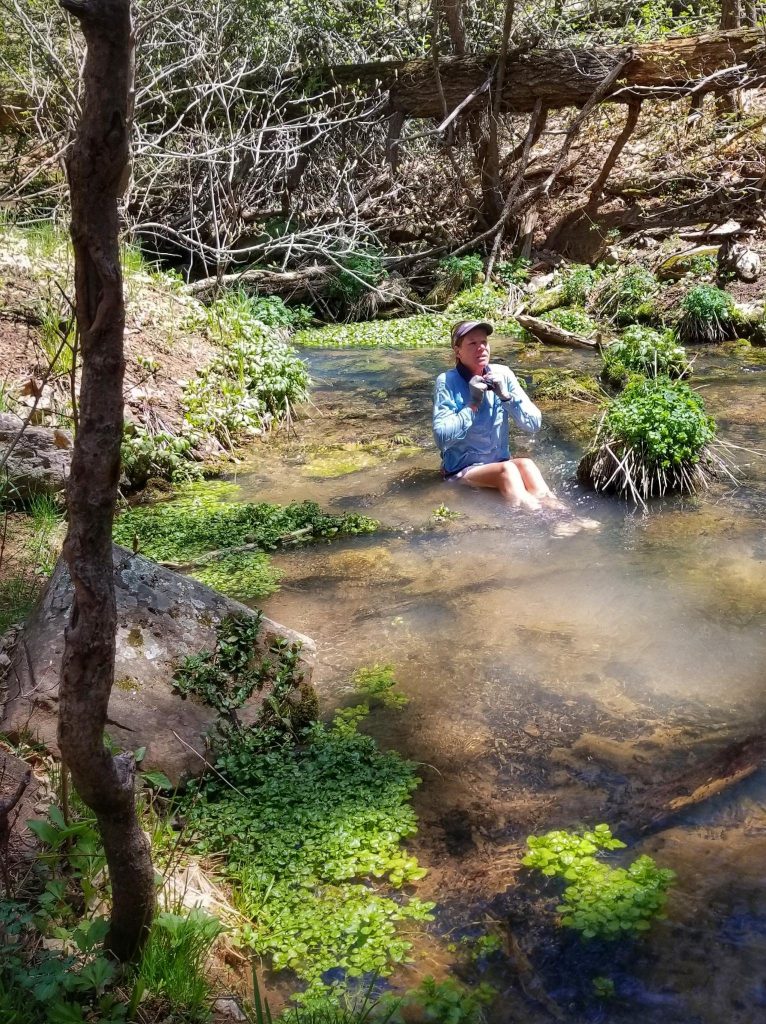 It got really hot in the afternoon. There were some big dips in and out of all the side canyons, but at least the trail was pretty well-graded. I put up my umbrella to block the sun, which helped a lot. Just prior the last trailhead before the ascent to the rim, I met the first true Highline backpackers I'd seen. They were a trio going west.
We'd planned to camp near that trailhead, saving the big ascent for the morning when our packs weren't so laden with water. But we weren't keen on the highway noise there and kept pressing. Before we knew it, we found ourselves on top the Rim, with fantastic views of the sunset. I set up my tent on a perch with a marvelous overlook of the valleys and peaks below. Cooler temps be dammed, I went for a room with a view.