Thursday Apr 28th, 2022, 1400-1840
Hannagan Meadow to Grant Creek, EABO mm 428, Segment 7 mm 12.5
12.5 miles.
This being the last "town" stop before officially finishing the route, we took full advantage of it. We were granted late check out until noon, so I lounged in bed for a long time. Another shower was in order too. There was no laundry, so I sink washed some items to dry overnight (I'd end up going from Show Low all the way to Silver City without doing laundry in a machine). It was really cold outside again, so I cranked the heater in the room. It felt amazing to have the power to do simple things like that. The wilderness is a lesson in our powerlessness, especially over temperatures.
We lingered around for so long that it made sense to stay for lunch. There were a number of hunters dining as well, but still only one staff member, the lady from the night before. She did all the cooking and serving in addition to managing the lodge. We waited patiently for our food to come out, luckily not in a hurry. Our only goal for this day was to get down to a lower elevation. We'd be dropping from the rim for the first time since arriving Forest Lakes 10 days prior, and essentially for the last time this route.
Departing the lodge, we hiked for several miles through partially intact forest. It seemed like a lot of live trees had fallen recently, including some large aspen. There were some huge piles of trees to climb over, along with many seasons of already cut logs. The locals had tried hard to keep the trails open, especially since the lodge ran horse tours in the area. But it seemed like a never ending task. I wondered why so many living trees were now succumbing and all I could figure was the destabilization of the soil from nearby erosion in the burned areas. Also the remaining trees had less protection from the wind.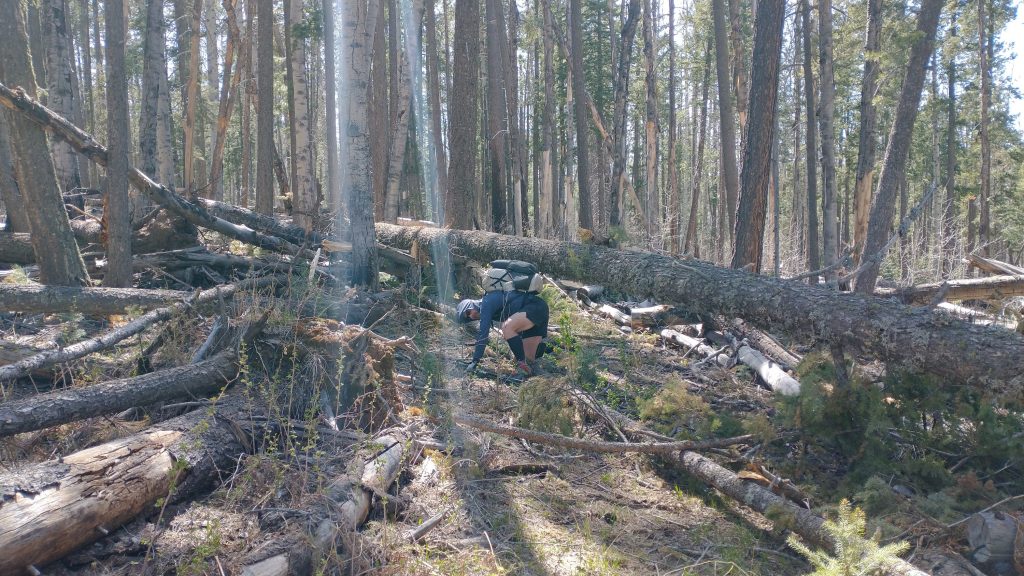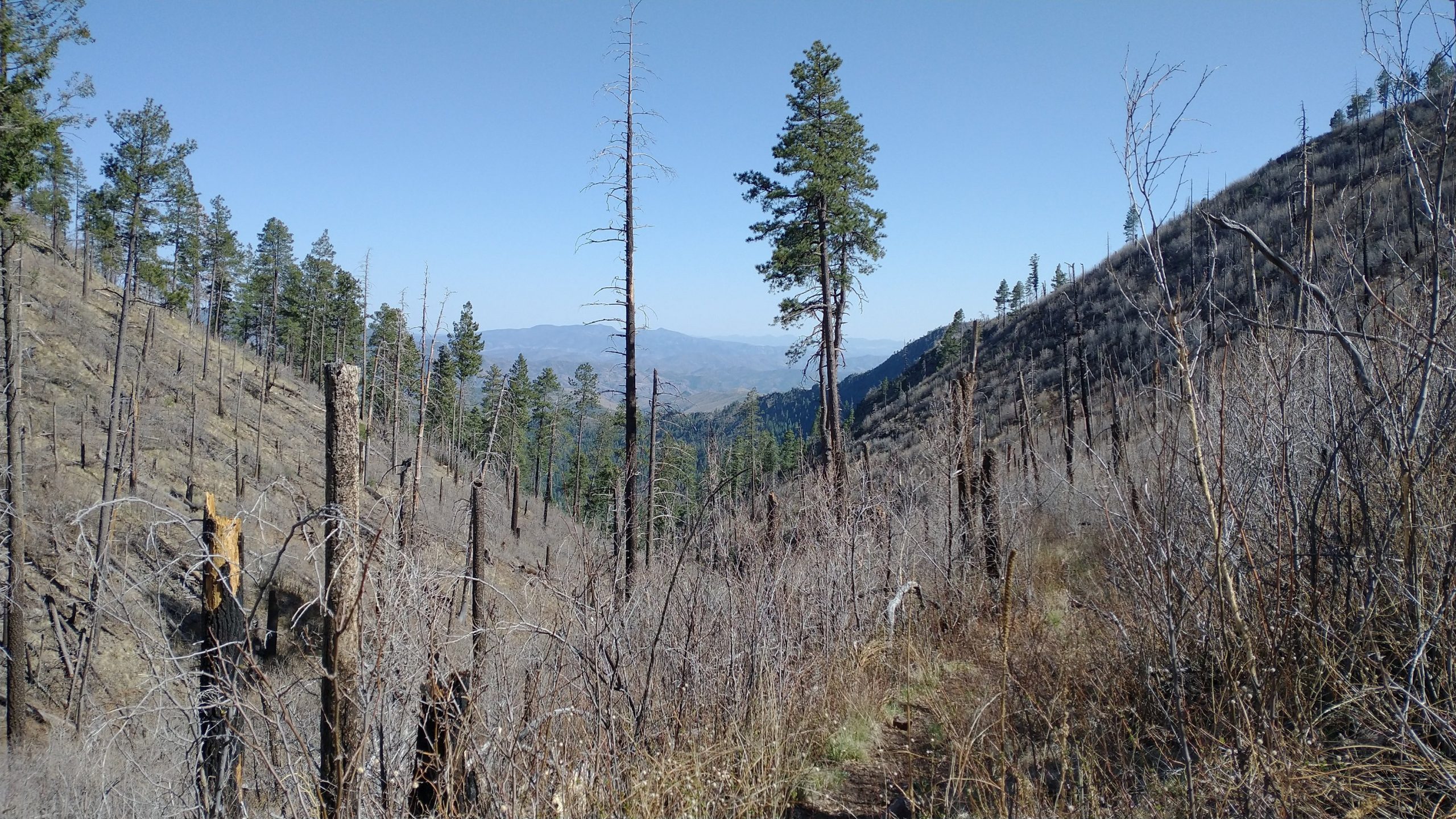 After some acrobatics, we started our thorny descent through more burned areas. The first plants to grow back after a burn are always the prickly ones. On the other hand, we had nice views of the Blue Mountains to the southwest and to the rim behind us. We even spotted Maple Peak…the last mountain we crossed in Arizona while on the GET route. The trail was pretty decent too, with nice switchbacks. As we got lower, it became increasingly rocky. My shoes, with zero tread left, were sliding all over the place. I was foot skiing down the rim…weeeee!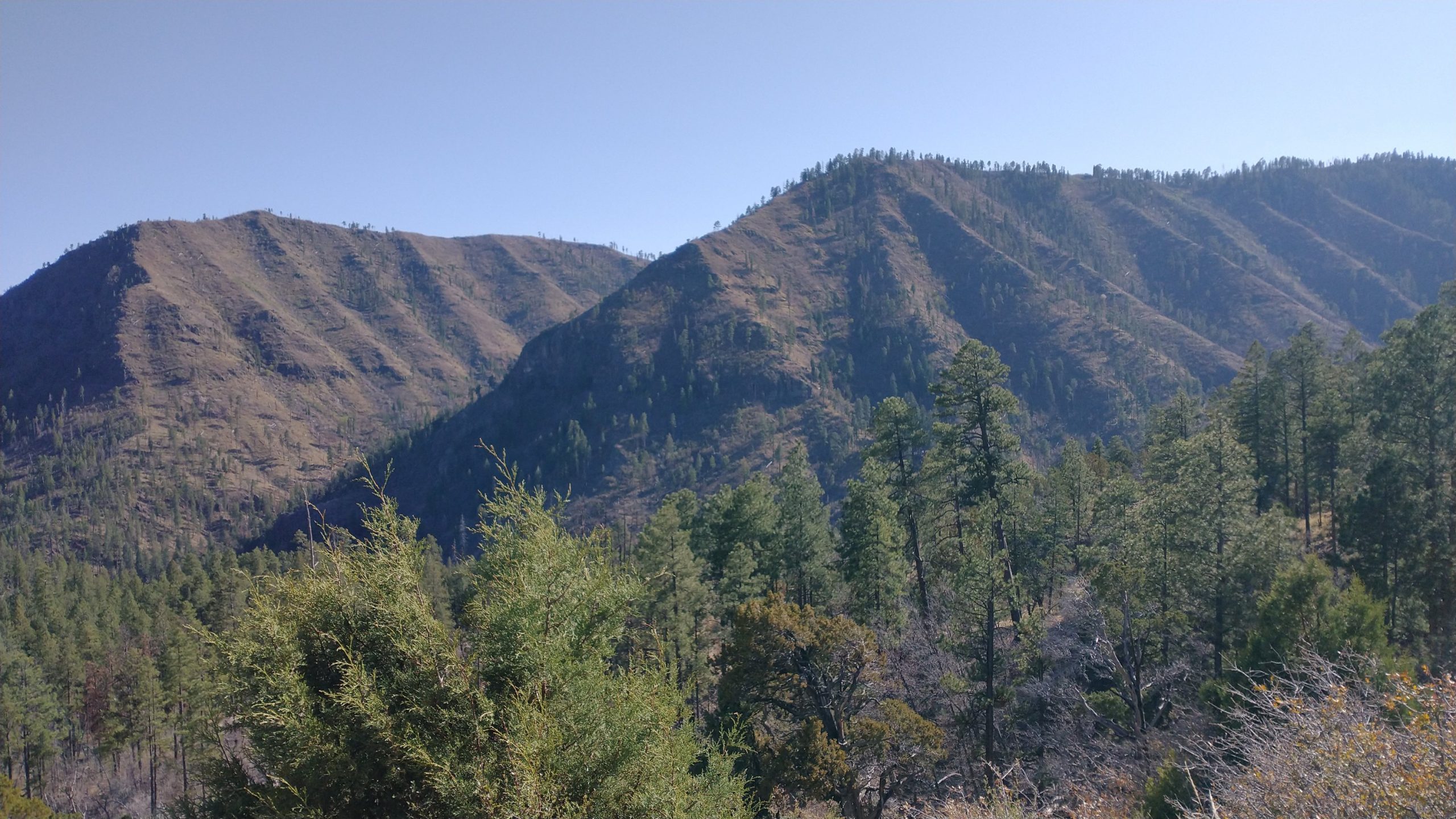 The trail leveled off for a bit, just in time to meet some of our well acquainted bovine friends. I hadn't seen much sign of them in the past week…perhaps too high and cold for them this time of year. This was a sure sign that we'd dropped several thousand feet, back into the dry, hot and dusty realms of the free range cow. I still had no idea how they managed to survive in such conditions but then, how did I? We made do.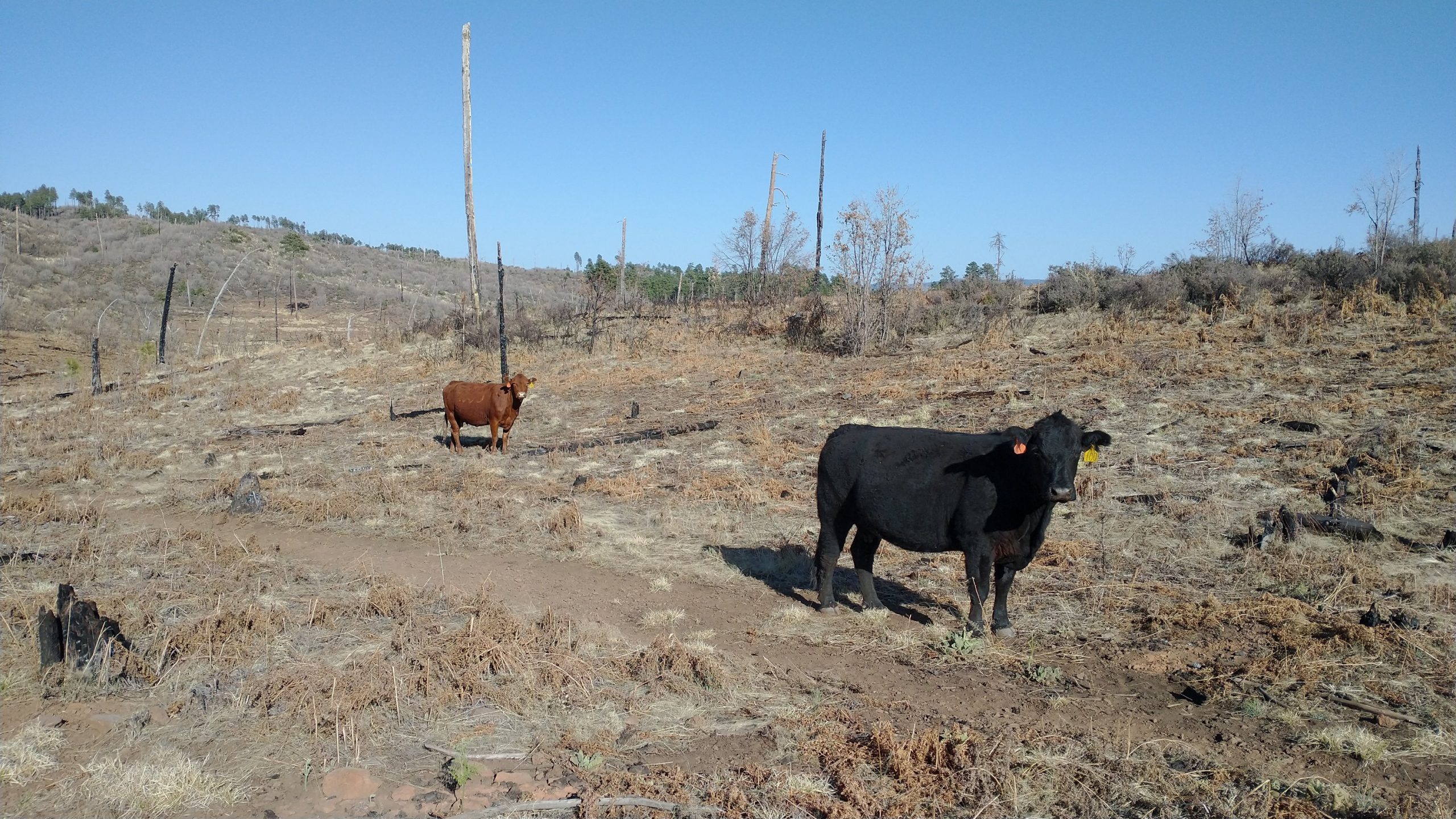 We dropped into a drainage called Grant Creek just in time for bed. Suddenly we were immersed in a lower elevation riparian environment that smelled so sweetly of all the flowering spring plants. The sycamores were leafed out and the creek flowed gently. Even the cows hadn't messed it up too much. I settled in for what promised to be a warm and pleasant night at only 5800′!