Friday Apr 29th, 2022, 0600-1920
Grant Creek to Horse Mountain Trail, EABO mm 454, Segment 7 mm 38
25.5 miles.
It was another very tough day. The morning was at least pretty chill. We walked the rest of Grant Creek to the confluence of the Blue River (all creeks in this area flow into the Blue). Based on our previous crossing of the Blue a year prior (GET 2021), I expected a decent-sized river and to get wet feet. But the crossing was tiny and bridged with some logs. 20 or so miles to the north of our GET crossing, the Blue River here was a small creek. I suspect in other years it can be quite a bit more, but the drought seemed to have taken its toll this year.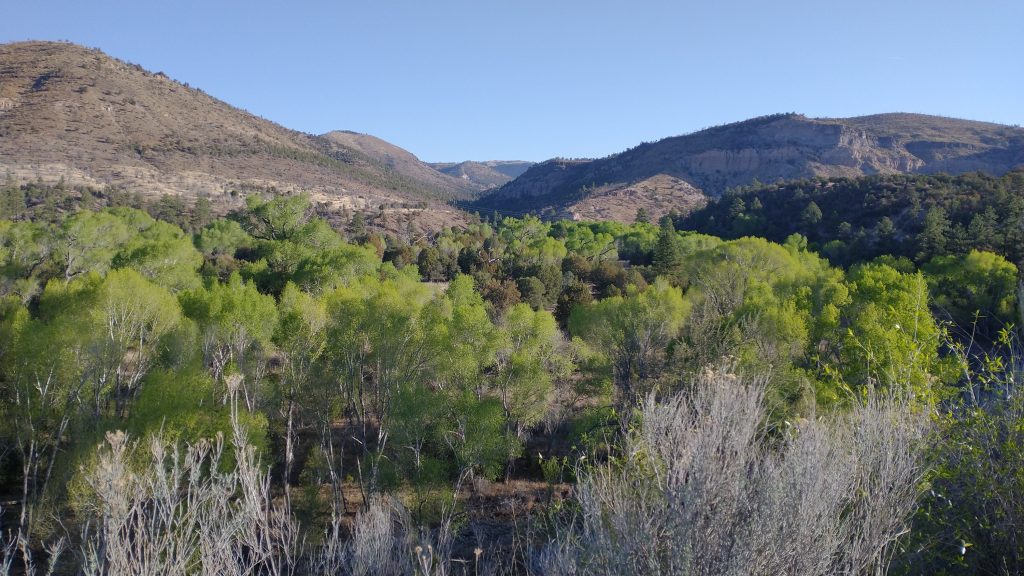 We joined a well maintained dirt road that services the ranches and even a post office in the area. We walked this road north east for 4 miles and in that time, only 1 car passed. We also had to cross the Blue 2 more times but it was nothing more than a quick rock-hop. Along the way, we came upon a trailer rig with a mule and horse being saddled and a pack of hounds running about. It was the beginnings of a mountain lion hunt but what stood out about the operation were the two hunters. One was a teenager just turned 16 and the other his brother, who looked to be about 10. They had loaded all the gear and animals, driven a few miles, then were getting everything ready for a day (and maybe night?) prowling the hills. We talked to them a bit and I could believe the maturity level required to take on all these tasks (including stalking a deadly predator). Compare this to city kids of the same age, which were barely capable of getting themselves to school.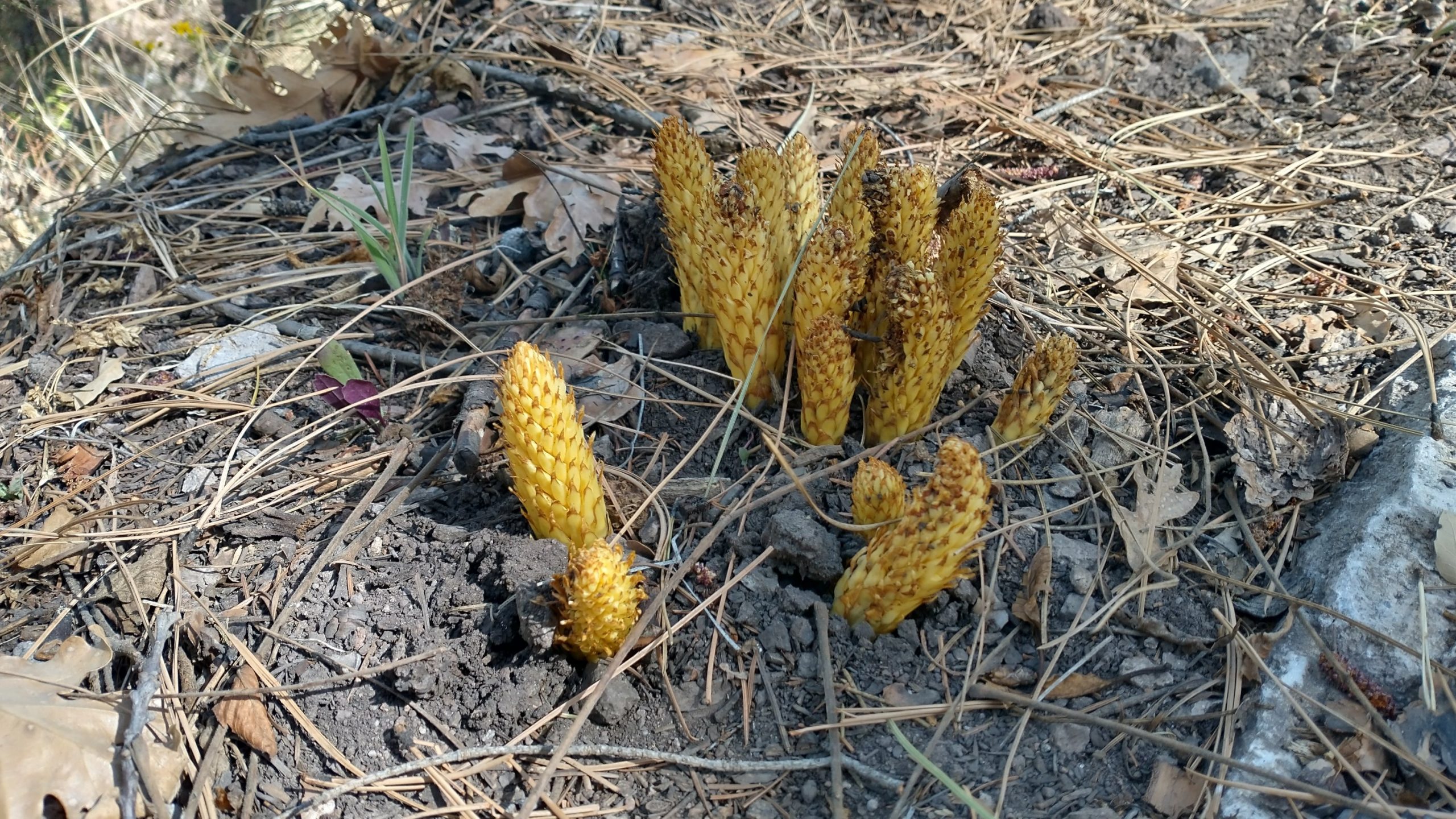 We left the road to start up another drainage…Lanphier Trail. It followed a nice creek for several miles then climbed steeply to the Franz cabin and spring. I took the half mile side trail to check out the cabin (also because it was the last reliable water source for something like 12 miles). There were a group of hunters with pack mules tenting outside the cabin. Everyone appeared to be asleep, so I didn't linger. But the trough that collected the spring water had some very cold and wonderful water, very worth the stop.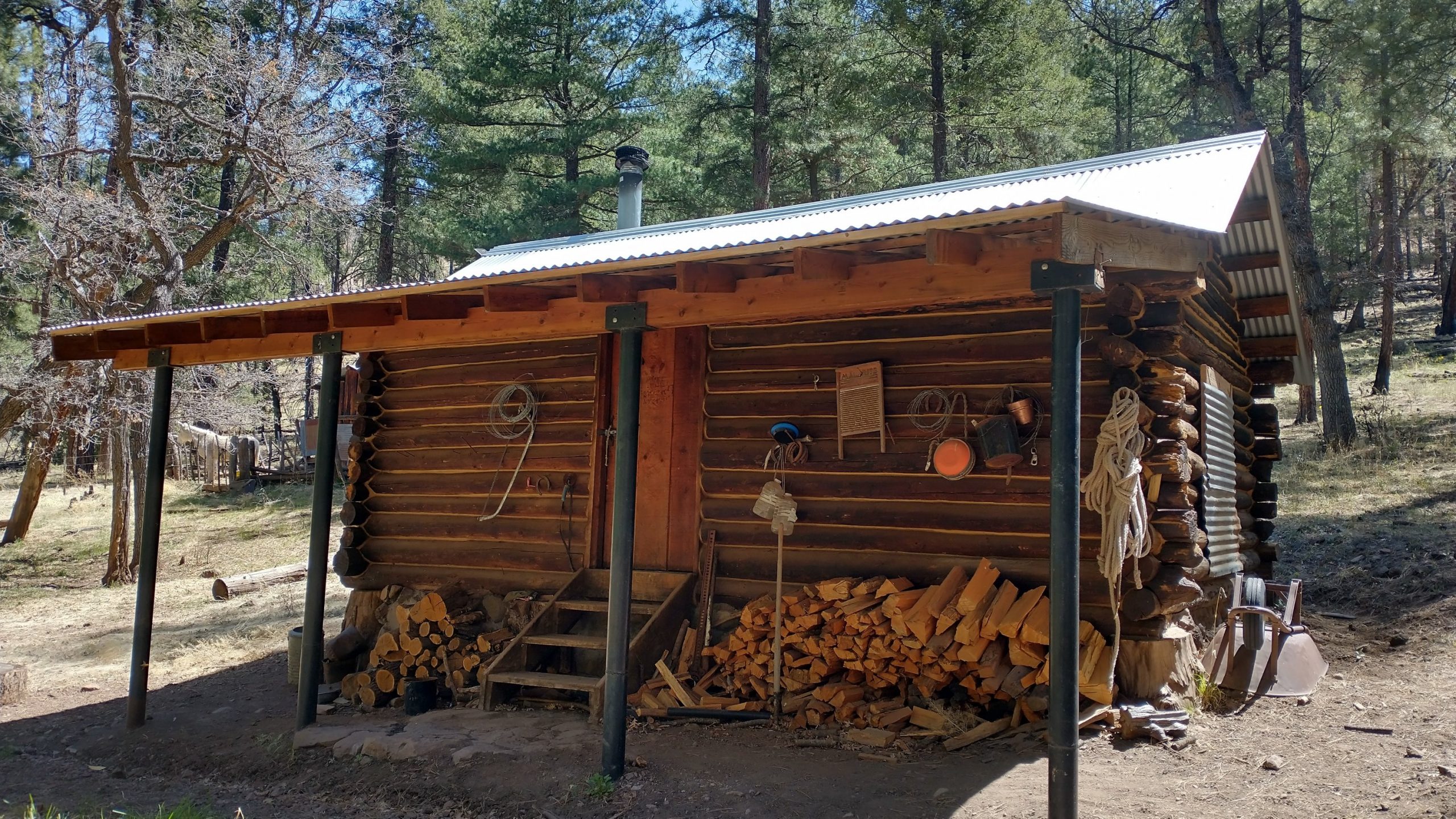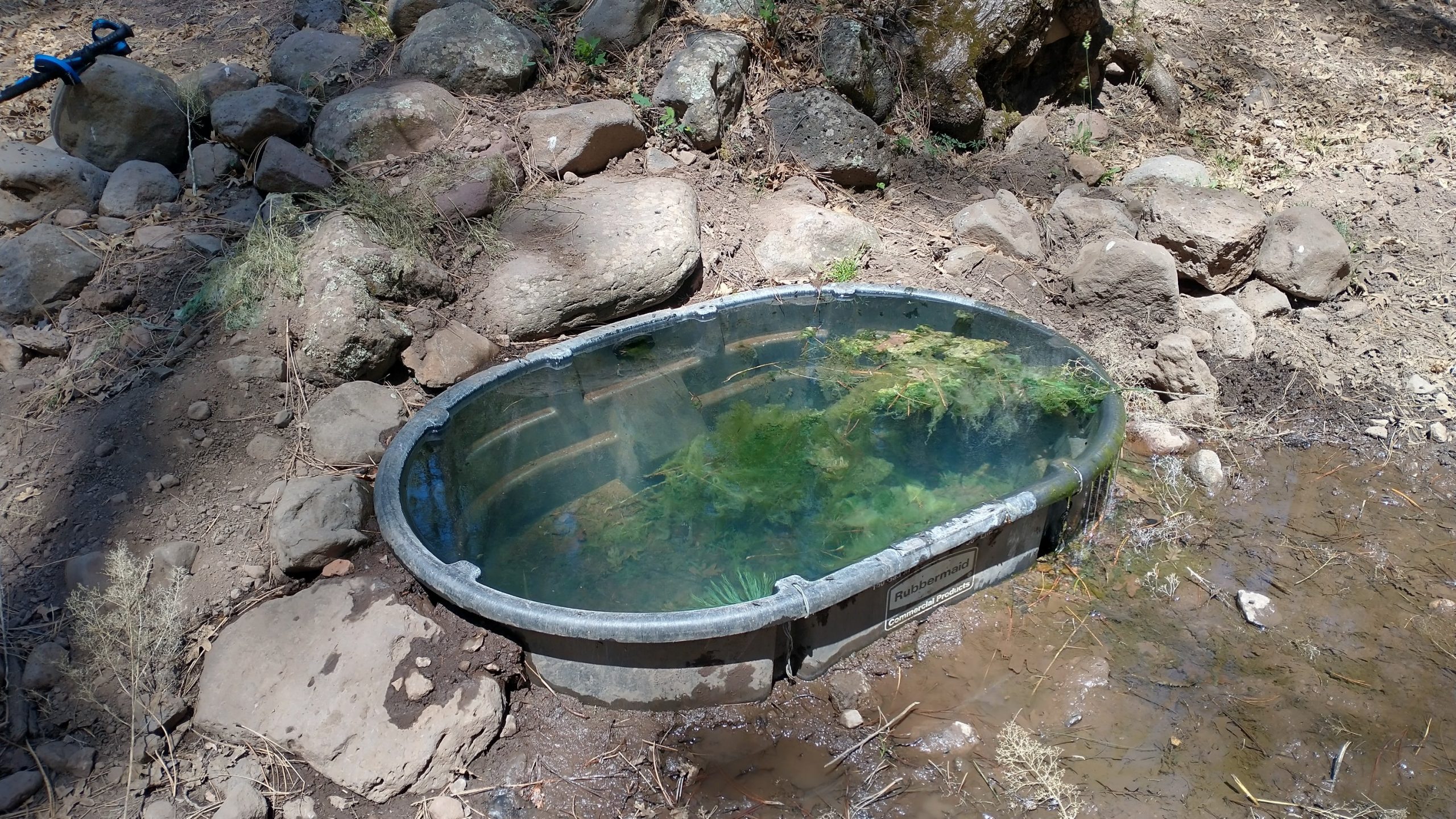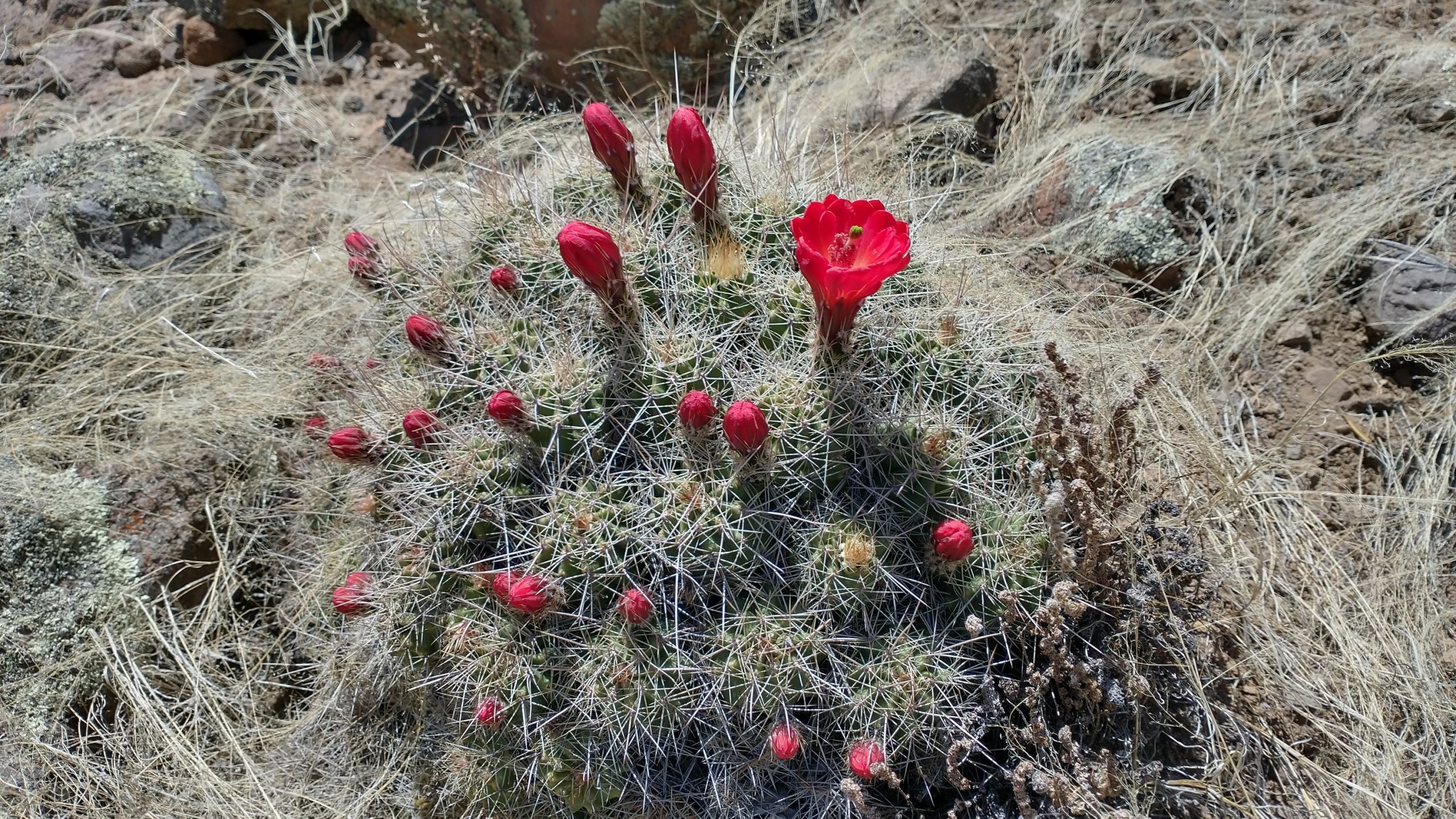 The trail intersected other trails and changed names several times. We ended up on the Bonanza Bill trail for most of the rest of the day, which was rough to say the least. A 2020 fire had impacted the area, leaving some fresh hazards. Dead trees hadn't fallen too much yet but the trail was hard to find in places, being washed out or burned away. Plus, the soil was constantly collapsing underneath our feet. There were a lot of short, punchy climbs and descents into all the little gullies. The trail wrapped around the western side of WS mountain, even bringing us into New Mexico for a few miles. Here we took another side trail to check out the Devil's Monument, a large monolith of white volcanic tuff. It was pretty cool…but I'm not sure it was worth the long roundabout through the burn.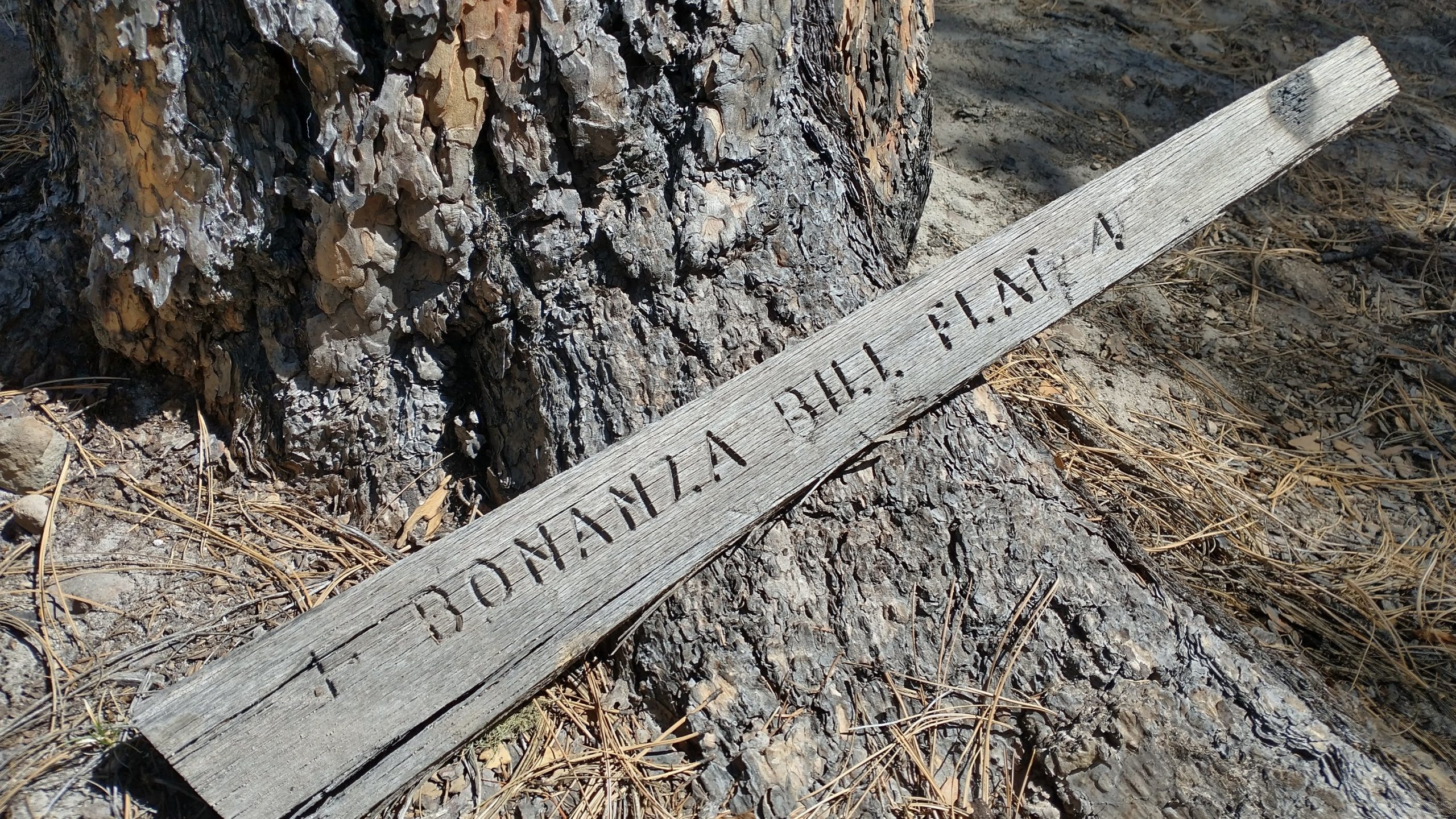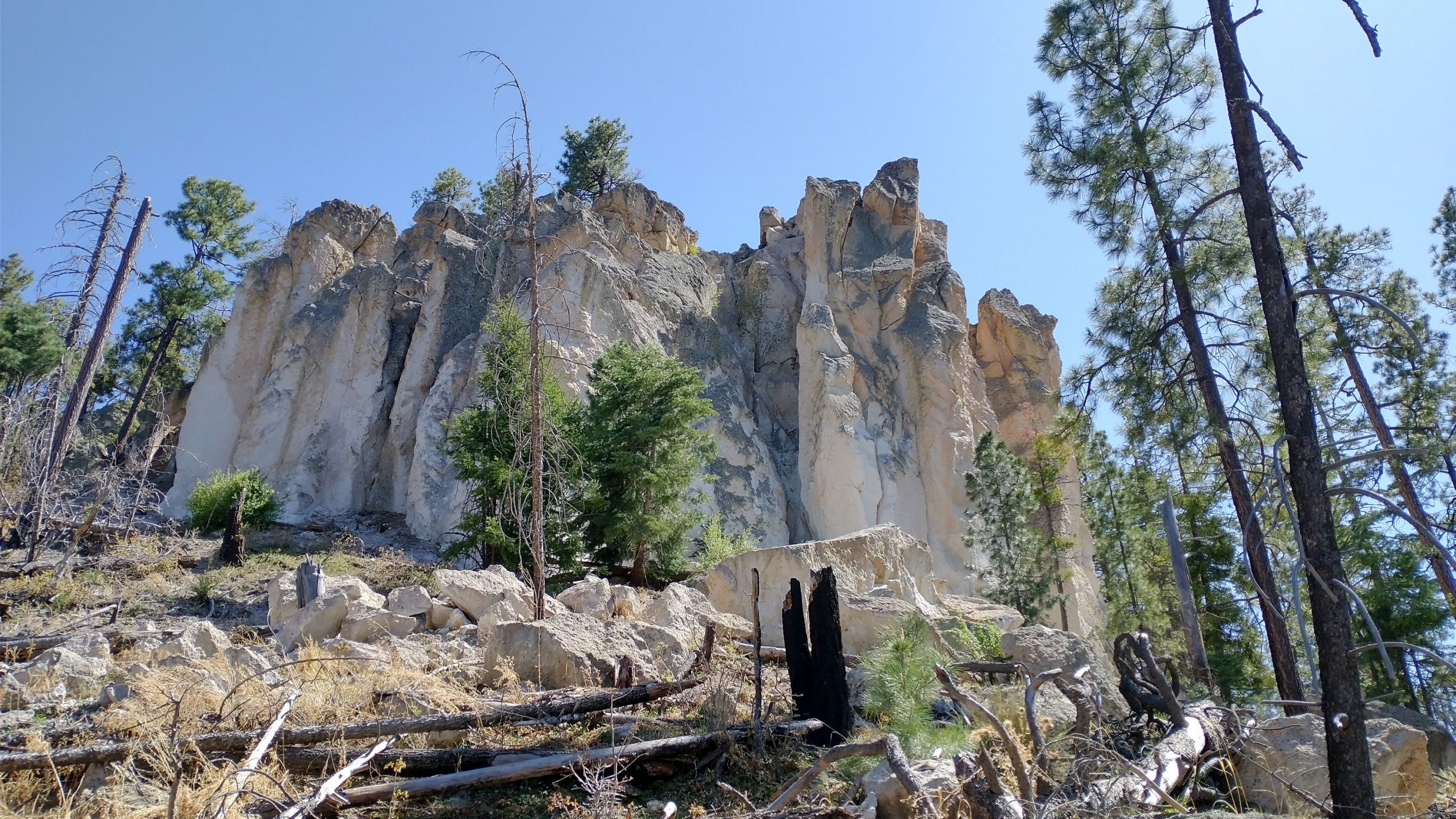 After the monument, the route climbed even higher to the tops of WS mountain. There were switchbacks laid out but they were hard to find. Most of the afternoon, I just walked cross country, free to make up my own way. There were some good views west to the Mogollon mountains of New Mexico (our destination in a few days) and even to the east, where we could just barely make out the Pinalenos. My one regret was that tree cover blocked the views to the north, eclipsing the rim. I'd wanted to study our travels through and down the rim, perhaps getting one last sight of Mt Baldy. The notes described the Tige Ridge that we were on as a geographical extension of the Rim, but it was hard to get a feel for this being the case. It felt more like a sky island of the southern Arizona mountains. Regardless, we were high once again, having gained back everything we'd given up just 24 hours prior. We topped out at 8,450′ and camped at 7,000′.
Hiking down from the mountain top on real trail that had appeared suddenly again, I came across some trail maintenance gear…some loppers, an axe, and a beautiful saw. I figured a trail crew was nearby but never did see anymore signs of them. I wondered how long the gear had been out there and hoped someone was coming back for it soon. The saw was too nice to become a permanent part of the trail.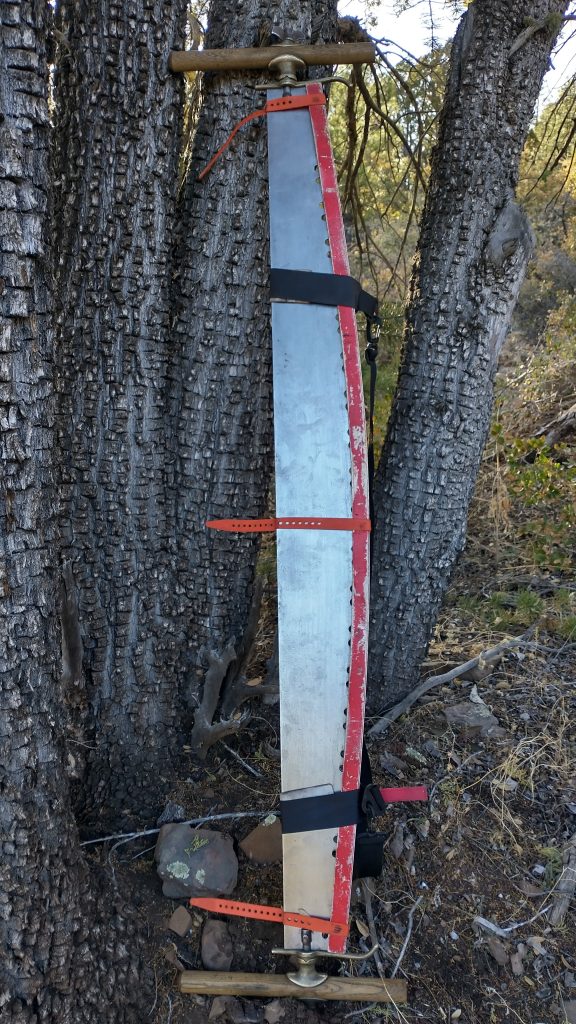 It was hard finding some good water and camp sites by the end of the day. We came to a few nasty, muddy pools heavily impacted by cows, but were able to collect good water from a seep coming out of the steep hillside just above. It took forever for the small trickle to fill our bottles but was far better than nothing at all. About half a mile later, we found a piped spring that was flowing much faster and a breeze to fill from. Oh well, you just never know if you're going to find more water in these areas. Our beta on this trail was sparse, this being a slightly new route from years before. Better safe than sorry. After this, we climbed up a gully once more, with no flat spots. We reached a small saddle just as it was getting dark, settling into a slightly burned ponderosa forest. Could be a lot worse. Plus the forest had a few owls (mexican spotted?) and a whippoorwill serenading us to sleep.