Monday May 2nd, 2022, 0630-1830
Mineral Creek to Iron Creek Gila National Forest, EABO mm 520, GET Seg 20 ALT mm 11
27 miles.
I didn't sleep well, partly because I was too hot in my quilt and also because my mind was playing stupid tricks on me. I had to leave my feet out of the footbox for half the night, it was so warm. Crazy that I was freezing my butt off less than a week before. Then I dreamt that something was scraping at me inside my tent or that something kept walking by. The creek was so close and loud that it seemed to make noises that simulated other things. Perhaps it was also the sycamore whispering to me. So much for white noise. Still, it was such a nice spot. I was happy to be there.
The morning was off to a great start with the walk up the canyon. It was too early for the light to be shining on the multi-colored walls, so the experience was more subdued than last time. Still very beautiful. Plus the morning bird song was nice. We had to do some some bushwhacking towards the end, worse than I remembered. We were coming through the canyon almost 3 weeks later, so by his time there was a lot more vegetation, including poison ivy. Regardless, we found our way to the side trail and headed up the relentless switchbacks. Oh boy does that trail climb out of the canyon fast but it's remarkable. Very well built and pretty well maintained. This brought us to Bursum Road and our 1 mile detour to Mogollon.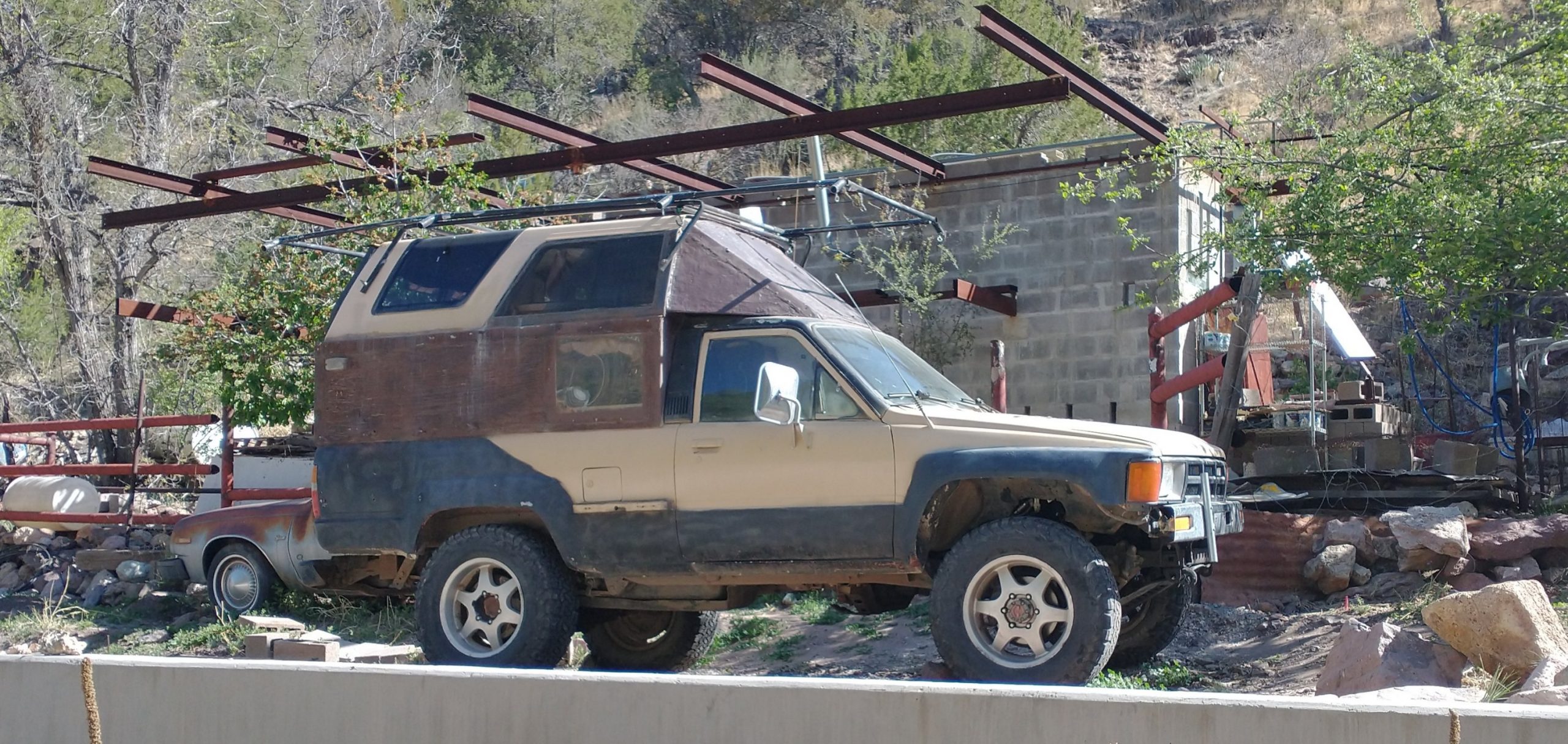 We dropped packs at the intersection to walk unencumbered. This made us appear as regular old tourists, out for a Monday morning drive and stroll. That we were…just minus the car. As in Alma, not much had changed in Mogollon in a year. There were parts that look like a scene out of a Mad Max movie, while other parts had the clean, fresh paint appeal of modern renovation. Nothing had been open last time but now the stores and one restaurant looked like they were on the verge of coming back to life soon. In fact, the word on the street was that Mogollon would re-open for the summer May 14th. We'd missed it by just 2 weeks this time. To our surprise, there was actually one store already open…a woodworking shop with the woodmaker, Niels, busy inside. We stopped to say hello, excited to finally talk to a living resident. This seemed to solidify our Mogollon pilgrimage, as if we now had someone to bear witness to our achievement.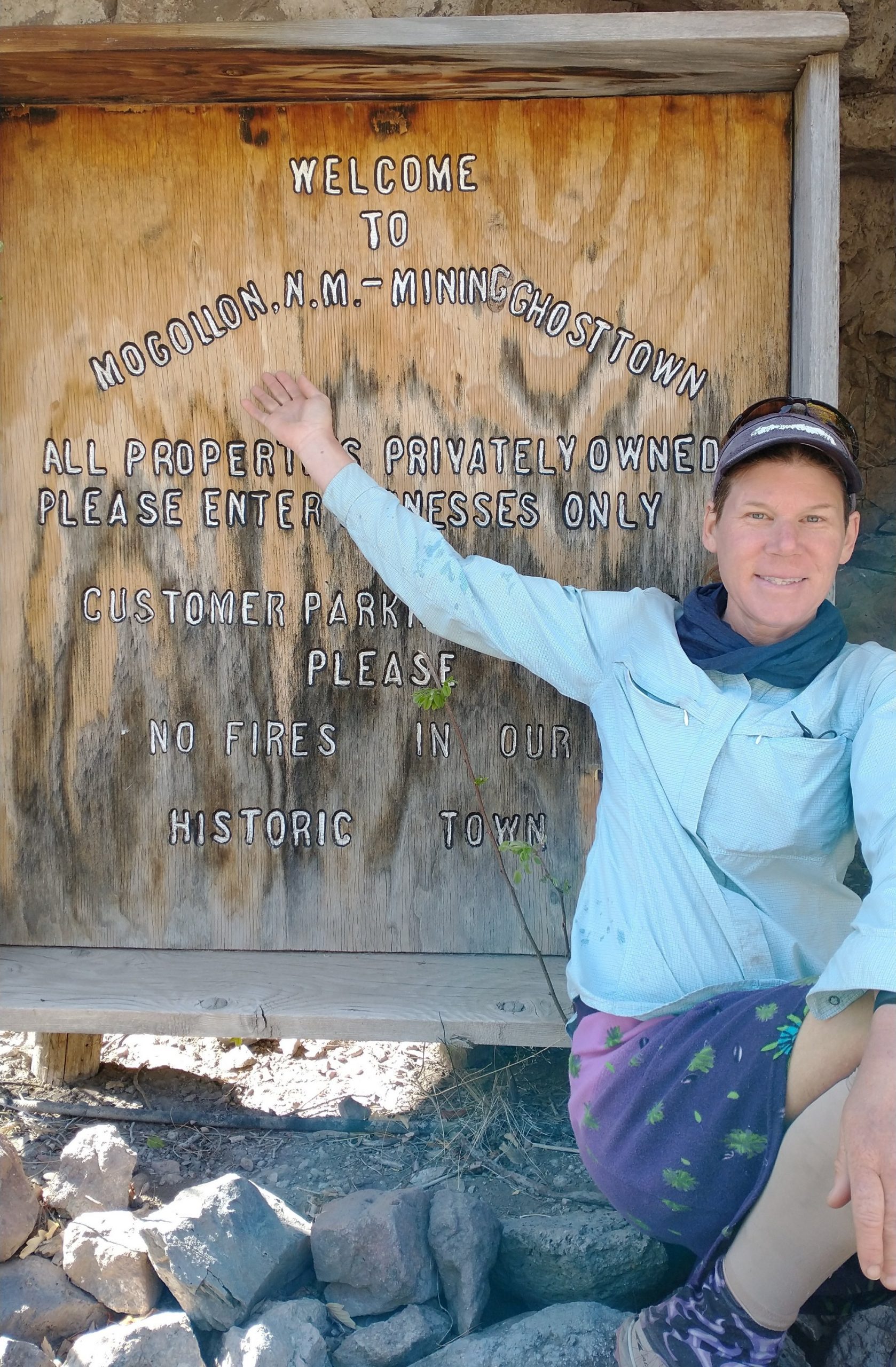 We also took lots of pictures. It's such a funky little place. Someday perhaps I'll get to stay in the inn and have a meal, rather than just walking around, peering in the windows and camping on the outskirts. We retraced our steps back to our packs, just in time to meet a father and son from Kansas driving the road but stopped at the trailhead. They'd intended to drive to Snow Lake but had decided to turn around based on reports of a fire nearby. This concerned us, because it was in the general vicinity of where we were headed. I tried to convince them that the road was still passable, mainly because I was interested in the prospects of a ride along the 15 mile road walk. But they had made up their minds, so I added that they should take their time visiting the ghost town on the return, hopefully drumming up some business for Niels the woodworker.
Having now officially completed our MRT quest, we had another few days to walk to the West Fork of the Gila River, then Doc Campbells and the hot springs, and finally Silver City. The main GET route would have taken us along the crest of the Mogollon mountains but we'd already made that mistake the year before, encountering thousands of downed, burned trees along the way. The Forest Service had given up trying to maintain the trail, given the extent of the burn. It was a disaster and only getting worse each year. We'd instead take a series of alternates through the lower Gila forest this time, which involved a long road walk to Willow Springs campground. So the rest of the day was spent climbing a couple thousand feet on the Bursum rd, then following it for many miles through the burn. At least the road had already been cleared of dead trees and was easy walking. The snow was melted, as well. A few vehicles passed by but we didn't try to hitch…only 1 was going our way. Because of the burn, we had good views back towards the Blue Mountains and the Rim, all the way to Mt Baldy of the White Mountains where we'd just passed.
I was glad to finally come to the campground and trail by the end of the day. My feet were hurting from the hard-packed road. We shortly came across a turkey hunter. I initially walked right past him without notice… he had to whistle for us to see him in his camo. I was impressed that he was using trekking poles to hike. They were all black and stealthy but I noted they were Black Diamond's, similar to mine. He was very nice and also very surprised to see hikers. He gave us good intel on water and a campsite up ahead. I wish I could've returned the favor about turkeys but we hadn't been seeing signs of them much since leaving Hannagan Meadow. A few footprints here and there was all. He'd had no luck finding them either. But wouldn't you know it, as we settled into the very campsite he'd told us about, we heard them tricky gobblers nearby. That's the way it goes. Somehow they know we're not a threat.