Wednesday, Aug 2nd, 2023, 0620-1840
Little Bald Hills Trailhead to Harrington Creek, BFT mm 38
28 miles, Gain 6420′, Loss 5190′, elevation 1365′
Bigfoot didn't bother me overnight, nor did anything else. I enjoyed the easy trail leading to some balds first thing in the morning. The path was wide, well graded and maintained. I knew this would be the best trail until I hit the PCT in 100 miles, so I tried to savor it. It was probably the biggest climb I'd done this trip but it felt pretty easy. My pack was still very heavy, though. At the top, I tried to get one last glance of the ocean, but it was covered in fog. It was bittersweet to be leaving it behind. On the one hand, I was glad to get away from all the towns and people along the coast, entering some true wilderness areas in the mountains. But I was going to miss the cool temperatures, beach walks, and the sound of the surf lulling me to sleep and drowning out all other noises.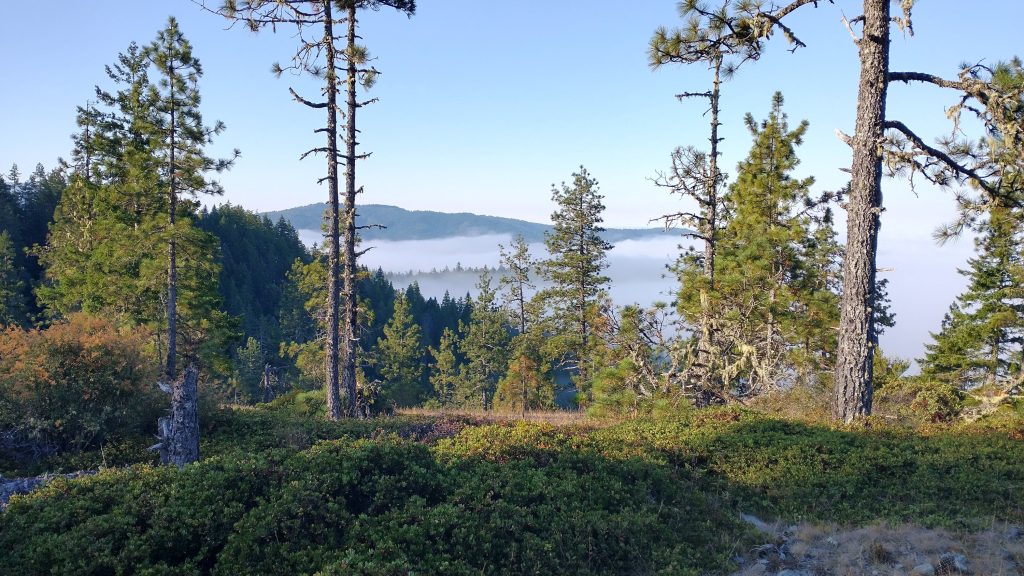 What an abrupt transition it was from the lush coastal redwood forest to a dryer Douglas fir and pine forest. I was surprised to even find my favorite conifer, ponderosa pine, at the very top near the bald area. Suddenly I was brought back to a more familiar forest from the PCT in Southern Oregon and Northern California. The smell inspired happy memories. As I descended from the bald, I spied an animal ahead on the trail. Bigfoot? It was black and hairy. But no, it was just an ordinary bear, small and really scrawny. Funny that my first instinct was to be as quiet as possible to sneak up closer behind it. I've walked up behind many large predators before: bears, a bobcat, and even a mountain lion. I find it odd to be the one creeping up on them instead of the other way around… prefer it that way, too. I matched steps with the bear for about 50 yards until it finally head or smelled me, then took off like a shot down the trail. Poor dude, I scared the crap out of it. It was just trying to stock up on the little red huckleberries along the trail, which I partook of too.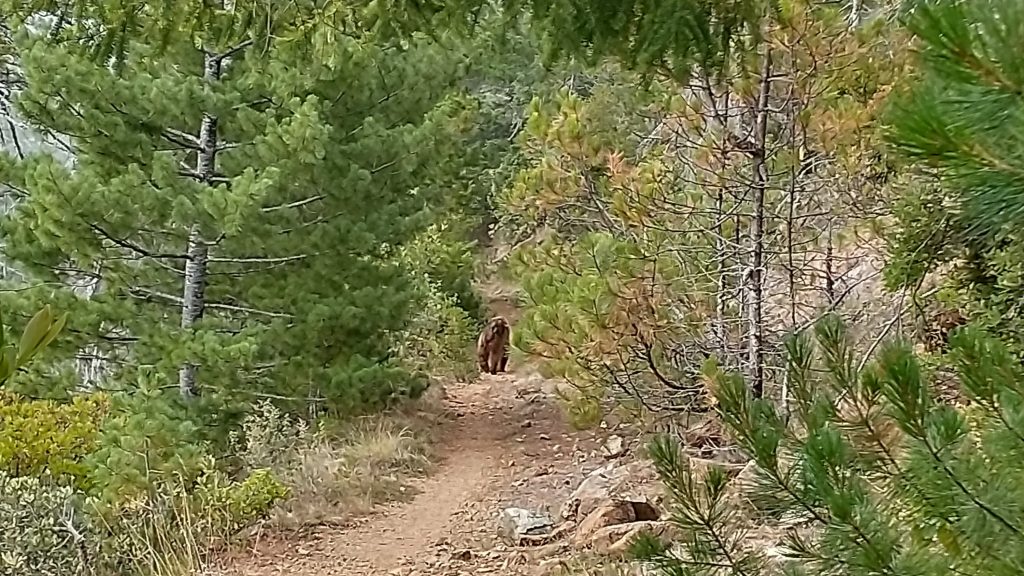 I reached the end of the nice trail, and the last of the Redwoods park. Next was a 12 mile road walk…boo. But unlike highway 101, this road had almost no traffic. Maybe a dozen cars passed while I was on it. I stopped for an early lunch just past Steven's bridge, where there was a privy and access to the Smith River. All the swimming holes along the river looked magnificent, clear as glass with an aquamarine tint. But for some reason, I still couldn't bring myself to go for a dunking. I just wasn't that hot…yet. After lunch, the road left the river and entered a long climb of nearly 1500′. Now I was hot! It was in the 80s and I was sweating like crazy. The forecast for Seiad Valley was calling for highs in the upper 90s, possibly reaching 100. Ouch. I put up my umbrella, which helped some. I also made a point to drink lots of water. There had been many great water sources… another thing I was glad for was to be able to filter water again and not depend on towns and campgrounds.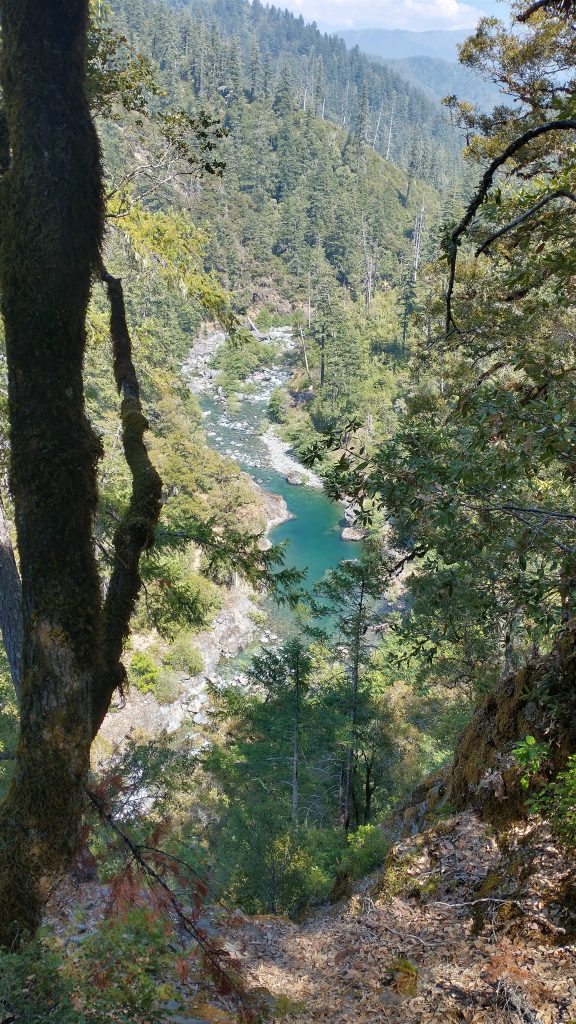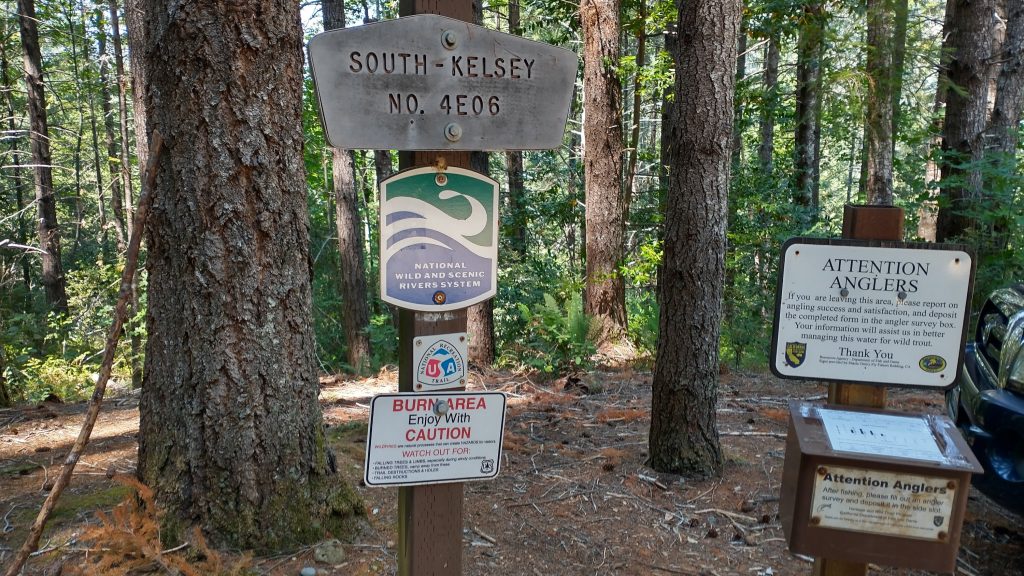 The road turned to gravel and descended to a trailhead. This was the start of the South Kelsey Trail, which I'd be on for almost a day. I'd read that the first 5 miles were good but that it was really rough after. As expected, the trail was pretty good right up to Eightmile creek. I even passed a shelter at Buck Creek and saw 2 backpackers. The rustic shelter wasn't very nice, no bunks and a dirt floor. But I finally took advantage of the creek and went for a dip. The cooling effect was perfect and really helped me pick up my steps. Immediately after the crossing at Eightmile, I could barely find the trail. Apparently no one but BFT hikers go past that creek. I scrambled up a very steep slope, clawing my way to the remnant trail. I guess the creek had washed it away on one side. For the next 3 miles, there were some blowdowns and rough trail, but nothing too bad. Boy was I tired though. I should have stopped at 25 miles for the day but I wanted to get as early of a start as possible on a 4500′ climb the next morning, so I pushed on. It was reported to be a horrific trail going up the mountain and I was not looking forward to it. At least the morning would be cooler.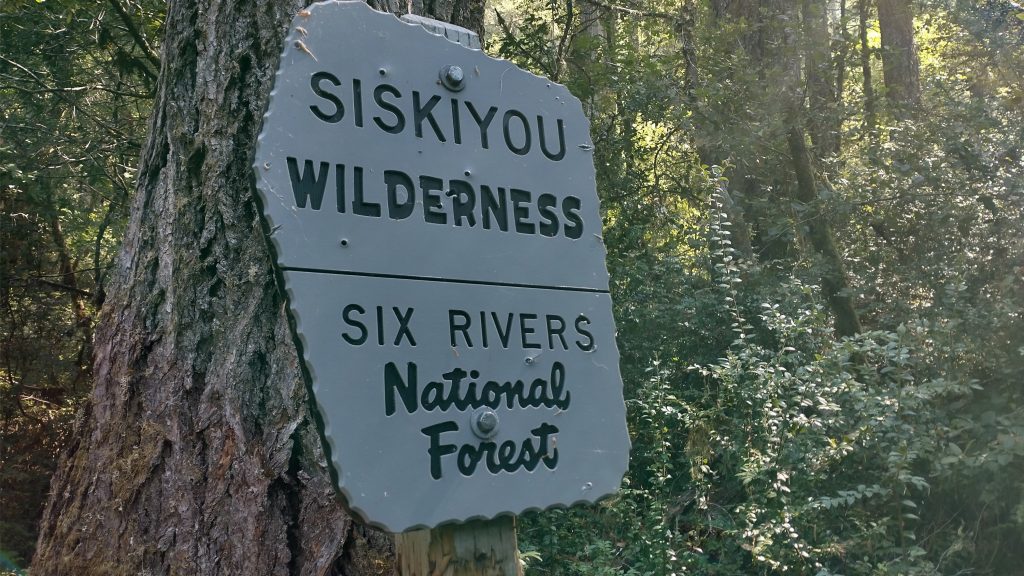 The last mile really dragged and I was so happy to get to camp. It was a big day, both milage wise but especially the gain and loss in elevation, which I wasn't quite used to. I was in good shape but still. I threw up the tent fast in a nice spot by the Smith river. The mossies were back, too. There had been some at times by the coast but nothing compared to the mountains. I'd already gotten a taste of them in the Redwoods. I rinsed off in the river and danced around naked to shake the water and mossies. I didn't figure their was much of a chance of someone walking up on me…besides Bigfoot.