Saturday, July 22nd, 2023, 0600-2000
Sixes River to Humbug State Park Dry Run Creek
17 miles, Gain 1500′, Loss 1500′, elevation 170′
This was one of my favorite campsites, so I was not excited about leaving just to ford a cold river right off the batt. It was still foggy and the wind blowing, though not as bad. I could see quite a difference in the river level but I was still about 3 hours before the low, so I thing the water level was about +3′ The current was ripping at the outflow onto the beach, the swiftest I'd seen of any water crossing on the coast yet. I went for it anyway and the water only came up to my knees. Thank goodness, since I really didn't want to get my clothes wet. It was 51 degrees plus the wind chill, so I had a hard time getting my shoes back on with my frozen hands and feet. I was so happy to finally be done with that river and just be walking to warm up.
I only had about a mile or so of beach before the trail leading up to Cape Blanco. I couldn't see hardly anything because of the fog. I was worried that I missed the trail because my OCT trackline showed that I had overshot, so I backtracked a ways and still couldn't find any trail up the bluff. My trackline was wrong (as it often was). The trail was further south and eventually I located it. I hate fog… it's very disorienting.
Cape Blanco is the westernmost point in Oregon, and apparently is always windy, maybe foggy too. Even though conditions were pretty yuck, I ventured a half mile off track to see the lighthouse. I had to get very close to see it through the fog. It was only 7 am, so I was the only one out there. The place officially opened at 10 am, but I wasn't about to stick around that long, freezing and getting wet from the fog.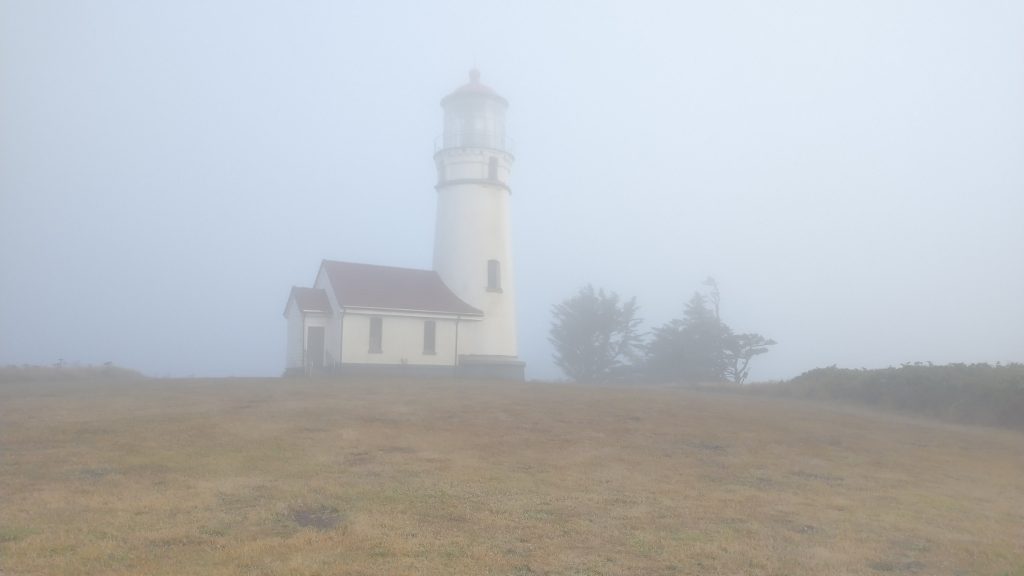 I continued into the forest, passing by the campground. There were several lookout points along the way, but I figured there would be nothing to see. To my surprise, the coast was clear! It had been less than 15 minutes since I left the cape, covered in thick fog. Looking back several times throughout the day, I could see that it was still covered in fog. Must be something about the way it juts out into the ocean that the area collects fog.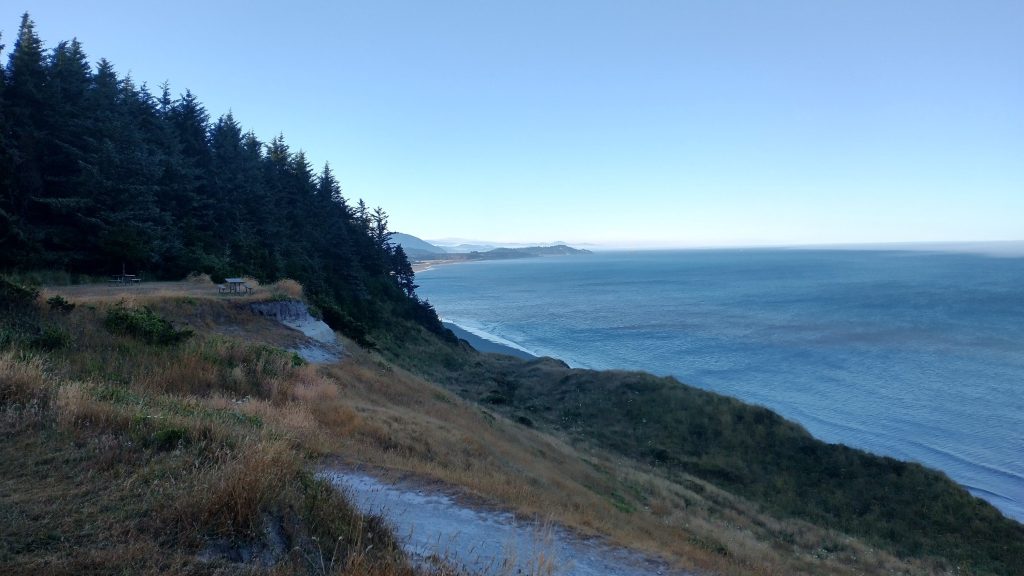 I dropped down to another beach, which was a delight in the sunny weather and almost no wind. I immediately saw Altra Lone Peak shoe prints, the same I'd been seeing the day before. I figured they were from a female hiker that a NOBO said he camped with recently. I crossed the Elk river, which was more like a stream at only ankle deep. At that point I could see the hiker ahead, so I picked up my pace to catch up. Then I met several groups driving jeeps who had come in search of agates. Just as I saw them get out with their search sticks (they have a claw \ scoop at one end so that you don't have to bend over), I remembered that Mike had told me about these beaches being good places to find agates. I looked down just then and there was a polished yellow\orange clear stone sitting right there. I talked to the other people and they showed me some things to look for. I had a hard time distinguishing agates from all the quartz, but it was fun to look for them as I walked.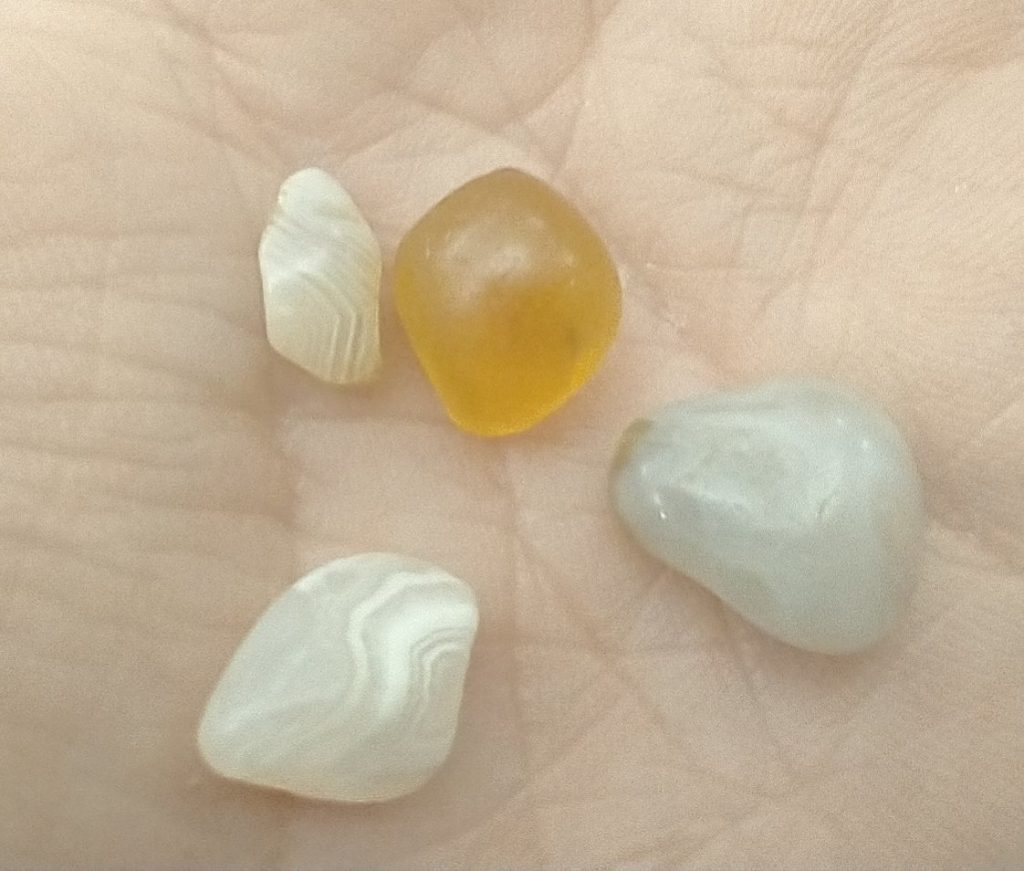 I caught up to the other hiker just as we got to the end of beach. Her name was Nancy and she was from Washington. I walked with her briefly to the center of Port Orford, where we split ways, as she was staying with friends. I visited a farmers market and spent way too much on fresh baked pastries, kombucha, and street tacos. But it was nice to support the locals. A vendor was selling rather small tubs of boysenberries for $5, which are similar to blackberries. He stated that boysenberries ripen well before blackberries, but I happened to know that the blackberries were just starting to ripen, too. I'd been walking past them for weeks, watching them progress, and I'd just found a few ripe ones days before. I couldn't bear to buy a tub when I knew I'd be gorging on them soon. Sure enough, I found heaps of them in Humbug State Park later that day.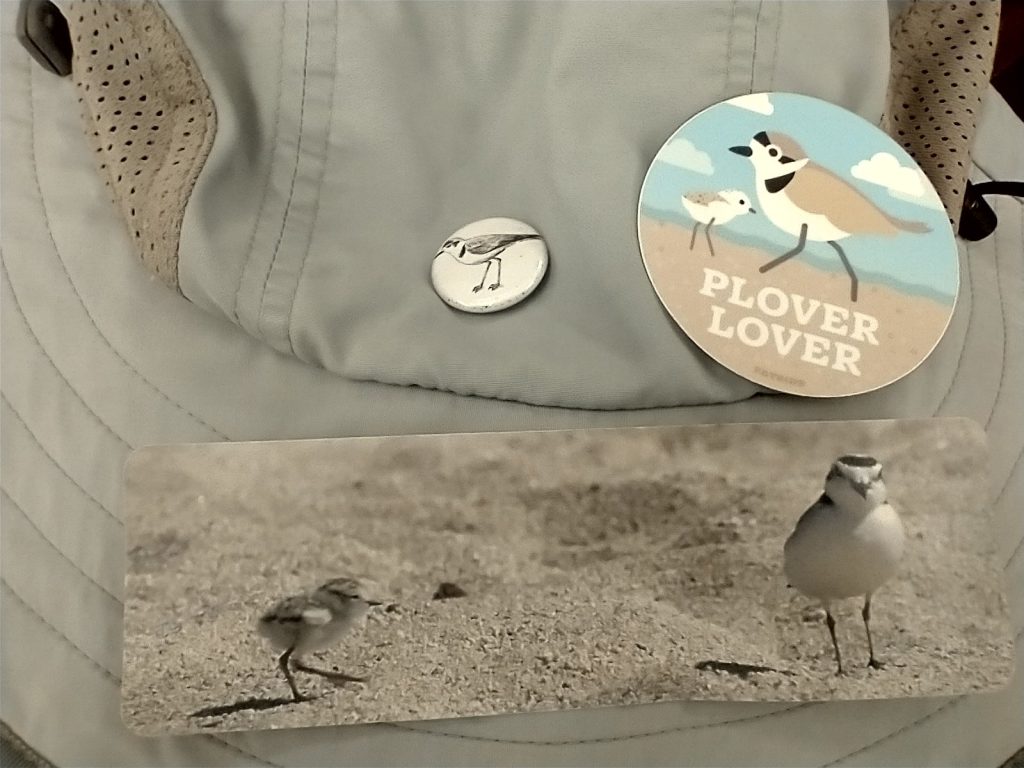 I did the usual small town stuff: grocery store, Dollar store, and library loitering. The Port Orford library was my favorite yet, mainly because it had a big fluffy live-in cat. I got some computer AND cat time in. The librarian was also exceptionally nice, continuously crediting me more computer time with me even having to ask. I debated a dinner of fish and chips before I moved on, but settled on a wrap to-go instead.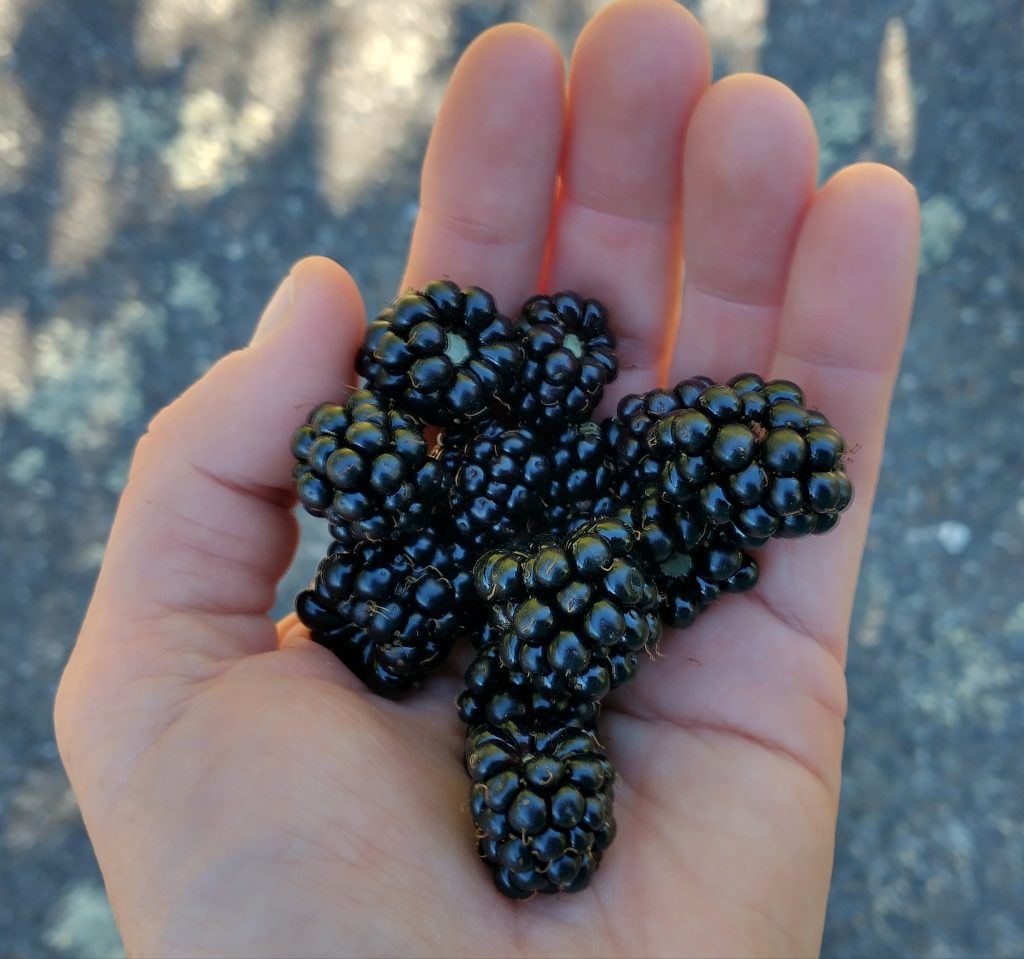 From town, I walked the beach to Rocky Point headland, where I once again couldn't find the trail leading off the beach… I didn't go far enough for the second time this day. So I took a deer path up to the highway, which was not great in that I did some steep bushwhacking through blackberries. I walked the highway for a mile or so, then turned onto a section of the old coast road, which had been repurposed as a hiking and biking route. It was nice to be on this quiet road \ path and it inspired me find a quiet camp just off it. I followed a creek into a lush forest and slept in the crook of a giant hemlock. Another great site.
A side note, I meant to keep better track of the amount of road walking I did on this hike but didn't keep a good tally to this point. So much of it was no big deal to me and I also got really lucky with low tides and boat rides, which kept me on the beach and off roads a lot. It's one of those things that just varies quite a bit from person to person.