Monday, Sep 11th, 2023, 0640-1120
Round Lake to HWY 50
13.5 miles, Gain 1950′, Loss 2810′, elevation 7520′
Plans to meet up with my Hayduke buddy Sky finally came together. Originally they were going to meet me in Tahoe City to hike the whole TRT. But they got caught in the mud at Burning Man, then had a lot to clean up afterwards. I heard from them this morning that they were driving all the way from Oakland and would be arriving in the afternoon. This worked out perfectly because it was about 15 miles to Echo lake from where I was, but I couldn't go further than that, given the restrictions with the Desolation wilderness. The TRT\PCT segment that goes through the wilderness is about 26 miles…easily doable in a day for me. Otherwise, camping overnight requires a permit and bear canister. I didn't really plan for either but figured I'd see what Sky wanted to do when they arrived. Regardless, I had to cut this day short at either hwy 50 or Echo lake.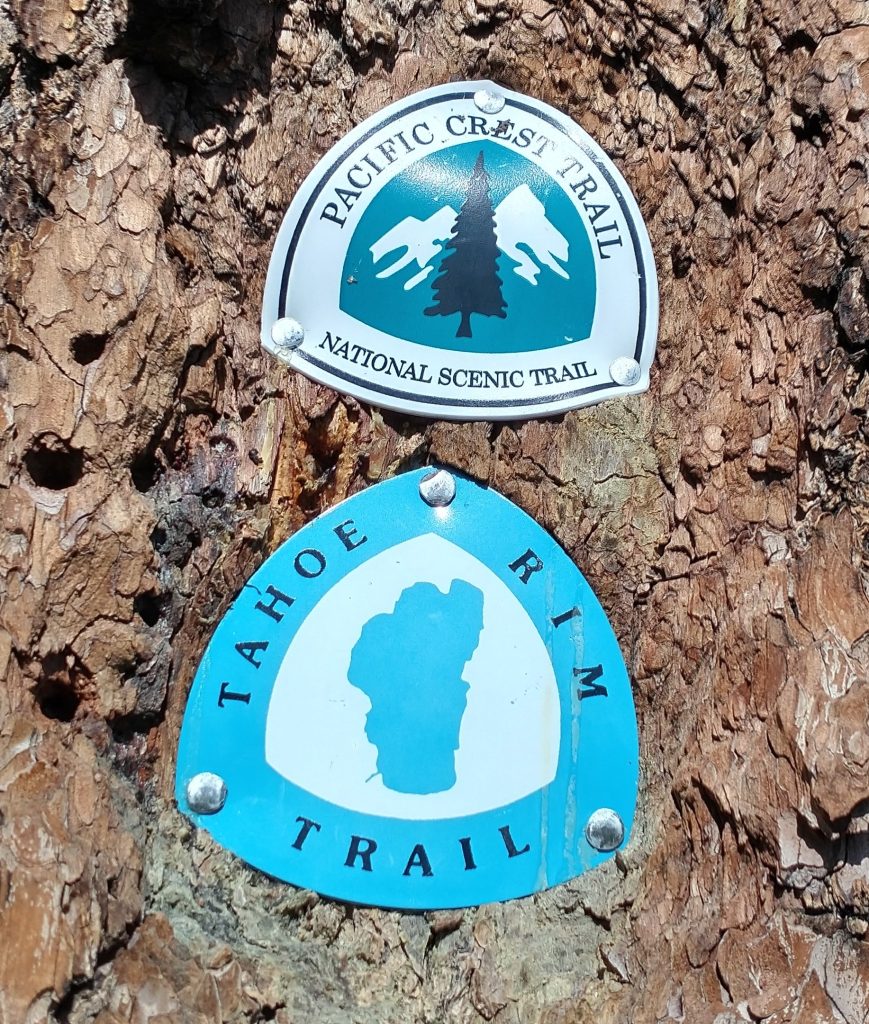 I hiked 2 miles before rejoining the PCT portion that the TRT shares. I was really happy to be back on the PCT, if only to see more hikers. This was familiar ground that I'd already covered in 2018, but different still in that now I was traveling north. I was finally a NOBO… something I almost never do, haha. I actually did hike north on the PCT once before, for 30 miles at the start of my southbound hike to reach the Canadian border. All SOBOs have to start this way, that is if they want to do the whole trail. The US doesn't permit entry from Canada along the trail.
I walked for several hours before seeing anyone. On such a popular trail, this seemed surprising. But my early starts are rather isolating. I enjoy the solitude the early mornings bring, then again, I had almost nothing but solitude the whole summer. Finally I saw a guy packing his things near a lake, then caught up to a few more hikers on trail. Two guys, going opposite directions, stopped to talk as I approached. They knew each other from earlier this year and it seemed both had been flipping around. The NOBO teased the SOBO for "going the wrong way", which ruffled my feathers but I couldn't correct him because I too was going the wrong way, LOL.
Then I ran into TRT counterclockwise hikers Close Call and Teflon, who I was excited to see. They were the first TRT hikers I met and the nature of the trail being a loop means one has a good chance of seeing people multiple times. This seems to result in a closer connection rather than a fake rivalry between hikers of the opposite direction. It really doesn't matter which way one goes on the TRT…the point is to end up back in the same place one started. Loop hikes are pretty cool in that way. We chatted about the trail for a bit and bid farewell. I was pretty certain this would be the last time I saw them, since I only had 2 days remaining, as did they.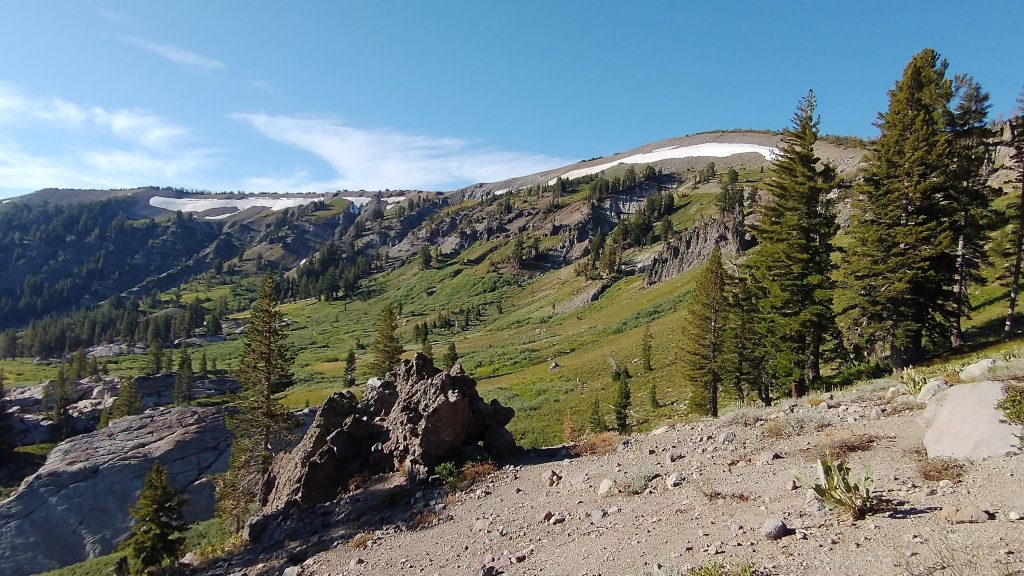 The trail was pretty mellow in the first part of the day, passing through Meiss meadow and by Showers lake. There were a few short ascents, then a big descent towards the highway. I remembered going uphill with my freshly added weight (bear can, heavier layers and quilt) in 2018 and hating life. I guess this was one advantage of going NOBO this time. My pack wasn't too heavy and I was going down. I still had way too much food, especially now since I was considering hitching into town again. Sky wasn't set to arrive until 2 or 3 pm and there wasn't much to do around Echo lake, since the chalet was reportedly closed. I knew the hitch from hwy 50 to South Lake Tahoe would be easy. The harder part is always hitching back to the trail, but I didn't have to worry about that, thanks to Sky.
I got to the highway just after 11 am and stuck out my thumb. After 5 to 10 minutes max, a guy pulled over. He had a kayak on top his vehicle, so I knew he was cool. He was returning home after just buying the yak, which had a pedal drive that he'd been wanting for a long time. He reminded me of my kayaking friend David Chen, who was always on the hunt for used boats. We had a nice chat on the drive into town and he dropped me off at the Safeway at my request. My plan was to of course stuff my face with semi-real food. This took about an hour and after I went to the library, which is always the best place to go linger for the day. Computers, charging, comfortable places to sit, and bathrooms, all for free! If only I could take a shower and pitch my tent inside or nearby, I'd be all set.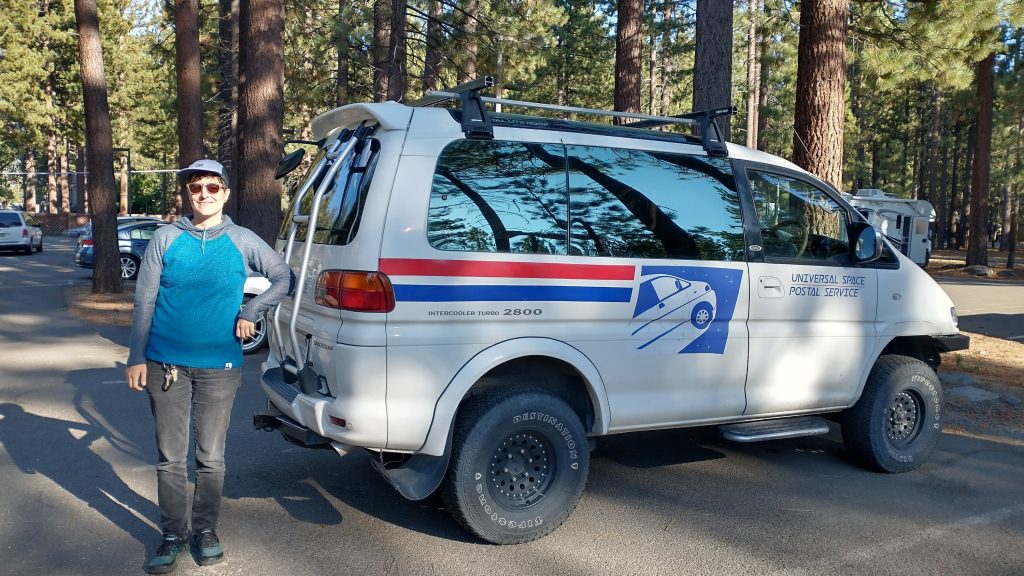 Sky arrived and we sat outside the library, catching up. They showed me their awesome Mitsubishi Delica Universal Space Postal Service van, which is a diesel right hand drive 90s vintage wonder. We drove around town to a few places, while I gritted my teeth sitting on the left side but not driving on the left side of the road. I once owned a right hand drive toyota in New Zealand, plus did some driving in Britain. It was hard for me to be in such a vehicle but be on the right "wrong" side of the road. I was glad Sky was driving.
We met up with Silver Bullet, who also just got into town, and reminisced about the Hayduke over bad margaritas. It was a fun night and got late quickly. Sky and I roughly came up with a plan to do some peak bagging the next day, then needed to find a place to retire. The van would provide out refuge and the Echo Lake trailhead was perfect for 'parking' for the night. The van had tons of room in the back and a most comfortable bed. There were even skylights for viewing the stars. I was very grateful to Sky for sharing their cool space. It was a great day hanging out with some new friends.