Tuesday, Sep 12th, 2023, 0800-2040
Echo Lake Parking to wilderness border
24.5 miles, Gain 4900′, Loss 4480′, elevation 7940′
I slept really well inside Sky's van. It was very cozy. We hung out for a bit making coffee and eating breakfast in the morning. We had a big day ahead but neither of us were in a rush. I guess that comes from the confidence of being thru-hikers…we know we can do big miles in a day. We had to, given the restrictions imposed by the area. The Desolation wilderness had so many bear interactions in past years that they moved to requiring bear canisters for overnight stays. They also have quotas for the most popular areas around the lakes. Such campsites are notorious for habituated bears, so I planned to camp away from any established sites just on the border of the wilderness. Getting there in a day would have been easy, but now I also planned the side trip to the top of Dicks Peak. I just wish there were more hours in a day sometimes.
We filled out a free day permit to be legit and started from the Echo lake trailhead. I missed about a mile and a half of the trail from hwy 50 to this trailhead, which was no big deal since I hiked it during the PCT. All my side trips on the TRT more than made up for it, distance wise. With our fast pace, we were passing other day hikers and backpackers left and right. It's a very popular trailhead, somewhat crowded even on a weekday. Sky's fitness was impressive to be able to keep up with my thru-hiker pace. I was about 1200 miles into the summer at this point. I also had been doing miles at altitude, some well over 10K feet. Sky had come from sea level just the day before. Way to go Sky! Badass!
We took a brief pause to go for a swim in Aloha Lake. It's one of the most beautiful lakes I've ever seen and the water was pretty refreshing …as in freezing! Last time I passed by, it had been very cold that day, so I didn't even think about swimming. I guess I've also gotten a lot more tolerant of cold water over the years. This day it felt good, especially since we were climbing to the pass.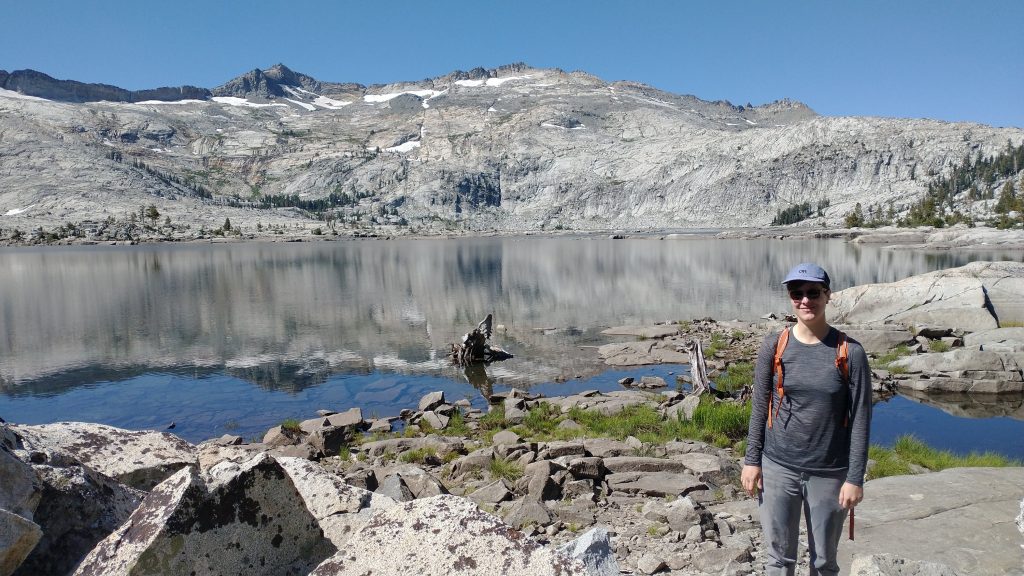 The rest of the way went by quickly. We stopped to have a lunch break at the saddle and met a cool lady on her way down from the peak. She made a point of telling us to sign the register at the top… we'd find out later why she emphasized this. The way to the peak was a little less than a mile one way but required some route finding and scrambling. It was just challenging enough to be fun and interesting. I felt at ease with Sky as my partner, since I knew they were very adept at this sort of thing, calm and collected. Sky had been a reassuring presence in the Grand Canyon earlier in the year, so I was thrilled that they had been able to join me for at least one day on my PCBCRT journey. I had met up with a lot friends on this trip, but Sky was the first to actually be able to go hiking with me. It meant a lot to me. Thanks Sky!
At 9,974′, the peak was well worth the effort for the fantastic views of the area. I could of course see the other big ones in the rim area: Freel Peak, The Jobs, Mount Rose, Sierra Buttes, Granite Chief, Twin Peaks, etc.  There were many more of the Sierra group to the south…Sonora peak being the most notable. My Peakfinder app showed that just the tip of Lassen was visible, but I couldn't make it out, so I can't claim that one for a last time. I was convinced that I could see the faint outline of Diablo Peak through the haze, all the way on the coast near San Francisco, but I couldn't convince Sky of this. I guess they share in my skepticism of peak identification… that's a good thing! Don't just believe what others tell you, confirm for yourself! I could have told them I could see Mt Shasta or even Mt St Helens.
Best of all, we found the surprise in the summit register that the other woman had hinted to: a bag of candy dicks! This was endlessly entertaining to us. I read later that the guy the peak was named after was an eccentric english sailor… aren't they all. He apparently was "lost at sea" on the lake during a storm, which he foolishly paddled out into in a row boat, while intoxicated. I guess for this you get a peak named after you… "Dick." If a woman had done the same, she would have been forever ridiculed and memorialized as a reminder of why women shouldn't go outdoors. It seemed fitting that both of us had decisively cast off our gender stereotypes, only to climb a mountain with such an ironic name and history.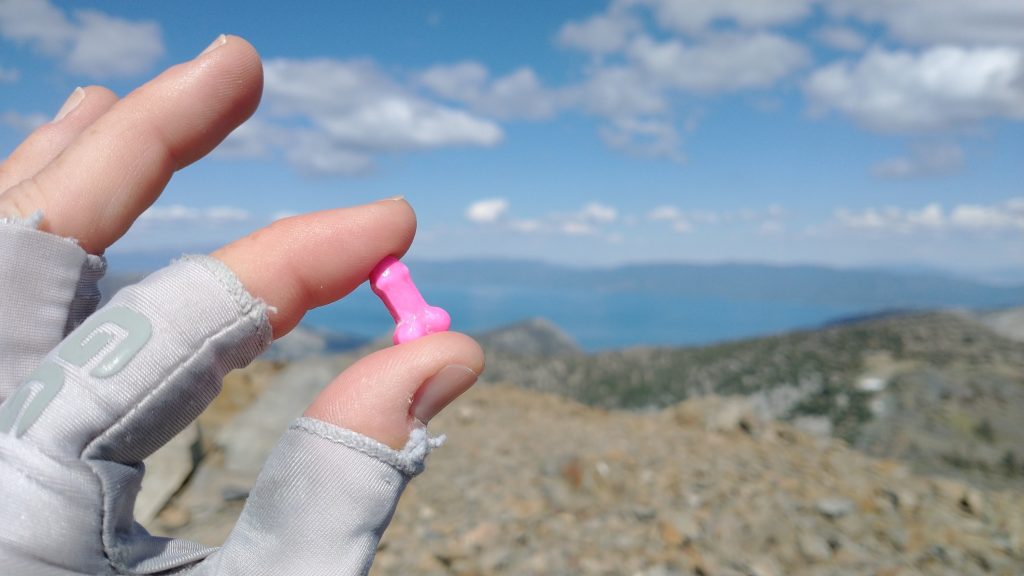 We probably spent way too much time having fun and playing around in the peak, given our tight timeline. The perfect clear day was worth the care-free attitude, though. By the time we got back to the pass, it was well past 3 pm. I looked at my remaining distance and sighed…it was going to be a late night. Sky too would need to hike a few hours in the dark to get back to their van. Oh well. We sadly had to part ways, but I very much hoped we would do more hikes together. I admired Sky a lot. It had also been a pleasure to meet their dad over the summer, while I had been hiking the Oregon Coast Trail. I was grateful for both their companionship and support.
I had to go up a little bit more to reach the official pass, then bombed down past more pretty lakes. I listened to podcasts to pass the rest of the afternoon and early evening. It was very quiet on the north side of the wilderness. Only PCT hikers were out and about on the trail. I hiked as far as a good location along a ridge, right on the edge of the imaginary line of where I could and couldn't camp. I found a spot among some boulders, far away from any water and established sites.
A few miles further was Richardson lake, a location notorious for problem bears that had been rushing hikers as they packed in the mornings. The bears' tactic was to scare hikers away from their food sacks while they were most vulnerable and it had worked, as was even documented in Jupiter's YouTube video. Once bear canisters became required in the wilderness, the lake became even more heavily used by PCT hikers and all the problem bears moved there. I didn't want to be anywhere near that lake. Site selection is the most important factor in avoiding bear interactions, more so than food storage practices, odor control and having bear spray. Basically it just means being away from where others would think to camp: lakes, streams, right next to the trail, etc. Bears aren't as likely to be prowling around sparse boulder ridges since berries don't grow in abundance in such areas and people don't congregate there.
As I suspected, it was a very peaceful and quiet night. The only sounds I heard were from the jets roaring overhead, busy in their way to all over the world.