Tuesday, Aug 29th, 2023, 0630-1920
Cold Spring to 6 miles past Belden
24.5 miles, Gain 5358′, Loss 5925′, elevation 5925′
Sleeping in such a large burn area was a bit spooky. There were dead branches falling intermittently all night. Soon it would be whole trees. A squirrel came down the tree next to me as well, in the dark, which was strange. I thought it was a raccoon at first. It's a wonder that any squirrels and chipmunks survived the fire. I think about how many millions must have perished.
The trail meandered along a meadow early in the morning, then up for 4 miles to the top of Frog Mountain. The ridge offered good views north. I could easily see Lassen and on a whim, I checked Peakfinder to see if Shasta was visible, too. It was, at over 100 miles away! There was some haze on the horizon from the fires but I could just make out some of the snow fields on the side of the massive volcano. I figured it would probably be my last view of it (it was). This was about the best part of the hike all day. The smoke really started to fill the valleys afterwards and the 15 mile descent into Belden kind of sucked. I didn't like it the first time I did it and I disliked it even more this time. It was even more burned and exposed than before. I also noticed tons of poison oak along the way. I'm sure it was always there, I just didn't know to look for it before. I felt really sorry for the NOBO's having to climb out of this valley.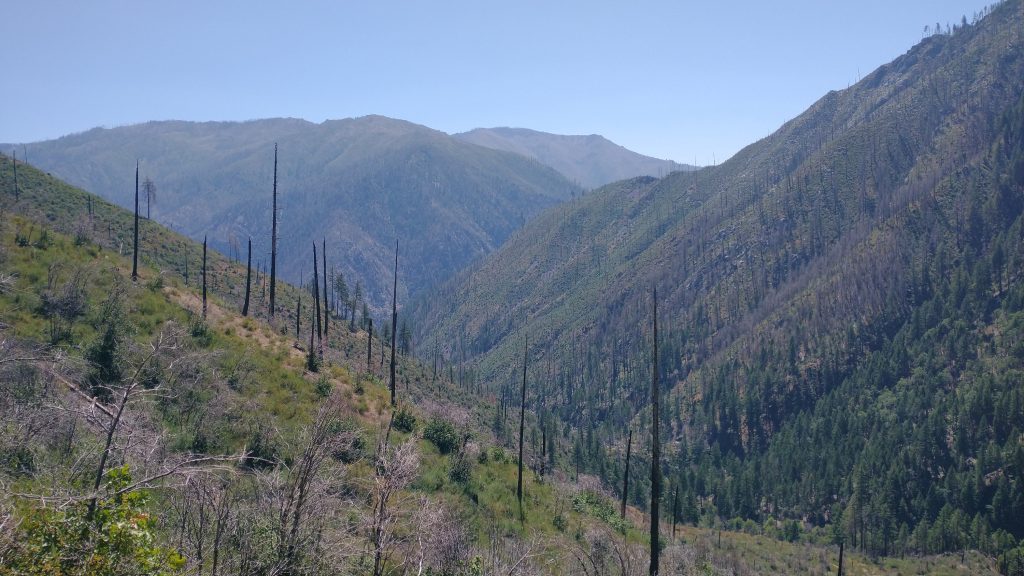 I put my umbrella up for the last few hours, which helped with the heat. I knew I could go for a refreshing swim in the river as soon as I reached the bottom. I wasted no time after crossing the bridge…straight into the water I went. I garnered the attention of 2 other thru-hikers when I promptly dropped my pack and jumped in fully clothed. They were impressed by my zeal and speed in dunking. Little did they know my aptitude in such matters. I'm a pro dunker. I was also the first hiker to notice a bonanza of pears on the ground near the resort. By then, about 6 of us had gathered outside the restaurant, waiting for it to open at 4 pm. We all munched on small but sweet pears, a nice treat.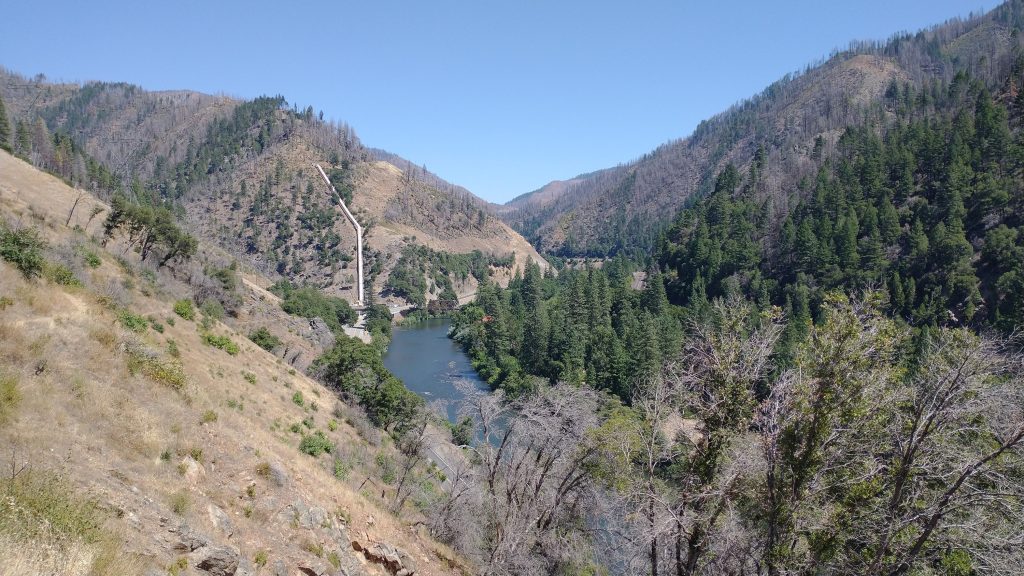 Tabetha, the only employee staffing the bar, restaurant, and general store, opened promptly but couldn't get the stove lit since the electricity and pilot light had gone out again. The whole place was running on a generator, which apparently the power company had to supply after the fire. I wasn't quite sure what all was going on with the resort these days, but it seemed to be struggling from the triple blows of COVID, fires and a landslide that closed a part of the highway. Belden always was a rather strange place along the PCT but now seemed even more downcast. But inside the bar, we were all in good spirits. Draft beers were a great deal at only $5 and a NOBO named Huckleberry provided us with excellent entertainment as he played the piano. Slingshot, Keys, and Out Here all rolled in, so it was a nice group to hang out with. These 3 felt as much a part of a tramily as I'd had the whole hike.
I put in nearly a full day getting to Belden, so had planned to take it easy camping by the river that night. But my 3 friends all wanted to tackle the big climb in the evening, so I decided to hike out with them. A few beers gave me the willpower but probably took away from my performance. The smoke had become really thick, which I definitely felt in my lungs. Achhhk! Even still, the many switchbacks made the ascent pretty easy. It's funny that the descent into Belden always stood in my mind as being awful but I recalled the climb out as being a piece of cake. It seemed that way again, even with the smoke and a belly full of beer and food. It was just getting dark as we found some flat spots on the ridge. They were fully exposed but there was only a light breeze. We watched a nearly full moon rise through the smoke, which was mesmerizing. I was feeling really great about my decision to hike out that night…that is until the wind began to blow. I got up at 10 pm to put rocks over all my stakes as my tent began to flap wildly. The wind continued to pick up and I got very little sleep listening to all the commotion my tent was making. The moon was also so bright, it almost seemed like daylight outside. Maybe I should have just kept hiking through the night.