Wednesday, Aug 16th, 2023, 0610-1200
PCT SOBO mm 1133 to Castella
18 miles, Gain 900′, Loss 5000′, elevation 2030′
Smoke filled the valley when I woke in the morning, not unlike my visita looking down upon Castle Crags in 2018. How ironic that I was racing to get through or around the first fire closure that year. Paradise was burning, along with numerous other fires throughout California and Oregon, yet somehow, miraculously, this was the only one that affected the trail during that time. I just made it through before the USFS officially closed the area and now it seemed I had just squeezed through again. I checked the website to see that no fewer than 19 fire incidents in the Klamath National Forest were being investigated. Karaoke texted me to confirm that there was indeed a fire in the Stuart Fork of the Trinity Alps, ignited Monday night by the thunderstorms. I was merely 1 night ahead of waking to a fire next to me.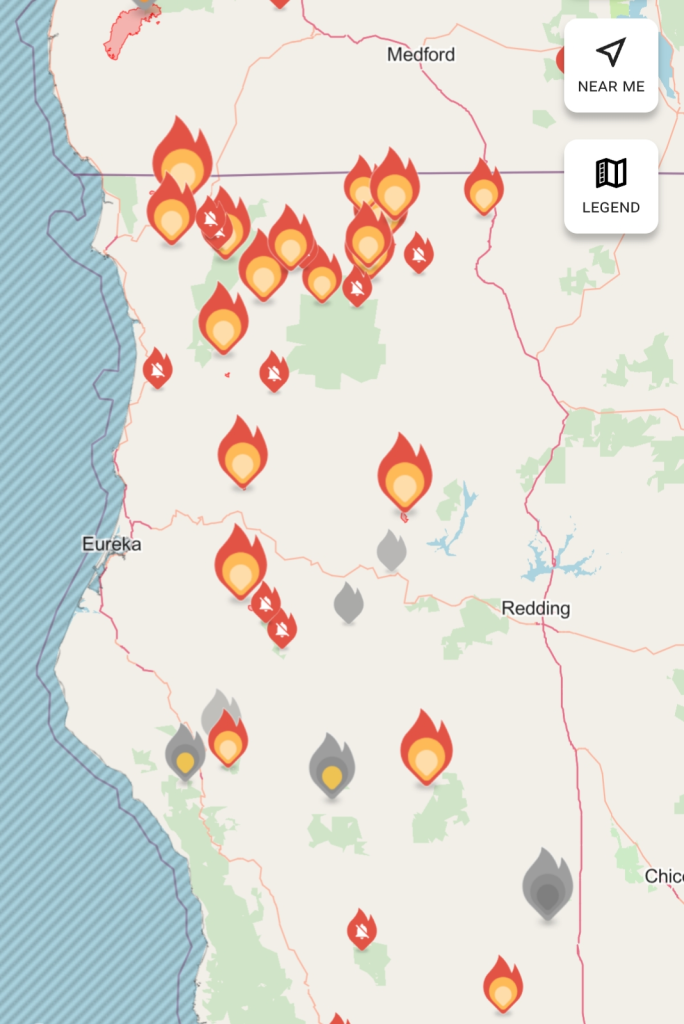 In fact, there were multiple fires directly along the PCT and Bigfoot Trails, including one near Mt. Linn in the Yolla Bollys…meaning I couldn't have finished the trail even if I'd wanted to. Other locations included Wooley creek, the Marble mountains, Seiad Valley, and the Smith River. A friend later joked that I'd set off all these fires along my path because of my blistering pace. LOL… I'd like to think so but no. The PCT was already closed from Etna to the CA OR border. I felt so bad for my SOBO friends Wolverine and Funk, who were just reaching Ashland. They would have to skip a large chunk of the trail. Much worse, I worried for Trail Angel Brian, whose lovely home was in jeopardy. The 'Head Fire' near Seiad Valley had already claimed the life of a resident of Hamburg and was threatening other structures.

I had an incredibly lucky run through NoCal, considering the extreme conditions of the heat, lightning and dry fuels. I began to realize how narrowly I missed having to make a desperate escape from one of these remote and rugged areas. Thinking back on how slow travel could be along the Bigfoot trail (West Fork Clear Creek), I could have easily been trapped by a fast moving fire. It only took one night to ignite so many…had I been just one day later…who knows? This really awakened my appreciation for how fast things can change. The tragedy in Maui underscores this new era of fire danger many of us live in.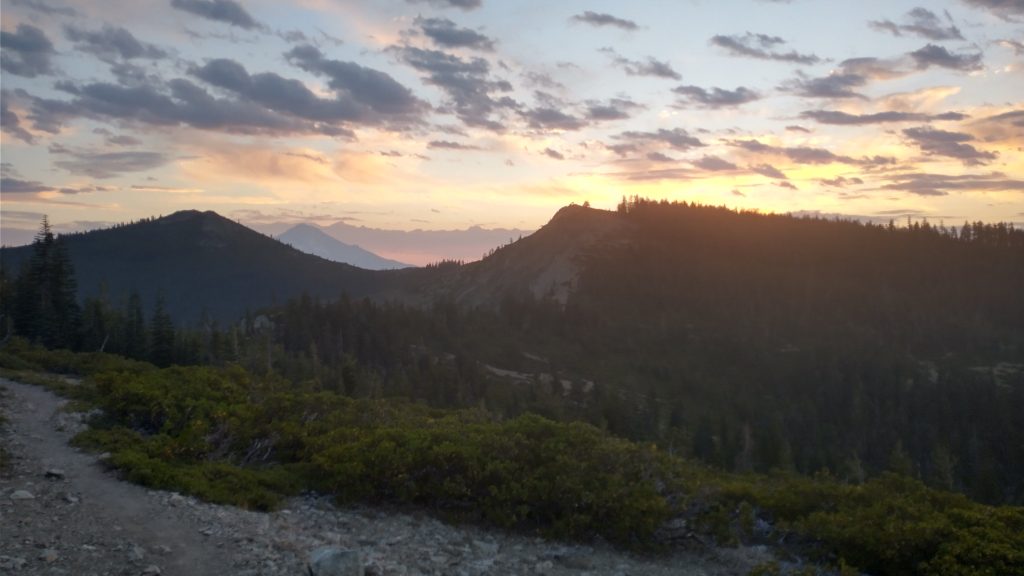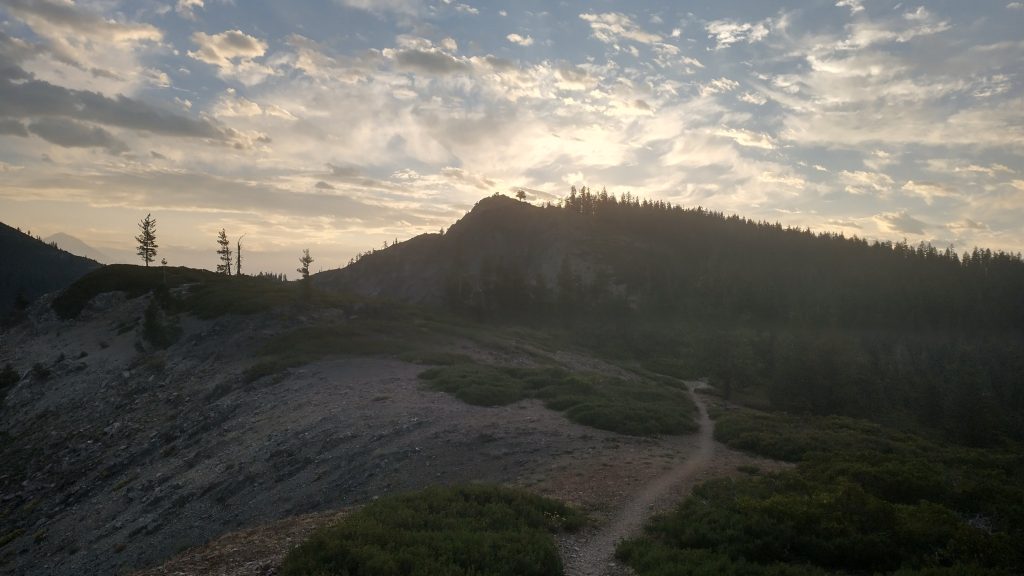 A group of NOBO's were up early trying to escape the heat and beat the fires (too late). One passed by at 5:22 am while I was still in my tent. Another 5 NOBOs passed me by 7 am. I guessed that many of them had struggled through the snow and high rivers in the Sierra, only to have to now miss sections because of fires. My friends that had flip-flopped to avoid the Sierra would also have to miss sections. That's the game thru-hikers have to play on the PCT now. One has to be pretty lucky to be able to hike the whole thing in one season.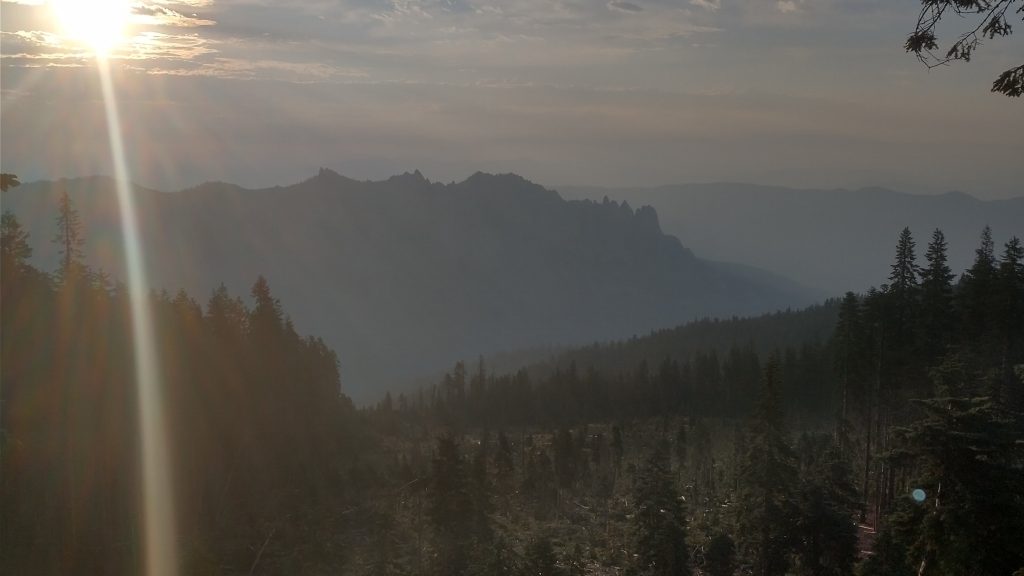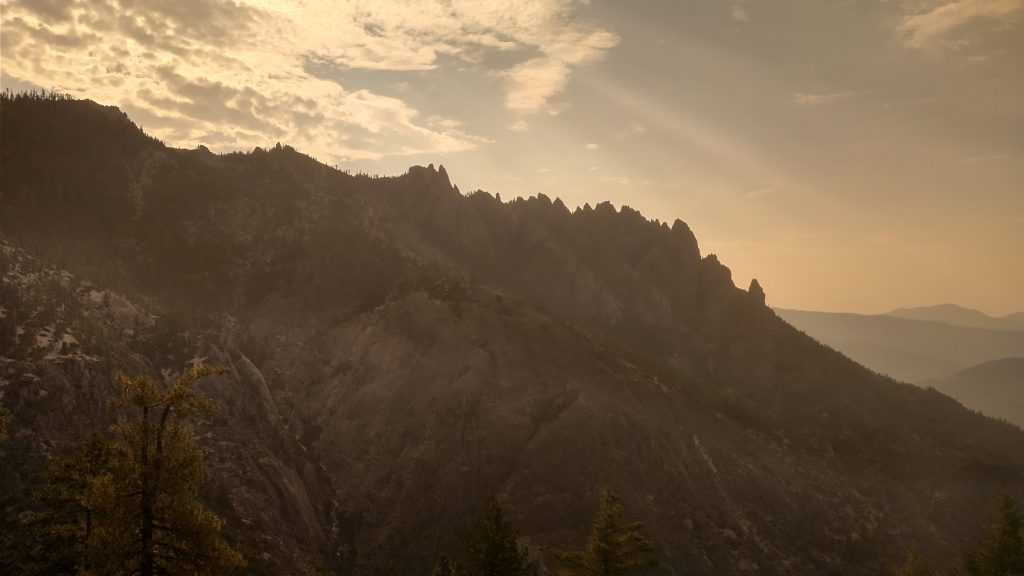 I had an easy run to get to town, all downhill for miles and great views of the rock spires of Castle Crags. But the rocks on the trail were killing my feet. My shoes were so trashed by this point…thank goodness I had a new pair waiting with Karaoke! It was perfect timing. I needed to replace several gear and clothing items. My water bladder had sprung a leak, my dress was in tatters, as were my socks. The PCT Trail Days was the absolute best venue for replacing stuff. All the big thru-hiking vendors would be there. I was excited but also needed to keep my spending in check… it's not like I could buy tons of stuff, because I would either have to carry it or mail it home.
After a long, hot and exposed descent, I reached a side trail that led more directly to the valley. I took the Flume trail since I was really craving a swim in the river. Triple digits were again in store for the day. It hadn't been bad the day before, since I was up high and able to go for a swim mid-day. But the lower elevations and smoke-filled valley felt stifling. When the trail bisected the paved road, I just walked along it. There was easy river access, where I took a long break to soak. I was less than a mile away from I-5 at that point and it was only noon. I'd planned to arrive well ahead of Mr. President so that I could get cleaned up a bit and do some work on my phone.
I stopped off at the visitors center, since I read a note about fuel canisters for sale. A guest had dropped off a nearly new one, so the nice lady just gave it to me. Score! Lastly, I wondered over to the gas station, joining a group of other thru-hikers posted up in the shade, behind the tiny PO. This access point gives rise to a confusing network of names: Ammirati's Market, Castella, Castle Crags, Dunsmuir, and Mt. Shasta (the latter 2 being the small towns hikers hitch to for more amenities). Since there's also a tiny post office, many hikers just mail resupply boxes to Castella. Last time, I resupplied from the gas station and kept hiking, in a hurry to beat the fire. This time I planned to take 5 days off and also visit Mt. Shasta (again another confusing name, given that it represents both the town and volcano, plus there's another town near Redding called Shasta).
The 4 SOBO hikers had boxes waiting for them, which was a good thing since one of them reported seeing a rat in the gas station, out in broad daylight. I went in to buy some snacks and the place smelled like urine. I was glad I didn't need to resupply from there again. The heat was oppressive, even in the shade…my thermometer read 100 degrees. Ridiculous. I lounged around with the other hikers until they all wondered off to seek the river. I got an ETA update from Mr President, saying he was going to be about an hour and half later than originally expected. So I decided to try to hitch to either Dunsmuir or Mt. Shasta. This turned out to be a difficult endeavor, just like my previous attempts along hwy 3. It was far too hot to be standing on the pavement and a shaded spot further up the on-ramp to I-5 sucked. It's just terrible trying to hitch along an interstate altogether.
Luckily Karaoke had just gotten off work and offered to come get me. We could grab dinner at the Yak on the 5, a burger joint that was highly regarded by hikers. It was great to see Karaoke again, plus finally meet her adorable pup, Banjo. We ate outside so that he could hang with us. Mr. President arrived and we set off on our long road trip. He'd already been in the car for 5 hours, but fortunately he had a reservation for a hotel in Ashland that night. We would make the rest of the drive the next day. Plus, we got to drive in style in his beautiful model 3 Tesla. Thus commenced a stretch of 5 zeros (2 days driving up and back, 2 days at Trail Days, and a zero at Karaoke's to wait out the rain from Hurricane Hillary). I'm not going to blog about each day or count them as part of my trip. I'm just calling it the PCBCRT Halftime Report…up next.