Tuesday, Aug 15th, 2023, 0620-1930
PCT SOBO mm 1102 to mm 1133
31.7 miles, Gain 3890′, Loss 3410′, elevation 6500′
I wouldn't call it rain exactly, but it did spatter off and on all night. I was worried about more thunderstorms. The wind did pick up at times but there was no more lightning, thank goodness. I imagined the rain instantly evaporating as soon as it hit my tent and sure enough, everything was bone dry in the morning. But it was enough to have washed away previous footsteps, so for once the PCT felt…unused. It was exceptional quiet all day. I ran into the first NOBO around 8 am, then 4 more around lunch. There was a trickle of about 5 in the afternoon, and some were section hikers. I didn't see anyone going south all day, nor did I see fresh footsteps.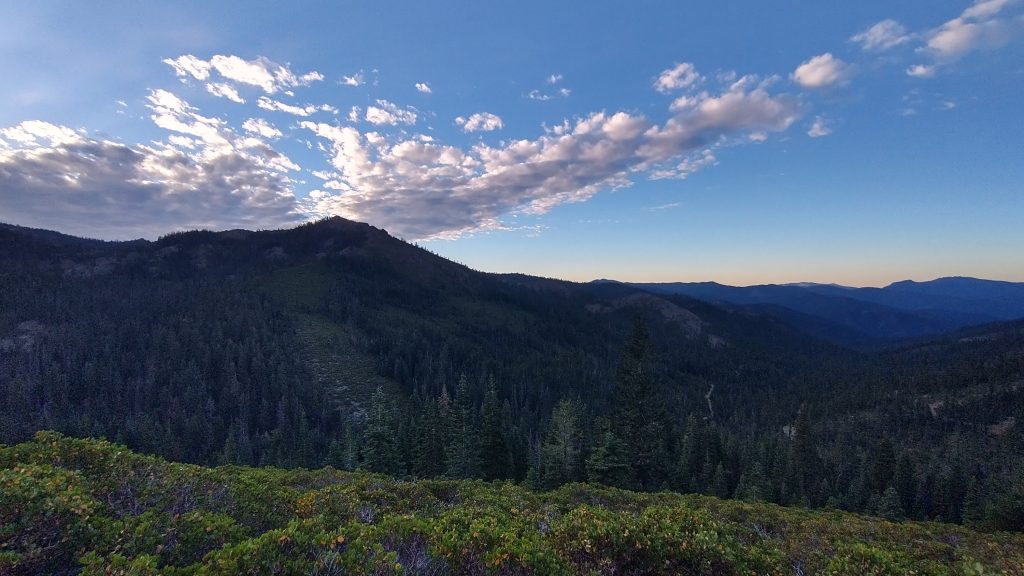 The trail did a big meander in this section, contouring a basin around to the north for several miles, then back south. I remember being annoyed by it the first time, but this day I noticed just how nice the forest was. It was predominantly a drier ponderosa stand, with a few Jeffrey pines, cedars, Douglas fir, and another common pine I was still trying to figure out. As is common with ponderosa forests, the understory was open, almost meadow like, so there were lots of wildflowers. Most noticeable was that I didn't see a single burn area all day.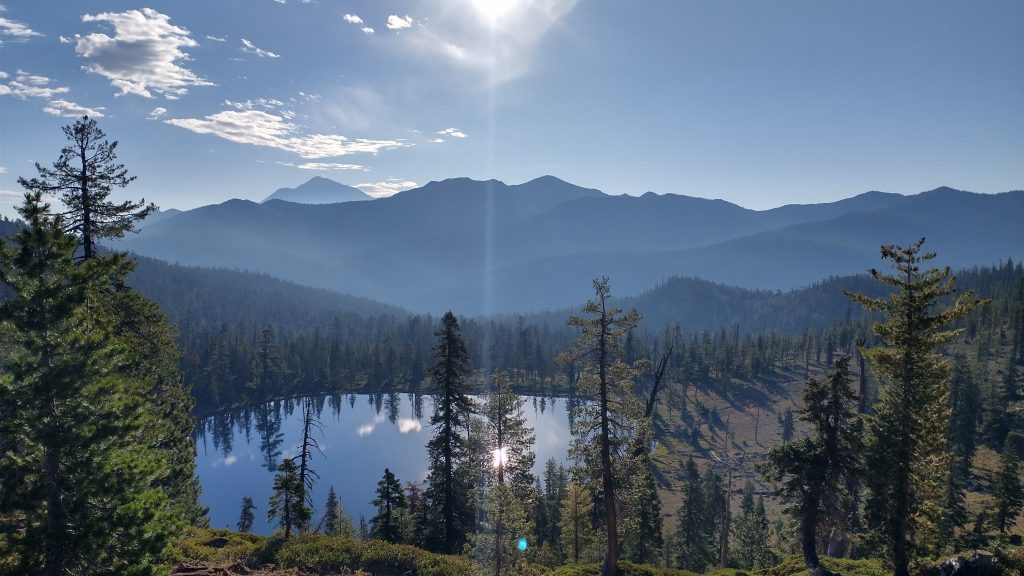 I did correctly identify a lodgepole pine by the lake, for which I was proud of myself. Though I was an utter failure in finding the 32 species of conifer along the Bigfoot Trail, at least I have realized an awakening in noticing the trees. Not only does it help pass the time, it's made the trail so much more interesting. I can't believe this was something I ignored all this time. It's incredible all the things we take for granted.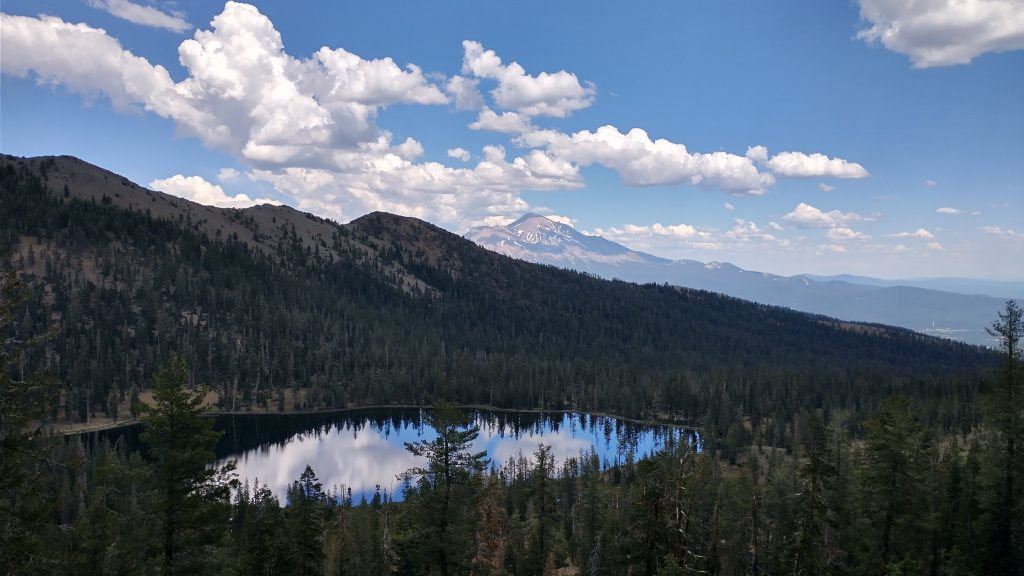 I had lunch at Deadfall lake, where I remembered stopping for a break before. For some reason, my recall of the lake was not all that positive. Perhaps the name had infiltrated my impression of it, thinking it was full of dead logs. This was not the case at all! It was a beautiful set of lakes, a gorgeous blue green, so inviting for a swim.
The afternoon was a mix of delightful ridgeline walking but also some rocks that wore on me. It didn't help that I entered a long dry stretch at the very end, so I had to carry some extra water for about 7 miles to camp. There were springs and lakes along the way, but they were all a ways off trail. Since I was walking over 30 miles, I guess my preference is to carry the weight rather than add even more distance.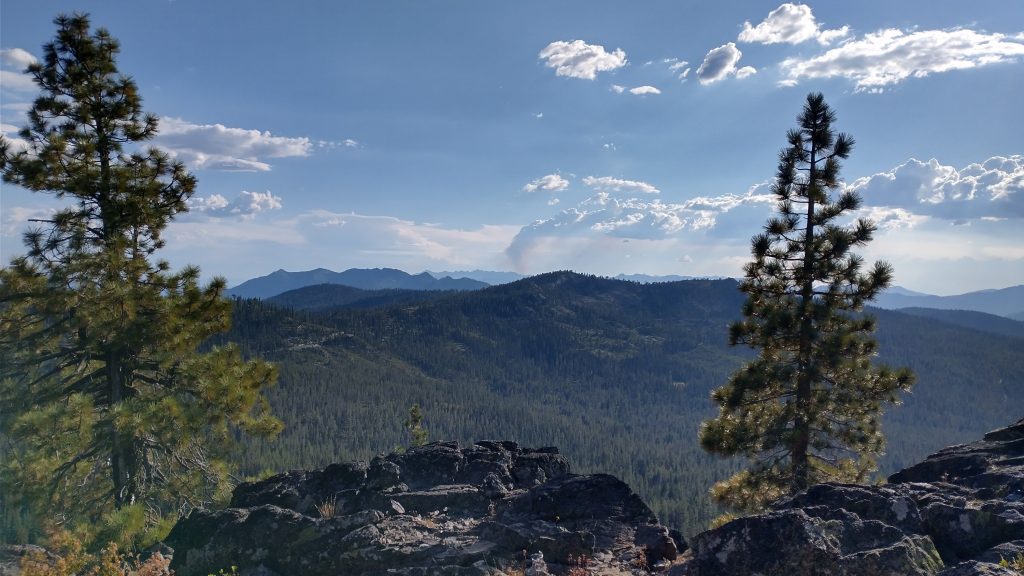 I'd been staring at the Trinity Alps all day, pondering their beauty and might, rising as a massive block of granite from the Trinity valley. I'd seen them from so many viewpoints, watching the angles change, certain peaks becoming visible and then hidden. I aimed my Peakfinder app at them all day, studying them intently. But suddenly I came to another viewpoint and my heart sank. There was now a huge plume of smoke rising from them, possibly from the Stuart Fork valley. I saw several other plumes to the south and east, as well. My fears about the lightning the night before were proven true. A fire had started in the exact place I was marveling at for being unburned the day before. I thought I might never come back to hike there because I didn't want to spoil my memory of it, but I didn't think that time would come only days later. It was so heartbreaking, I could barely stand to think about it.
I settled into some trees on the ridge at the end of the day, protected from the wind. I'd left myself only 20 miles for the following day, which promised to be an easy haul to I-5. I was so excited to meet up with my friends at Trail Days! I'd been texting quite a few beforehand, letting them know I was probably going to make it. The lineup and events were sounding like quite the party. It would be a big change from my solitary existence on the trail thus far. I felt a nervous energy about the fires and social interactions, but it wasn't anything 32 miles couldn't fix. I was so exhausted, I fell asleep well before 9 pm.