Saturday, Sep 16th, 2023, 0630-1440
NE of Disaster Peak to Sonora Pass, then ride to Pinecrest, plus side trip to the top of Sonora Peak
20.5 miles, Gain 5100′, Loss 4600′, elevation 6200′
I got on the trail early as usual, but my neighbor got an even earlier start, disappearing into the dark. It was barely light by 6 am. I greeted some pink clouds at a saddle first thing. I recalled this vista from before, which then seemed parched and barren. This morning there was still snow and a green valley below. It felt like early summer.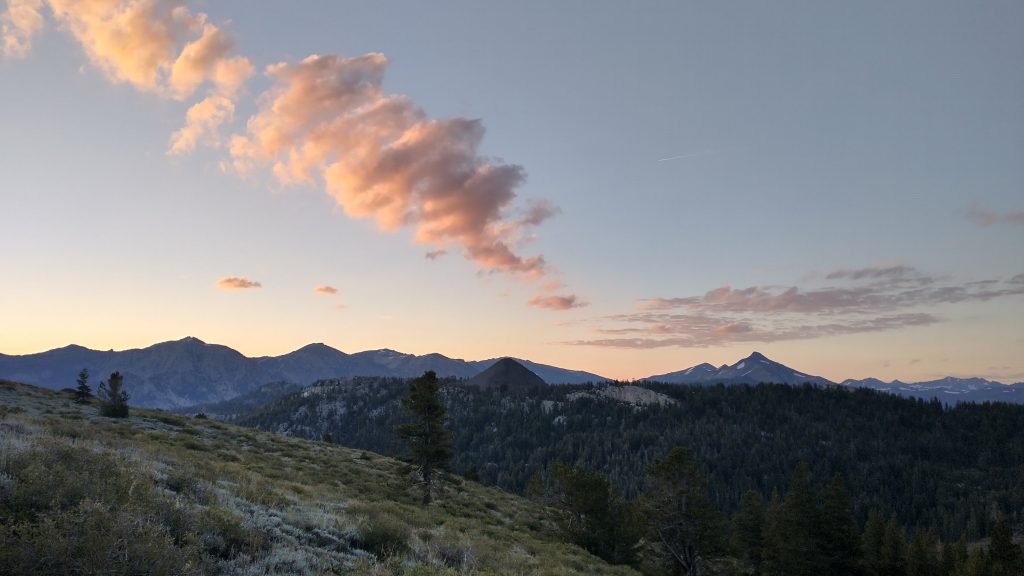 I descended for a bit but there were many short and punchy bumps as the trail worked through some rugged terrain. I had just caught up to a SOBO and passed him at the start of a short climb. I pushed hard up the hill so as to open up some distance between us, reaching the top a little winded. I ran into some older guys and one felt the need for small talk. "It's too early to be breathing that hard," he joked with an awkward giggle. Not the best pick up line. It was 9 am and I'd already covered 7 miles, almost 1\3 through my daily routine. I'd been hard at work for several hours and my breathing matched my pace and effort. I couldn't resit pointing this out.
I began a long ascent to the pass, something like 3k' of gain and by far the highest point yet on the PCT for southbound hikers, over 10,500′. I passed some more people, everyone breathing hard. Maybe that's what the guy's comment was about. He was going north and so the big elevation would have been fresh on his mind. Yet I'd recently been higher than this on top Mount Rose, along the TRT. I'd also hiked over 11k' earlier in the year in Colorado, making up for the fact that I hadn't been able to summit Mt Ellen on the Hayduke. I wasn't even really feeling the elevation until the last mile. Then it started to drag me down a little. I gained a saddle with views into the next valley, entering Mono county. Wolf creek lake sat in the nearby basin and I saw the first of many guys dressed in all camo and armed with a big rifle. I also started hearing rapid fire shooting. I guess I'd just walked into deer hunting season.
One last series of steps up a steep hill broke me pretty good. I had to take a few pauses and then stopped to collect some water. This revived me enough to push a little farther to the beginning of the peak scramble. The breaks also helped me find the strength and will to go for the peak. I was a little concerned about some darker clouds gathering, so I quickly dropped my pack in some bushes and pressed upwards. The side trail immediately became spicy, with some decent scrambling and lots of chossy and gravely volcanic rock. I bumped into a group of 4 women coming down and they asked if I was hiking the loop. There was another trail heading down the mountain to the west, which came out at the highway further towards Kennedy Meadows north. It would have been nice to follow a bit of different trail to the pass, but I couldn't bear to haul my pack another 1k' up, even if it was pretty light.
I told the ladies I was hiking the PCT and pointed to my discarded pack at the base of the side trail. They looked confused. Not a lot of PCT hikers forsake the red line for peak bagging, I guess. But I'd grown weary of never reaching any summits along the PCT. Hikers complain that the AT goes to the summit of every mountain and now I was disappointed that the PCT didn't go to more. At least there was a somewhat easy fix for this. I thought this might be my last day along the PCT on this trip, so it deserved a mountaintop finish.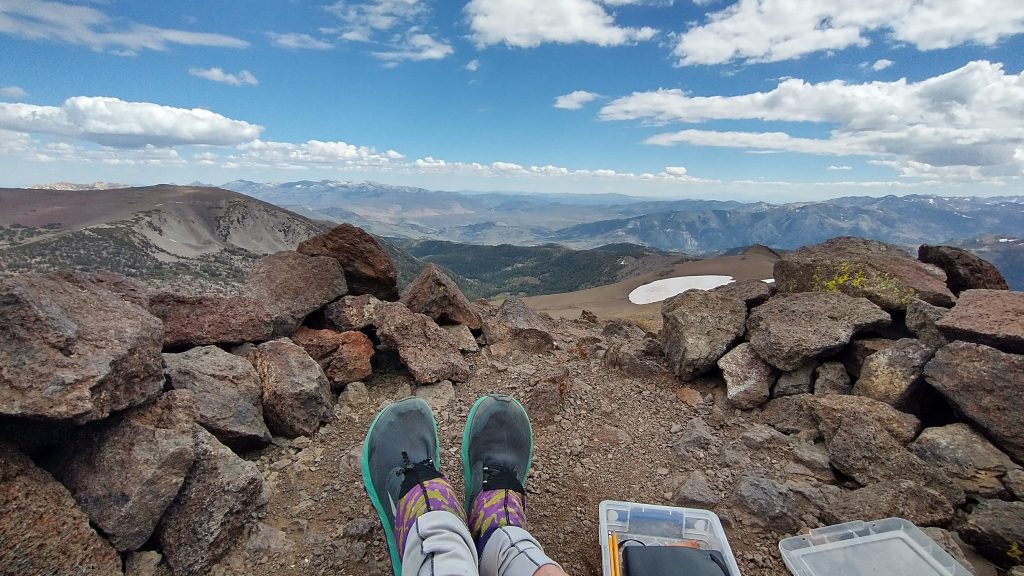 After a series of small bluffs, the ridge leveled some and I could enjoy easier walking. Suddenly I was standing at the Sonora peak register at 11,431′. Not too shabby. Good views and peakfinding followed, although I had to crouch behind some rocks to escape a cold wind that had sprung up. Silly me, I hadn't thought to bring layers. I could see as far back as the Desolation wilderness peaks…Dicks! But there were too many craggy high peaks to the south to make much sense of. Geography is one of those things that is more relevant from a past perspective. I can recognize and recall the names of the mountains I have slowly walked past but it's hard to look forward on the map to pick out the mountains the trail will go near in the future.
There were a few notable high peaks such as 13k' Mt Lyell and White Mountain peak at 14252′, the 3rd highest in CA. This being my second time in the Sierra, I should have been able to recognize more of the peaks, but I just hadn't been paying attention to such details back then. It was all about which 2 passes were coming up each day and trying to push through before I starved or the weather turned. The only peak bagging I'd done was Mount Whitney. I had so much more to learn and see of the area….someday.
I hurried back down to my pack, chilled from the wind. The trail felt much farther going down, as it always does. I took a short lunch break there, out of sight of the PCT. When I finally rejoined it, 2 thru-hikers were having a chat at the intersection, looking confused as to where and why I'd come from above them. "Peak bagging," I shrugged. The SOBO guy was one I'd met back in Sierra City, U-Haul, named so for his relatively big load. He mentioned Scott and Sailor's cabin as we walked together down to the highway and I told him that's where I planned to go, as well. He was happy about this, since now he had a ride bride. It's funny that I have no problem with living up to that gender role, probably because it benefits me some too, in terms of safety. In fact, I take pride in being able to get a ride so easily….not that my skills or insight have much to do with it, usually.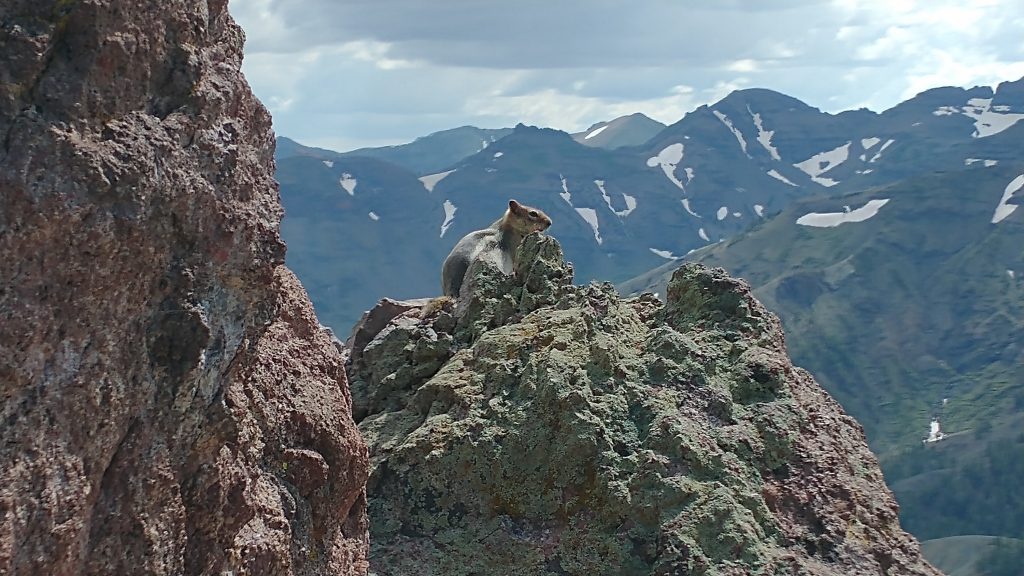 In this case, I didn't even get to try. Just as we reached the highway, we met a lady and her dog. She was retrieving her cooler that she'd set out with some trail magic beers and LaCroix. She came up for the day for a nice trail run, throwing in some trail angel duties on the side. I love that! Rain immediately asked us if we needed a ride and I have to admit, I was a little disappointed. I'd been talking up my hitching prowess to U-haul and now I didn't even get to demonstrate it. Perhaps this was an example of my amazing luck but it's hard to put much of a claim on it. Rain would have given any hiker a ride, we just happened to be there at the perfect time.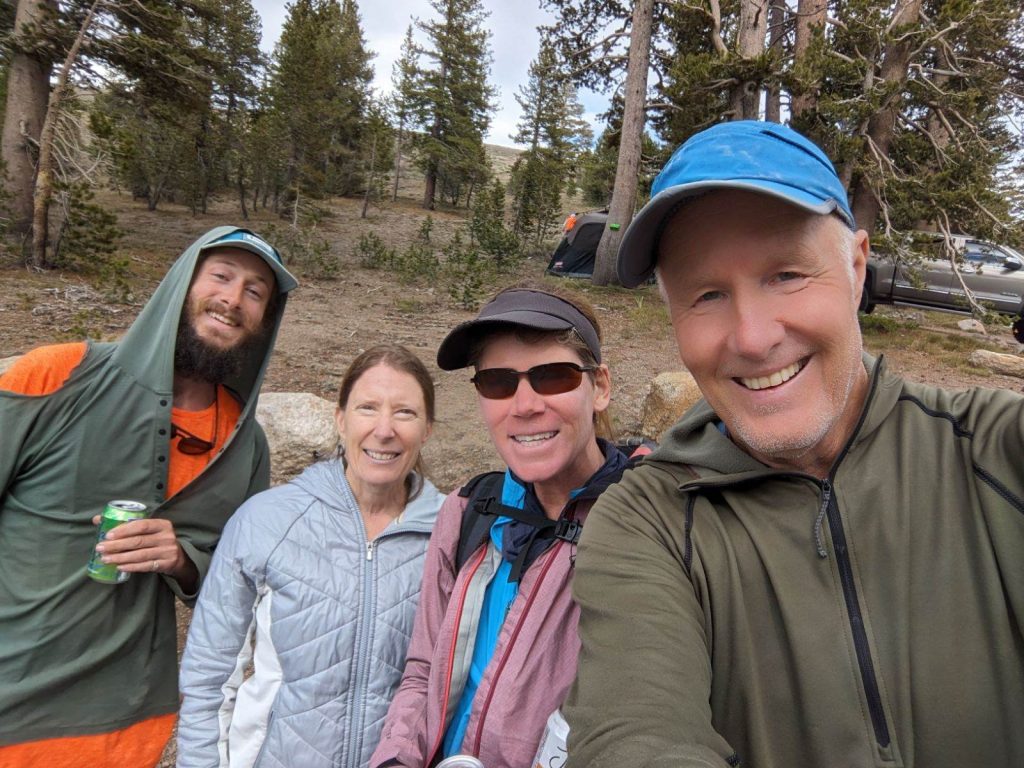 We all drank the last of her beer (only 2 cans) and jumped into her cool electric mustang SUV, by far the nicest vehicle I'd gotten a ride in since the 2 Teslas earlier this year. I sat in the back with her cute border collie, who had a funny coping mechanism for the stress of riding in a vehicle. He chewed and clenched a towel manically the whole time…hey, whatever works. Rain brought us straight to the doorstep of Scott and Sailor, some 36 miles down the mountain. Man did we get lucky. It actually worked out well for Rain too, since she got to meet 2 more PCT adicts and trail angels from the area. Rain had section hiked much of the PCT with her husband, daughter and dog and also had a cabin in a nearby town. Scott excitedly showed her his nearby trail network that he'd been working hard to develop for the area and Rain seemed excited about the prospect of new local trails to run. I love when I have a hand in trail angels meeting up.
Well, this was pretty much the end of my trip but I did get to do one more bonus hike. At the pass, I learned that my friend Jon had extended his trip a few days, leaving me just enough time to complete a 75 mile loop hike that Scott and Sailor put together: the Pinecrest Loop Trail or PLT. That's coming up in a later post.
I also need to make a plug for Scott and Sailor, 2 amazing hikers and trail angels that I met at PCT Trail Days. Scott opened his family's cabin to host hikers the past few years, and that's ultimately how he met Sailor, when she came to stay as a hiker. The 2 had teamed up in a dynamic power couple that were so enthusiastic about giving back to the hiking community. Sailor, by the way, really was a sailor who had been all around the world on boats. We had a lot in common. I really enjoyed both their company for several days, as well as the company of all the various hikers coming and going. I stayed for 4 nights, 2 before I went on the loop hike and 2 after. I was so grateful for their hospitality and camaraderie, it was the perfect ending to my journey. I promise to write more about them in my Pinecrest Loop Trail post.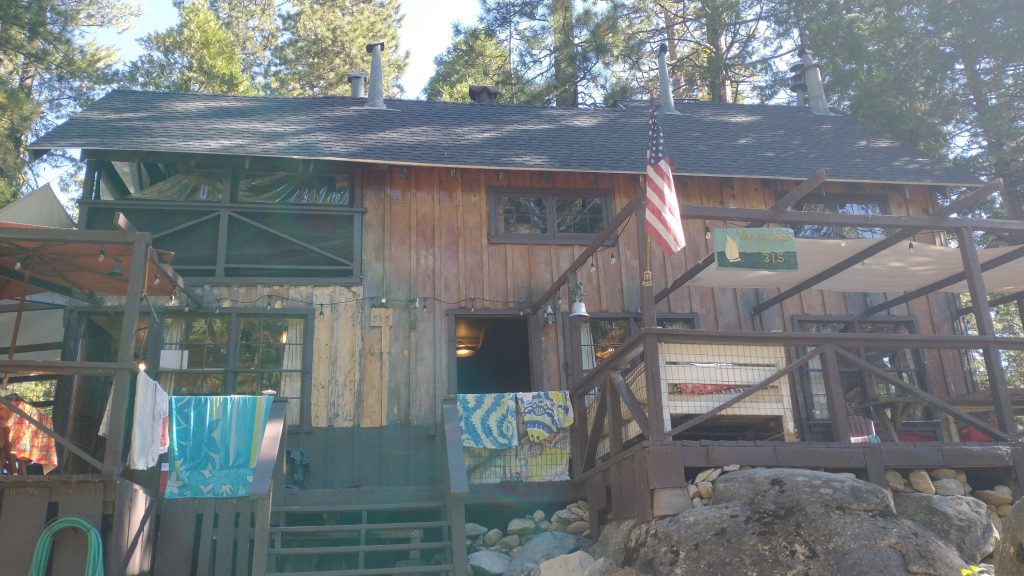 But first, I'm switching gears back to my Hayduke hike, which I resumed following the PCBCRT. I traveled by car from Pinecrest to Phoenix with Jon, spent 4 nights at his house, scored a ride from Phoenix to the North Rim Grand Canyon, and began the rest of the hike through the western Grand Canyon the next day.