Friday, Sep 8th, 2023, 0700-2030
Galena Falls to south of Spooner Lake\Hwy 50
31 miles, Gain 3580′, Loss 5190′, elevation 7450′
I woke feeling very satisfied from my accomplishment the night before. I allowed a later start, as it was very cold and I'd had a long day previously. The sun rose, radiating light and heat into the valley. A grouse cackled nearby, not knowing I was laying in my tent so close to her morning pecking grounds. I rejoined the TRT from the side trail and moseyed down to the highway and vehicle campground. I used the toilet and filled my water bottles. I was hoping someone might be making a sharable breakfast but had no luck. I'm not sure that trail magic is a thing on the TRT…perhaps it's too short of a trail for that.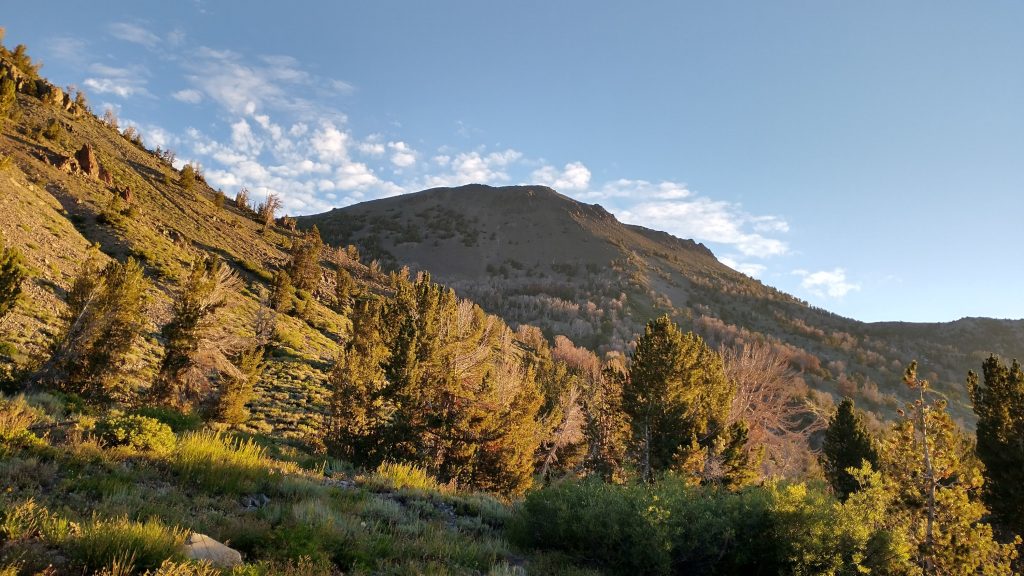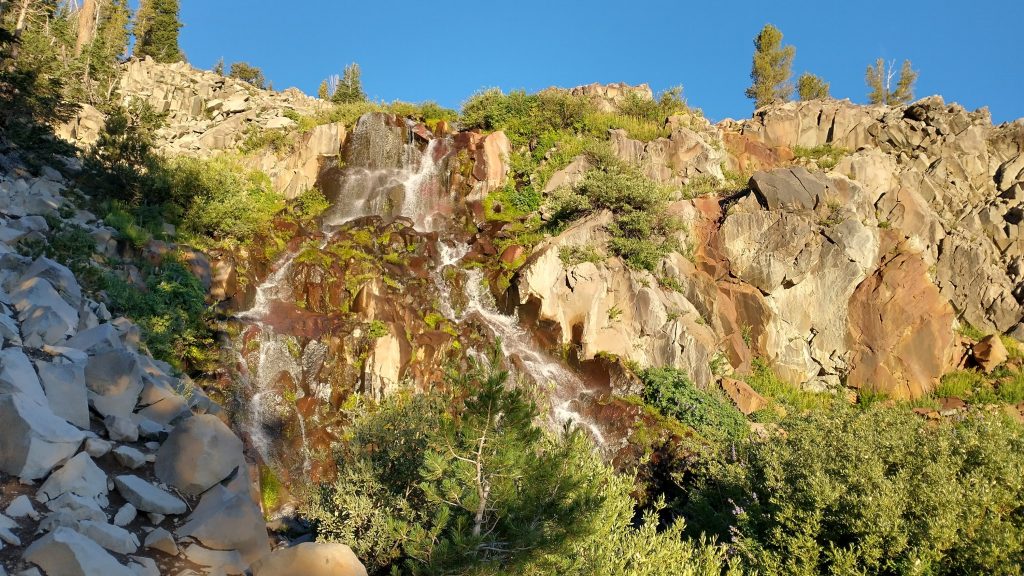 The trail continued through a beautiful meadow, still full of water and wildflowers. There were interpretive signs along a boardwalk and I was the only one on it so early in the morning. It was very easy travel and so enjoyable. I entered another section where mountain bikes were allowed, but only on even numbered days. Of course I hit it on such a day…which is why I wanted to get through it early and as fast as I could. I figured bikes would be coming from behind me, since I was going in the generally downhill direction. The give-way rules for hikers and bikers are kind of impractical and confusing. Bikers are supposed to yield to hikers but in reality, I almost always get out of their way. If they're coming from behind, it's the only way they can pass me. I guess if they were to formally say that hikers were responsible for yielding, then it would be the hiker's fault if they got hit by a bike, and that wouldn't be right either.
There was a sign at the trailhead depicting the yield triangle…bikers to hikers, both to horses. Someone had crudely scratched an x over the hiker symbol, which gave me a sense of foreboding. I'd like that we could all share the trail equitably, but apparently the feeling wasn't mutual. I guess the exclusion of bikers on odd numbered days had probably ruffled some feathers.
It turned out to not be as bad as expected. Only about 10 bikers passed me all day and everyone was good about calling out to let me know they were coming. They all said hi and thank you as they passed. I could see why they liked riding this section so much. It was absolutely delightful for me, as well. The tread was my favorite: crushed granite sand for most of the day. The grade was also so cruisey, mostly flat with just a few ups and downs that were full of switchbacks. There was barely a rock in the trail, save for the big granite knobs that made for good jumps. I was flying along at nearly 4 mph pace, feeling like I was on my own bike. The trail was actually fun, like a roller coaster feeling.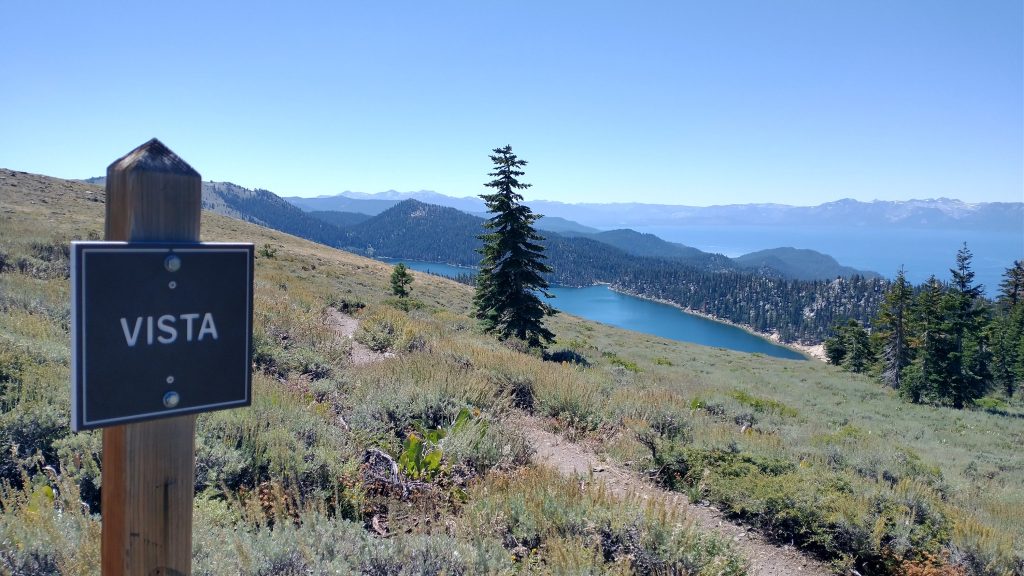 The east side of the TRT loop is known for its lack of water sources. I had my stops planned for the day, confident there would be water based on recent comments from Far Out. I passed by a pond at a saddle and headed up to the top of Marlette Peak, planning to get water from a spring at the campground there. In hindsight, it was a mistake to pass on the pond water. The top had absolutely stunning views of the big lake and smaller Marlette lake, which looked almost like an infinity pool against the backdrop. Sagebrush fields allowed for unobstructed views for over a mile. I couldn't fathom comments I'd seen about the TRT being boring and without many views…not in my experience!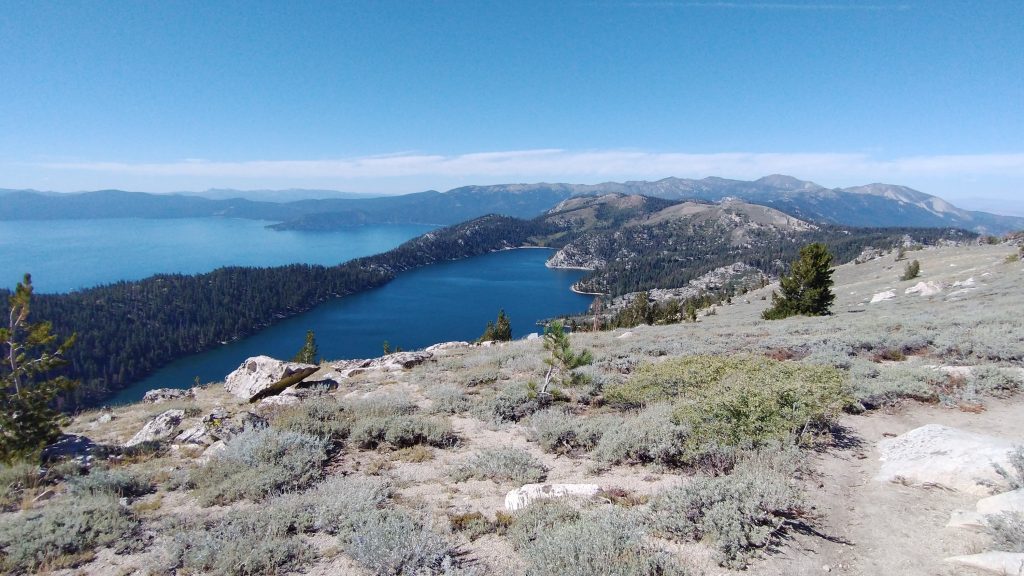 I made it to the campground just in time for lunch and met another clockwise thru-hiker there, Natty. He informed me that the spring was no longer flowing and reduced to tiny puddles. Most hikers haven't had to deal with the horrid water sources I've scrounged from in the desert southwest, but this guy wasn't kidding. The puddles were pretty dreadful. I collected less than a liter before they all became too silted. Then the water I did manage to collect and filter tasted terrible, with heavy iron. Luckily I still had some left from the morning to get me through another 10 miles to the next source. I ate a quick lunch and moved on.
The afternoon saw more travel through open sagebrush over Snow Valley Peak. Then I bombed down towards the cut where HWY 50 runs through. This is the same highway that runs past my home towns in Colorado. It goes all the way to Annapolis Maryland. It was a relief to reach the highway, since this was where I could finally get water. First I checked to see if any was left on the north side in a small cache. I did not find any so I headed for Spooner lake, which was a ways off trail. I could have collected first from a small puddle flowing into the lake, then from the lake itself. But I decided to go all the way over to the other side where there were facilities like a visitor center, pavilions with outlets, and bathrooms. I didn't realize that this was 1.5 miles off trail, but it was worth it.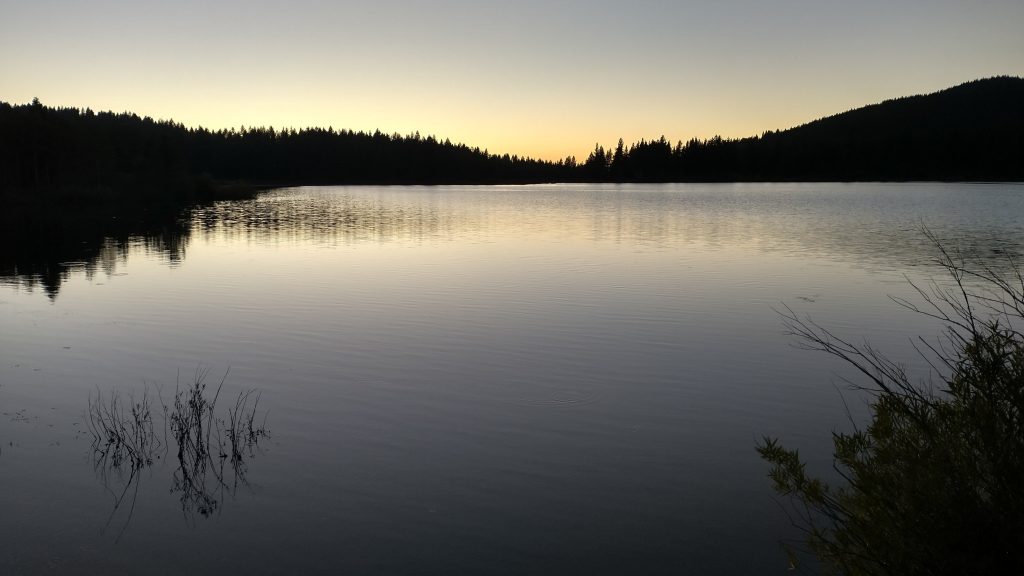 I cleaned up a bit in the bathroom, got water from a drinking fountain, and charged devices while I cooked and ate my dinner at a pavilion. I contemplated stealth camping nearby but decided against it. The stretch north from hwy 50 was off limits to dispersed camping for 16 miles. The only 2 options were Marlette Peak campground and another campground that was 1.5 miles off trail, and all downhill. Luckily my daily miles brought me through the restricted zone. I just needed to go back to 50 and up the hill a ways to find a spot. The sun had already set by the time I left the lake. I dashed across the highway like a frightened deer, dodging the speeding traffic across 4 lanes in the dark. There was a large parking lot on the other side with a bunch of #vanlifers calling it home for the night. There were dogs barking and kids yelling, just like a regular campground. A spent water cache was at the trailhead…good thing I went to the lake.
I walked up the hill and was surprised to find about 4 tents in all the spaces I was hoping to camp. I'd barely seen any backpackers all day, but of course now that I needed to find a spot in the dark, here they all were. I didn't want to wake anyone stumbling around and setting up, so I went further up the trail. Finally I just marched off into the woods and cleared a tiny spot under a tree. It would have to do for one night. It was a much longer day than expected because of my 3 mile side trip, but a really nice day.