Thursday, July 13th, 2023, 0700-1600
Fogarty Creek to South Beach hiker\biker campground, Newport
19 miles, Gain 800′, Loss 800′, elevation 25
My stealth spot was great and in the morning I didn't feel in a rush to vacate early, that's how confident I was in my obscure location. In the end, it was the mosquitoes that made me want to leave. They were merely an annoyance, enough to close my tent screen as I sipped my coffee. Far from the terror they were on the PNT and I don't even think I got one bite… pathetic. I wondered down the road at 7 am and was surprised to find a water department truck parked at the bottom, engine running and door open. I slid by silently, hopefully unnoticed. Perhaps the trickiest part of stealth camping is getting to and from a hidden spot without attracting the attention of others. This is best done under the cover of waxing or waning light, but with the long days here, that's difficult.
I used the public bathroom again and hit the trail. So far, I had no need for my trowel or water filter… glamping. But Plants, if you're reading this, the umbrella and camp shoes were clutch on the beach…I used them all the time! Haha, ongoing joke. The OCT led through a variety of purpose-built trails alongside 101. Sometimes it was merely a scant path under a powerline but hey, us hikers will take what we can get. Right off the bat, there were several really cool coves like Boiler Bay and the many little ins and outs around Depoe Bay. I'd finally arrived at the one part of the OR coast I'd visited before, back in 2016 when I attended a work conference in Newport. I was familiar with all the tourist sights ahead but still, it's amazing how much more you see on foot.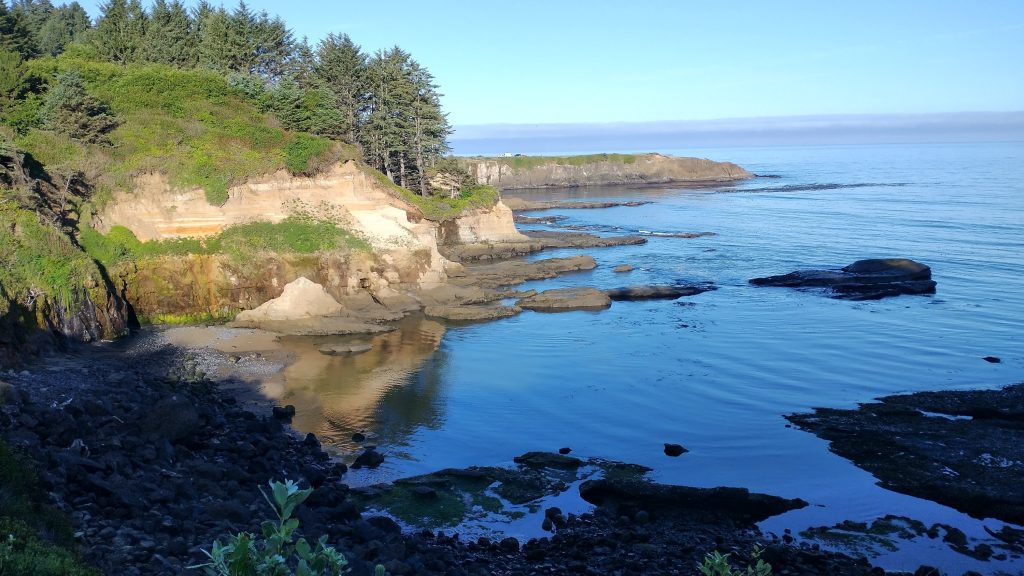 I stopped at Pirate cove for a long time to watch all the nesting seabirds on a nearby island. It was one of the closest Common Murre colonies I'd spotted. There was even a biologist recording information and several enthusiasts with spotting scopes and big camera lenses. Murres and auklets are like the penguins of the northern hemisphere. They even sounded like penguins, with their cackling calls. They were fun to watch but I was sad to hear that no chicks had yet hatched this year and their breeding success on this island was questionable. The researchers were concerned their population may crash soon. Loss of habitat and climate change were thought to be the culprits. It's the sad story everywhere I went these days and why I've been so relentless in my hiking…I fear I may not have a chance to see these natural wonders much longer.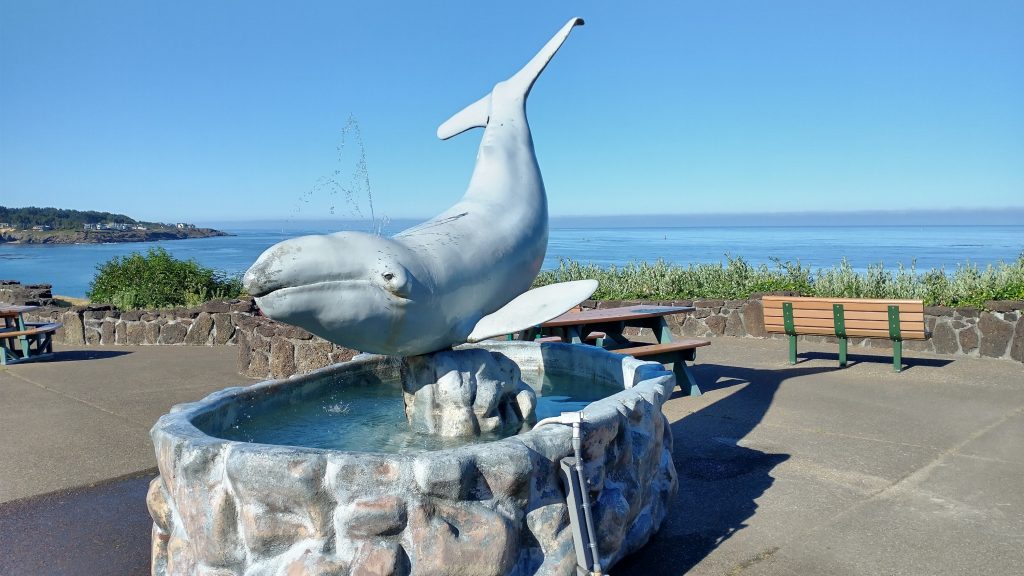 I looked hard for some sea otters but only saw lots of harbor seals. I guess they are pretty rare this far north. Maybe I'd see some by the time I got to California. I walked through the rest of Depoe Bay, noting the 'world's smallest harbor'. Last time I visited was in the winter and as such, there had been huge waves breaking down the channel. It would have been impossible to take a boat out but this day, the ocean was very placid. It would have been a great day for a whale watching tour, but as I can't bear to pay money to go on a boat (they used to pay me to go on boats), I just kept walking. Later I came to Whale Bay, where a tour boat had set up just offshore. I laughed, because I actually had a closer view of the cove from where I was walking. Go figure. The path eventually turned into old HWY 101, a quiet one-way road walk that was very pleasant. A few cars drove past but were going slow. The whole way was just so scenic, with miles of jagged coastline and pleasant, easy walking. I was in heaven.
I came to the cute little gift shop and pseudo museum at the top of Cape Foulweather, so named by my favorite white conqueror, errmm, I mean explorer, Capt. Cook (I'm being sarcastic here). I browsed for a bit and bought some postcards. I had a hard time picking any because I felt like most of my pictures from this trip were better than the ones for sale. Not to brag, it's just that I've seen so many amazing sights from so many angles along the way. It's hard not to be spoiled while walking this coast. I continued my saunter, coming to the Devil's Punchbowl. It's a sea cave/arch that swirls and thunders when the tide is high and conditions rough. It was closer to low tide and a calm day, so I didn't even bother checking it out.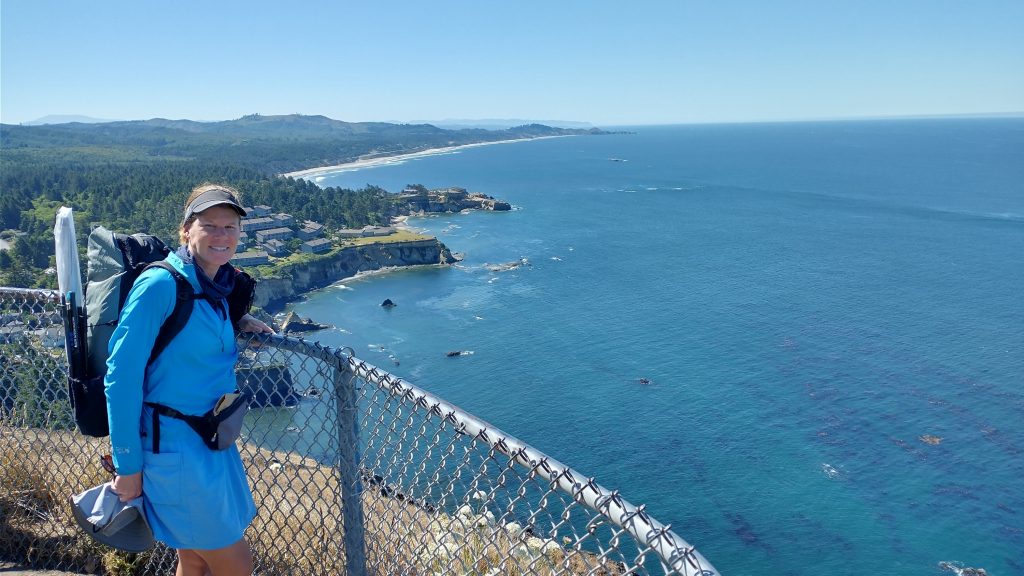 Instead, I sat at a picnic table and chatted with another OCT hiker I'd just caught up to, Mike. Then Slingblade popped up out of nowhere and I was surprised to see him. Since he'd hiked this trail so many times, he had the luxury of cherry-piking the best parts…it's a good strategy! He'd skipped past some of the road walks and ended up ahead of me. Suddenly we had a little OCT bubble going, but it didn't last long. Mike hung back while Slingblade walked the beach with me for a mile or so, then turned off to stay at the state park campground. Thus I was by myself on the beach again, as usual. It was a very beautiful, sunny day, if a bit breezy. Being at my back, I didn't mind and the miles flew by. Shortly I was going over the top of Yaquina Head, where I glimpsed my 3rd lighthouse of the 9 on this coast. I didn't get close to it, since it would have required a road walk to the end of the peninsula. Plus, I was on a time-line to meet up with another hiker-friend's parent. The week before, it had been my friend Skybird's parents that Trail Angel-ed me. This day, it was my friend Sky's dad, John, who was driving from Corvallis to visit. I met and hiked with Sky recently on the Hayduke.
On the last beach section heading into Newport, I caught up to MORE OCT hikers, this time a father and 9 y/o son, Detail and Keenan. I slowed my pace to match those of the smaller legs, enjoying fun conversation with this dynamic duo. I love kids that hike and it was great to see how happy this made dad, too. He lamented his older son reaching the teenage years and not wanting to do stuff with him anymore. So true. I was a dumb teenager once too, turning down a free trip to Spain with my parents. I'm sure they had a great time without me. Keenan, on the other hand, was a breath of fresh air, bright and enthusiastic. They had picked up the trail at Lincoln City and were still getting into their groove. I'd say this is a great trail to bring a family on…but maybe have a plan to avoid the road walking.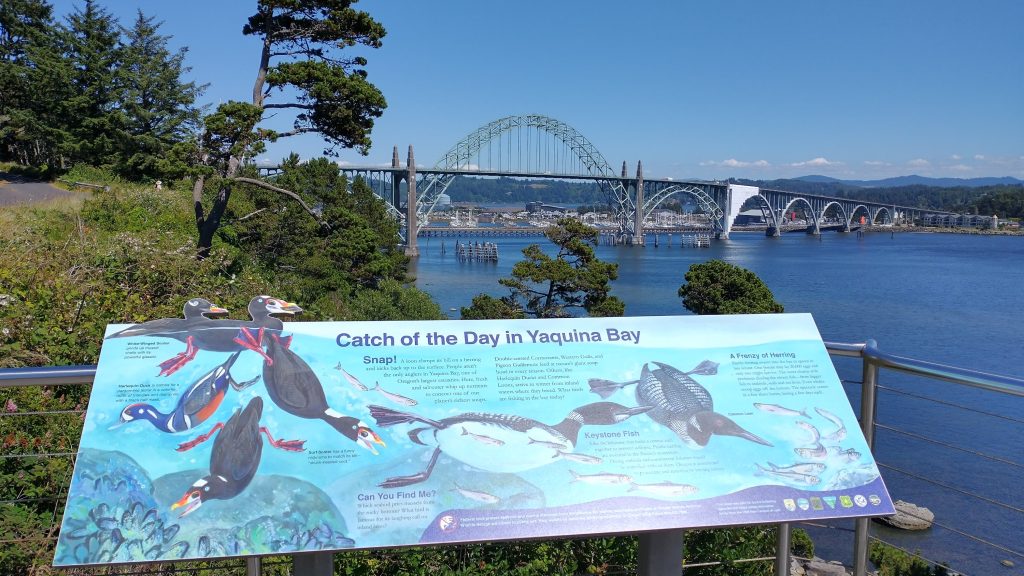 We made it to the end of the beach and large Yaquina bay, with it's scenic and iconic bridge. Guess what, we were about to walk over that bridge! We climbed the dunes, then bluffs, walking past my 4th lighthouse, Yaquina Bay. It was in use for only 3 years before it was replaced by the one on Yaquina head. Once on the bridge, we braced ourselves for a tense walk. The sidewalk was narrow and had no separation rail from the cars in places. It reminded me of the Deception Pass bridge on Whidbey island, only much longer. Keenan went first so the two taller hikers could block the wind for him somewhat, plus act like a bit of a shield from the passing cars, not that we would have helped much if things went badly awry. I tried to take pictures and video but my phone was almost blown out of my hands. We made it across unscathed and were rewarded with a visit to the Rogue brewery…it sits conveniently at the bottom of the bridge…what hiker could pass it by? Not even an underaged one, it turns out.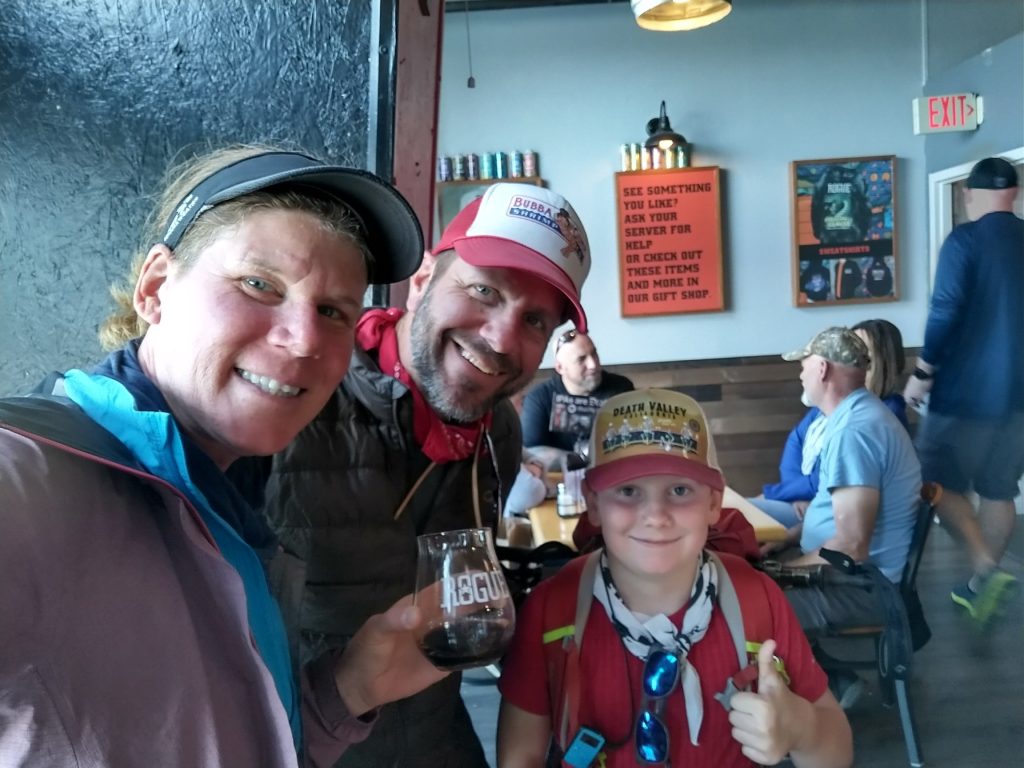 Keenan had a root beer while the aged hikers drank adult beverages. I got an appetizer, since I hadn't really stopped for lunch. I was meeting John in an hour and we planned to go to another restaurant. I called to make a reservation and they didn't have any until 8:30 pm… almost hiker midnight. So we decided to just stay at the brewery. The 2 hikers carried on to the nearby State Park just as John arrived. He'd generously offered to bring me back to Corvallis if I was in need of a shower and place to stay but with the SP hiker biker campground so near, I didn't want to trouble him in making two trips for amenities I could get so easily right down the road. Still, he treated me to a great dinner and beer and it was very nice to have his company. We looked at baby pictures of Sky, which were adorable! I'll spare Sky the humiliation by not posting them on my blog…haha, not like I would ever do that anyway. Sky has plenty of recent and amazing photos from the Hayduke on Instagram @involuted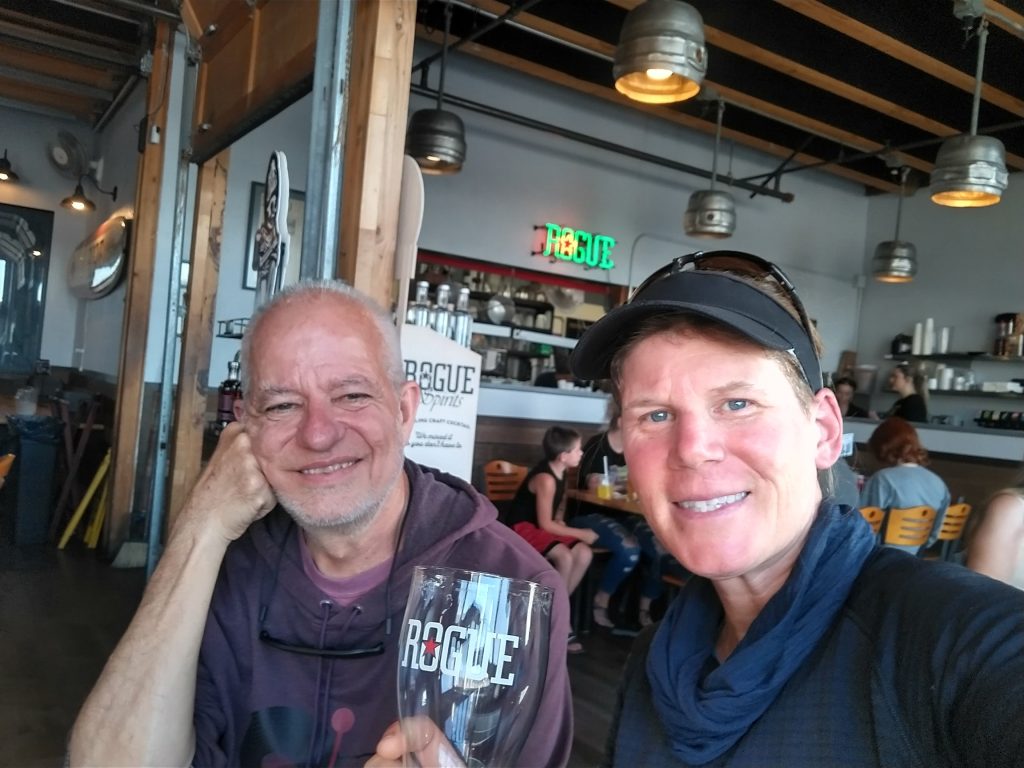 John started following my blog to read stories from the trail, similar to the conditions Sky was experiencing, as they were only a few days ahead. Then Sky and I hiked the eastern part of the Grand Canyon together, which was one of the best parts of that trip. So I was grateful to meet Sky's dad, the person that inspired them to become such a great hiker. John hiked many sections of the PCT himself, so it was fun to compare notes. I get a kick out of meeting other hiker's parents. It reminds me of my first trail, when I brought my 2 friends PBR and Sofie home to my parent's house in Florence, CO. We took 2 zeros from the Colorado Trail and my parents were still talking about how much fun the experience was years later. Parents are some of the best trail angels!
It got to be late and I needed to set up camp. John drove me to the state park, where I joined all my fellow OCTers. It was kind of funny telling the park ranger that I was there for a hike-in site when I arrived in a car. The ranger didn't even question it…guess I looked enough like a hiker. I said goodbye to John and thanked him again. I really had a good time talking with him. Then I was reunited with Angie and Tom, who I'd met Day 0 in Manzanita. Plus Detail, Keenan, and another new guy, Dave. Wow, 6 OCT hikers all in one place! It was fun being part of this little group and I really enjoyed the social aspect of the HB area. Being the introvert that I am, I'd probably need several days of solitude to balance my overindulgence in socializing this day, but I was feeling surprisingly buoyant in being around so many.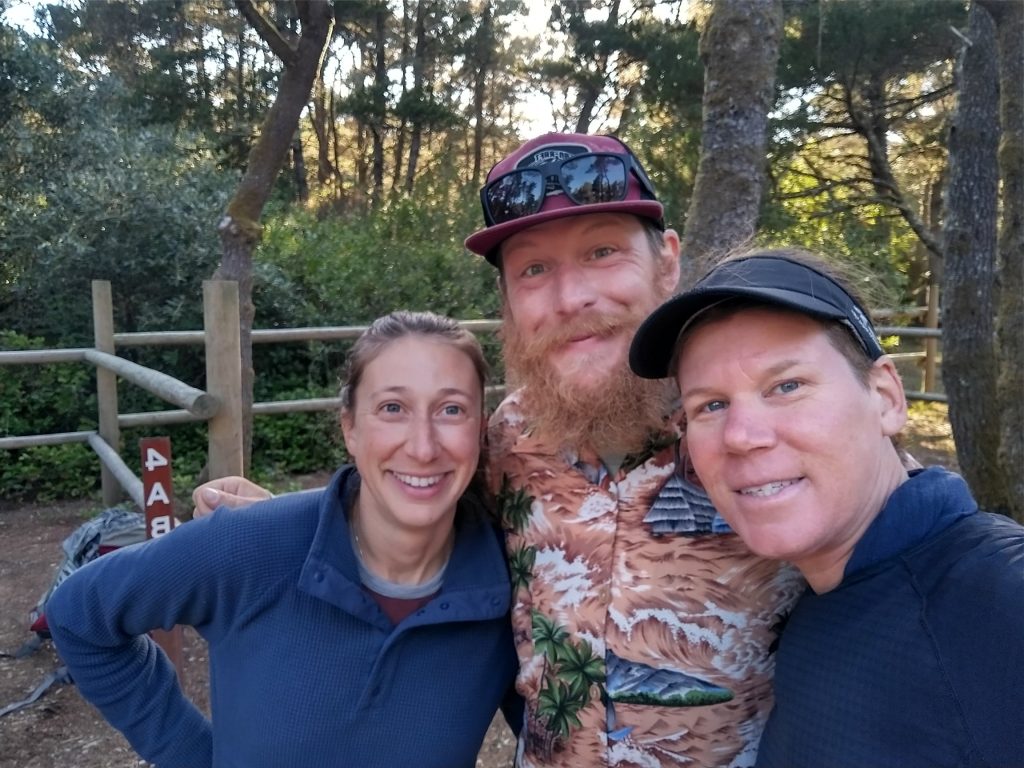 I hung out with Angie and Tom a bit, but it was already past bedtime. I heard snores from a nearby biker as soon as I laid down but I didn't even bother with my earplugs. I slept great all night.