Tuesday, Aug 22nd, 2023, 0850-1930
Soda Creek I-5 to Ash Camp & McCloud River
27 miles, Gain 6870′, Loss 6580′, elevation 2390′
It rained all night, making me so happy and feeling lucky to have stayed another day with Karaoke. I even had to get up to grab an extra blanket, it was chilly! I walked with Karaoke to work in the light rain and we took our picture with Smokey the Bear, who was warning of high fire danger. I made sure my umbrella was in the picture too. Even with all the rain, the fire danger was still high and the many fires were still burning. I said goodby but hoped I'd see Karaoke again…I had to come back to climb Mt. Shasta, after all.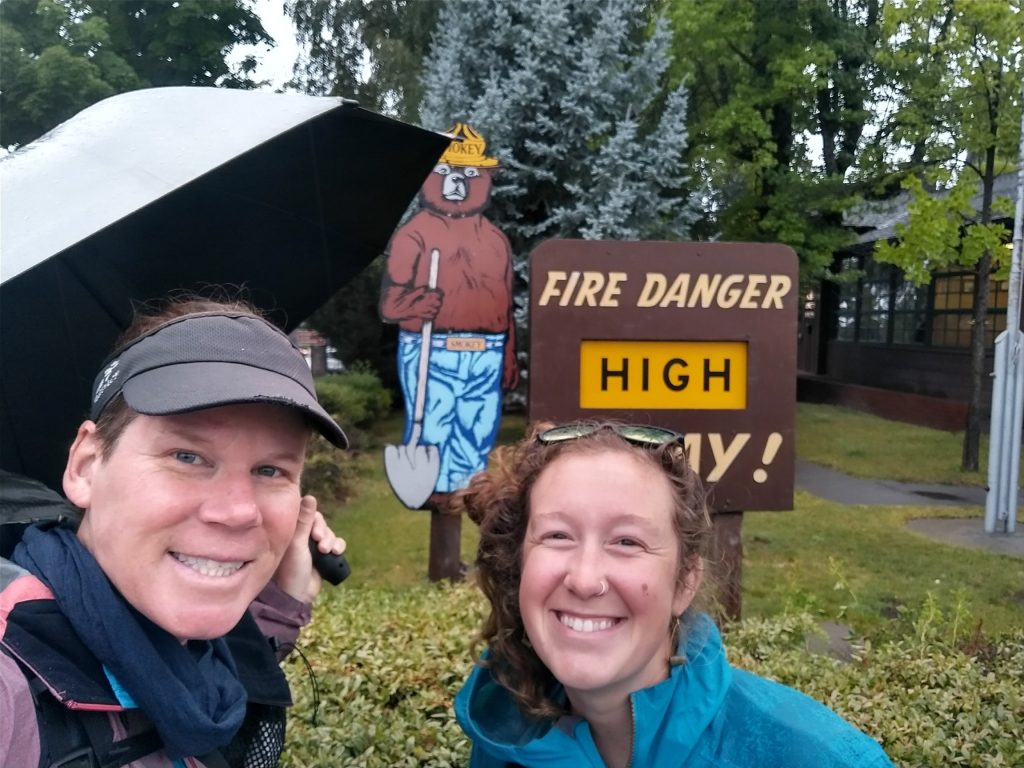 I didn't hear back from the shuttle driver right away so I walked over to the freeway entrance and stuck out my thumb. After about 15 minutes, a nice lady came by to give me a ride. I learned that she runs one of the hotels in town and gives hikers rides all the time…she wasn't even going down the interstate, so the ride was just for my benefit. What a sweetheart. I was more interested in reducing her drive than connecting my footsteps, so I asked to be dropped off at the closer exit at Soda Creek. There are several connector routes that go from the gas station at Castella to where the PCT officially goes under I-5… it's a very confusing area.
The trail wound nicely into the trees and I remembered quite a few details about it. I guess I was kind of hyper aware last time, worrying about the fire that was only 6 miles away. I passed my makeshift campsite, recalling an unpleasant night trying to sleep in the thick smoke. The view this day was not unlike the one before…a blanket of white. But this time it was due to the lingering rain clouds. Water dripped from every surface and the loamy trail was delightfully soft and spongy, rather than burnt to a crisp and dusty. A myriad of bushes and deciduous trees lined the trail and the moss seemed to have sprung back to life with a passion. If I didn't know better, I'd swear I was hiking the Appalachian Trail. The rain had stopped, so at least I was able to put my brella away.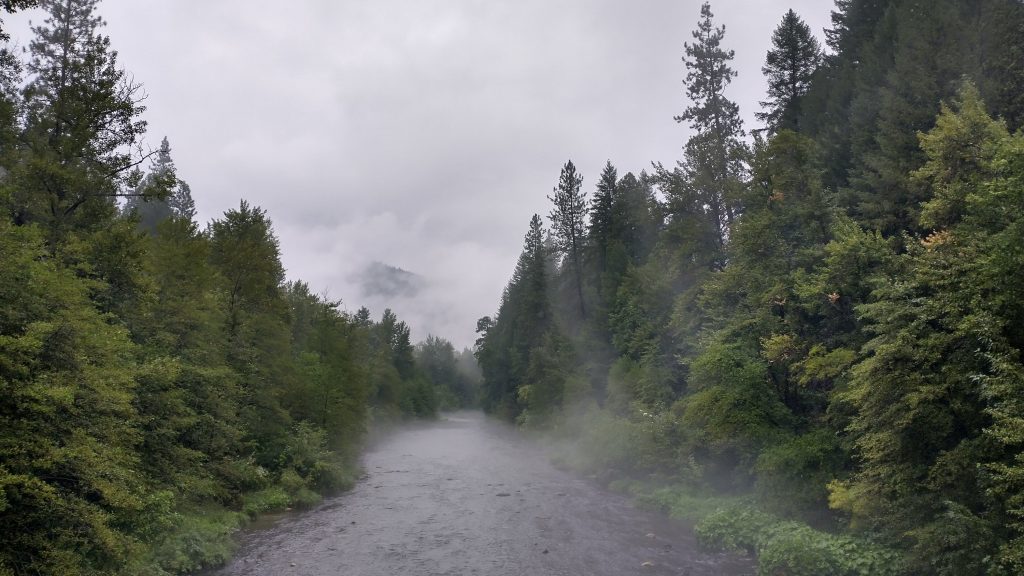 I pondered all the conditions I'd experienced in the past week: from insufferable heat to the dry thunderstorms, the start of the fires, the smothering smoke, and now a day of steady rain from the first hurricane to hit southern California ever…it was kind of bonkers! I was waiting for Mt. Shasta to start erupting because, sure, why not add some pyroclastic flows to the mix. The best part was that the temperatures had been in the 50s and 60s the last 2 days and the highs over the days to come were mercifully going to only be in the 80s and 90s. It was like a fever breaking.
I noted a section ahead that snaked around to the side of a ridge, while a fire break took a more direct route along the ridge. There were several notes in Far Out about taking this short cut and it seemed like a fine alternate for me. One of the best things about having already hiked the whole PCT, I didn't feel the need to follow it religiously. I could take alternates and shortcuts and even skip a few short and boring connector pieces if I wanted to. I went with what made sense logistically and also out of the interest of seeing something slightly new or different.
I was glad to have my Locus app with USGS topo maps, which showed all the roads and fire breaks. The road split confusingly in several places and the Far Out maps didn't show that detail…they are really poor maps, actually. I met a couple going the opposite direction and looking distraught. They were really going south and had accidentally taken the ridge. They were going back to find the trail, in the mindset that can't miss a single official footstep of trail…the every white blaze motto on the AT. I showed them where they had gone wrong on my map and they seemed relieved. It was a confusing intersection but because I had intentionally taken the shortcut, I'd scrutinized it closely. I'd even verified that the trail was below me…I could see it through the trees. The thing about intentionally taking shortcuts is that you better know what you're doing. Being armed with additional resources is key, but also having route-finding experience is crucial. In a way, going off script is a good way to sharpen navigational skills. I didn't even have an inkling about shortcuts and alternates when I hiked the PCT before. I simply followed the red line (color of the official trail on the Far Out app). Now, every time I looked at my maps, all sorts of options stood out to me. I felt very liberated by my skill set.
I met 3 SOBO german hikers early on. They had skipped all the way from Sisters OR because of the smoke and fires. Then at the end of my shortcut (don't worry, it was accounted for in my daily milage), I ran into 4 more hikers, looking confused by where I randomly popped out of the bushes. I was caught, blue handed. We all started hiking together, conversing about who was originally going what direction and what sections we'd all skipped or flipped. One lady, Lightweight, had started June 24th at Harts Pass and managed to SOBO the whole trail thus far. She'd made it past Seiad Valley just a day before the closure. She was one of the few SOBOs to be so lucky. Her early start had made all the difference…even though she had to road walk an additional 10 miles just to get to Harts Pass. A landslide closed the road going back to the prior year (shortly after I went by the area on the PNT) and it was just reopened the afternoon she walked up it. Good or bad timing, it's hard to say. Maybe if she'd waited until the afternoon or even the next day, she wouldn't have gotten past the fires. It's funny how all these events play out and hindsight is 20\20.
Sadly Lightweight wasn't going to be able to compete the whole trail, even though she'd had a perfect run thus far. She had a hard deadline with a new job in October…a residency as an OB\GYN. That's a pretty important gig and I was happy for her in being a successful medical professional in a field that is so badly needed. But dang if something like that doesn't get in the way of thru-hiking. I was glad there was room for people like me to be hiker bums, not contributing to society. "Turn on, tune in, drop out"
The miles passed quickly with company. I also talked at length with Out Here, a SNOBO who was doing big miles and moving at a fast pace. He had also just snuck past the fires and was racing to the finish in the Sierra. He carried a tiny Nashville pack that made me envious. We came to the McCloud river, which was roiling with angry brown water from all the rain. Thank goodness there was a bridge over it!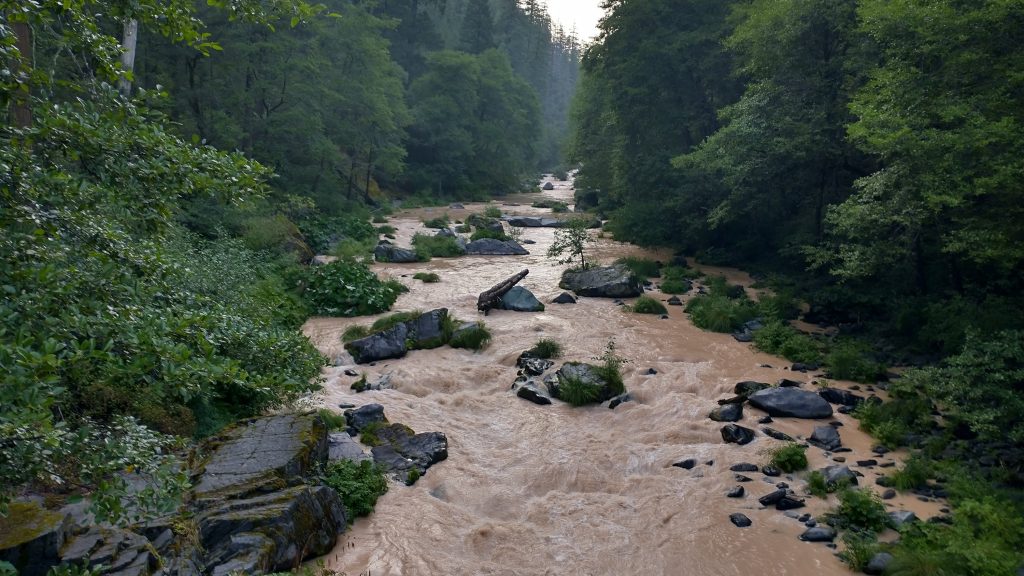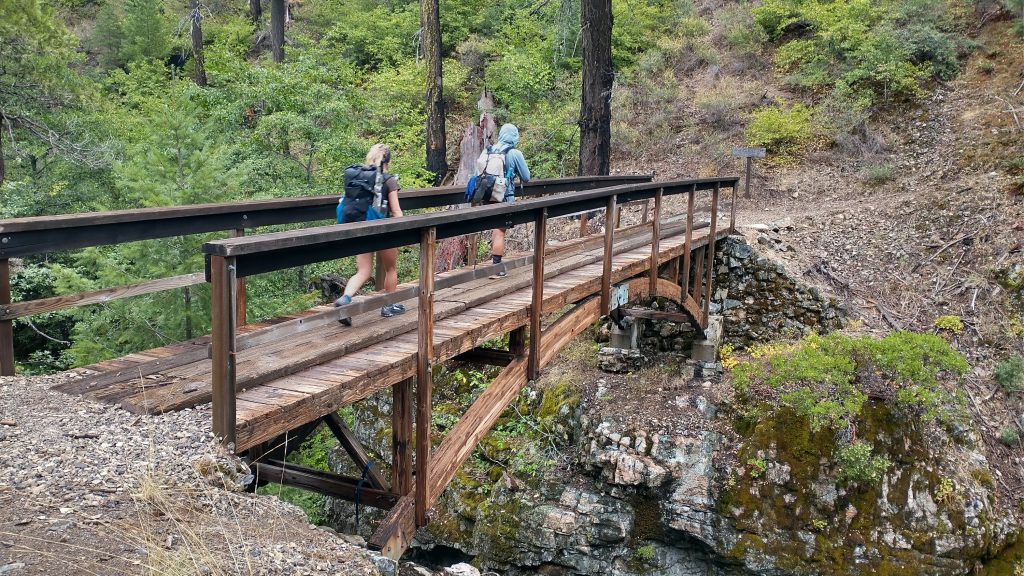 Lightweight and I made camp near the river while Out Here pushed on. There were 3 or 4 other tents at the campground but everyone already seemed to be tucked into bed. This was the spot where most of my 2018 companions had gotten a ride to, from Dunsmuir, to avoid the fire closure. I walked through (because the USFS hadn't officially closed the area yet, only the PCTA had said it was closed…but they don't have the authority in such matters). It made me think about how Plants had just been razzing me at Trail Days for finishing the PCT a few days before I did. Yeah, well I walked an extra 30 miles, plus I climbed Whitney, which he didn't since he'd already done it before. The score is settled Plants (we may have a bit of an on-going competitive streak but in good nature).
It felt so good to back on trail. Onward!