(Scroll to the bottom for a links listing of all my daily blogs)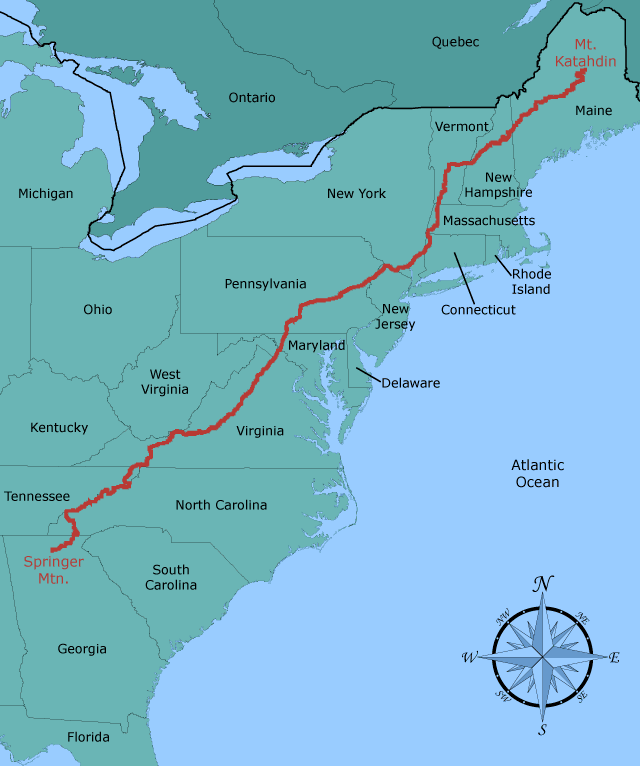 The Appalachian Trail (AT) is one of the longest continuously marked footpaths in the world, measuring 2,193.1 miles in length.
The AT passes through 14 states along the crests and valleys of the Appalachian mountain range from the southern terminus at Springer Mountain, Georgia, to the trail's northern terminus at Mt. Katahdin, Maine.
The trail passes through 2 National Parks, 8 National Forests, and crosses 15 major rivers.
The highest point on the trail is Clingman's Dome, 6,643′, in the Great Smokey Mountains.
More than 250 three-sided shelters exist along the trail.
Virginia constitutes the most miles of the Trail (about 550), while West Virginia has the least (about 4).
Maryland and West Virginia are the easiest states to hike; New Hampshire and Maine are the hardest.
The total elevation gain when hiking the entire AT is 464,500 feet, the equivalent of climbing Mt. Everest 16 times.
The AT is home to a diversity of plants and animals, including black bears, beaver, moose, porcupines, snakes, and salamanders.
Fun Facts taken from the Appalachian Trail Conservancy.
Follow these links for all posts related to my AT thru-hike.
My AT Gear List
My Genesis on the Appalachian Trail
The Backwards Triple Crown
Southbound on the AT…the right way
AT Day 0: Hello Again Maine!
AT Day 1: The Greatest Mountain
AT Day 2: Rainbows
AT Day 3: Streams & Lakes
AT Day 4: Hump Day
AT Day 5: The First 100
AT Day 6: Monson
AT Day 7: SOBO Friends
AT Day 8: Caratunk
AT Day 9: The TA on the AT
AT Day 10: Bigs
AT Day 11: Southern Maine Hurts
AT Day 12: Saddlebacks & Magic
AT Day 13: The 4 R's
AT Day 14: Lightning Flashes
AT Day 15: In Traction We Trust
AT Day 16: Gorham
AT Day 17 & 18: A Break, Sort Of
AT Day 19: The Presidentials
AT Day 20: Friday the 13th was Kind
AT Day 21: Franconia Ridge
AT Day 22: Chet's Place
AT Day 23: Mt Moosilauke
AT Day 24: Cubes, Smarts, Mooses, and Miss Janet
AT Day 25: Hello Vermont!
AT Day 26: Fred
AT Day 27: Yellow Deli
AT Day 28: Quad Blazing with Firewood Angel
AT Day 29: Henri
AT Day 30: Green Mountain House
AT Day 31: Vermud
AT Day 32: Make it to Mass
AT Day 33: Greylock Wishes Come True
AT Day 34: Smelling Some Roses
AT Day 35: Efts
AT Day 36: Great Barrington
AT Day 37: Bear Mountain & Connecticut
AT Day 38: Deli Hopping
AT Day 39: Ida
AT Day 40: Coming Out After the Storm
AT Day 41: Nuclear Lake
AT Day 42: Bear Mountain NY
AT Day 43: The Rave
AT Day 44: Warwick Rest Stop
AT Day 45: A Jersey-tastic Day
AT Day 46: Just hiking
AT Day 47: Delaware Water Gap
AT Day 48: Summon the Rocks
AT Day 49: Will Walk for Food & Beer
AT Day 50: Mad Toe
AT Day 51: Will Walk for Pizza
AT Day 52: Jinx & Porcupine
AT Day 53: Duncannon
AT Day 54: Nero Out
AT Day 55: Boiling Springs
AT Day 56: Halfway
AT Day 57: Fairyland Shelters
AT Day 58: Washington Monument
AT Day 59 & 60: Harpers Ferry & Washington DC
AT Day 61: Back on trail
AT Day 62: PawPaws
AT Day 63: Virginia is for Trail Lovers
AT Day 64: Wayside & Lodge Hopping in Shenandoah
AT Day 65: Old Rag
AT Day 66: On the SOBO Train
AT Day 67: In & Out
AT Day 68: Premium Breaks & The Priest
AT Day 69: Open & Lexington
AT Day 70: James River
AT Day 71: Campstore Magic
AT Day 72: Blue Ridge Bliss & Lettuce Club
AT Day 73: McAfee Knob
AT Day 74: VA Blues Can't Catch Me
AT Day 75: Twig of Pearisburg
AT Day 76: Woods Hole Hostel
AT Day 77: The Gathering
AT Day 78: Dismal Falls
AT Day 79: Gollum vs Smeagol
AT Day 80: Garden Mountain
AT Day 81: Bigfoot & More Cluck for your Buck
AT Day 82: Grayson Highland Ponies
AT Days 83 & 84: The Last 500 & Damascus
AT Day 85: They Do Exist
AT Day 86: Hard Core
AT Day 87: Exponentially Fast
AT Day 88: Roan Mountain Highlands
AT Day 89: Will Walk for Sauna
AT Day 90: Cold Danger Noodle
AT Day 91: House of the Sun
AT Day 92: Hot Springs…my completion of the AT but not the Finish
AT Day 93: Max Patch & Appel
AT Day 94: Into the Smokies
AT Day 95: Highpoints
AT Day 96: Fresh Grounded at the Fontana Hilton
AT Day 97: NOC
AT Day 98: Franklin Friends
AT Day 99: Wayah Miracles
AT Day 100: Georgia for the 100th
AT Day 101: Commitment to the End & Acrobatic Mice
AT Day 102: Penultimate Pizza
AT Day 103: Nothing Lasts Forever, Even Cold November Rain
AT Day 2022: Updates
AT Summary & Stats
AT Trail Angels & Trail Magic Recognition