Saturday Oct 30th 2021, 0945-1200 
NOC to Tellico Gap, SOBO AT mm 2064.3
7.9 miles
3210 gain, 1060 loss
I slept so well in Donna's warm and cozy upstairs loft bed. The idea of getting up to hike through another cold and rainy day was unappealing, to say the least. But I had more trail angels lined up for the end of the day, so what was another day of walking in such conditions? A goal of 23 miles quickly turned into 8. Since I'd already hiked these sections, I didn't mind pushing through and missing the views. But Mud would be short-changed. Wesser, Wayah and Siler balds all had such nice vistas, it was a shame not to see them, especially given the fall colors. So I proposed we only go as far as Tellico gap and save Wayah and Siler for the next day, when the rain and fog was forecasted to finally break.
This 8 mile nero would be my shortest day since… since I couldn't remember back that far. Oh yes, shortest since I'd taken a zero in Damascus, 2 weeks prior. All the other days on the last stretch had been minimum 17 or 18 miles, most 25-30 miles. I was due for a little break. Plus, I really wanted to spend some quality time with my friends Sofie and Arthur! Sofie was a bright and shiny part of my first tramily on the Colorado Trail in 2017. She joined PBR and I in Breckenridge, after her hiking buddy got off trail. The 3 of us ladies had such a blast on that hike. I hadn't had long-term female hiking buddies since then, so PBR and Sofie held special and unique roles in my history. Sofie was also instrumental in helping me with my fall 2017 AT section hike, shuttling me to Springer Mountain and Fontana Dam. She'd been one of my first Trail Angels.
We got a pretty late start, as it was hard to get away from Donna's cabin. She kept presenting more and more food for breakfast and I kept eating it all. I'd eaten so well in the past few days that I could really notice a difference in my energy. The cold had taken its toll but fortunately I'd been able to fight back. At the trailhead, we said out goodbyes while Donna snapped lots of action shots of us departing. We started up a steep incline towards Wesser fire tower, navigating a whole lot of rock steps. I remembered thinking I'd hate to go up the trail as I was coming down it last time, but the climb felt like child's play, even in the poor weather. We wound our way up the ridge, passing a team of bedraggled looking backpackers heading down. Then we caught up to a group of college students out for a weekend hike. It was funny to see so many people braving the drizzle but not surprising, given the peak of leaf-peeping season. We passed Wesser fire tower, not even bothering to go up since there was nothing but fog to see. I'd watched a gorgeous sunset from there years ago, so at least I had that memory. Shortly I spotted a familiar face coming up the trail: Sofie! We hiked a short mile with her to Tellico gap, where she whisked us away from the cold, down to her house near Franklin.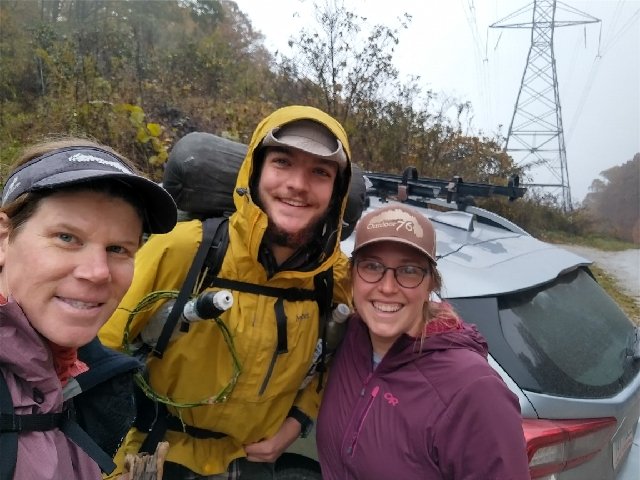 It was great to see the transformation in Arthur and Sofie's lives. Just 4 years ago they were still planning their wedding, struggling to find their paths from recent graduates into the world of working professionals. They had been renting a dilapidated cabin, which Sofie confided she feared I wouldn't come back to visit again, as if the rustic conditions scared me away for good. I reminded her that I'd slept in a sheep shed (with complimentary sheep poo) and other deplorable situations that might make people's skin crawl…I was tolerant of a lot, that is to say. Their cabin had been one of the more warm and welcoming breaks from the trail, as was their new and updated home this time around. They had just bought their first house and were both full-time school teachers. I was blown away by their new casa! It was huge, modern and decorated so lovely with a lot of their own creations. Both are artists, specializing in pottery and sculpture. I could have spent days just musing at all the cool items in the house. I'm so proud of these two for accomplishing so much since I first visited.
Mud and I got cleaned up, then we all went out for a late afternoon on the town. We first stopped at a grocery store for our very last big resupply. I almost had a mental breakdown grappling with the reality of it…things had gone by so fast that I hadn't been able keep up with the facts and logistics of finishing the trail in 137 miles. Hopefully, I'd figure some things out in the upcoming week. Or I'd end up at Amicalola Falls wondering what to do next. Somehow I had faith things would work out the way they were supposed to. Sofie gave me a reassuring smile and I felt better. Then we went for food-truck delights and beers at my favorite trail town brewery, the Lazy Hiker. The mainstreet of Franklin was closed to traffic, with a Halloween festival in full swing. I managed to nab some candy along with the kids, parading around in their costumes. It was fun to be a little part of the festivities.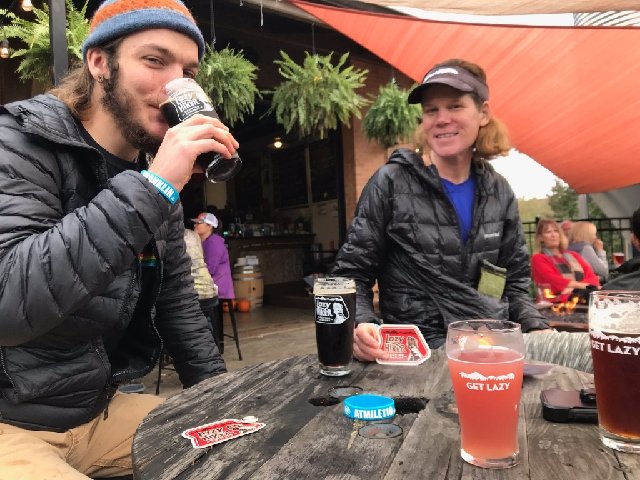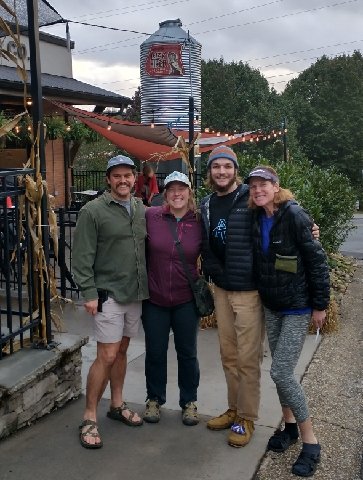 We also stopped by Outdoor 76, the very cool outdoor gear store in Franklin where Sofie used to work and bar-tend (yes, there's a bar inside the store, very popular with hikers!). The kind store manager gave me a free AT patch and helped me print a CDT and PCT logo so that I could fashion my Triple Crown. The crown was procured from the nearby Burger King. I'd learned this trick from my fellow Triple Crowner's Smackdown and Doubledown. I wasn't sure that my flimsy paper crown would make it all the way to Springer mountain, given more rain in the forecast, but I'd do my best to get it there. It actually looked pretty good after I finished gluing on the logos.
We spent a relaxing evening trying to cram more food at the house. Sofie made a lovely dinner of black bean soup and cornbread. I was pretty full from the food truck and beer but there's always room for more. We hung out on the couches, playing with Zappa, a 17 lb spirited cat. He was only a kitten last time I'd met him. Now he was a feline to be reckoned with, having a bit of a biting and scratching fetish. Much thanks to Sofie, Arthur, and Zappa for sharing their beautiful home with us. I can't wait to visit again!