Friday Oct 29th 2021, 0800-1800
Fontana Dam Shelter to NOC, SOBO AT mm 2056.4
29 miles
7680 gain, 7730 loss
I woke to the sound of semi-heavy rain. This was expected but still a bit demoralizing. I didn't want to walk 29 miles in such conditions, but this is what it would take to stay in a warm and dry home by the end of the day. Sure I could have just stayed put at the Hilton, but not if I wanted to make it to Franklin for the weekend, in order to visit friends. Walking all day in the rain is a part of thru-hiking, a testament to our dedication to the cause.
Speaking of dedication, Fresh Ground had insisted on serving us breakfast before we took off. And not just some bagels and cream cheese but eggs to order, bacon, sausage, potatoes, and blueberry pancakes with real maple syrup. He had all this made by lantern light at 06:30 am. As I stumbled through the rain and dark to the scene, I pondered the absurdity of it all. Us waking so early to walk in the rain and him going through so much trouble and expense to feed us. We were privileged and blessed.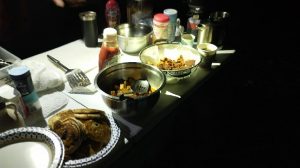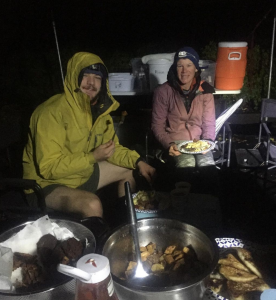 Given the large breakfast, amenities, and rain, we were dragging our feet to leave. Once we hit the trail, we focused on our mission: to march. The climb out of the valley had me scrubbing layers left and right. Soon I was down to just my dress but had to put my fleece back on once we gained a ridge. I played some upbeat songs about sunshine, while my umbrella kept me dry. The rain was intermittent and never too heavy. Unfortunately the trail was quite overgrown in places, forcing me to put the umbrella away half of the day. It was a good test for my alpaca fleece, which has some water repellent abilities itself. The fibers and weave have a way of catching rain drops on the surface, preventing them from soaking in. I wore it all day and it never felt wet against my skin, keeping me warm at the same time. I was pretty impressed with its performance. My alpaca neck gaiter and beanie also served a similar function.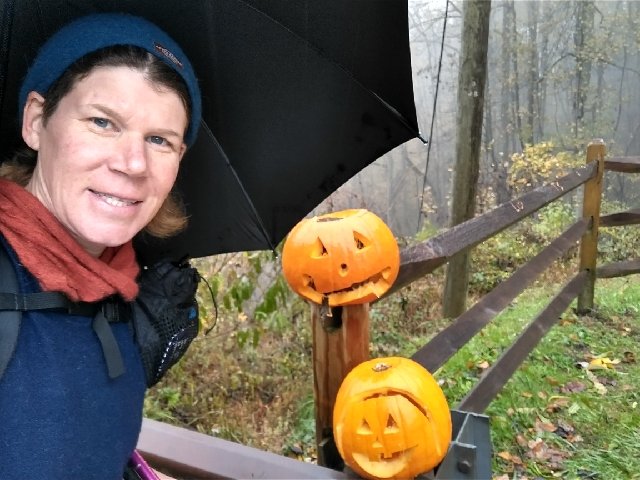 It felt like we climbed all day long. We went up over 5000′ to Cheoah bald, where we ran into 2 dogs that appeared to be lost. The were going the opposite direction but immediately turned to follow us. One was a great dane that kept stepping on my heels as he walked behind me. His paws were so huge, I guess he couldn't help himself. I called the number inscribed on his collar and just as soon as I did, they both ran off and disappeared. It was strange. I felt bad about leaving them up there but hopefully the owner was nearby. I never got a call back from the number I called, so I assume he found them…or didn't care.
We both got pretty cold as we crested the mountain and began the 7 mile descent. Mud ran ahead to see if he could get to NOC before 6 pm to pick up our packages…he made it by 5:30 pm only to find they were open until 7 pm. I was worried for him when he ran off, leaving me in the dust, err, I mean rain spray. It was very slippery going down and I didn't want him to get injured. He's been wearing the same pair of Bedrock sandals since New Hampshire and while they work for him, their grip is diminished. My shoes, with over 1000 miles on them, were similarly lacking traction. But still I managed to keep a fast pace and not fall on my butt…though I came close several times. I arrived by 5:50 pm, picking up my package that I'd been set to get in Hot Springs. Better late than never. I was so happy to get my warmer Therm-a-rest and a pair of gloves.
I'd told my friend Donna that we'd be there by 6 pm and like clockwork, she was there too. Pretty impressive for 2 people from Miami and given all the logistics…ha! I knew her from the local kayaking club. We'd been on a paddle together over the summer, when someone brought up my AT hike. She told me that she had a cabin about 30 minutes from the NOC and to give her a shout when I was nearby. The timing worked out pretty great, especially given the weather. I wasn't soaked, only my shoes were wet, but the cold made us long for a hot shower and cabin. Donna also made beef stew for dinner, which was so delicious. It's one of my favorite comfort foods. We met Donna's husband, Jan, and I enjoyed talking to him about his track cycling career…he was quite the champion racer! Another great ending to a long, hard day.