Thursday Oct 28th 2021, 0600-1445 
Derrick Knob Shelter to Fontana Dam Shelter, SOBO AT mm 2027.4
24.2 miles
4550 gain, 7615 loss
I woke to find dust covering every surface, including my quilt, pillow, face and phone. The wind had blown dirt from the shelter floor onto the bunks all night. Even my mouth felt gritty. I've never started a day feeling so gross. I promptly got up to shake everything out, then pack on a bench in the corner, slightly out of the wind. Cold and grumpy, I left early. I figured it was better to walk in the dark than in the rain that was forecasted to start later in the day.
A comment on the app warned of rough trail conditions for the next 6 miles. I had shrugged it off but then I found it to be generally true. There were some rock scrambles and short but steep ups and downs. I didn't remember any of it from my previous trip. I must have been in a good mood and talking with friends back then. This time around, it was dark, cold, and exceedingly windy. There were gusts up to 50 mph and lots of sticks and branches fallen on the trail. Barbed wire brambles had also been blown across the trail. They repeatedly raked my body, ripping off my hat at one point. My legs were more torn up after this one day than anytime before on the trail.
After struggling in the dark for almost 2 hours (headlamp finally off at 07:35 am!), light began to creep in as I went up Rocky Top. I got a few glances of the reddest sunrise glow I'd ever seen. It looked rather sinister and ominous. Within minutes, the glow was gone behind the clouds and it started to spatter rain. I was disappointed that the rain had started so early but I could see partially clear skies ahead. The rain clouds moved quickly in the wind and were soon gone. I crested the mountain, stopping to snap a few pictures of the rugged conditions. I remembered a few nice balds where I'd previously stopped to soak in the sunshine and also where I'd found a huge rattlesnake doing the same. My feet didn't stray from the trail this day, as I rushed to get out of the wind. The grasses swayed wildly in the gusts, dancing with a fever-pitch.
There were a few more peaks and knobs to climb after this, but at least the trail eased a bit. I passed a few shelters, all empty. I didn't see anyone until just before Fontana dam, where I passed a trail runner, 2 backpackers and 2 day hikers. The backpackers looked miserable about heading out into such conditions. The wind was just so demoralizing and the forecast called for 3 straight days of rain and cold. I was so happy to be heading out of the Smokies. We'd pushed hard, gotten 1 perfect day, and now could relax…sort of.
Since it still wasn't raining and the clouds weren't yet socked in, I decided to go up the Shuckstack fire tower. It rattled and swayed like mad in the wind but was worth the death-defying experience for the views. The fall colors were stunning against the backdrop of the lake. I'd never seen the Smokies so beautiful.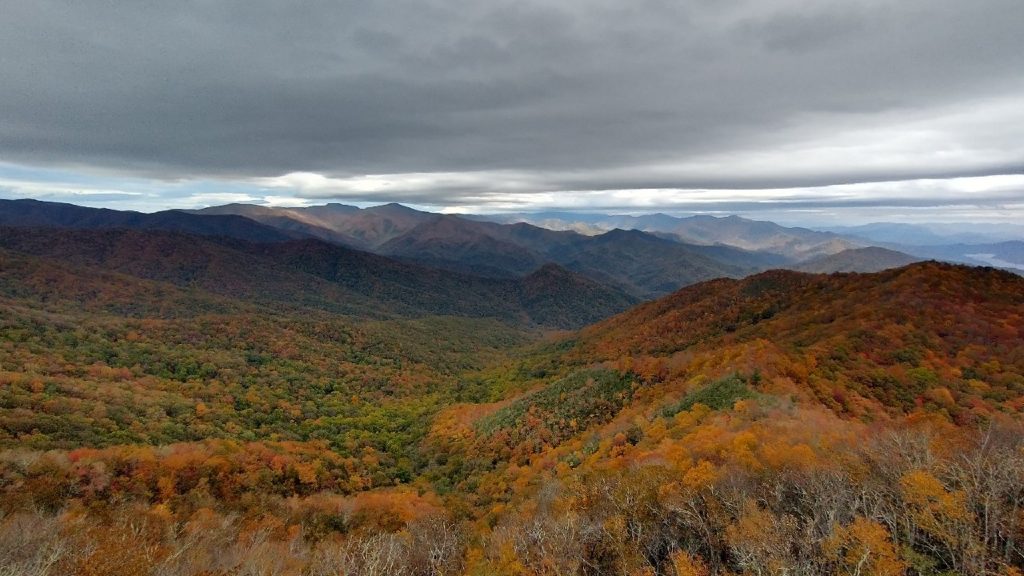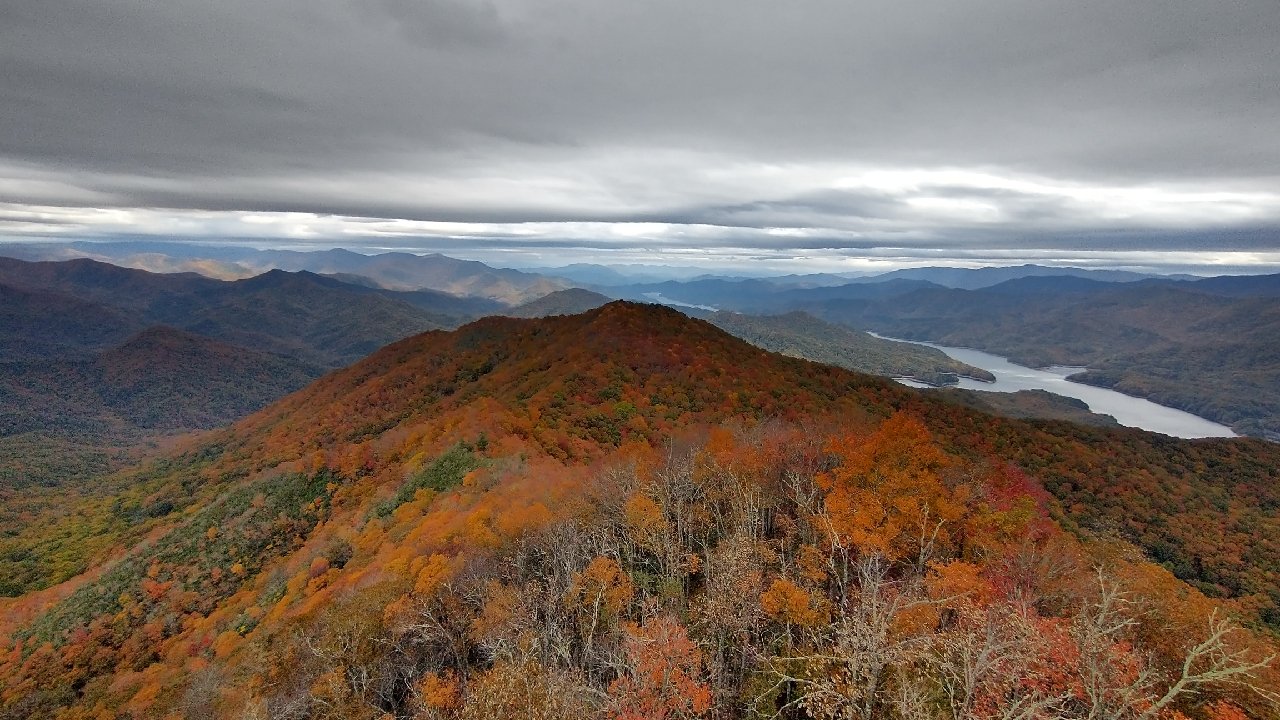 I crossed the dam just as it started to rain. It was the 3rd time I'd walked across and I shed a few tears over the memories and significance of it. I skipped the visitors center, intent on finding Fresh Ground. He'd said he'd be around and sure enough, just before the shelter, I found his full set up. In this area, he was able to do cookouts. He had a tarp coming from his van, covering an area with tables, chairs and a variety of cooking apparatus. He even had an elaborate handwashing station to stave off contagious diseases (namely norovirus).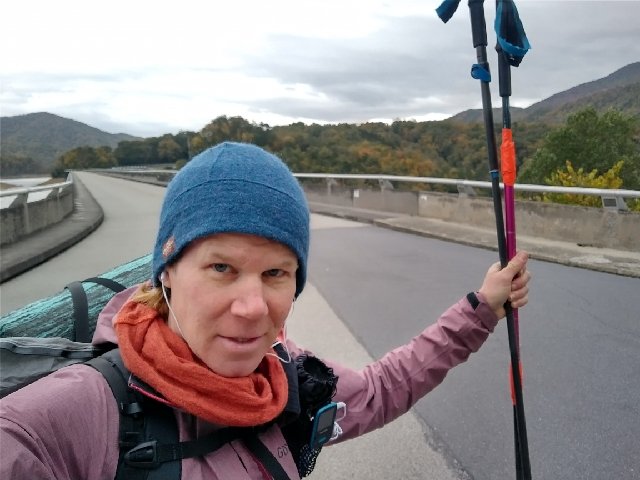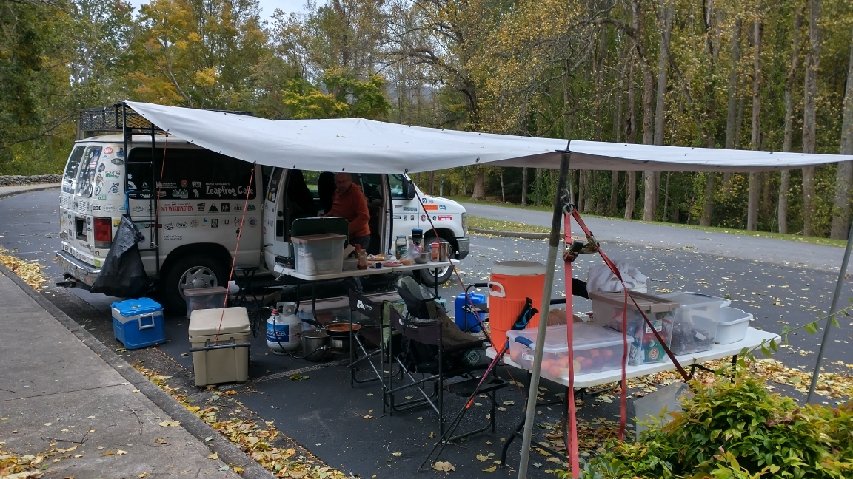 An array of food was ready for burrito making and I got to work immediately. After just half an hour, I'd consumed 2 and was working on the innards of a 3rd. Mud arrived around this time, managing to eat 3 full burritos. Fresh Ground also sauteed asparagus spears and made hot coco for us. Ours was an impressive feat of consumption but more impressive were Fresh Ground's efforts. What an Angel. His passion is simply feeding hikers and he does an amazing job at it. Fresh Ground lives and breathes this mission for over half the year. We'd heard about him since before Damascus… he's certainly had an impact on the well-being of thousands of hikers and adventurers.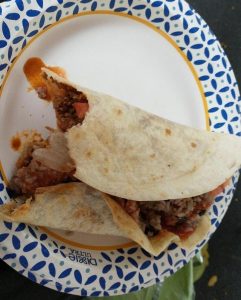 Worthy of its own chapter is Fresh Ground's custom van, complete with charging ports, a specialized license plate, stickers from all his travels, and even the signatures of hikers covering the interior. It ought to go to the AT museum when it's retired.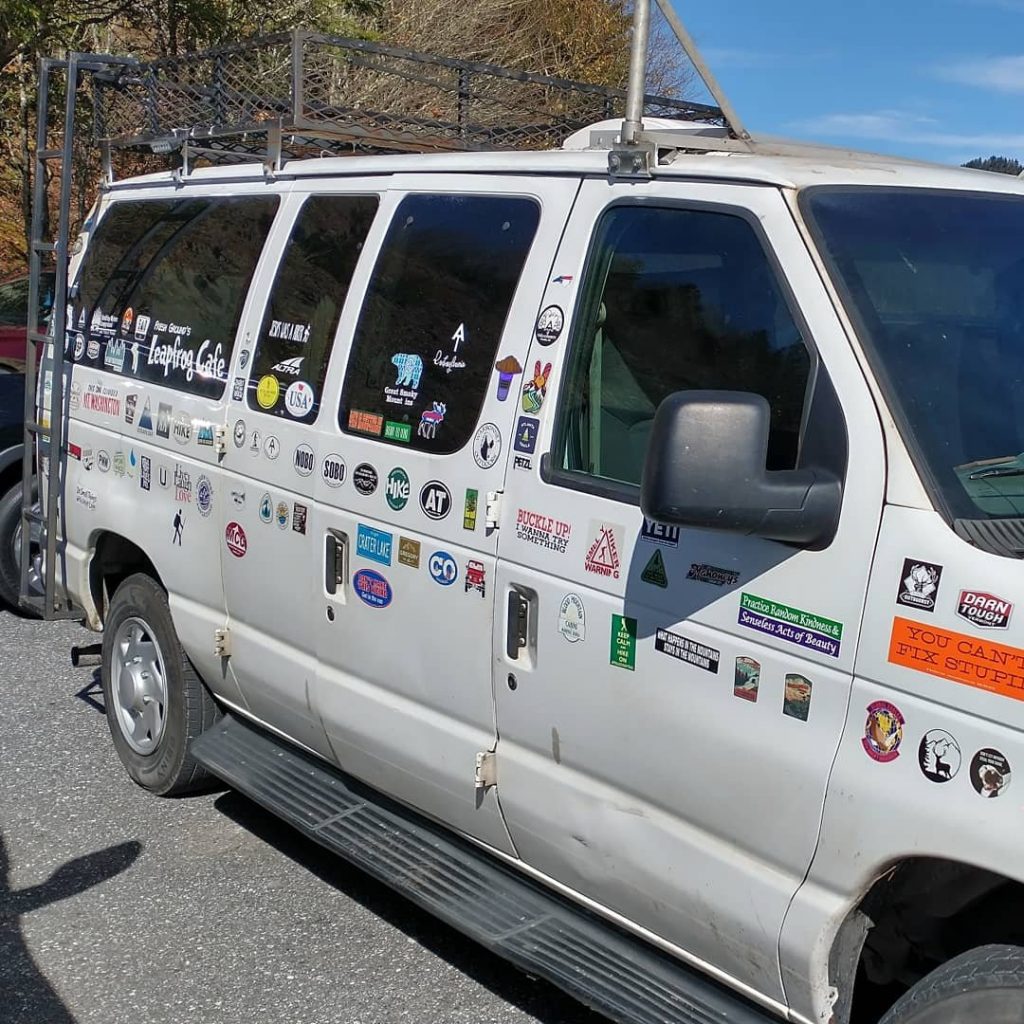 A few more hikers came by. A couple were just finishing the BMT and one guy, Orange Cap, was just about to head into the Smokies. They were all staying at the large shelter nearby, affectionately known as the Fontana Hilton, given its size and amenities. There's a bathroom with flush toilets and showers nearby and also a charging station. The shelter can fit 24 on the bunks and many more on the floor. It was a warm and welcoming place, especially after the dirty and windy shelter the night before. After we'd stuffed our bellies to absolute capacity, we took long hot showers and settled into our home for the night. I'd stayed previously when a large group of teenagers were also residing, in the middle of a summer canoe trip. It was full then but this night there were only 5 of us and it felt massive inside. What a great way to end a day and successful run of the Smokies. I hiked through in 3 days what took me 5 in my previous section hike. Still, I was glad for both experiences.