Wednesday Oct 27th 2021, 0630-1900 
Peck's Corner Shelter to Derrick Knob Shelter, SOBO AT mm 2003.3
28.8 miles
6690 gain, 7150 loss
It was very cold overnight but I stayed warm in my quilt. I've been impressed by it, given its 30 degree limit. I didn't even wear my puffy to sleep. I left the shelter before Mud, knowing he'd catch up. I watched the sunrise from the trail, brilliantly framed by the mountains. I'd woken to clear and brisk skies…what a 180 from the day before. It was probably the best views I'd ever gotten from the Smokies, since usually it's pretty hazy, when it's not raining or foggy. I'd been 0 for 2 for views from Clingmans Dome on previous visits but today I was finally going to get a ringer. It's only taken me 20 some years…about time.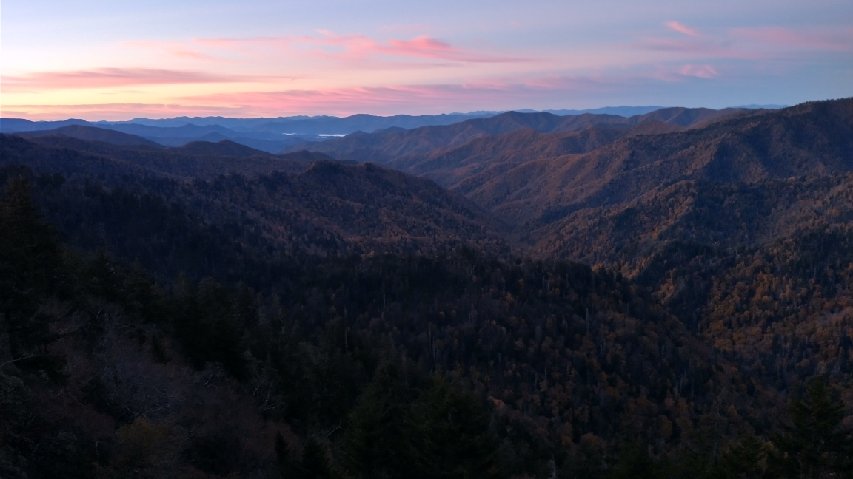 It was a glorious morning spent following the narrow ridge, with frequent views off both sides. I remembered how much I enjoyed this piece of trail before…there's a reason it's so popular with the hikers. There are spots where a stone retaining wall holds the trail along the cliffs. A lot of resources must have went into building it in the first place. I marveled at the frost on the plants and ice in the puddles…it was cold, for sure!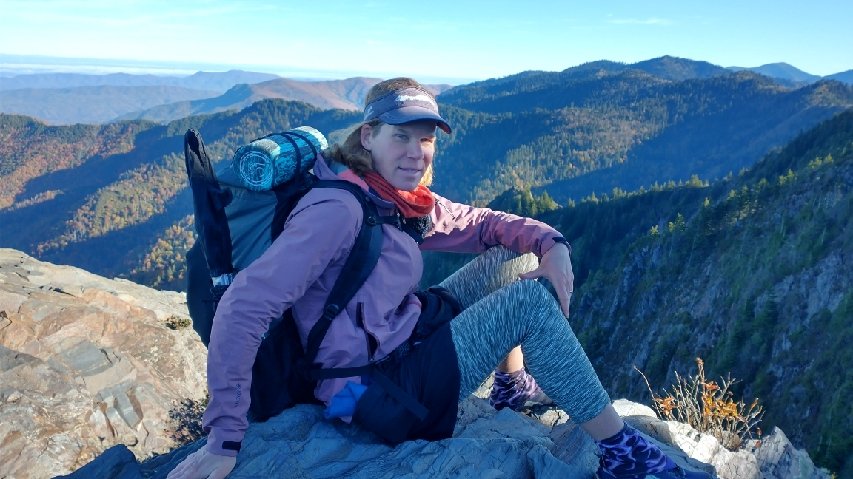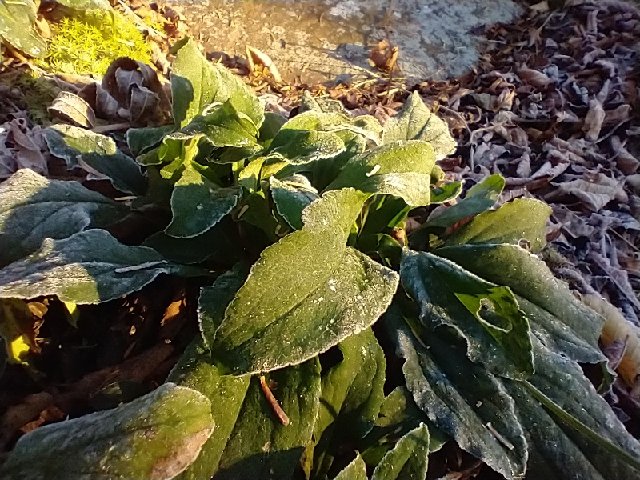 As I walked, I got the idea of drumming up some trail magic for us. I'd been given the number for a famous Trail Angel, Fresh Ground, and knew he'd been nearby at Davenport Gap the day before. I sent him a text and he called me back in less than a minute, making plans to meet us at Newfound Gap. Trail Angels on call to come do trail magic…this made me feel a little guilty about such a privilege. But as I found out, this is the kind of thing that Fresh Ground lives for. Plus, without telling him where we are along the trail, he ends up wasting his time when hikers don't show randomly. It takes planning and scheduling for us SOBOS, given that there's so few of us.
I didn't tell Mud about these plans, to keep them a surprise, then he got ahead of me when I went on the side trail to Charlie's Bunion. Luckily I caught him again before the gap. We were both practically running down the wide trail, scattering all the tourist making the trek to the Bunion (it's a scenic rock formation, the most popular hike in the park). Even though it was mid-week, there were probably over 100 people that we passed in less than 3 miles. A large group yelled "trail runner!" as I approached and all got over. I replied "thru-runner!" Many commented on our fast pace, seeming to want to make conversation, but nothing slowed us down. Mud didn't even know why I was in a hurry but began to suspect something was up. He wasn't too surprised to find Fresh Ground waiting for us at the gap.
Because of the bureaucracy that exists within a National Park, Fresh Ground can't overtly feed hikers. He'd need a permit so as to 'compete' with the other concessionaires. But he can offer pre-determined support to a few hikers. He had brought us subs and had a variety of snacks and drinks. And of course he made us fresh ground coffee in a french press…his signature. We learned that he drives his van around all season, starting in February, just feeding hikers. His van is called the Leapfrog Cafe and is funded by donations. You can check out his FB page for more info.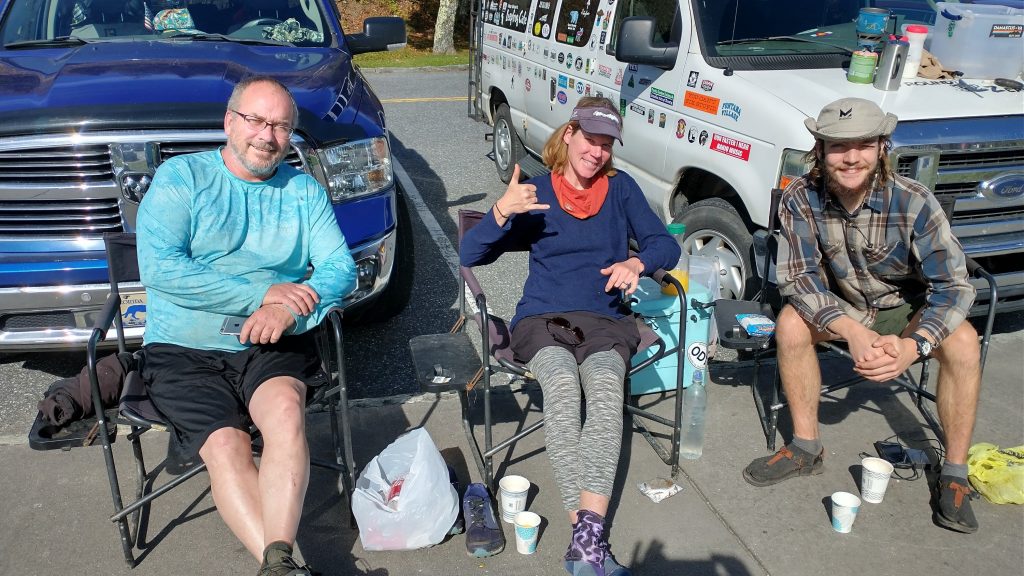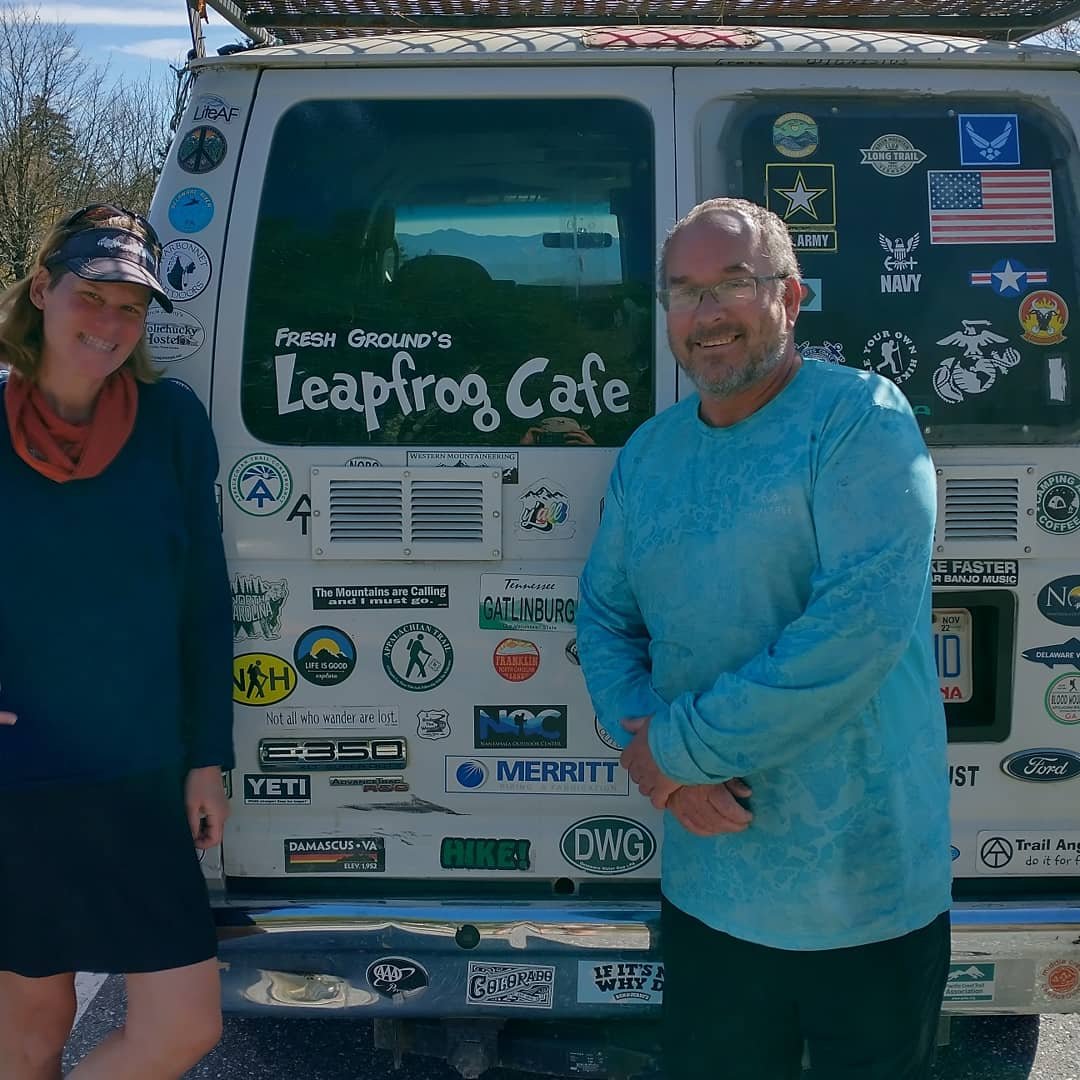 I'll write more about Fresh Ground, as he makes another appearance. But for now, we soaked in the sunshine and digested the food before bidding farewell and thanks. We had a big mileage day planned and a climb to the highest point on trail, Clingmans Dome, 6612′. Technically, this was the official finish to my AT journey, since I'd gotten a hitch down from the dome back in 2017, due to an inflamed poison ivy rash on my ankle. As a result, I'd skipped about 8 miles of trail during that section hike. It was kind of cool to finally wrap things up by hiking to the highpoint. Also, I was thrilled to finally get a view at the top. I'd walked or driven up twice before, always in the fog. This day was clear as far as the eye could see.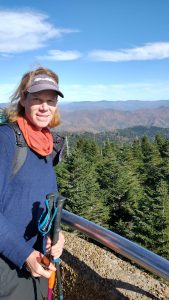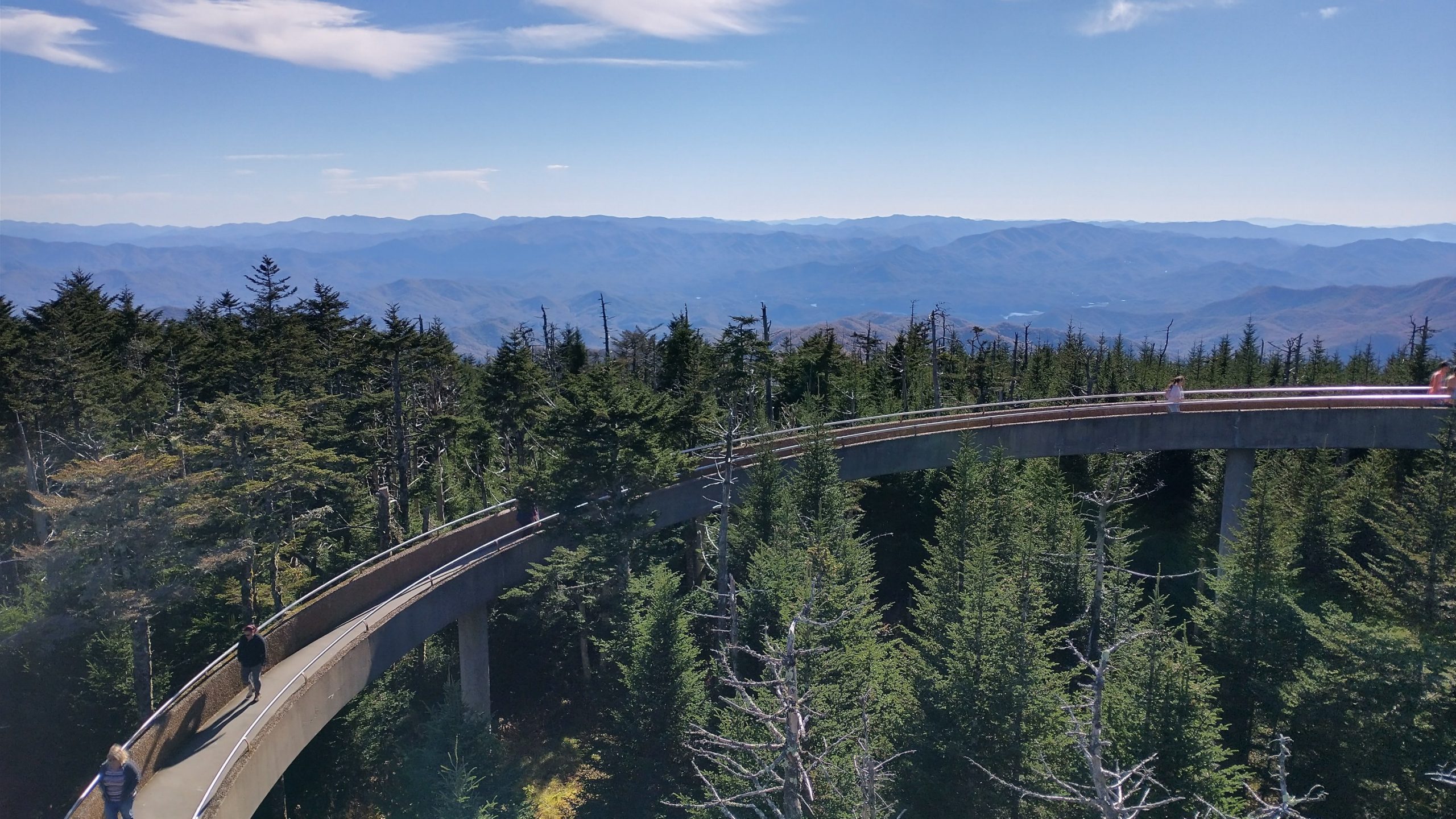 The ascent was fairly easy, the trail virtually deserted. Of course the top was swarming with tourists. We went up the tower, practically waiting in line for the views. As happy as I was to be up there on a good day, the crowds made me long for the trail. Mud was pretty unimpressed with his first visit. We couldn't find any signs acknowledging it as the AT's highpoint or even a blaze, which is kind of sad, considering. The top is not designed for AT hikers but rather in consideration of those that drive up…and so it goes with many of the highpoints on the AT. Congrats…you just exerted a ton of energy doing what 2 or 4 wheels achieved in no time. What an accomplishment.
We continued on, still having more than 10 miles to go before our planned shelter. We were happy to descend over 1000′ since a chill wind had started to blow. After a bit, we came to a marker delineating the 2000 mile mark for SOBO's. It was fun to celebrate Mud's first time walking this distance (technically, it was my 6th time reaching 2000 miles).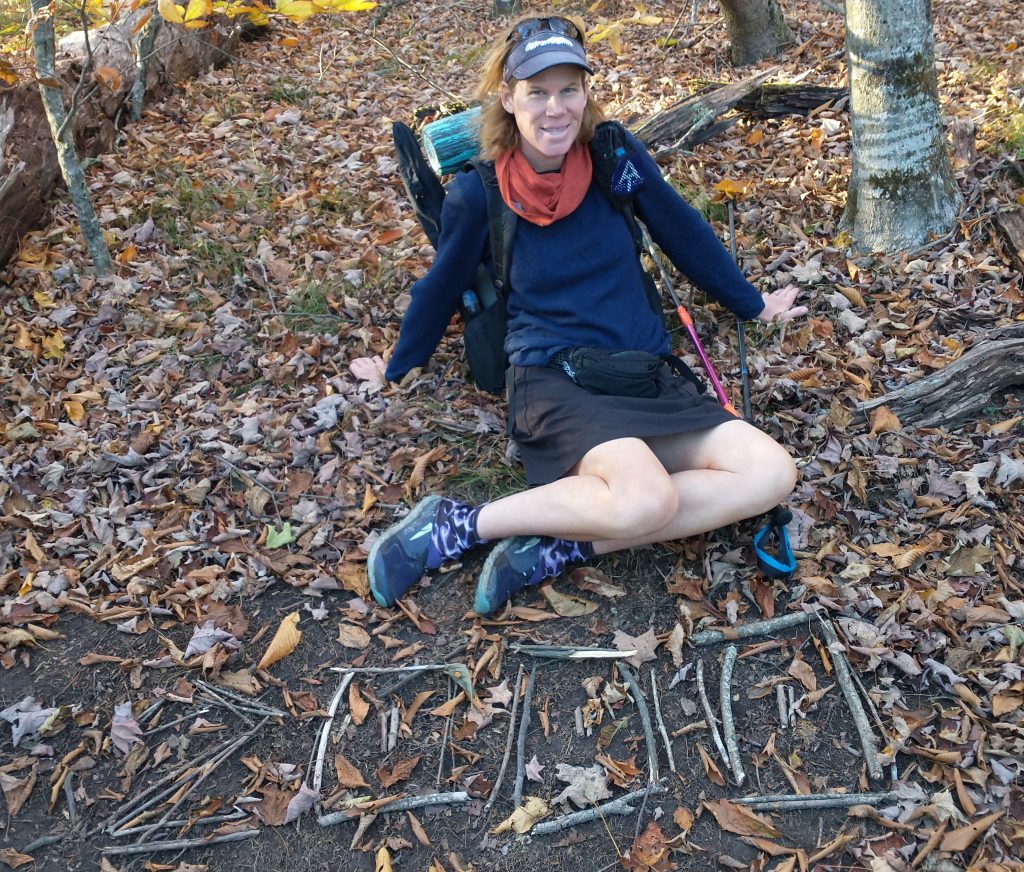 We passed several other shelters which had only a few people, so we were optimistic we'd find space at our planned destination. Sure enough, there was only one other guy there. We fetched water just as darkness fell and settled in for the night. The wind was blowing into the shelter as I went to sleep, making for a cold experience.