Tuesday August 10th, 2021, 0630-1900
Pinkham Notch to Rt 2, then Gorham, SOBO AT mm 319.4
20.7 miles
7267 gain, 8514 loss
Today I hiked backwards (NOBO) and without much of anything in my pack. I thought it would almost be like a day off and boy was I wrong, once again. It felt like this day finally broke me.
For starters, I didn't get a good night's sleep. It was pretty loud in the yard, especially when the train went by in the middle of the night. I had to pack my tent and things at 5 am because I needed my trekking poles (tent poles) and didn't want to leave my stuff outside, even though I planned to return to tent again. Such is the nomadic life. Ziggy, a trail angel and shuttle driver that hiked the AT a few years ago, gave Toe Jam and me a ride to Pinkham Notch at 0600 am. We started at a fast pace and it seemed like we got up to Wildcat Peak pretty easily. There were gorgeous views of Mt Washington.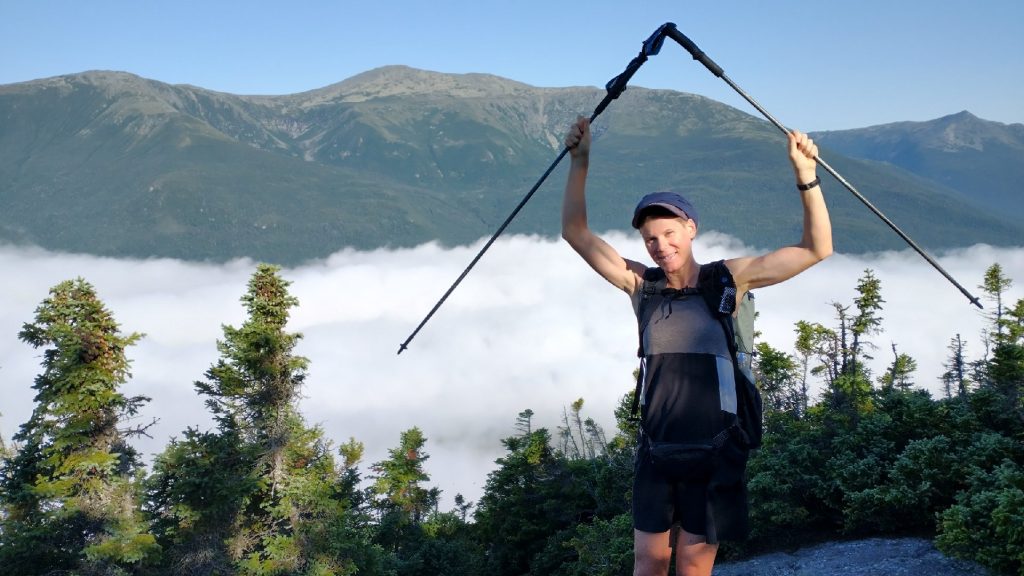 Toe Jam informed me that the part we just did was supposed to be the steepest on the whole AT, going up 1000′ in half a mile and 2000′ in a mile and a half. I didn't notice any difference from the steep stuff I'd already been doing for weeks. Perhaps this was because there were views and I had a friend to talk to all the way up.
At the ski lift, we stopped to play with Bruce, a 125 lb mastiff black lab that was as massive as he was cute. We posed with him, trying to lift him onto 2 feet to show off his size and I couldn't even lift him! He's as big as me. What a ham, he wouldn't let me pet the little dog out of jealousy and posed perfectly in front of the sign. Playing with cute dogs at the tops of mountains is a new favorite past time of mine.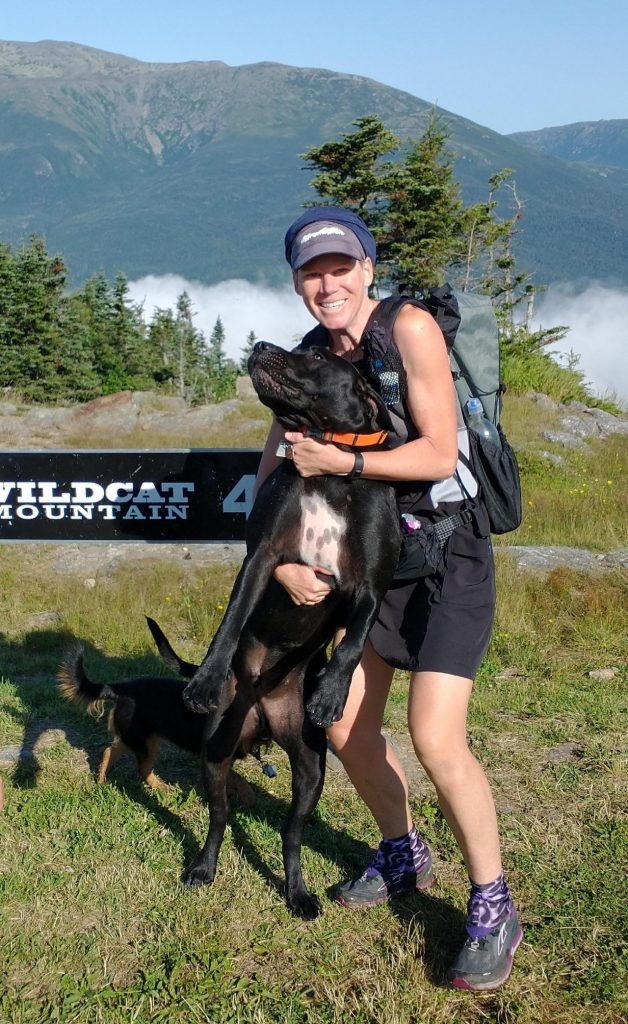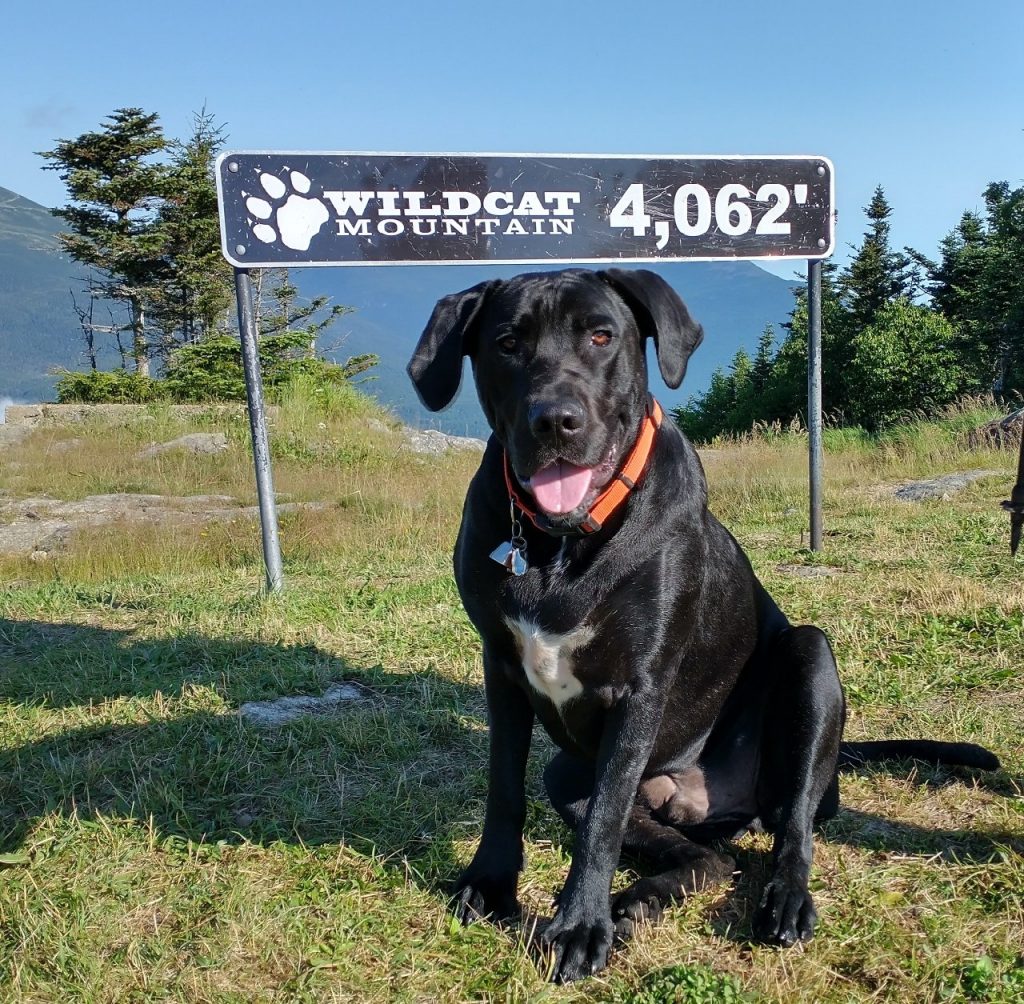 Next we made it down to the first hut we'd come to in the Whites. These are run by the AMC and are like the full-service ones in NZ, Patagonia and the Alps. Guests are provided bunks and meals and food is available for purchase by anyone. I used my AMC thru-hiker card to get a free baked good…a delicious piece of chocolate cake. Yum.
We had another couple of big climbs to the Carter mountains, a series of about 4 peaks but none with too good of views. The clouds were rolling through so sometimes we were just in the mist. We started to become wary of how slow we had gone in the morning and how much distance we still had to cover. Without all our gear, we didn't have a choice but to go the distance.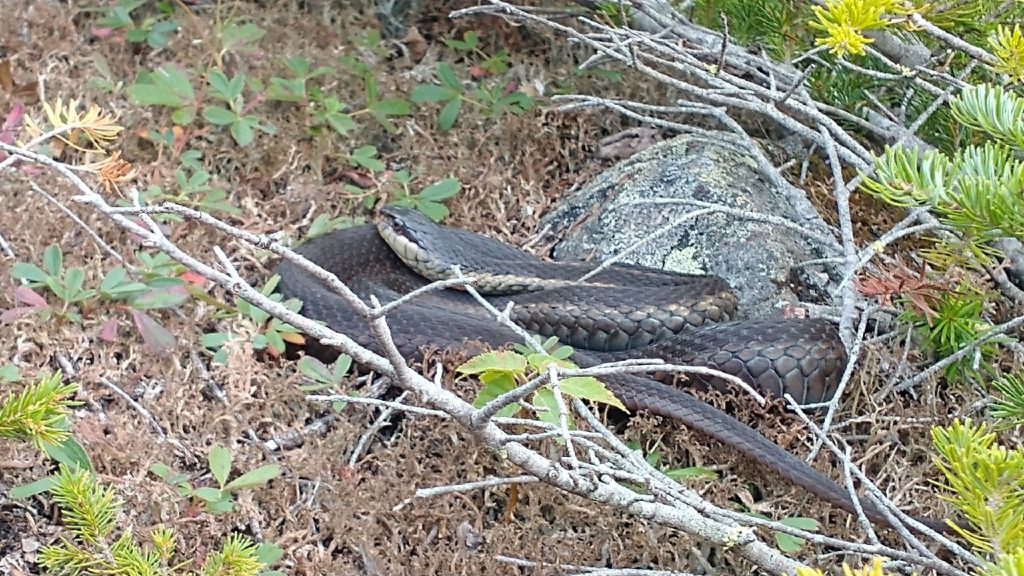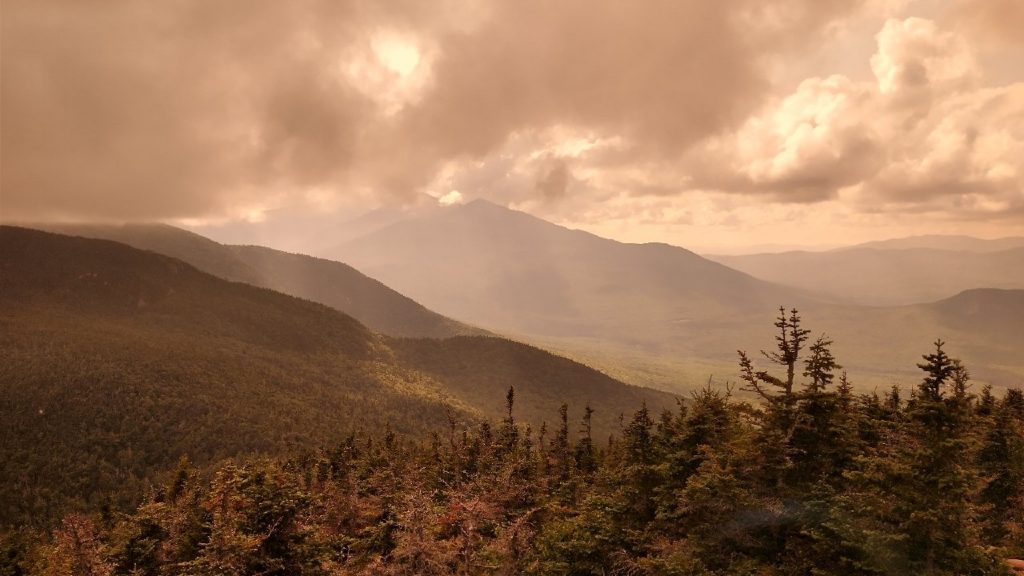 The afternoon dragged on. We took a water break and a few short breaks for views. Mt Moriah was the last of something like 7 named peaks over 4k for the day. It was a relief to come down. I was hurting, tired and with very sore feet. I had no idea today would be so hard, even without a full pack. I suspect it's the accumulation of several hard weeks under my belt.
We made it to the highway pretty late and got a ride to the hostel. I still had to set-up my tent, go out for dinner, and take a shower. I went to bed late once again, feeling very behind the eight ball. Next up was a big day over Mt. Washington. Rather spontaneously, I decided I needed a day off before tackling the rest of the Whites.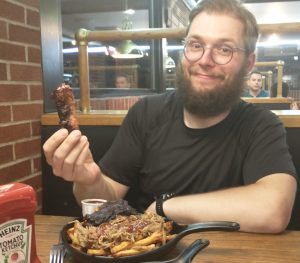 Wednesday, August 11th, 2021
Zero day in Gorham
I felt like I'd earned a real day off but as these go, it's never really time off, just time off the trail. I laid in my tent until 7 am using my phone to do business. I'd slept much better and was not feeling as tired. We all had to get out of the hostel by 9 am, as Paul had to go to a funeral and was closing the place for a day. I walked over to the library, waiting for it to open at 10 am so that I could use their computers.
Later I went in on a hotel room with Toe Jam and spent the rest of the day catching up on the blog, eating and trying to massage my feet and muscles. I ended up walking way more than I should have. But I got a lot done.
I made this day's post short to give myself a break and because well, it was mostly mundane stuff. It should be a big day again the next, and again and again. The White Mountains of New Hampshire are ready to throw down!