Wednesday September 8th, 2021, 0600-1750
Mashipacong Shelter to ridge above Yards Reservoir, SOBO AT mm 887.1
27.4 miles
4035 gain, 4022 loss
With no more visits from friends scheduled, it was time to just hike all day. First I had to make a stop at the shelter privy that's legendary for its pink interior. The picture says it all. It was a great experience.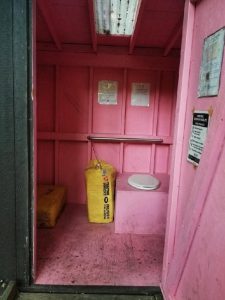 Well, of course there had to be at least one deli stop, too. This came early after my standard 10 by 10 am affair. I got a breakfast bagel at the Sandwich Lobby. Just before this there were some nice viewpoints, one at a large pavilion on Sunrise Mountain, where I did indeed admire the sunrise. Another was at the Culver fire tower.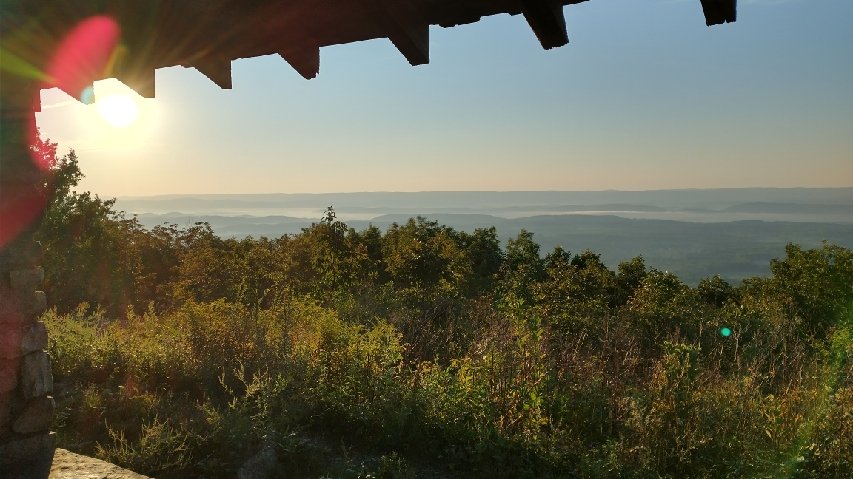 The rest of the day was some pretty easy cruising on top of those nice, straight ridgelines, with lots of viewpoints to the valleys below. There were a few ups and downs and lots of rocks in the trail, but there were also some park-like flat sections that were such a joy. The trail can be a bit Dr Jekyll and Mr Hyde but overall today felt like the trail was showing more of its nice face.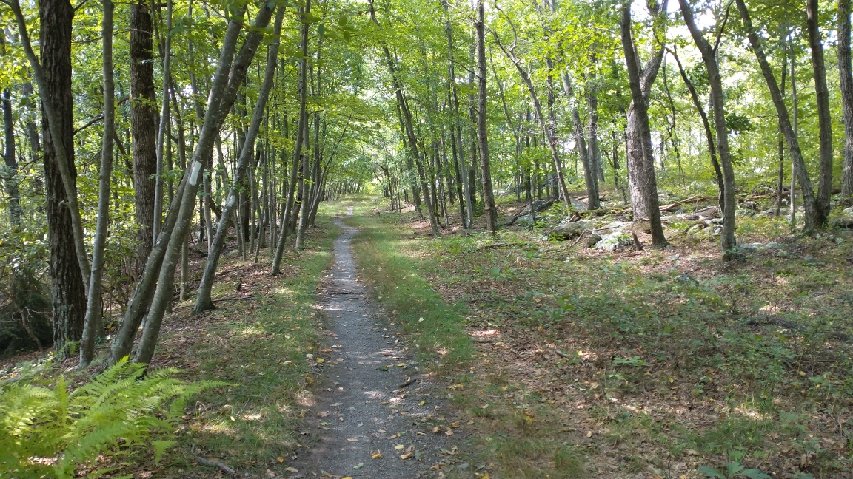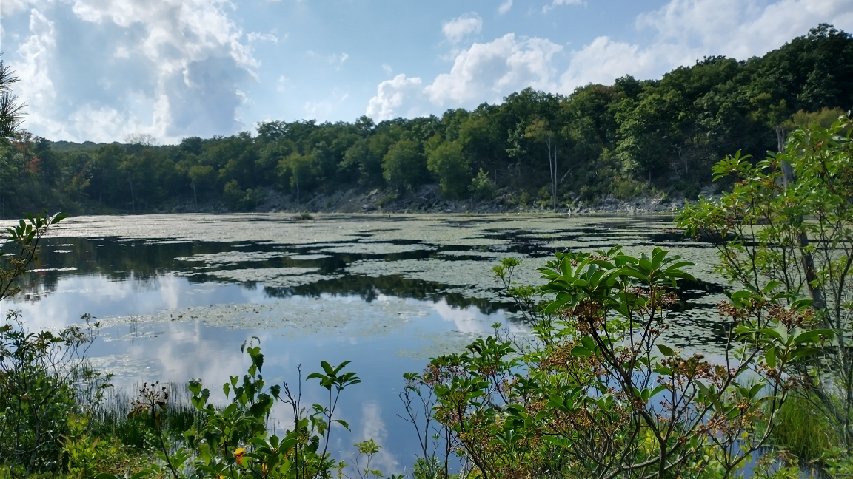 I made good time, stopping late in the afternoon for water a bit down an old abandoned road where there was a piped spring. It was gushing beautiful cold water and the mossies weren't too bad since the road allowed a nice breeze. I took a long break, which turned out to be a good and bad thing. I was aiming for the Mohican Outdoors Center, which is run by the AMC, same organization that runs the huts in the Whites. I didn't pay attention to their hours and arrived to find they had just closed 10 minutes before at 5 pm. I missed getting a free deli sandwich. I wanted to hide from the rain that was supposed to come overnight but didn't really want to pay $31 for a bunk. The decision was made for me by arriving too late. My tent it would be.
I filled up my water bottles and kept trucking. I climbed back up to the ridge and quickly found a nice protected spot near a viewpoint. The tentsite was on some grass that looked like it would drain well and surrounded by thick scrub. The skeeters immediately noticed my arrival but the viewpoint had a breeze to keep them away, the perfect spot to have my dinner. Or so I thought. There I found another unsavory neighbor sitting on the rock where I was about to plop down. A baby timber rattlesnake proclaimed "tent it is!"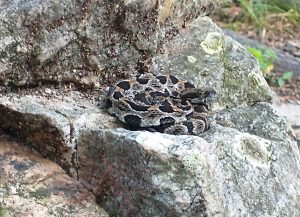 Earlier I had gone over Rattlesnake mountain without seeing any of its namesake but there were certainly many reports of them being in the area. Now here was one 20 feet from where I'd pitched my tent. Well, I wasn't moving and nether was it, so we both agreed to leave each other alone and coexist. Timber rattlesnakes are actually listed as endangered in NJ but they seem to be plentiful along the rocks of these ridgelines. I liked seeing one but not camping near it.
I'm so glad I have a tent. The paper-thin walls do an amazing job at putting just the needed space between me and everything that crawls, slithers, and buzzes. And also rain, which was well on its way judging by the rumblings of thunder. As I cooked and ate inside, I thought about the risk of bears of course…another thing the notes speak regularly about in these parts. But so far, bears had been a 'what if', while rattlesnakes, mosquitoes, ants, centipedes, millipedes, salamanders, toads, frogs, slugs, mice and a myriad of other critters have all been clear and present. Out here I had to deal with what problems were on hand and not worry too much about problems that could be. I sat and waited for the rain…