Thursday September 9th, 2021, 0600-1750
Yards Reservoir ridge tentsite to Delaware Water Gap, SOBO AT mm 897
10 miles
833 gain, 1867 loss
Overnight, the rain started around 9 pm, just as forecasted. I could hear thunder well before. The lightning was pretty intense for a few hours and the rain was so hard that I got splashback and misting almost immediately. But my little tent held up considerably well…I had some leaking through the floor but rather minimal. I had played around with the ground tarp before going to bed, trying to get the edges to fold up so that maybe it would prevent puddling. It sort of worked.
I didn't get the best sleep initially because it's really hard to sleep through flashes of lightning and booms of thunder. I was just glad it held off until after I'd gotten set up for the night. I was also kind of glad I didn't waste money on a bunk at the outdoor center. I toughed it out and it wasn't as bad as I expected.
Now I had all that money I'd saved to spend on food in town. But first, I still had to do my standard 10 miles to get there. I don't know why I keep ending up with that being the distance left but it seems to be a theme of this hike. I went past Sunfish lake, then down down down into the DWG. This is where the Delaware river cuts through the ridge, while I-80 piggybacks off its convenient topography. The trail actually utilizes the enormous interstate bridge to go across the river. Thankfully there's a separate pedestrian way, which as a SOBO, has you walking towards oncoming traffic. Seeing the endless line of semi trucks coming straight at me, some while also maneuvering to change lanes, was terrifying…far scarier than anything else I've experienced on the trail. I had to avert my eyes down to keep from having visions of them veering into me. The concrete barrier gave me little confidence that it would stop such monstrous vehicles.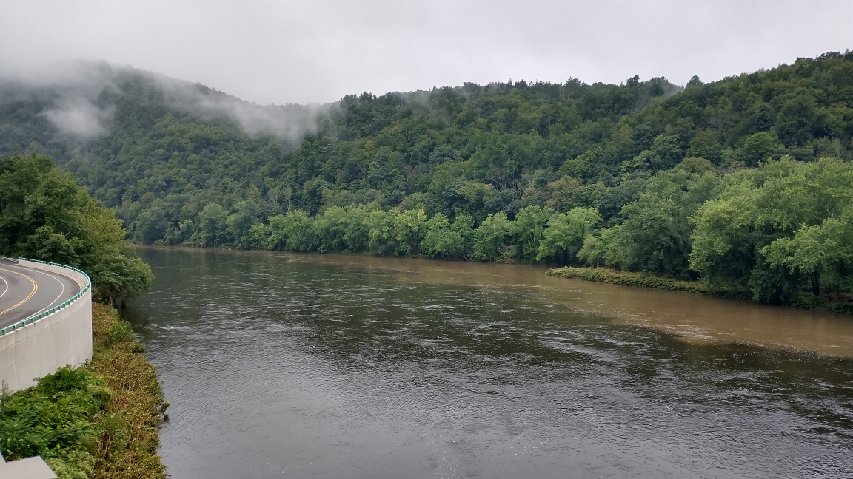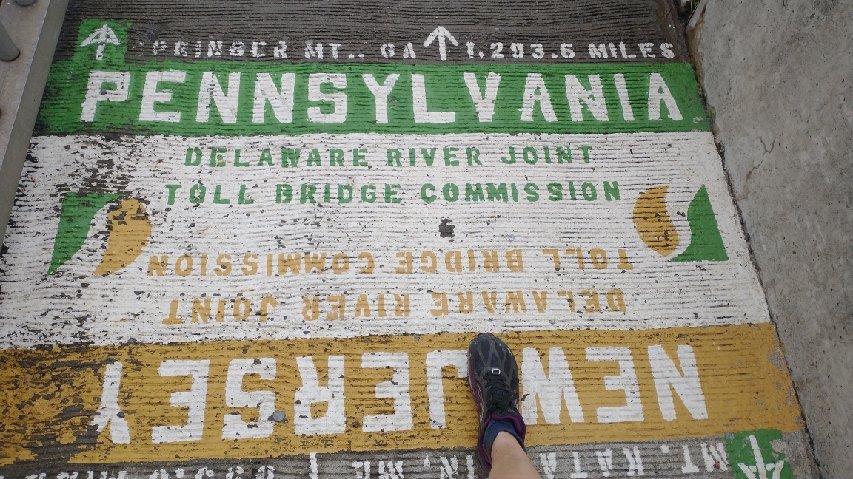 Midway along the bridge was a painting delineating the NJ and PA border. Another state in the books and one that I was actually sad to say goodby to. Thanks for everything NJ…except the mosquitoes. PA was to be my 8th state on this trail. I glided into town around 10 am, excited to do all the town chores and eat. And boy did I do a lot! I stopped first at the Church of the Mountain Presbyterian hostel. It's been one of the longest running hostels on the AT and takes only donations. It was basic and a bit rustic but had just about anything a hiker could need. I hung some gear to dry outside and also took a shower, as I was really yearning for one (it had been 8 days since my last). I still felt refreshed even after having to put my dirty clothes back on.
I met another SOBO, Peptalk, at the hostel. They were friends with Heartstrings, the lady we met just before the CT border. They gave her her trail name and she gave them the name Peptalk. They were the first non-binary hiker I've had the pleasure to get to know, which is why I'm using they/them pronouns. We talked trail for a bit but my stomach was rumbling, so I went in search of food. I met Stellar and Picky for BBQ at a newly renovated and hip little joint. The food was pretty good. After this, I happened upon a hair salon, Bo Tangles, spontaneously taking the opportunity to get a long overdue (since early March!) cut and shave. The ladies were awesome, very hiker friendly…I highly recommend this adorably-named place for an affordable cut.
I was starting to feel like a new person but still had one very pressing chore: laundry. It had been since the Green Mountain House, Vermont, 18 days ago, that I last machine washed my clothes. I hand washed them on a few occasions since that time but it never feels the same. I used the machine at the hotel while I took another shower, this time washing my pack. Since the dryer was broken, I went all the way back to the hostel to hang my clothes to dry. By this time, I'd walked the length of the town about twice, tacking on an extra 2 or 3 miles.
For dinner, we went to PA's only Sake brewery… and the first I'd ever been to. I love sake and Japanese cuisine in general, so this was a real treat. Stellar and I both got flights of 4 sake samples so that we could taste all 7 of their offerings. We also met several of the brewers, who were eager to talk about their work and passion. I had no idea that sake breweries were even a thing but apparently there are about 20 across the US. In addition to awesome sake, they had some delicious dishes. I ordered a fried rice dish which was HUGE, so I made 2 meals of it: dinner and breakfast. I liked the place so much that I bought a t-shirt to mail home. Sango Kura was the name. What a great introduction to PA!