Friday September 10th, 2021, 1230-1920
Delaware Water Gap to 2 miles west of Wind Gap, PA, SOBO AT mm 914.6
17.6 miles
3356 gain, 2241 loss
I spent a large portion of the morning lounging in bed, working on my phone. I didn't feel in too much of a hurry to get back on the trail. Housekeeping almost had to chase me out of the hotel room, as I hung there right until check-out. I had to go back to the church hostel to pack the rest of my things that were still all spread out. On the way, I stopped at the bakery to get a giant stack of strawberry shortcake. I was determined to eat the whole thing before departing town… and of course I did, quite easily in fact. Peptalk came along at just the right moment to take my picture, prior to me tearing into the cake.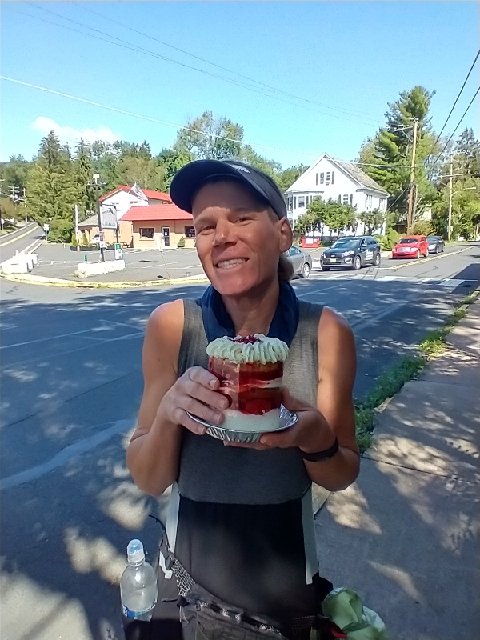 My things were thankfully still at the hostel. I did some more chores and was ready to leave at noon, but then another SOBO, Heisenberg, arrived. I stalled to show him around the place. It was a fun and very productive town stop. It's always nice to leave feeling like I'm finally on top of things…at least for a bit. The next big town stop would be where I finally got some new shoes! Only 140 miles to go.
The trail climbed out of the gap with a purpose but some switchbacks made it pretty easy. I stopped at a lookout to talk to 2 really nice ladies on a day hike. I hope I inspired them to branch out into longer and overnight hikes, as they had lots of great questions. They also helped me identify a weird insect I'd been seeing…the spotted lantern fly. I started to see it in NJ and was sad to learn that it's an invasive of great concern, responsible for damage to crops and native flora. They're quite pretty with bright red wing spots…I hate to now know I should kill them when I see them.
At the top, the trail joined a long, flat cruiser road that was like a dream. All the talk was of the rocks in the trail in PA… Rocksylvania is how it's known. So what was this? I was about to find out. After a few miles, the trail left the road and the rocks commenced. I'd already been experiencing lots of rocks in NJ, so this wasn't an immediate change. I guess it's something about the persistence of these PA rocks that make them so notable. As Picky put it, they go on long enough to where you think you're going to go insane and then they let up just long enough for you to think it's not so bad. That was much how the afternoon went.
The rocks came in all shapes and sizes but were most often football sized and sticking up at odd angles, making it difficult to step. I placed my foot solidly on top of one that seemed to have a mind of its own, as it violently shot out from beneath my foot. I would have went down if not for the emergency brake of my trekking poles. Taking it slow is about the only thing one can do in the rocks, carefully considering each footstep. It's tedious and it really tears up the feet. But it's just the way things would be for the next 80 miles or so.
I passed the 900 mile mark, which got me thinking, I'd now walked over half the trail. Yes, I was still a few hundred miles from the official halfway point but when I added the sections of GA and NC that I'd already hiked, I was there. This put me in a pretty happy mood. It was all downhill from here, so to speak.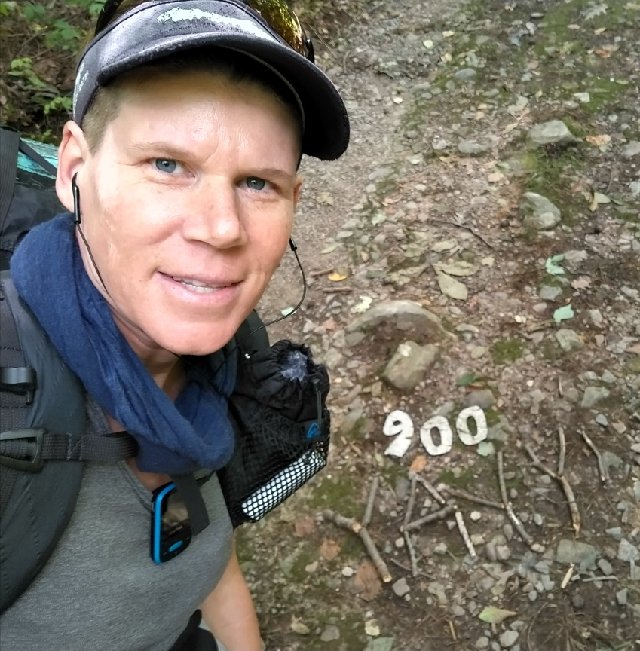 I decided to walk right up until sunset, which put me just south of Windy Gap. This stretch of PA was also known for its fewer water sources, since the trail stays high on the ridge. I took advantage of a hotel that was just down the road to fill my bottles for the night. I was glad not to be counting on a stay at the hotel, as it looked pretty run down. The attendant never even came out when I went into the lobby. Some kids were playing outside and one asked "why are you dressed like a girl but look a boy?" Kids say the darnedest things but I couldn't disagree with his assessment, what with my freshly shaved undercut and hair pulled back. I said "it's just who I am, I guess." He then asked if I had food and water, pointing me in the direction of the faucet. How sweet.
I rejoined the woods, eager to get away from the road. The forest was already pretty dark and I needed to find a flat spot quick. The first tentsite was occupied so I shot for a second in the notes. There was a tent there too but I immediately recognized it as Picky's. I was glad to have caught up to him, chatting as I set up. We were doing things a bit more independently going forward, but it was still nice to run into each other from time to time.
The familiar sound of katydids lulled me to sleep, as a cool breeze made for perfect sleeping conditions all night. The weather was ideal for the next few days, not too hot and sunny. It was great to be back on trail.