Sunday July 25th, 2021, 0730-1300
Katahdin Stream Campground north to Katahdin Summit, then south to return, SOBO AT mm 5.3
10.6 miles
4226 gain, 4226 loss
I slept horribly all night. I was just so anxious about all the little things of no importance, worried about the hike and poor weather forecast for the upcoming day. I just laid awake for hours. Naturally, the more one tells themselves that they need sleep before a big performance, the more sleep evades them. Finally 5 am rolled around and I had an excuse to get up. I knew everything would be fine once I was on the trail.
Old Man (his given trailname), who owns and operates the AT Lodge, was up bright and early to shuttle us to the park. On the way, he traditionally gives hikers a very enthusiastic speech about the park and famous mountain, explaining how to summit and all the rules with camping, etc. This way the park rangers don't have to go over all the details when hikers arrive.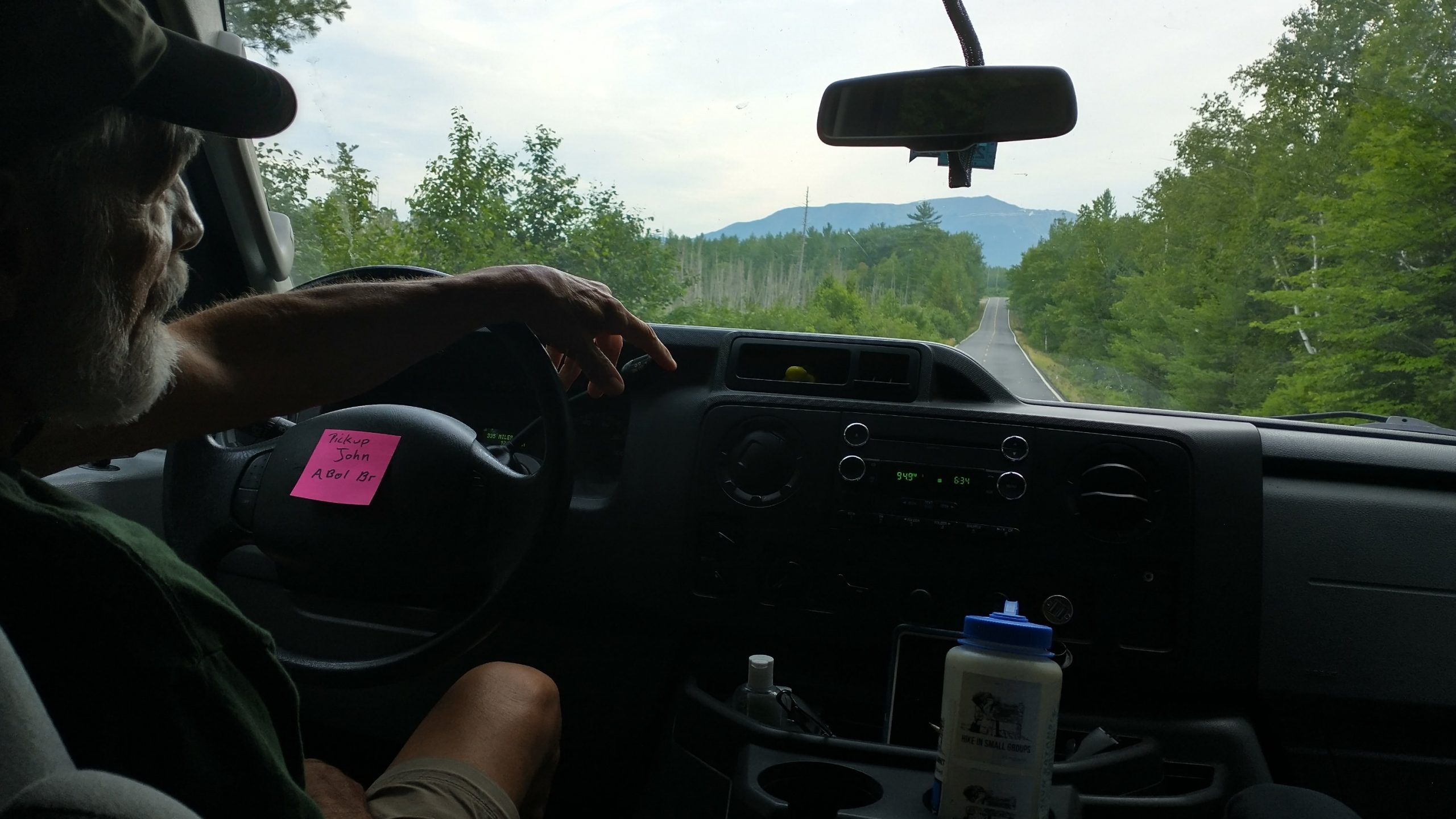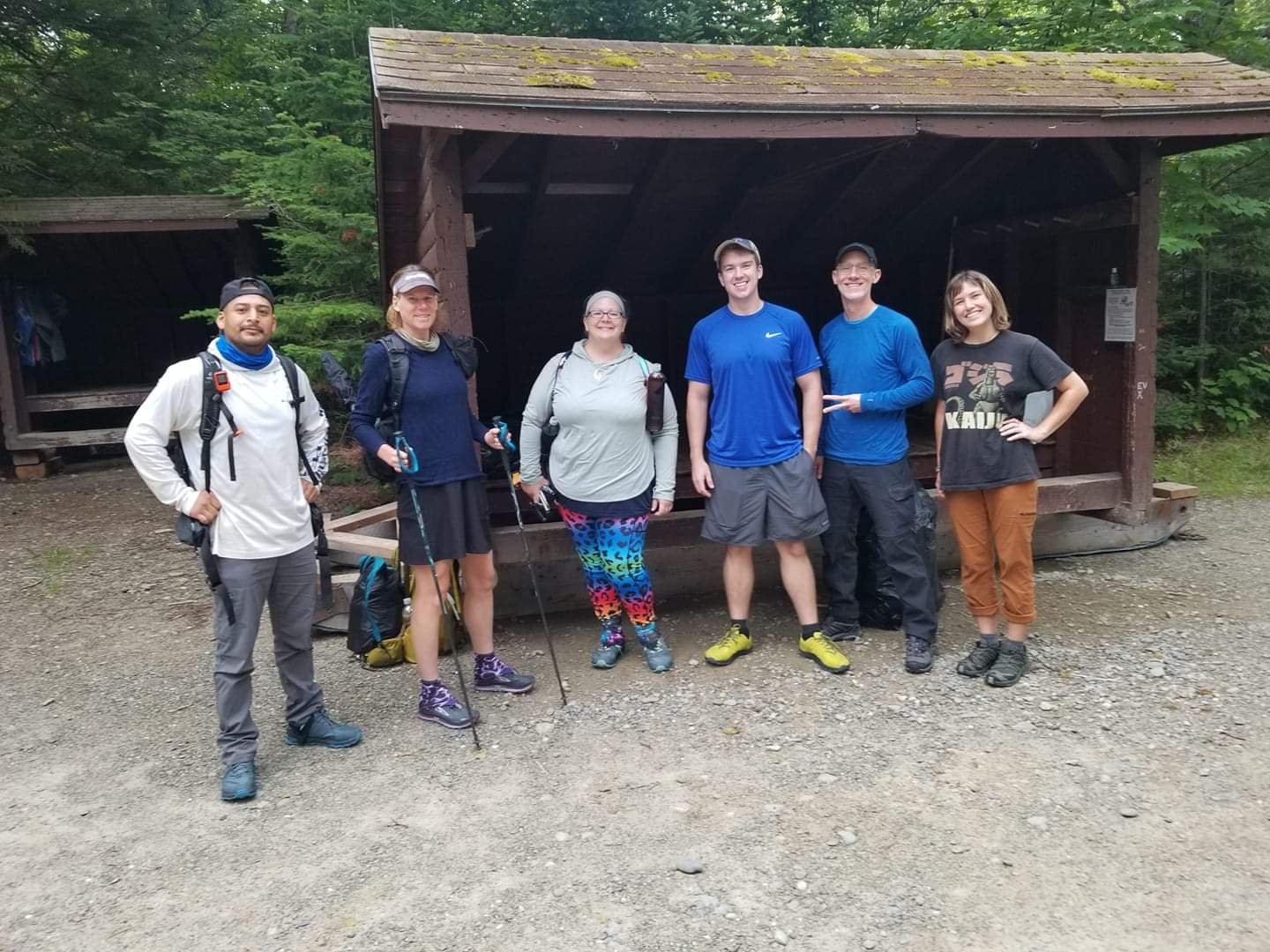 At the campground, we took a group photo and unloaded our stuff into a lean-to near the ranger station. I then hurried over to check in at the trailhead, knowing the weather was supposed to deteriorate throughout the day and be raining on the summit by 11 am. On the drive in, we could see the summit clearly and the sky looked fair. But time was definitely of the essence this day. So I beat feet at my fastest pace, taking advantage of the good weather while I had it…a lesson learned from all those 14ers in my recent past. In fact, I didn't take one break all the way up…ok maybe a few just to snap a blurry photo.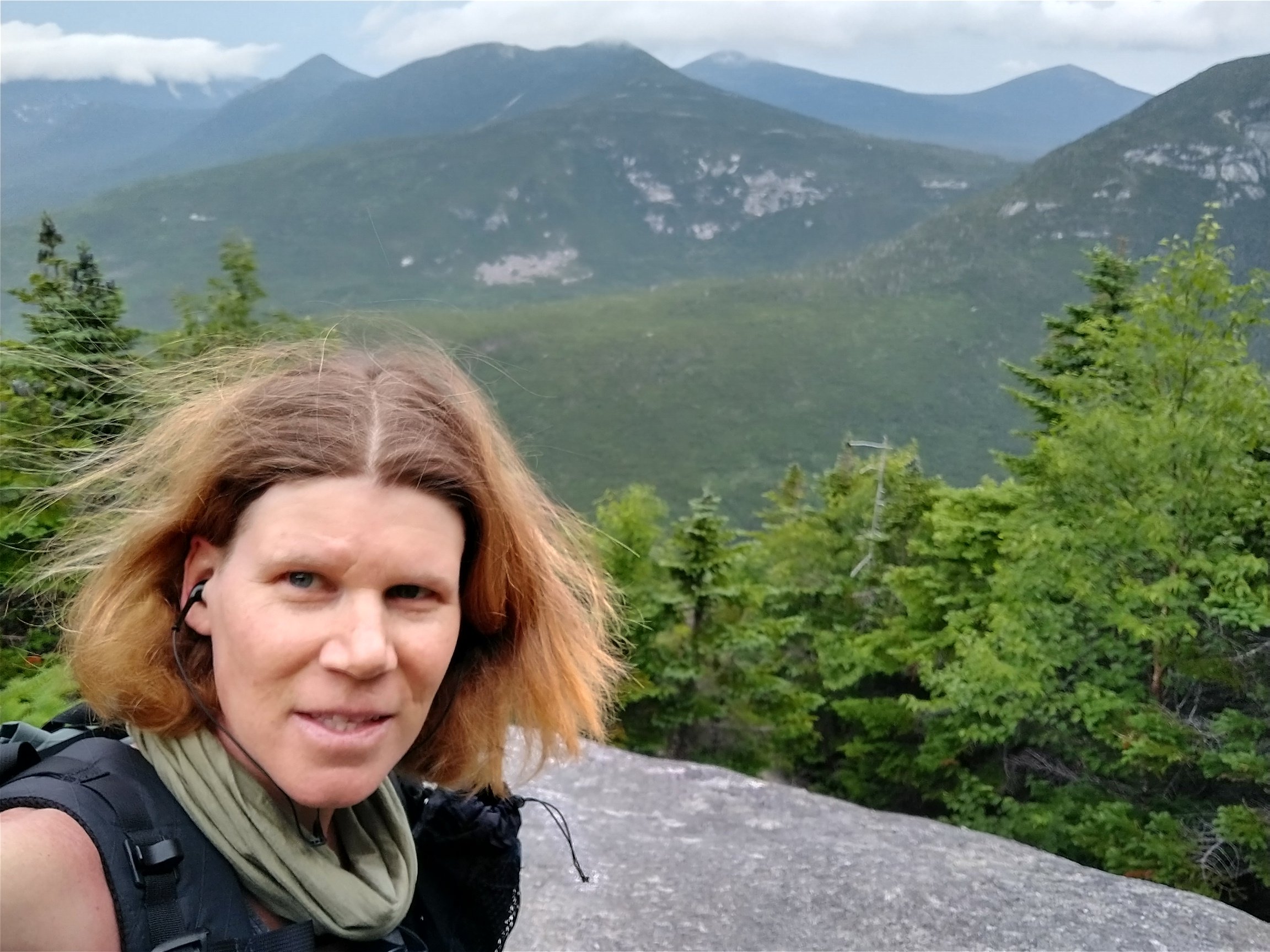 I was climbing the Hunt trail, which is notorious for it's steep boulder scrambling. Here my 14er experience also helped. At tree line, I came to the first big rocks…so big that some even had rebar rungs drilled in to offer hand and foot holds. A never-ending ridge of boulders was viewable ahead. The wind was howling with a few gusts that knocked me to the ground. My dress was flying all over, showing off my underwear to everyone, though I doubt too many noticed since they were all concentrating on not being blown off the mountain too.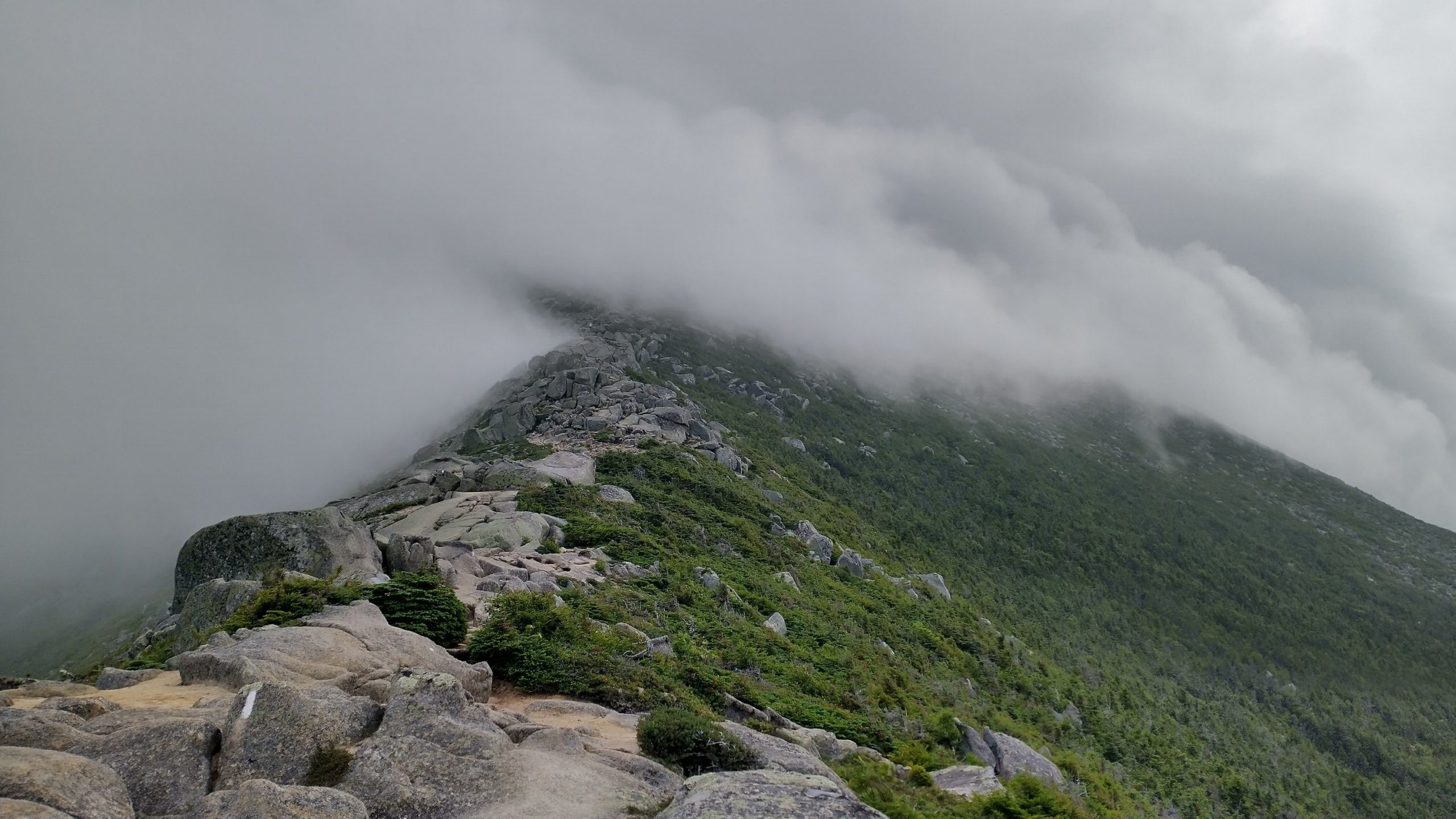 Here I met day hikers Ethan and Emily, a couple that had checked in with the ranger just in front of me. I was surprised it had taken me so long to catch them…they were super fit. There was also Gauge, who was the only one that had passed me on the way up. They were debating whether to go on. There was no doubt in my mind, I had to get this done. When they saw me charging on, they all joined and we became an unofficial team. I love the camaraderie that spontaneously ensues in such a shared purpose.
Once we got to the flatter top section, the wind died a bit and it was actually pleasant hiking for about a mile. Clouds rolled in and out, whipping by. One second the way ahead was clear, the next we couldn't see more than 20 yards. I was still wearing just my hiking dress, though I could feel the temperature dropping. The final push to the summit was completely obscured and it started to spatter rain. I made it all the way to the top before donning my rain gear, where I hurriedly put on everything I had. I'd guess it was in the 40's at the top…pretty cold for the peak of summer! It was 10 am…the 4 of us had gone up in just 2.5 hours. That is smoking!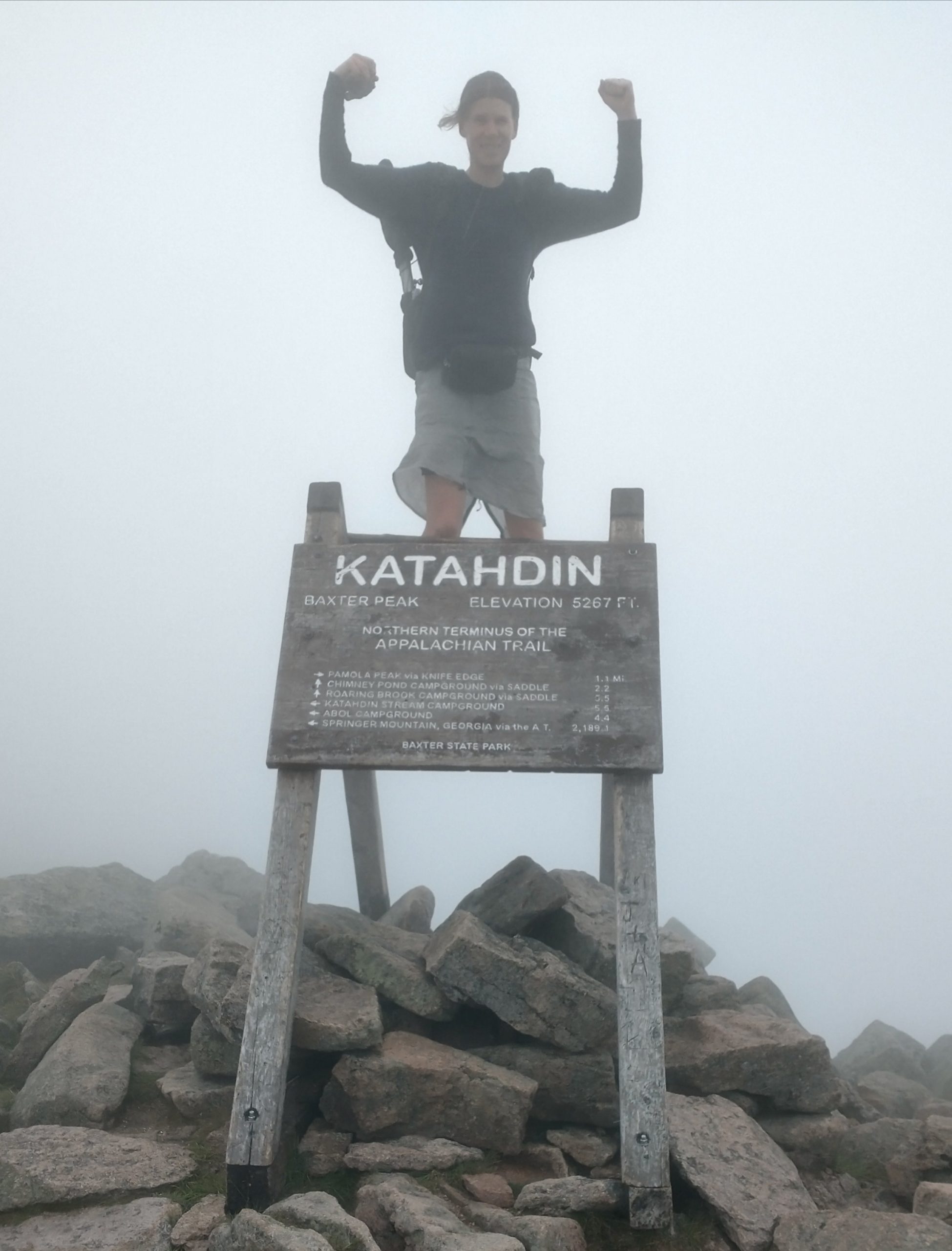 I had just enough time to take a few pictures standing on the summit sign. There were about 10 people at the top but everyone was antsy to head back down since the weather was getting worse by the minute. I raced down through the table lands, worried that the rain would follow me, making the rocks slick and dangerous. Fortunately it didn't catch up until just below the tree line, safely past the boulders. My companions all kept pace…in fact it was me that had a hard time keeping up the rest of the way.
I had met Terry, Sam and Jesus still heading up along the steep part of the ridge. They had made good time and were determined to get to the top. I told them the conditions were bad but didn't try to discourage them. I knew they had rain gear and should probably be fine. We had seen plenty of people heading up that looked rather unprepared…one girl seemed to have nothing more than a cotton sweatshirt hoodie. Then again, I was the one wearing a dress.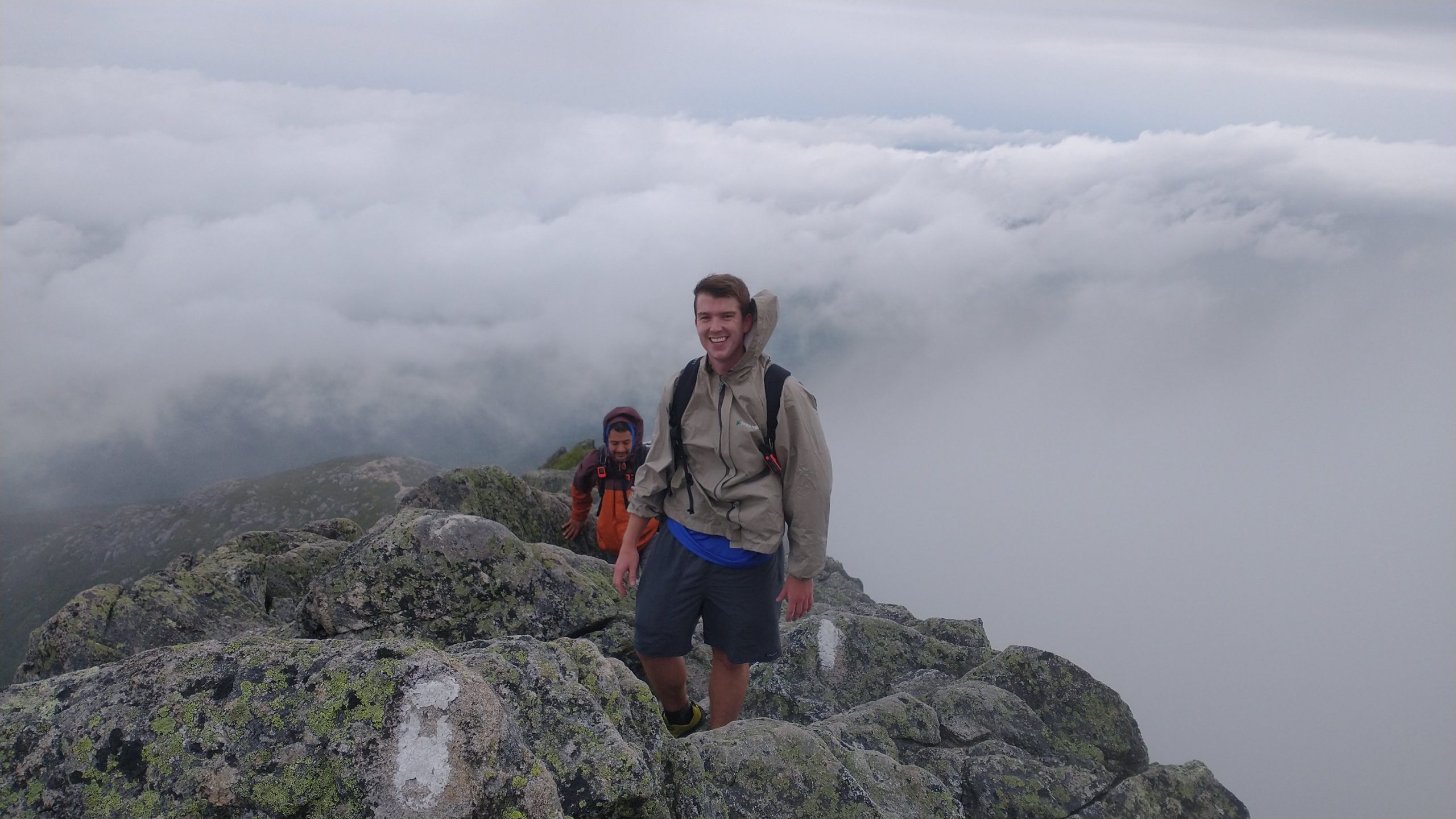 My impromptu day hiking buddies really made the challenging conditions manageable and I had such a fun time with them. They were all such fast hikers…I wished that they were thru hiking. Gauge had completed a number of trails, including the AT. At the trailhead, we all high-fived and hugged, then went our separate ways. Many thanks to them for sticking with it and encouraging one another.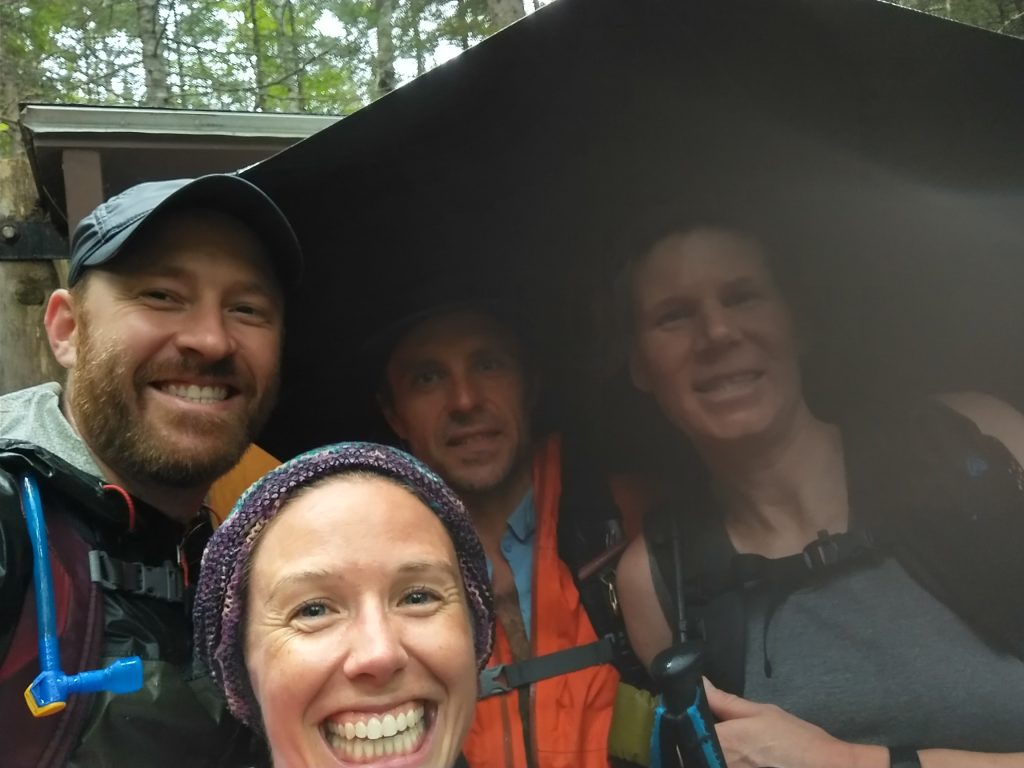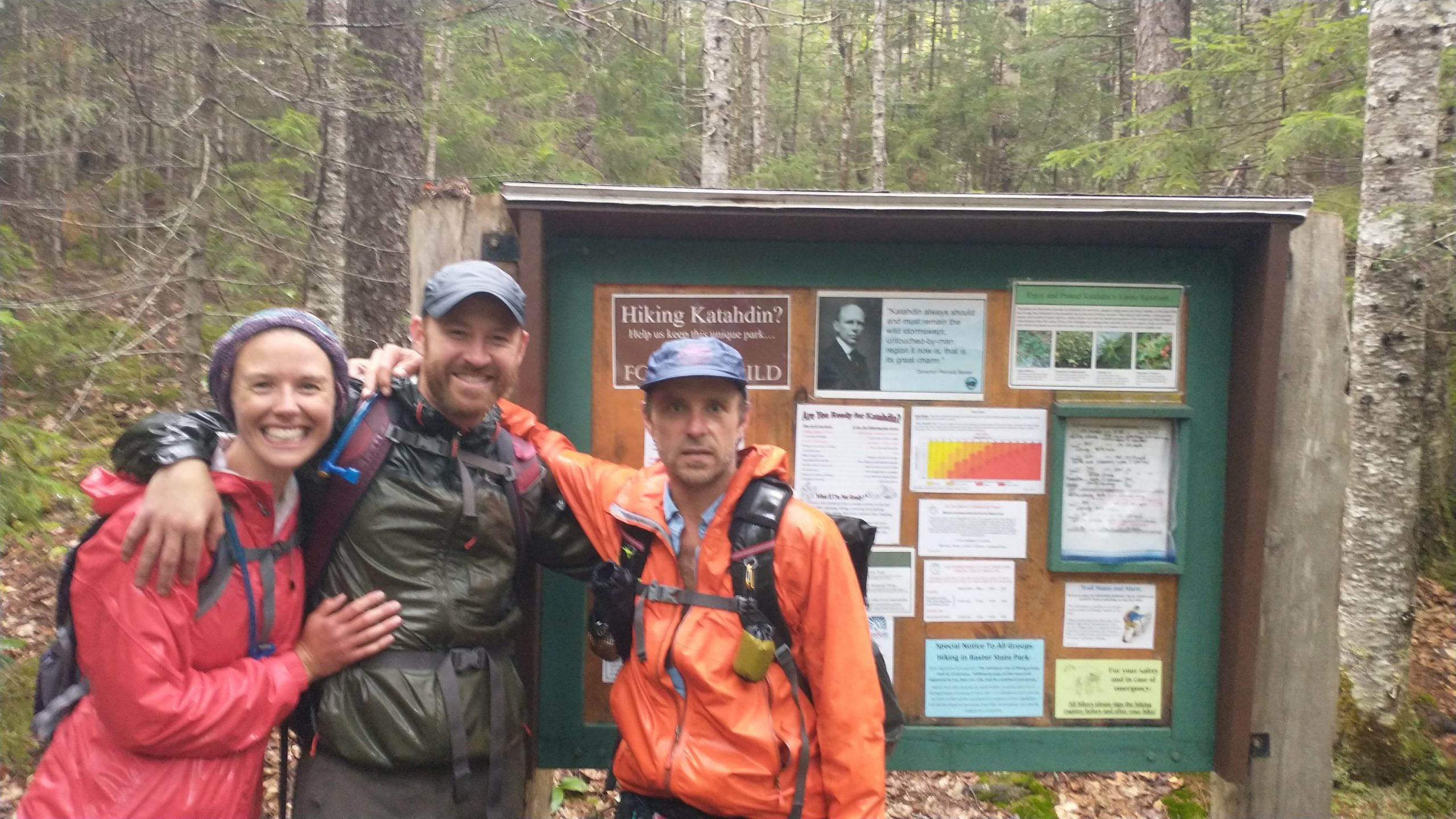 And especially thanks to Emily…my buff got ripped off by the wind on the way down, sailing into outer space. Without missing a beat, she procured a spare from her pack and gave it to me. The trail takes and at the same time, it provides. This was one of the only times I've lost an important piece of gear but I suppose it was a necessary sacrifice to Katahdin, ensuring a successful thru-hike. Truth be told, it was a very used buff…one I wore on Te Araroa…so the loss was easy to come to terms with.
Speaking of losses, I later heard the story of how Terry (one of my shuttle mates) came by his trailname. He miraculously found a guy's wallet buried deep in the rocks of the mountain slope, then found the guy! So of course, on his very first day, the grateful hiker christened him Finder. I just love these kinds of stories.
Back at the campground, I found Avery at her lean-to. She had wisely decided to try to summit the following day, hoping for better weather. She planned to leave in the wee hours of the morning, hoping to see the sunrise. She'd offered to share her lean-to while Finder had offered space at his tentsite. This way we didn't have to use my site, which was at a different campground 2 miles down the road. All the reservations had been full when I'd tried to get a site 2.5 months beforehand. On this rainy afternoon and night, over half the sites were empty…no shows I guess. My site was a no-show too but at least I had informed the rangers that I was giving it up that morning so someone else might be able to use it.
Eventually Sam, Finder, Jesus and Tori made it back safely. They all pitched their tents while I stayed in the shelter with Avery. After it stopped raining, she was able to get a fire going. She's practiced a lot of survival skills and is a great fire maker, so I suggested her trailname be Bushcraft. She seemed to like it…and I think it ended up sticking. We all had a good time hanging by the fire for a bit, then I had to go to bed early, as I was exhausted from the big day and lack of sleep. I was a bit sad that I probably wouldn't see any of these fun people again but that's the way it goes on a thru-hike.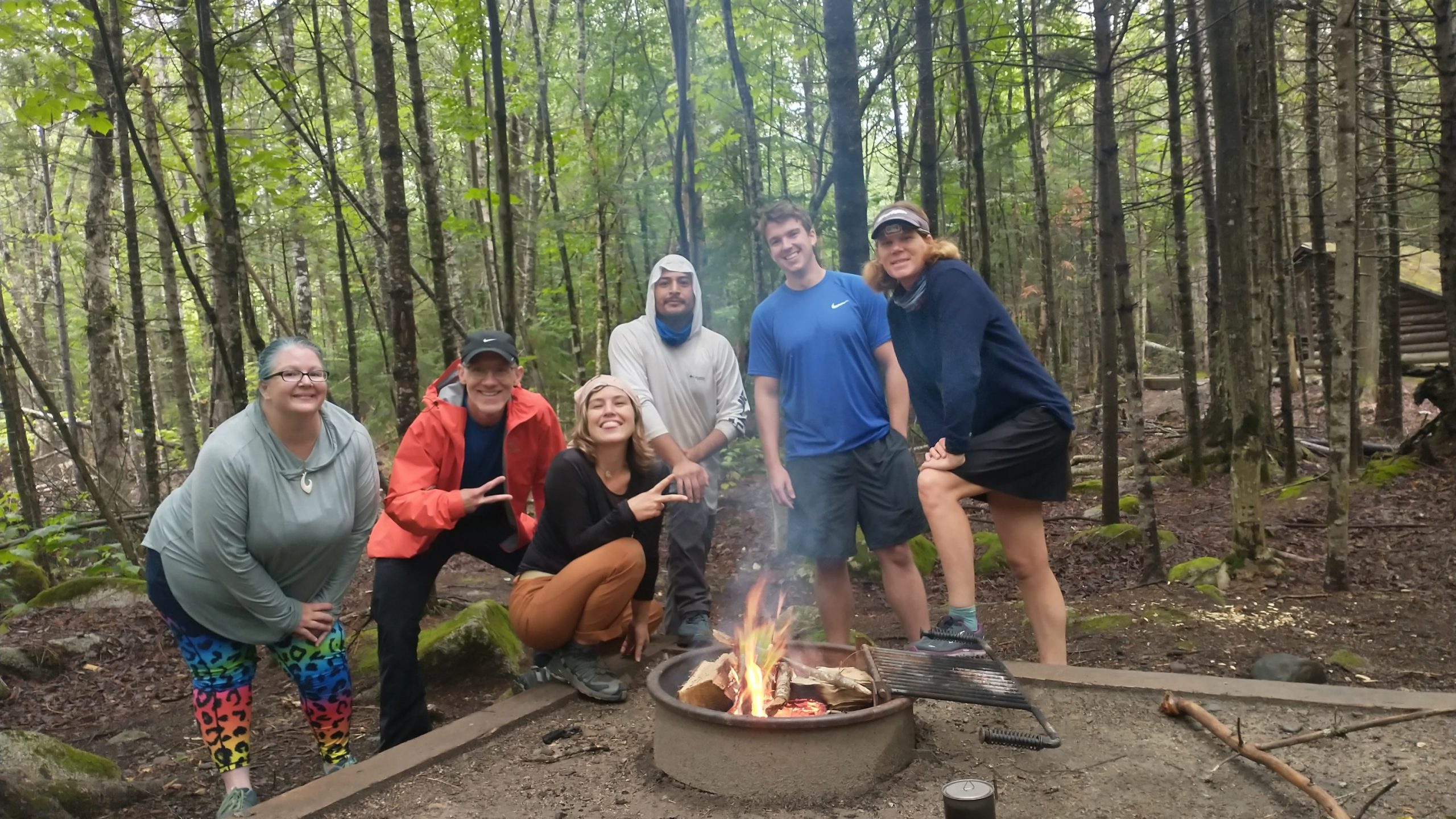 BTW, the name Katahdin means the Greatest Mountain in the Penobscot language. It's a sacred mountain and traditional land of the First Nations. We are only visitors, privileged in our status and circumstances to share it.