Friday September 3rd, 2021, 0605-1800
Telephone Pioneers Shelter to Canopus Creek, SOBO AT mm 769.5
25.2 miles plus 1 mile to and from the deli
5167 gain, 5302 loss
The day started cool enough for me to put my puffy on while I packed. But I took all layers off before I began hiking, knowing there was a small immediate climb. I passed a feature called Nuclear Lake just as the sun came over the ridge. It was pretty. The names comes from when a plutonium research facility was located on the shoreline. I didn't drink the water.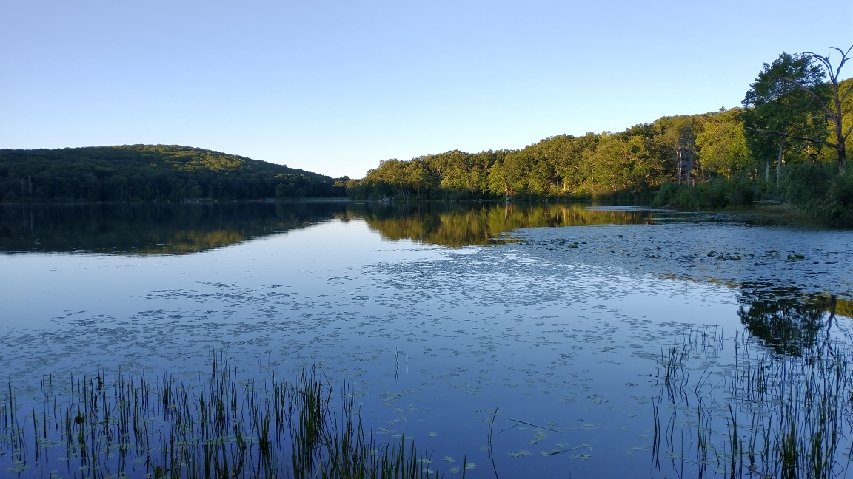 Mid morning, we walked half a mile down a road to get breakfast sandwiches at a deli. We really wanted pizza but the pizza place didn't open until noon. We lingered too long as usual but considered this our lunch break for the day. Stellar and Picky wisely packed out sandwiches for dinner but I still had too much food in my pack to justify this.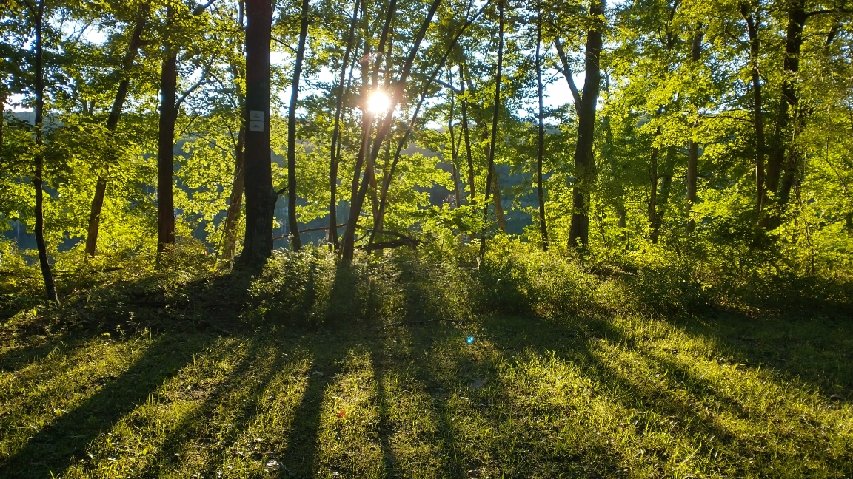 I had a bad spell after returning to the trail. My right big toe joint was really hurting and of course my mind dwelled on it for hours. It's something that's been slightly bothering me for years but I've been worried that it's getting worse. Walking for days in wet shoes seems to really aggravate it. Something about the added weight of soaked shoes and socks, plus the restricted movement due to the heavy socks, just isn't good for my feet. There was still plenty of water on the trail in the morning, though things were continuously improving as gravity took its toll. There were also some blowdowns to negotiate, leftover damage from the storm. I was moving slow and fell way behind the guys.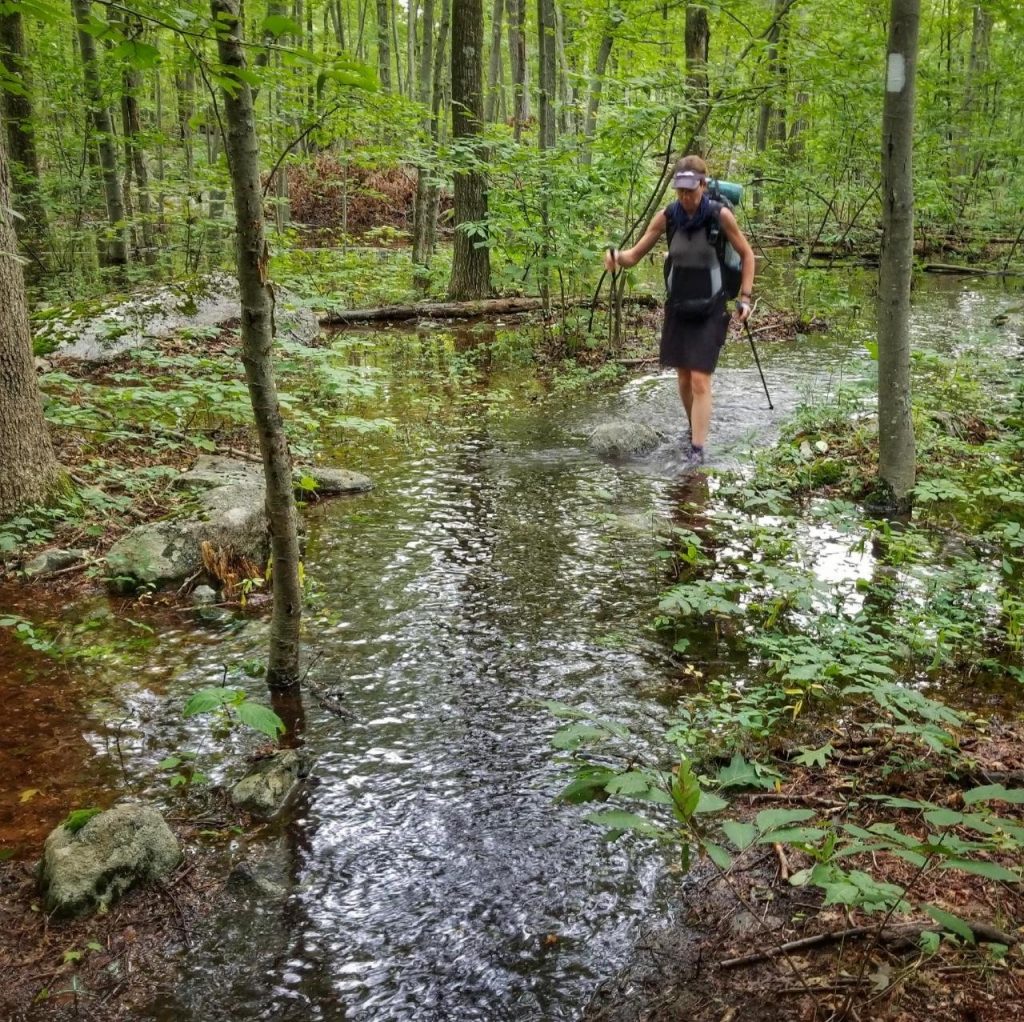 They stopped to rest at a shelter, where I caught up. Stellar was suggesting destinations for the end of the day, with total mileage numbers in the high 20s. I didn't weigh in because the way I was feeling, I'd be lucky to get 20 miles done this day. If they wanted to set a higher pace, they were welcome to and I was happy to just fall behind. My body was telling me that I needed to stick with hiking my own pace. This worked for me for over 500 miles in the beginning.
As I walked through the afternoon, my shoes mostly dried and my foot felt a lot better. I needed to budget some time in the evening for stretching and foam rolling. I'd been neglecting this crucial body maintenance somewhat because it had been so hard to find dry ground. Usually there's no space in a shelter or it's too wet and muddy, it's raining, it's rocky, etc etc. There's always an excuse. I could be stopping mid-day at the shelters or even quiet roads to do a session. But not if I was trying to keep up or not hold anyone up. This is the dilemma people face in hiking with others.
Late afternoon, we came to a high point on Shenandoah Mt, with views to the east and north. Three guys were hanging out and playing music. They claimed to be the very last NOBOs, bringing up the rear. I'd heard several before them claim this title, so I was pretty sure we'd see a few more even after this.
The day ended up being pretty high miles after all. There just weren't the best camping options around Canopus Lake, a recreational area that was sure to be packed for the upcoming Labor Day weekend. So I just kept walking, ending in a beautiful grassy riparian area away from road noise. We crossed a million roads all day, so traffic noise had been pretty prevalent. We're in a very dense population area, after all, so the trail has felt less and less wild as we've moved south. It would probably be like this until we got into Pennsylvania or Virginia. But at least for this night, I felt like I was far removed from society and had some nice grass to do my exercises. Nevermind that I was rolling around with all the ticks that might give me Lyme disease again. I didn't see any but still…