Monday Nov 1st 2021, 0650-1850 
Rock Gap Shelter to Plumorchard Gap Shelter, SOBO AT mm 2119.4
32.1 miles
6266 gain, 7090 loss
I didn't get an early enough start to make it the 6 miles to the Alberts Mountain fire tower for sunrise but I still got incredible views…perhaps some of my favorite photos from the whole trip! The tower happened to be unlocked and I was surprised to find 4 women backpackers cowboy camping inside. We shared the epic vistas together, while I turned them onto the PeakFinder App…I ought to be getting some kickbacks for all the customers I've sent their way. We were able to pick out Clingman's Dome and other highlights of the Smokies, as well as Siler and Wayah balds. The ladies really enjoyed the sightings, as they were heading for these points next. Standing Indian Mountain loomed to the southwest, my next stop for the day. I couldn't wait, because the border with Georgia was just after that!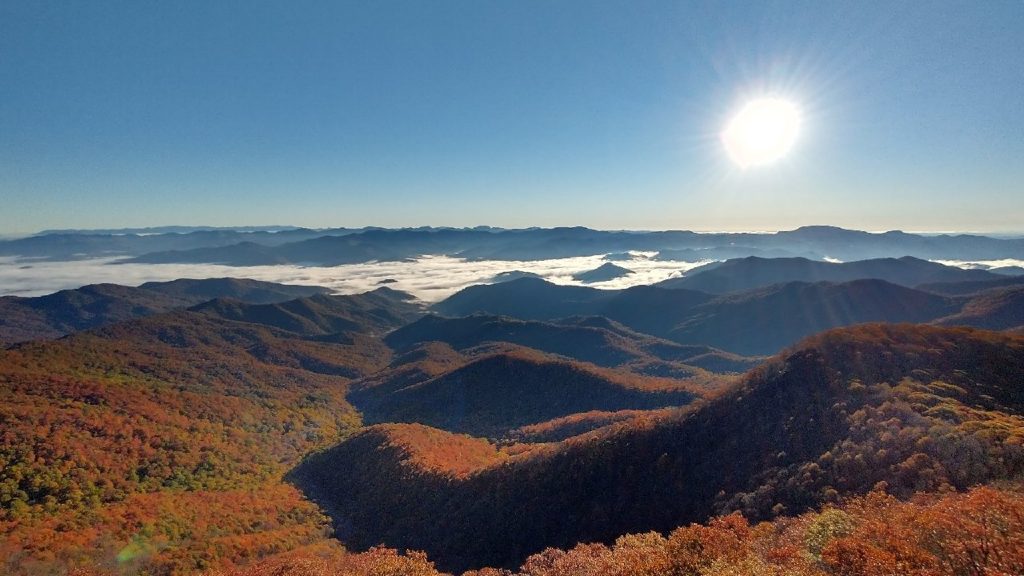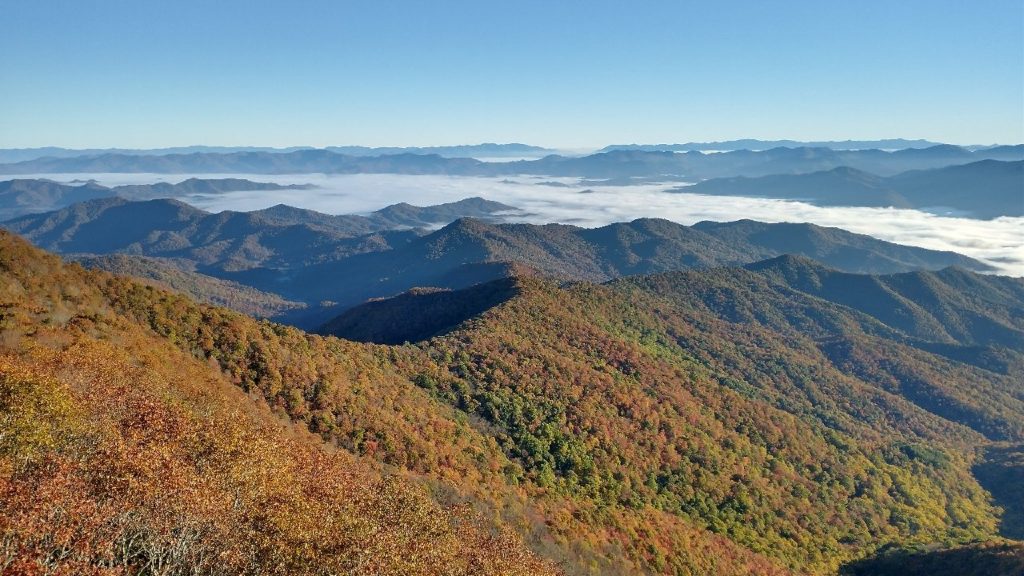 I continued on, down the steep aspect of Alberts Mountain, distinctly remembering this rock scramble from my previous adventure. When you haven't seen much else of the AT, it is memorable. A short section of about 50 meters dives straight up through some exposed rock stairs and slabs. It's just a tiny, mellow preview of what's to come in New England. On this day, it was over before I could even pause to consider it as difficult. Later, a pair of backpackers stopped me to inquire about the severity of the climb. I told them it was nothing to sweat and I hope they found this to be true. My opinions are biased by thousands of miles of AT type-2 fun hiking, so probably no one should listen to my advice.
On up to the top of Standing Indian Mountain I went, one of the last "big ones" standing in the way before Springer. I toped out at almost 5500′. Mud caught up to me and we spent some time marveling at points to the south. We couldn't see Springer mountain but we could easily pick out Blood Mountain, which sits just 30 trail miles short of the terminus. All that was left, we could pretty much see stretched out before before us. It was almost like viewing Katahdin for the first time…almost.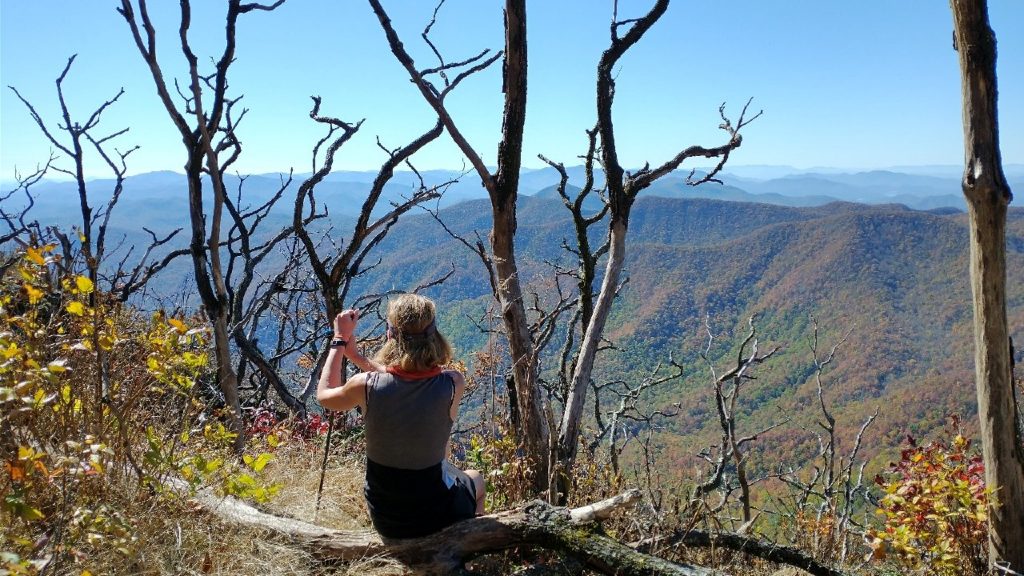 We stopped to take another short break at Deep gap, where some Trail Angels had left a bag of bite-sized Snickers. "Please take only 2" a note pleaded. If it weren't for the guilt-inducing looks from Mud, I might have snagged 3. He had the effect of keeping me very honest on the trail, as he wasn't fond of blue-blazing, slack-packing, or even ransacking trail magic sources…Jesus of Wayah indeed. Since I'd been traveling with him, he'd even been able to temper my trail cursing and complaining. I'd started to believe that the trail had intentionally put us on the same path as companions, always in an effort to teach me new lessons. To be more humble, more grateful, more true. That was the SOBO way. To always be complaining and fearmongering…that was the other dreaded direction which I shall not speak by name.
The entire day was sunny and just warm enough to hike in my dress with no layers. It would be the last day I would enjoy such unencumbered attire. My hiking dress was the perfect outfit, right up until the end. I crossed into my last state wearing it. A series of many short but steep hills escorted us on the way out of North Carolina and several more were there to welcome us to Georgia. I pondered how it was that I couldn't recall any of these ups and downs from my previous hike. I guess hiking 32 miles in a day tends to amplify the bumps, especially towards the end of the day. But it didn't matter. We were finally in Georgia, with only 70 some miles to go!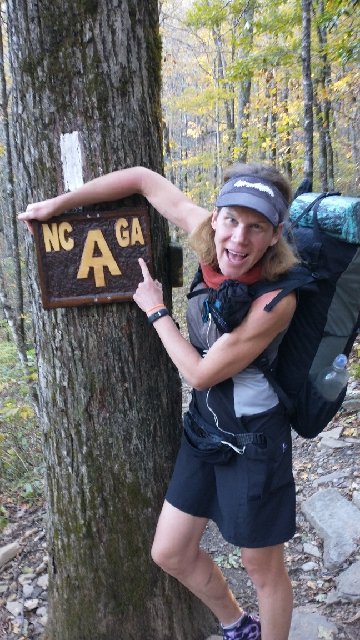 We arrived the shelter just before dark, as per usual, and were happy to find a nice guy out for an overnight and a sweet flip-flopper on her way to the finish line. Jonathan lamented his tale of trying to hike northbound earlier in the spring, and then flip-flopping, only to be thwarted by injury and heat stress. But he was back for more and planning a reboot of his thru-hiking next year. We settled into the large and lovely shelter, expecting another cold night. Due to the abundance of mouse activity in these parts, we even hung our food on the bear cables that were provided…I was becoming a very well-behaved thru-hiker in these last days indeed!