Saturday August 7th, 2021, 0540-1930
South Arm Road to Speck Pond Shelter, SOBO AT mm 271.8
25 miles
10377 gain, 8393 loss
Today was nearly a killer but I survived. It might well have been the biggest day elevation-wise that I've ever done. Everyday I think it can't get much harder and then it does…but much of this is my doing by trying to push the miles. The day started with some condensation on my tent, putting on still-wet clothes, and a brazen little squirrel scolding me for being in its territory. I call them cone-chuckers because they'll hurl pine cones at you…pure evil in a tiny package. I squirted this one with my water bottle to drive it off and it just got more irate. So I left it in my dust.
For breakfast, I ate a mountain, then another and another. I started to loose count of them all. Moody Mtn went up 1000 feet, only to come all the way back down 1500′ into another valley, with no views at the top whatsoever…this is a common theme on the AT. I was soaked with sweat by this first climb, so my clothes never really dried all day. It was so hot that I laid down in a stream before beginning another big climb. I busied myself with counting people …over 80 again today. It's the weekend after all but it's interesting that there were so few the day before.
There were also tons of toads, frogs, and even a few snakes in the trail. I saw 2 snakes the day before. All are harmless. The toads make me laugh because sometimes I find them trying to scramble over a rock and they remind me of how I feel climbing rock slabs to get up these mountains.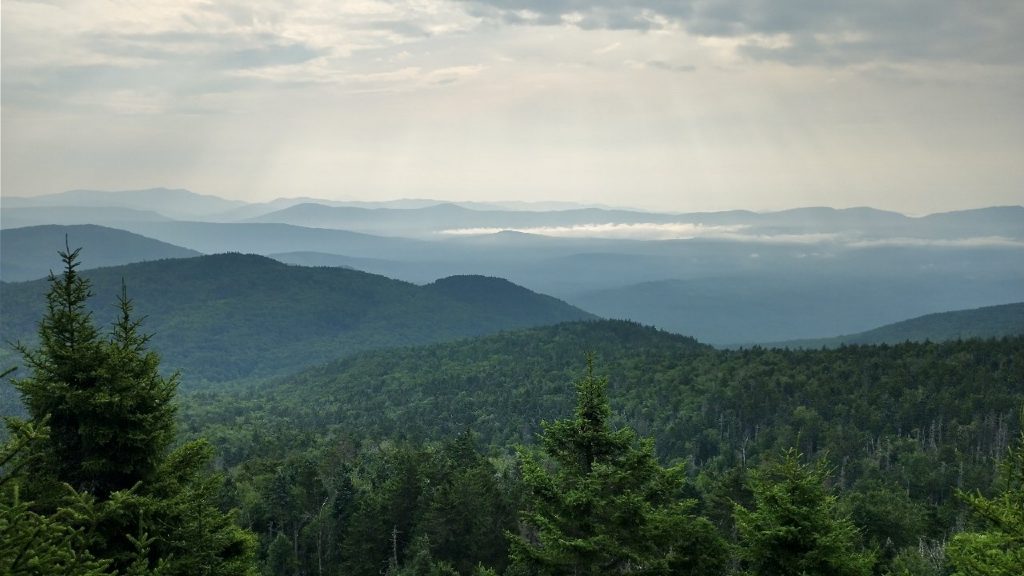 The trail was pretty nice and even cruisey in a few places today, following along a broad ridge towards the Baldpate mts. It was so great to experience some smooth, open tread for a change. I passed one SOBO, Mike, and then met another, Gas Tank, when I stopped at a shelter for lunch. It was his second time hiking the AT, both times going south. I've met a lot of repeaters and I wonder why they just don't walk one of the other long trails? The only one I feel fairly certain of walking again is the PCT. The way these past few days had been, I really wouldn't want to hike southern Maine ever again. It's just too hard on the joints, with all the jarring rock and boulder scrambling, especially the descents. I'm sure that months later, while re-reading this, I'll already be yearning to do it again.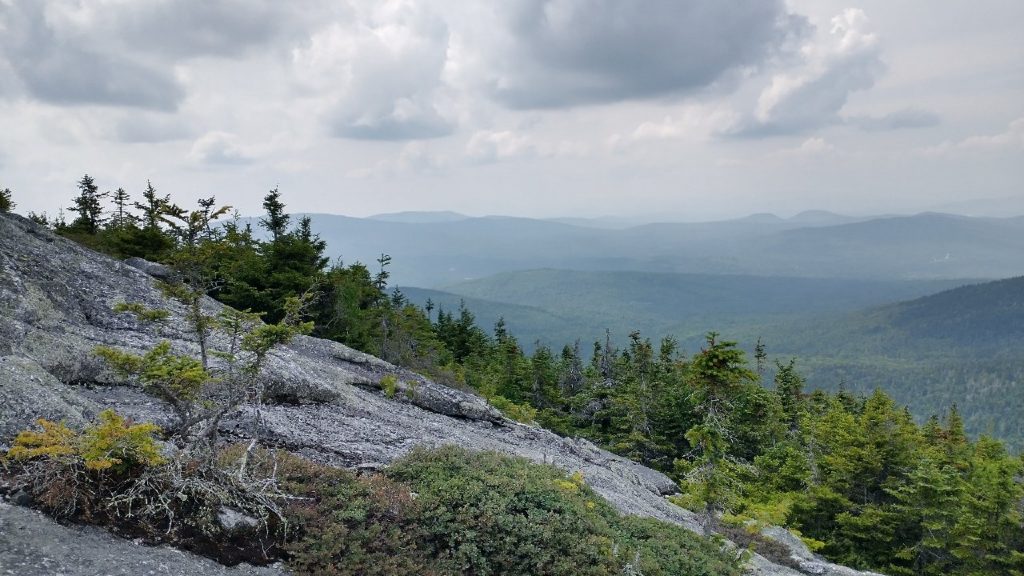 I climbed the Baldpates in the afternoon, a series of several peaks connected by an open alpine saddle, similar to the Saddlebacks. These peaks featured some massive rock slabs and great views. It was fun walking the slab, trusting in my shoes to grip the surface…easy on a dry day but as I would come to find out, hell on a wet day.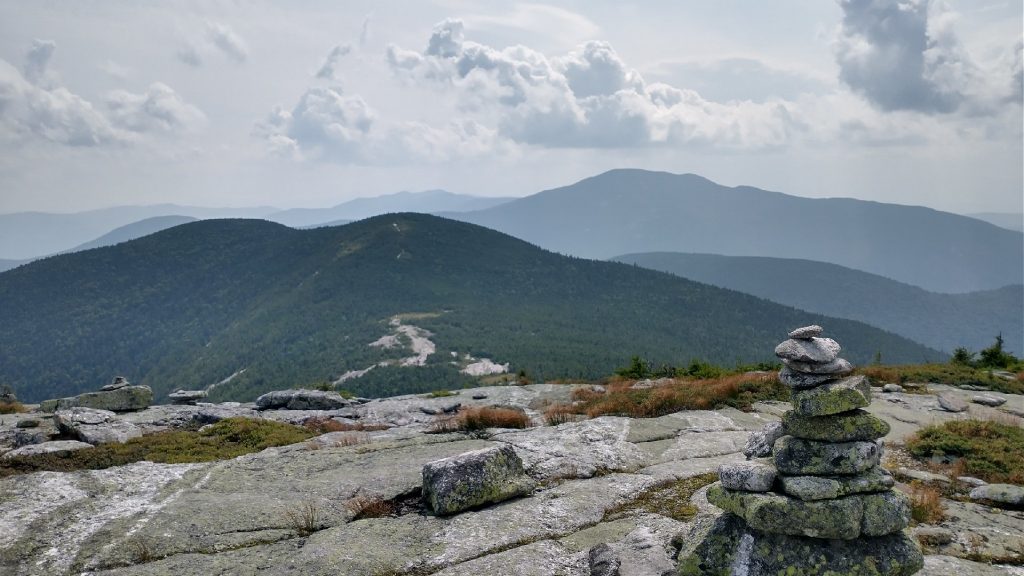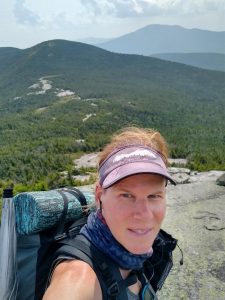 On the way down, I caught up to a group of lady day hikers. They loved my Dirty Girl gaiters and my Purple Rain dress. One gave me an apple…day hikers know how much thru-hikers crave fresh fruit. I could have easily gotten a ride with them to Bethel, had I wanted to take break in this long stretch. I certainly wanted to but still had so much food left, I couldn't justify a town stop. Beside, there were no hostels in Bethel so I would have to splurge on a hotel.
I reached the highway at Grafton Notch at 5 pm, having put in a full day by most standards (over 20 miles and giant elevation gain of 7500′). Here I had to switch trail segments in the Guthooks app, so I hadn't done as much planning ahead. My choices were to camp in the valley next to a busy road and parking lot, especially on a weekend…yuck. Or to keep going, looking for a stealth camp. The nearest shelter was 4.6 miles away, up and over another 4,000 foot peak, Old Speck. Only Maine's 3rd highest peak, no big deal.
I decided to find a stealth spot less than a mile up near some falls. As I started climbing, it began to rain. Coming down from the Baldpates, the trail felt a little familiar to me so I wondered if that had been the fateful part that defeated me so many years ago. Now here I was in the same situation again, heading up a mountain in the rain, feeling like turning around and going into town. The forecast was calling for it to rain most of the night and through the next day.
I found several stealth sites but none were too appealing, being so soaked. And I didn't feel like setting up in the rain. Water was pouring from everywhere and the trail had become a cascade. My stubbornness kicked in, a feeling that I would break myself first before giving up again. And I nearly did. Up I went, now with only one thought in my mind: getting to the shelter.
The climb went by surprisingly fast… adrenaline-fueled and in auto pilot. The rain stopped but still the world was a mosaic of wet and wetter. I got to the top…or at least to the spur trail that led to the very top…just as another thunderstorm was threatening. It was now a mile down to the shelter. Obviously I didn't bag the peak but hurried straight down. One good thing about these mountains, when a thunderstorm is threatening, they do go straight down. Yet unexpectedly, I came to an open rock face, similar to the Baldpates. I stood facing some ragged clouds and a stupid steep descent on slick rock. I was mesmerized by the ravage beauty of the scene, staring in awe, until a bolt of lightning streaked across the sky and hit a nearby ridge. Maybe I started to question my life choices at this point but had but one task…slide down the rock face and get to the shelter.
Needless to say, I made it. I had to keep checking my GPS, thinking I must have surely passed the turn off to the shelter. Nope still half a mile. How can a half mile be so long? Then finally, unmistakably, the pond and shelter. The next worry was that surely it would be full. I was arriving very late on a Saturday night. To my great relief, it was a huge shelter with only 4 people. One guy was already curled up in his bag, trying to sleep, so I felt terrible coming in just before dark.
As I unpacked, I noticed a sign pointing towards the caretaker's place. It finally dawned on me that this was the northernmost site run by the AMC (all the rest are in NH in the Whites) and that I had to pay to stay. Just my luck, it's the only shelter I've stayed in since Baxter and it cost $10. After what I went through this day, it was a small price to pay. I settled up with the caretaker, Trix, and she blessed me with her company while I made a late dinner at the designated cooking site. She had thru-hiked the AT and planned to do more, so we had a good time talking trail. What a sweet lady and nice to end this crazy big and beautiful day in such a lovely spot. I'm crazy but sometimes it works out pretty well.