Saturday Oct 9th 2021
Zero Day (3rd one)
A friend asked me a week before if I was going to the Appalachian Long Distance Hiking Association (ALDHA) Gathering. It was being held in Abingdon Virginia near Damascus. I knew I'd probably be within driving distance, so I reasoned that if the weather wasn't great and I could find a ride, I'd try to make it for a day. Well, turns out it was another rainy morning and Neville of Woods Hole was giving a presentation on running an AT hostel as part of the speaker series for the event. She offered a ride to any hikers that wanted to go. So I guess it was meant to be.
First was the order of coffee and breakfast at the hostel, which was another fabulous affair. The coffee was the hostel's special blend roasted on site and far better than anything I've had in months. The breakfast spread was cheesy grits, french bread souffle, pesto eggs, and fruit salad. Oh and don't forget more of that amazing sourdough bread. All this for a suggested donation of $9. For hikers that are struggling financially, there's a donation fund they can dip into for meals and a stay. Other guests contribute to this fund. I just mention this because I think it's a nice idea, but not something I took advantage of myself.
After breakfast, I watched the majority of hikers packing to head out into the rain. I was instead packing a day bag to take to the gathering…so happy. Two hikers, Sundance and Nascar, joined our carpool. The 1.5 hr drive was a great opportunity to talk to Neville about her unique experiences managing the property and hostel. I discovered that we're the same age and that she's led an interesting life, too. She's very passionate about art, meditation, and providing creative and healing space for others to enjoy. I valued this time we had together to understand better some of her perspectives and philosophies.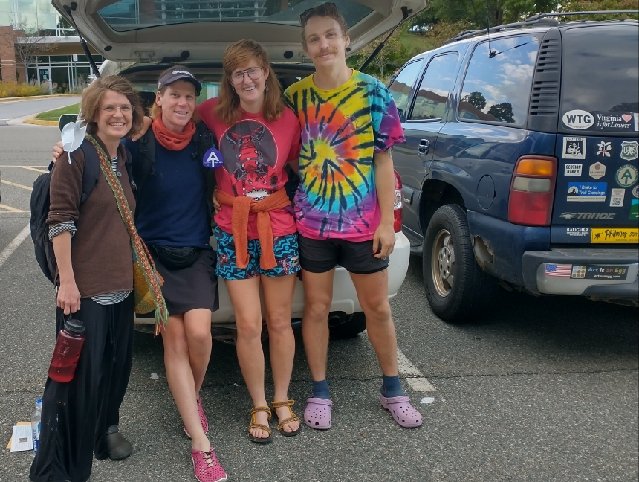 The Gathering was held at a large complex along Highway 81. We knew we were in the right place by all the tents lined up on the lawn. The event's basically a symposium for long distance hiking with a focus on the AT. The organization invites past and present thru-hikers to reunite and for "dreamers" to attend seminars about various thru-hiking topics. I don't quite know the evolution of all these hiking organizations but there's also an ALDHA-West (the A stands for American with this one). I'd volunteered for and attended one of their Rucks held in Denver just before the pandemic hit early March 2020. Rucks are symposiums about thru-hiking, as well. ALDHA-West also holds a Gathering in the fall, honoring the Triple Crown finishers. This ALDHA honors just the 2000 milers of the AT. I know, it's kind of confusing and a whole lot of craziness over all things thru-hiking.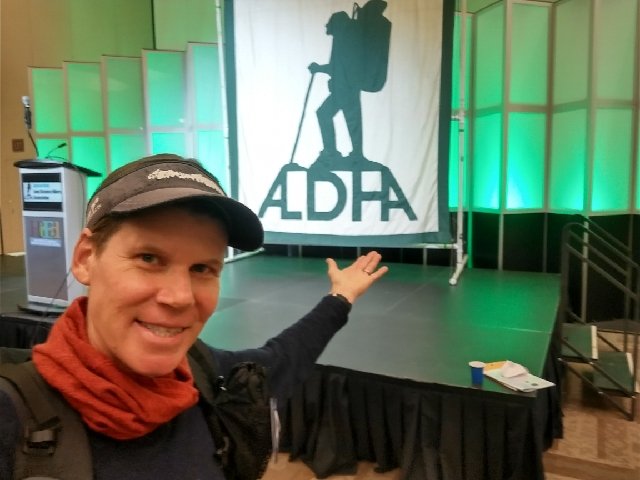 Since I was still hiking the AT and couldn't claim any of these distinctions yet, I was simply going to meet people and check out the vendors at the event. They waived the $20 participation fee for us current thru hikers and signed us up for a complimentary membership. I get a million membership dues and fliers for all the trails I've hiked…add another to the list. Still, I appreciated these privileges. I checked out the schedule of presentations but headed first to the vendor tables, always curious about gear and whatnot. Unlike Trail Day events, there weren't many gear companies represented. Many of the tables were selling books about hiking the AT and other long trails, some with the authors present. Everyone always tells me I should write a book about my trails but trust me, this has been done many times over. There's not much new I could contribute. Other tables were promoting everything from trail podcasts to non profit organizations for various trail related causes.
A spark of recognition flared as I passed one table. Two guys, Harris and John, were representing Appalachian Gear Company, a cottage company that makes all-things alpaca. I received one of their crew fleeces in 2020 for evaluation via my status with Trailspace.com Review Corps. I happened to be wearing my alpaca fleece this day, naturally since it's served as my long-sleeve warm layer since last year and was one of the few clothing items I had with me. I tested it first on the Long Trail, specifically the claim that like merino wool, it doesn't hold odors. I intentionally didn't wash it the whole trail. After 2.5 weeks, it certainly lived up to this standard and thus became my new favorite layer for its warmth, breathability, comfort, and no-stink. It replaced other treasured layers like my Patagonia R1 and Melanzana hoodie. I've worn it hiking and to sleep in almost every single day this trail. It's been washed only 4 times…in Gorham, Manchester Center, DC and just the day before coming to this event. The rest of the time, it's been nice to have a top to wear while I'm washing my other few clothes.
Besides great performance and functionality, I also love that the garment is all-natural. Instead of dropping synthetic fibers into the environment everywhere I go… basically furthering the immense problem of micro-plastics…I shed a bio-degradable and non-toxic animal hair. All their products (hoodies, tees, beanies, neck tubes) come bundled in a simple strip of brown paper, rolled by hand by the 2 guys I met standing in front of me. Amusingly, I started selling them on their own product, plus anyone else that happened to be walking by. Presently, I met the co-founder, John. It was a great joy to be able to thank him for such a wonderful product. Though I wasn't looking for handouts, he offered me a free beanie, which I couldn't refuse. I also bought a neck tube, which immediately replaced my treasured merino buff. Both items will be carried and worn for the remainder of my hike…all-alpaca style.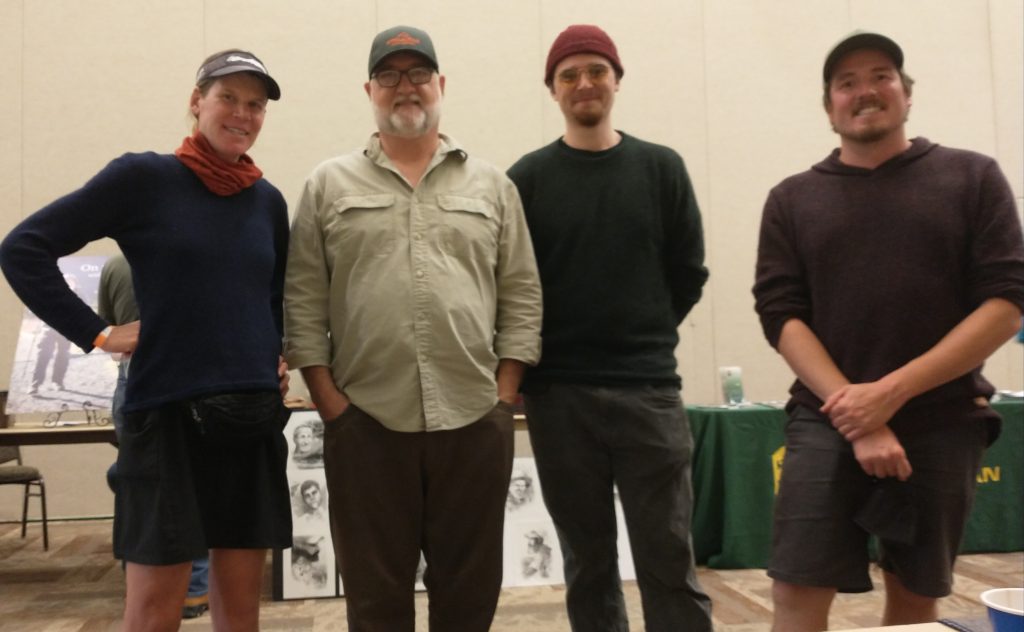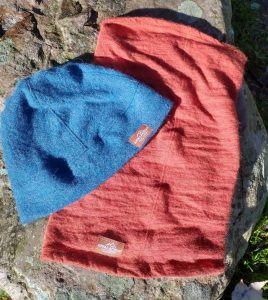 As I was standing at length at the table, a new but very familiar face appeared. "It's Darwin" I exclaimed a little too excitedly. It must be weird when complete strangers approach you with an air of familiarity that can't be reciprocated. That's what it's like to be a famous YouTuber in the hiking and gear review world. If anyone hasn't heard of this guy, just google him. I'd been watching his videos for many years and even passed him on trail when I did the PCT…though I didn't recognize him at the time. I was surprised to see him at the Gathering because I thought he was hiking the CDT. He too was taking a break to attend the event…as its keynote speaker…and had just a small segment from Grants NM to the Mexican border to finish. We were both finishing our Triple Crown this year.
I started going on about how much I liked my Waymark pack, his review video being a key factor in why I got it. He had a hand in designing one of their other packs but there's been some behind-the-scenes things going on that I can't pretend to understand about that relationship. I realized that it had become an awkward subject, so I tried to steer things back to his CDT experience. He said it's been a rough time and maybe his least favorite trail, due to the lack of community on and surrounding the trail. These are the aspects of the AT that I've struggled to embrace but I'm certainly seeing the value in. I'd gone all-in with being a social-butterfly this day and thoroughly enjoyed the experience…though it later left me more drained then the trail ever does.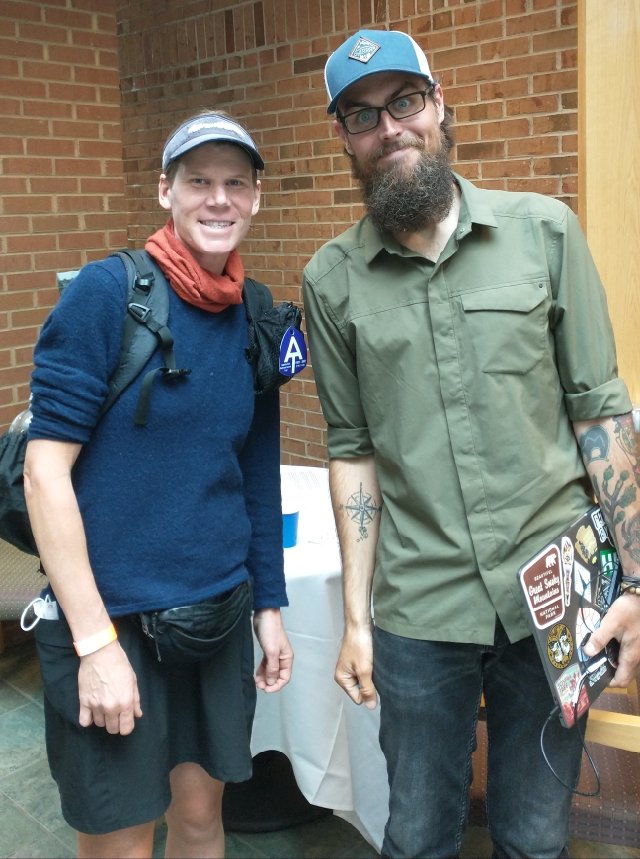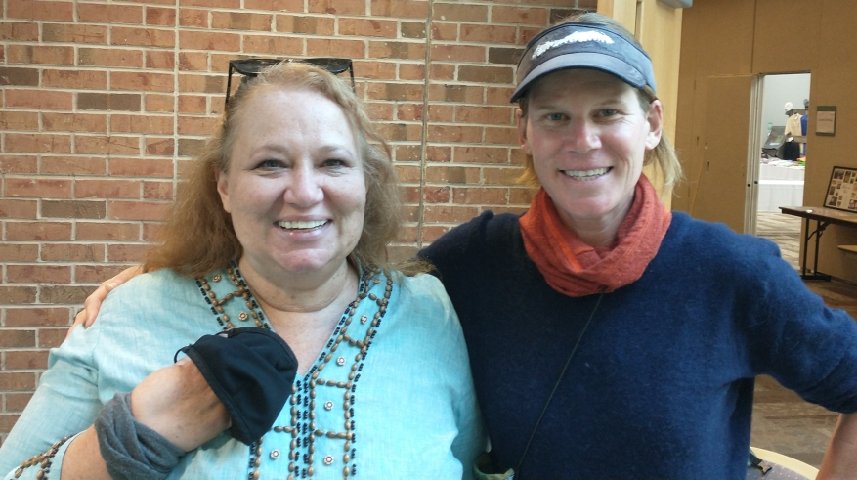 I pondered my role in this community a lot all day. Meeting people like Darwin, a guy that's successfully built multiple business ventures around his hiking experiences, made me lament my lack of self-promotion and prominence in the space. I'd nearly reached the 12,000 mile mark in thru-hiking and what did I have to show for it? Not one sponsorship, ambassadorship, or idea for building my own business. A lot of people have assumed I make money from this blog but I can honestly say as of right now, not one penny has come from it. It actually costs me money each year for maintaining the domain and site. I've done a poor job of leveraging anything from it but perhaps mixing such a business aspect just isn't my forte.
Since I'm asked the question how I afford all this hiking all the time, I'll say straight up, I'm completely self-financed. I worked for 20 years, spending very little and saving my money. I owned the same one basic car from 1999 to 2020: a 2wd Toyota Tacoma…very utilitarian. I don't have children or debt. My one recurring bill is for my cell phone. I live a pretty simple life, mostly free of the constraints of consumerism and materialistic things. I have no need for makeup, fashion, and collections. My main expenses are food, travel, and hiking gear. I receive some gear for free as part of the review process for Trailspace.com, but the vast majority I buy at retail price. My partner maintains our residence and it's entirely under his purview, as its always been in his name and his investment. We keep our finances separate, sharing only in food and other common staples purchases. There you have it, full disclosure.
As the day wrapped up, I went to my first presentation. It was AT Jeopardy, which I figured I might be ok at after having hiked most of the trail. I was wrong. I was only able to answer a few questions. There was a lady, Umbrella Woman, who had hiked the trail 8 times and knew every detail. The biggest thing I learned from this event is that there are a lot of people that are really devoted to all things AT. The last trail-ebrity meeting of the day was with Billy Goat….a legendary figure of trails. I don't know how many miles he's hiked exactly but it's in the tens of thousands…maybe over 50,000?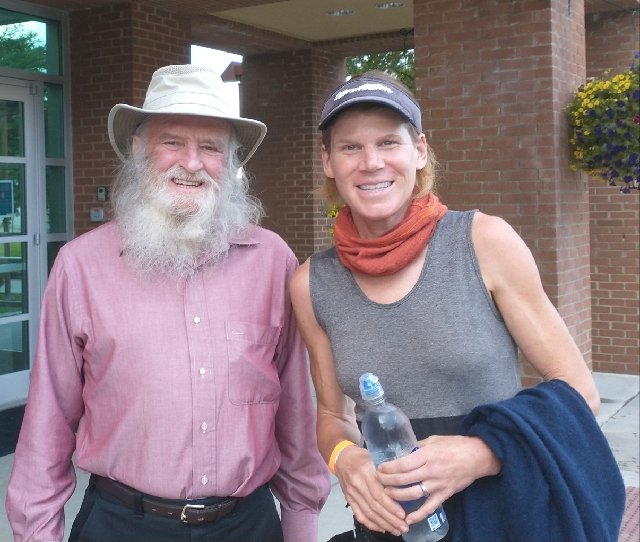 We met with Neville around 6 pm for the long drive drive back to Woods Hole. The Gathering was continuing until Monday but I was ready to get back to the trail. This was the first zero I'd taken that I didn't devote to chores, resting, and the usual things I needed to do to catch up with my life, so it actually put me a day behind in my trail-readiness. I'd catch up in the next big town: Damascus.
Back at the hostel, another reunion took place. Mud Lantern, who I'd first met at the Yellow Deli, had finally caught up to me. We'd hiked together a bit in Vermont, spending a night at the Bromley hut to hide from Hurricane Henri. He'd taken a few days off in MA to visit his family and we'd been texting back and forth since, me teasing him that I was always a day or 2 ahead. He'd been trying to trying to catch up for over a month, mainly because I was one the few people that could pace him to a finish date around the first week of November. He was to start his first job as a civil engineer by mid November, so needed to maintain a fast pace. As a result, he'd hiked mostly alone through the Mid-Atlantic states and seemed to be genuinely excited to finally encounter someone he knew could match his pace. He'd also taken some of my advice to heart about lightening his load. He'd started with a guitar and 60 lb pack. Now he was down to a respectable 30 lbs.
We had a nice evening catching up over tea and musing about the miles we could crush together. At 22 yrs old, Mud brought a refreshing element of youth into the equation. I also enjoyed seeing the trail from the perspective of a first-time thru-hiker. We'd see how our hiking partnership would go for at least for a few days, but maybe all the way to the end.