Friday Oct 8th 2021, 1030-1430 
VA Rt 100– Pearisburg to Woods Hole Hostel,  SOBO AT mm 1567.6
12.1 miles
3400 gain, 1900 loss
My plan since Lexington was to skip Pearisburg and head straight to Woods Hole hostel, where I'd shipped a box of extra food and my dearly-needed migraine medication. But since I'd smashed so many miles in the past few days, spending a night in the cool hostel in Pearisburg was an extra reward AND had also lessened the distance I needed to walk to Woods Hole. So I was in no hurry in the morning…which was good, since once again it was raining.
Twig and I had a nice breakfast together and then he went to work at one of his many job sites while I dilly-dallied around the barn. Mostly I ate stuff out of the hiker box. Finally I pulled myself together to go get a few miles done. The rain had stopped but I was not looking forward to a 2,000′ climb out of town. Twig dropped me off at the trailhead and I immediately ran into Oracle. He was just going into town, which was great timing for Twig to give him a ride.
At least the trail up to Angel's Rest was pretty good, with lots of switchbacks. I regretted not being able to see the nice views at the top…. too much fog. There I caught up to 2 hikers, Nascar and Hot Sauce, both flip-floppers. I hiked with Nascar for a bit and then Hot Sauce. With Georgia being his home state, he was walking towards home. Nascar was only going as far as Damascus, since she'd already hiked the trail to that point. Damascus was only about 150 miles away, marking the end of VA and only 500 more miles to go. I planned to be there before the end of 12 weeks on trail.
I came to a road junction, walking 0.4 miles on the road to get to the hostel. It doesn't get much more convenient than that but I'd seen a complaint in Guthooks about how the hostel didn't offer shuttles from the trail… seriously, for less than half a mile! Talk about entitled. I hate doing extra miles just as much as any hiker but I can certainly put up with walking that little bit for a hot shower. Just think of the pointless CO2 emissions from running hiker shuttles to and from the trail. Loaner bikes, on the other hand, might not be a bad idea.
I'd been hearing a lot of hype about this hostel since Maine. I was happy to find that it lived up to the hype…pretty close to perfect for the kinds of things I like. The place had it all: a cozy bunkhouse, a semi-outdoor modern but also rustic-looking bathhouse, farm animals and pets galore, garden-fresh meals, a small resupply shed, and snacks and drinks for purchase, on your honor system. The property is 100 acres and one of the buildings dates to the 1880s. Neville, the proprietor, took over management of the hostel from her grandmother, who started things in 1987. A stay here is considered to be an AT tradition, and I was glad to be a part of that.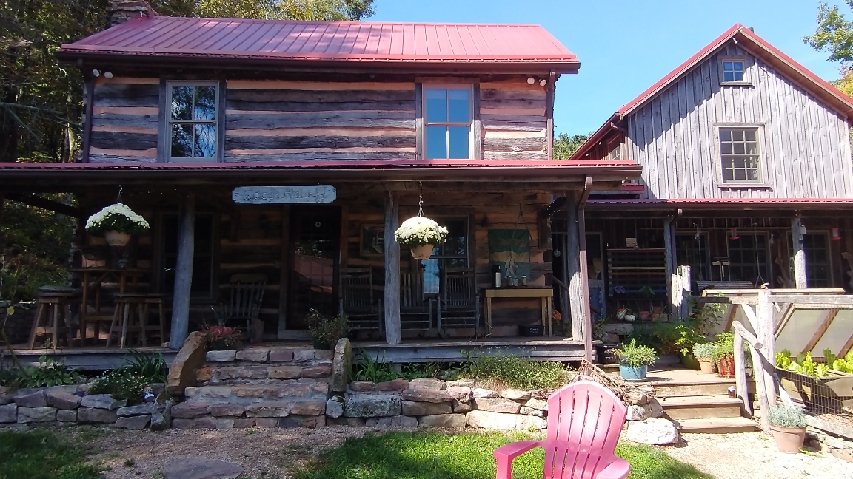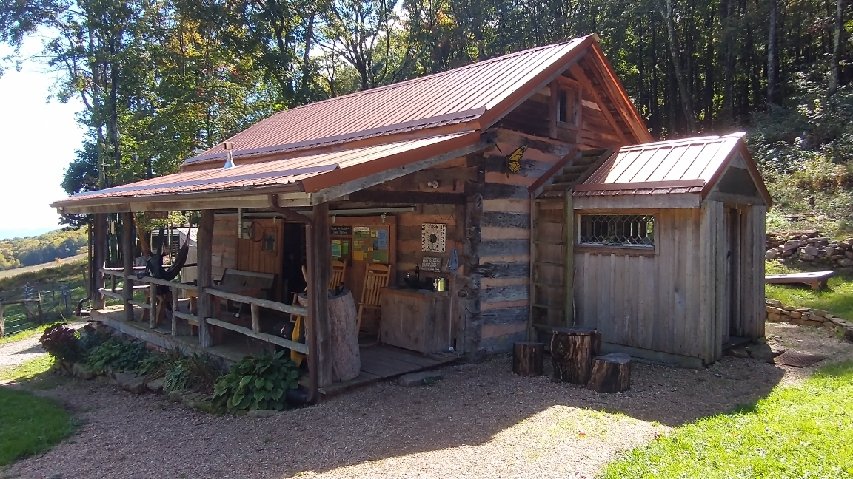 I got settled in and started meeting the many hikers and helpers. Work-for-stays and zeros are common at this place. Altogether there were about 4 helpers and 10 hikers. There were also 5 people that drove in to stay in the B&B part. It's always surprising to find so many people at a place when I've been seeing so few on the trail. But given the rainy weather, it's not surprising. A couple hikers were taking multiple zeros to avoid the wet.
I opted to have the communal dinner, along with everyone else. Meals are usually vegetarian but this night there was an option of beef chili, the meat sourced from a local cow. There was also the most delicious home-made sour dough bread and salad from the garden. Many of the products come from from the Amish neighbors. I was able to have full seconds of everything, including the fresh baked chocolate cookies for dessert. To say I was stuffed to the brim would be an understatement. Yet come morning, I knew I'd be ravenous with hunger again.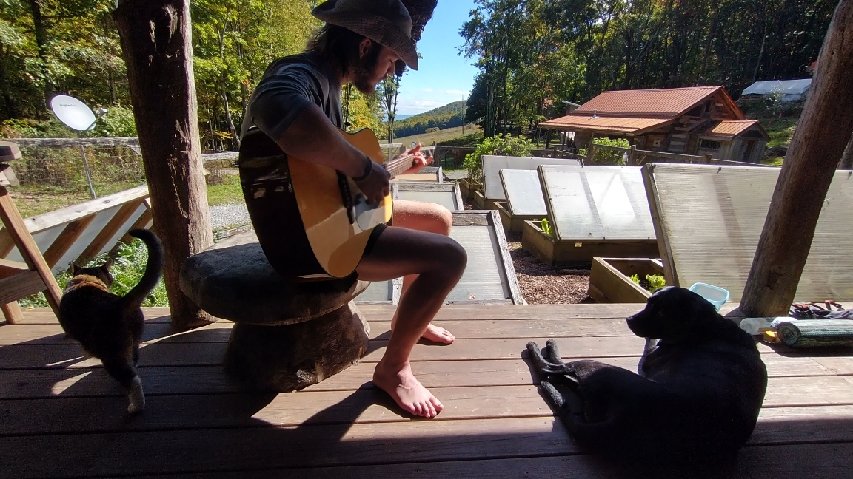 The rest of the night, I stroked the cats and dogs and had fun organizing the hiker box. My two bunkmates, both section hiker ladies, joined me. I found a spa-treatment facemask, which I wore around looking like Freddie Krueger. This hearkens back to some fun I had with my friends Skybird and Spatz on the PCT. Skybird was a huge fan of these skin-hydrating facemasks and had them sent as treats in her resupply boxes. She shared them with us at stops in WA. It was a fun memory to rehash. As usual, I stayed up a bit too much past hiker midnight but fell asleep quickly in the surprisingly full but peaceful bunkhouse. It was so quiet that I could hear owls outside.