Wednesday Nov 3rd 2021, 0710-1730
Low Gap Shelter to Gooch Mountain Shelter, SOBO AT mm 2177.3
27 miles
6450 gain, 6650 loss
The mice left me alone all night, or at least were stealthy enough not to wake me. As soon as I retrieved the food bags from the cables in the morning, they resumed scurrying about in full sight. I was happy to leave them behind. I had only one thing on my mind this morning and that was getting to Neel gap so I could eat a freshly re-heated frozen pizza. A hot, salty, greasy pie never sounded so good. Especially since the day started off so cold and dreary. The sun looked like it could make an appearance early on….there were even a few views into the valleys. But shortly the fog rolled in to stay for the remainder of the day. Our last big climb, Blood mountain, had no views. So be it. At least the weather had been nice the previous time I was through.
I passed Pinestick early on, as well as a number of section hikers. One out-of-breath guy sarcastically muttered that I would enjoy the next section, meaning I would hate it, I guess. I just smiled and pushed on. I didn't even notice anything out of the ordinary. My focus on pizza blurred everything else. I came to Neel gap, heading inside straight away to get the pizza started. The outfitter staff were super nice, inviting me to sit by the fire as I ate. I got really chilled, even though I was right next to the fire. All the blood went to my stomach to work on processing the food. I ate a few more candy bars, my body screaming at me that I needed more calories to keep warm. I knew I wouldn't be making any more stops the rest of the day. There wasn't anything to stop for, given the foggy conditions. I didn't even take one picture all day. I was so glad I was almost done. In my head and heart, the end seemed to have come a few days before. I felt like I was just going through the motions these last couple of days.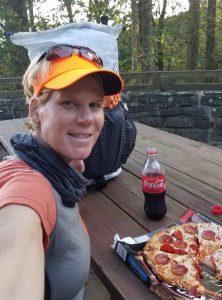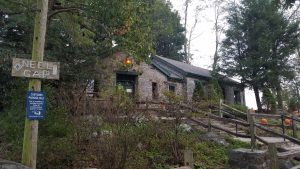 Mud caught up to me at the gap and we just marched the rest of the day. Blood Mountain felt like a mere bump in the road. I was actually glad for the climb, since it helped to warm me up after my break. We passed tons of section hikers. Doing this first/last 30 miles is really popular it seems, even though there's nothing real special about the terrain. We pushed on over some more bumps to our final shelter, arriving pretty early. It was a shelter I'd stayed at the first night on my section hike and I remembered it fondly. There were several tents and hammocks already there but the shelter was empty. Good thing we arrived when we did since 6 women came in minutes after us and just like that, the shelter was full. It also started raining precisely when I sat down by the fire to make my dinner. Oh well, yet another dinner eaten while I laid in my quilt for warmth.
I'd been hoping for a quiet and reflective last night on trail but it was anything but that. I just wanted to think about the journey and maybe do a tea ceremony in honor of some people Mud and I had lost. I would have preferred to have gone off to tent somewhere away from a shelter but the rain had other plans. I regret that I felt so antisocial but I just wasn't in the mood for gear and trail chatter. I put on my headphones and listened to podcasts the rest of the night. Sleep came early while I looked forward to the last morning.