Sunday August 1st, 2021, 0540-1430
Bald Mtn Pond Lean-to to Caratunk, SOBO AT mm 151.3
19 miles
3783 gain, 4505 loss
Who knew loons called all night long? They were going crazy overnight. I mistook them for coyotes, they were so loud. Still, I didn't mind their mystic sounds. What did bother me was an animal scraping on a nearby tree very loudly several times. I worried that it was a bear but in retrospect, realized it must have been a porcupine. There was a note about this said nuisance on the privy…close the door or the porcupine will eat the privy!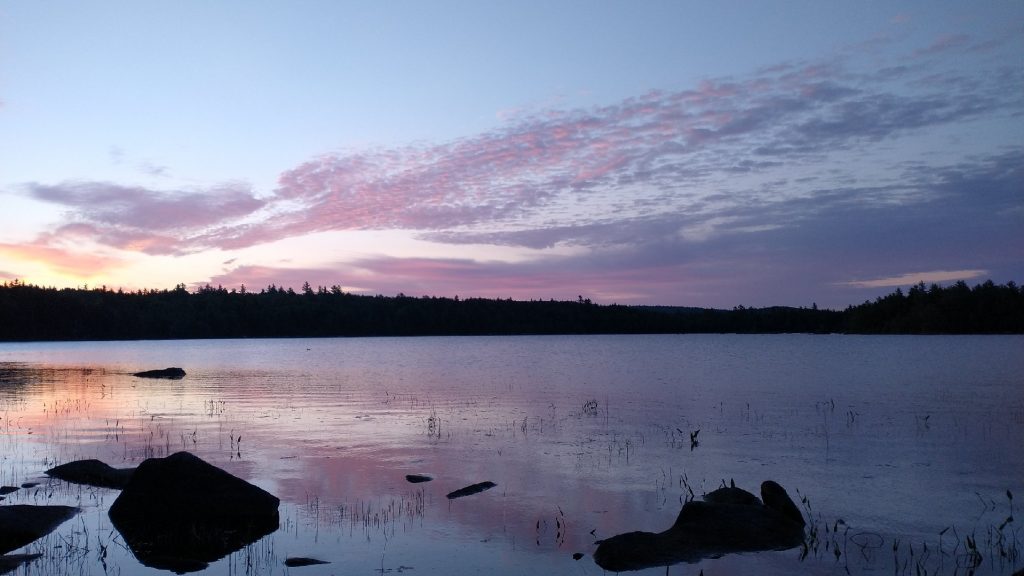 Grinder was up but still packing when I hit the trail. A good-sized climb was the first order of the day. Within minutes I ran into a few guys coming down. We smiled knowingly at each other and one whispered the word on our minds…earlybirds. We get the miles, the animal sightings, and a quiet trail. Another early bird was up and about near the top, a beautiful Spruce grouse in breeding plumage. He let me get pretty close. I cluck at them like a chicken and this seems to interest them (what is wrong with that stupid human?). Yes, I enjoy my conversations with grouse.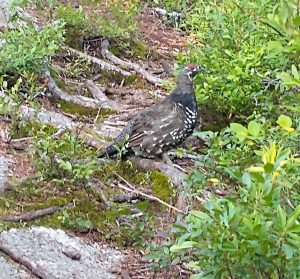 The summit of Bald Mtn (most unoriginal name ever) was beautiful, with good all-around views. I got Peakfinder going and spent some time identifying. I could just make out Katahdin peaking behind some other mountains. A NOBO arrived and I pointed out the landmark to him, his first view of it. He was unimpressed and proceeded to talk about how awful the whole trail was. He made sure to let drop his 7000 miles of experience on other trails, which had certainly played into his expectations for this trail. I get it, since I too know what the other trails are like and have a tendency to compare and contrast. It's inevitable. It was both sad and also enlightening to witness how cynical he was. I didn't mention any of my experience, instead playing dumb and awestruck by the views of Katahdin. It's a good reminder for me to be present and mindful, appreciative of the privilege of being out here.
I proceeded down into another valley, where I found my first trail magic in the form of some warm sodas laid out on the bumper of a SUV. The trail angel was out hiking, so I downed a mtn dew and kept going. Up another mountain, which was much more of a chore since it had gotten pretty warm. It was called Pleasant mt but I wasn't sure about this name either…at least it's a more original name.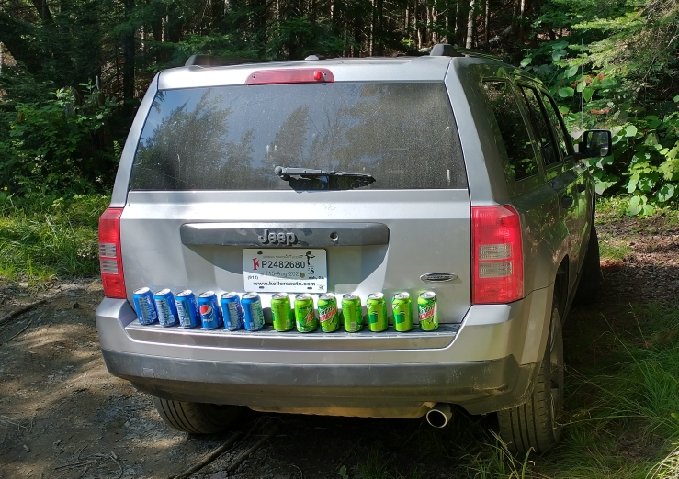 Coming down, I ran into the large group of girls I had met on Rainbow Ledges my second day. They were happy and giggly as ever and we were all excited to meet up again. It was such a contrast from my interaction with the solo guy earlier. These ladies were on day 11 of 22, with huge packs and little experience but just loving life. Refreshing. I also talked with 2 NOBO ladies, Roadrunner and Gigi. One was wearing a Purple Rain Adventure skirt and both had LiteAF fanny packs like me. They were very positive and fun ladies, as well.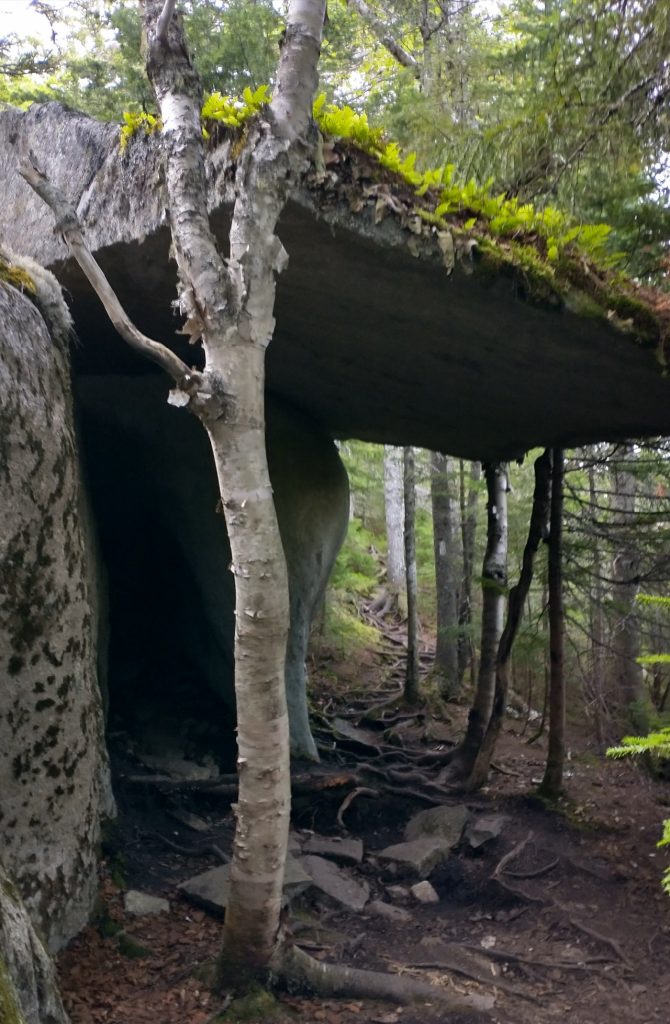 Then I caught up to Pilgrim, a SOBO section hiker I had met at Shaws in Monson. He had let me throw my socks in his laundry load (the rest of my laundry I just handwashed). He was going to the hostel in Caratunk, the Sterling Inn, so I hung with him for the final few miles to the road. The hostel owner came to pick us up from 1 mile down the road and I was able to scrounge together a 2 day resupply easily from their store. Once again, the hostel had a pretty decent selection. I also got a frozen pizza, which they cooked for me. It was my lunch, dinner, and breakfast the next day.
I was able to take a shower at the hostel, free of charge. They also let hikers do laundry but I didn't need to. I was impressed by their hospitality and generosity to hikers, but then again, I did spend some money buying food. That's the idea. There used to be a competitor in town, so free showers and laundry was their angle to draw hikers to their business instead of the one closer to the trail. It was sure a draw for me but not enough to convince me to stay in a dorm room. Earlier, I had scoped out a beautiful stealth spot next to the river. It was forecasted to rain all night but that didn't stop me. After a few hours hanging out at the hostel, I got a ride back to trail and settled into my river hobo camp in the woods. Regardless, big praises for the Sterling Inn.