Friday Oct 22nd 2021, 1000-1650 
Jones Branch Rd to Bald Mountain Shelter, SOBO AT mm 1865.7
18.2 miles
6335 gain, 2989 loss
Sauna logic dictates that one prioritizes sauna time over hiking, maximizing the sauna coefficient. This is what I did in the morning, after eating several times as well. Consequently, we didn't leave the river place until 10 am. We stopped again at a hostel that was across the river. It had some snacks for sale, plus we raided the hiker box… unfortunately it was all mostly trash. We found Bachus there, setting off with him to begin a huge climb out of the valley. We went from around 1800′ to over 5000′ through the rest of the day. It was taxing but fast as we chatted with Bachus. He started from Katahdin on July 5th (just 2 days before Mud) and was from Bellingham WA. He'd also hiked the PCT, so it was fun to compare notes with him.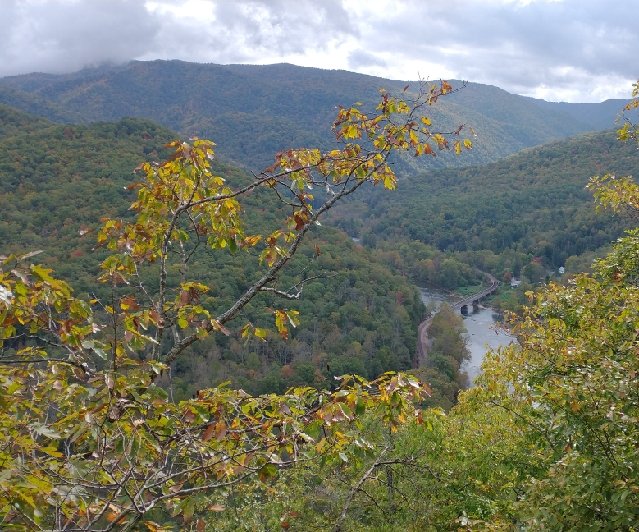 We came upon another hiker just as he was going off the steep side of the banked trail to avoid something, I assumed hornets. But no, it was a timber rattlesnake. I was very surprised to find a snake out so late in the season. I assumed they'd gone to ground by now. The snake's tail was across the trail but the rest of it was barely discernible in the leaves. I'm not sure I would've even seen it and I had been in the lead of our group. Bachus used a long stick to encourage it to slither off but it was very lethargic. The temps were in the 50s and it was cold. It coiled in a striking position instead, but never did strike at the stick or even rattle. Other species of rattlersnake will often be set off when I'm more than 20 feet away. But timbers are said to be pretty non-aggressive in general. We went around it but I worried for the next set of hikers, hoping it would go find a hole once we left it alone.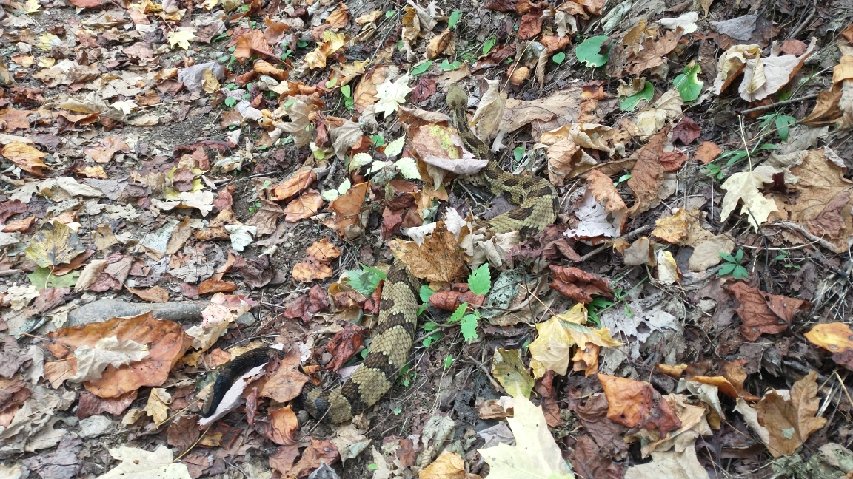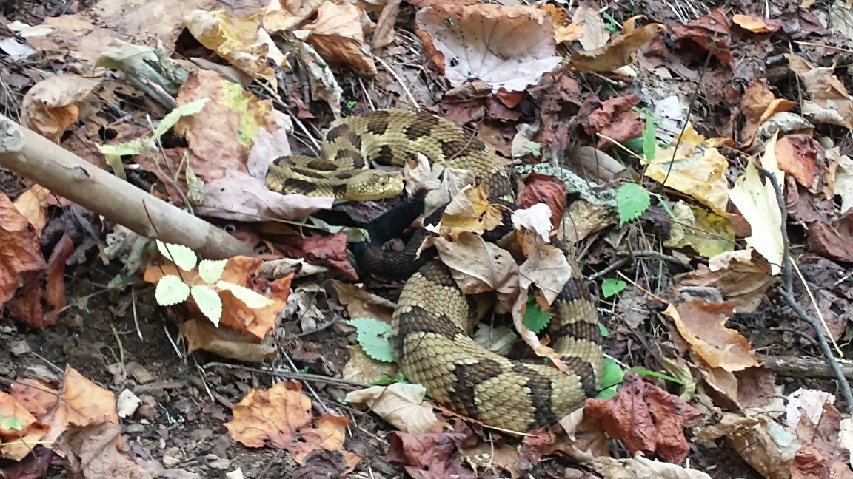 The other hiker was a flip-flopper named Meat Quilt. He joined us and we had train of 4 going for awhile. We did more climbing in 18 miles than we did the day before covering 33 miles. It kept me warm at least. I was stripped down to just my dress and even sweated a little. We went over Little Bald, which was not a bald at all, then went along a ridge towards Big Bald. Mud and I were debating stopping early at the shelter or continuing on to camp on top the bald. I was in favor of a nice sunset view from my tent. He suspected there were no trees for his hammock.
Upon reaching the shelter, the cold changed my mind. It was quite early still but the temps were dropping precipitously. A section hiker said his thermometer read in the 40s. This was not what the forecast had claimed but we were also over 5000′. Plus the shelter was pretty nice, a large double-decker with only one other person spending the night beside us. I resigned to making an early dinner and snuggle in my quilt. I busted open a hand warmer and hunkered down for a long night. I felt like the snake must have felt…too cold to move any further.