Sunday Oct 17th 2021, 0830-1800 
Damascus to Iron Mt Shelter, SOBO AT mm 1748.6
26.2 miles
5850 gain, 3680 loss
We had a simple breakfast of grocery and gas station food, said goodbye to our gracious host Uncle Johnny, and hit the trail feeling pretty refreshed. The temperature had plummeted after the front, bringing highs only in the 50s for the day. It was great for the climb out of town but left me feeling a bit chilled when the trail leveled out on a ridge. I wore my fleece all day and even put my rain jacket on at lunch, leaving it on for the remainder. The lows were supposed to be in the 40s and even 30s up high. What a drastic change from the 80s when we'd walked into town. Fall had finally arrived.
The trail was really nice and cruisy all day. We went up a lot but I barely noticed. I almost lamented the flattish ridge because I wasn't working hard enough to stay warm. We passed into Tennessee, finally saying goodby to Virginia. I spent 23 total days in VA, 2 of which were zeros and several were neros. So I walked 550 miles in just 21 days. I was pretty happy with that and also my experience in VA. I thought it was one of the best states, enjoyed in nearly perfect conditions. I may have missed trail days in Damascus but I never got the Virginia Blues. As the saying goes, Virginia is for SOBOs!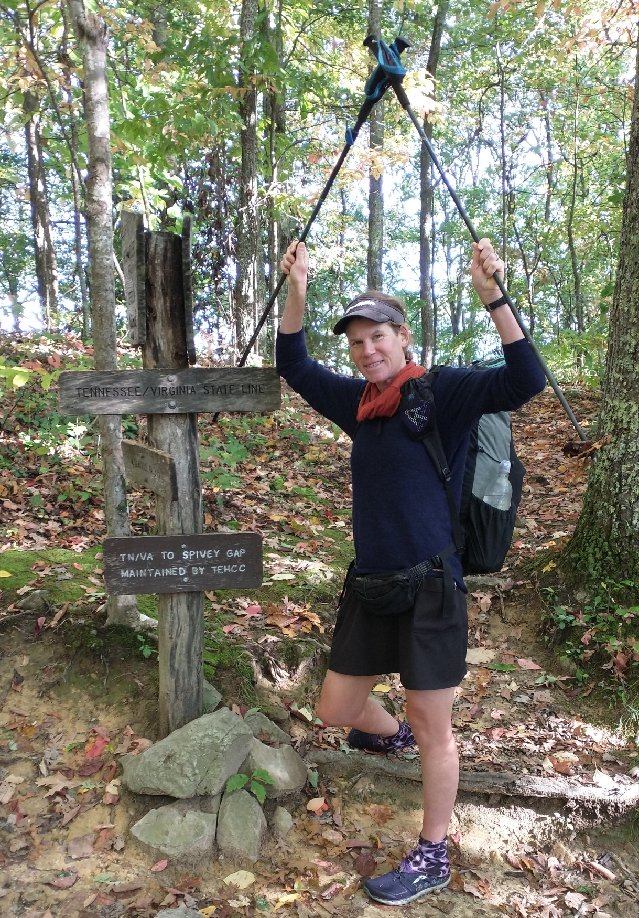 Minutes after entering our 12th state, I saw a large shadow falling from a tree. I immediately started jumping up and down, grabbing Mud and pointing excitedly. Then I ran forward to try to get a better look. Mud chased after me. I'd just seen my first bear! They did exist after all! Mud shortly pointed up again. Two cubs were literally falling from the trees, fireman style, to chase after mom. I've never seen anything that big come down 100′ from up a tree so fast. They were moving as fast as squirrels but looked more like they were falling. The poor things, they seemed so terrified of us. I felt bad about disturbing their peace. The whole 13 mile stretch south of Damascus had been closed to camping for aggressive bear activity. Well, there were certainly bears but these didn't appear to be the aggressive ones. I'm sorry I didn't get a video but I was too in awe.
We hung out at a gap and road for lunch, where a guy stopped to give us a few bars and tell us a ghost story about the old hermit Nick that had died in the 1920's, just ahead where we'd be walking. The hermit had a black dog that supposedly haunts the trail. The story teller had seen the dog and its footprints in the snow…I suspected it was a small bear. But there's always Bigfoot, too. We read the inscription on the hermit's memorial: "lived alone, suffered alone, died alone." It was king of harsh. Late in the night, Mud swore he saw a black dog walk by the shelter. Again, probably just a bear.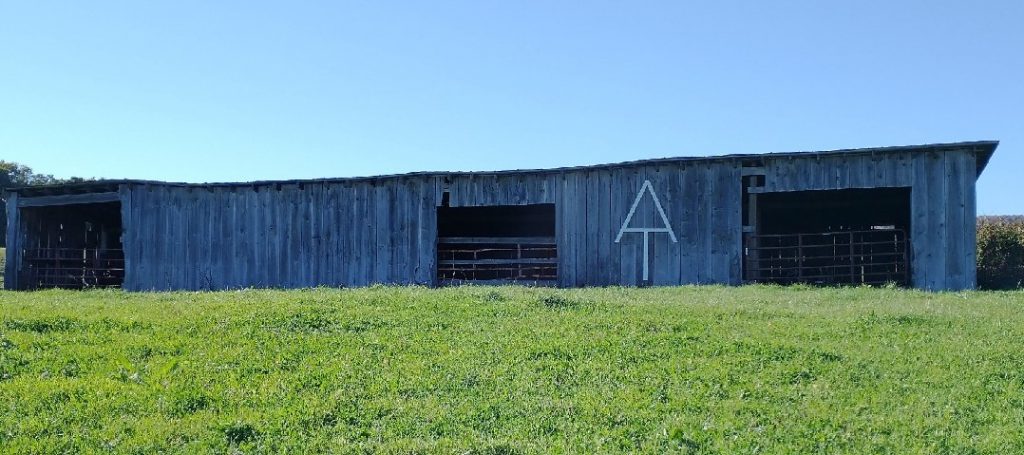 Without ponies to occupy our minds, we made up songs about Tennessee, ghost dogs, bears, and Bigfoot the rest of the afternoon. We fantasized about section hikers being at the shelter, having a fire going and a box of wine. Sadly we found only an empty shelter. We went 0.2 miles in search of water, successfully finding a good source. This was the farthest out of way I'd had to go for H2O thus far, so I'd been pretty lucky. Just after dark, Yak and Discount arrived. I'd met them in Damascus, though briefly. In the next hour, 3 more rolled in: Flower Power, Dreamer, and Old Army. All had flip-flopped except for Discount. With 5 in the shelter, suddenly it didn't feel as cold. But being thru hikers, no one had the energy to try to start a fire. Nor did anyone cart wine for 26 miles…at least not any that they would've shared. So it goes.